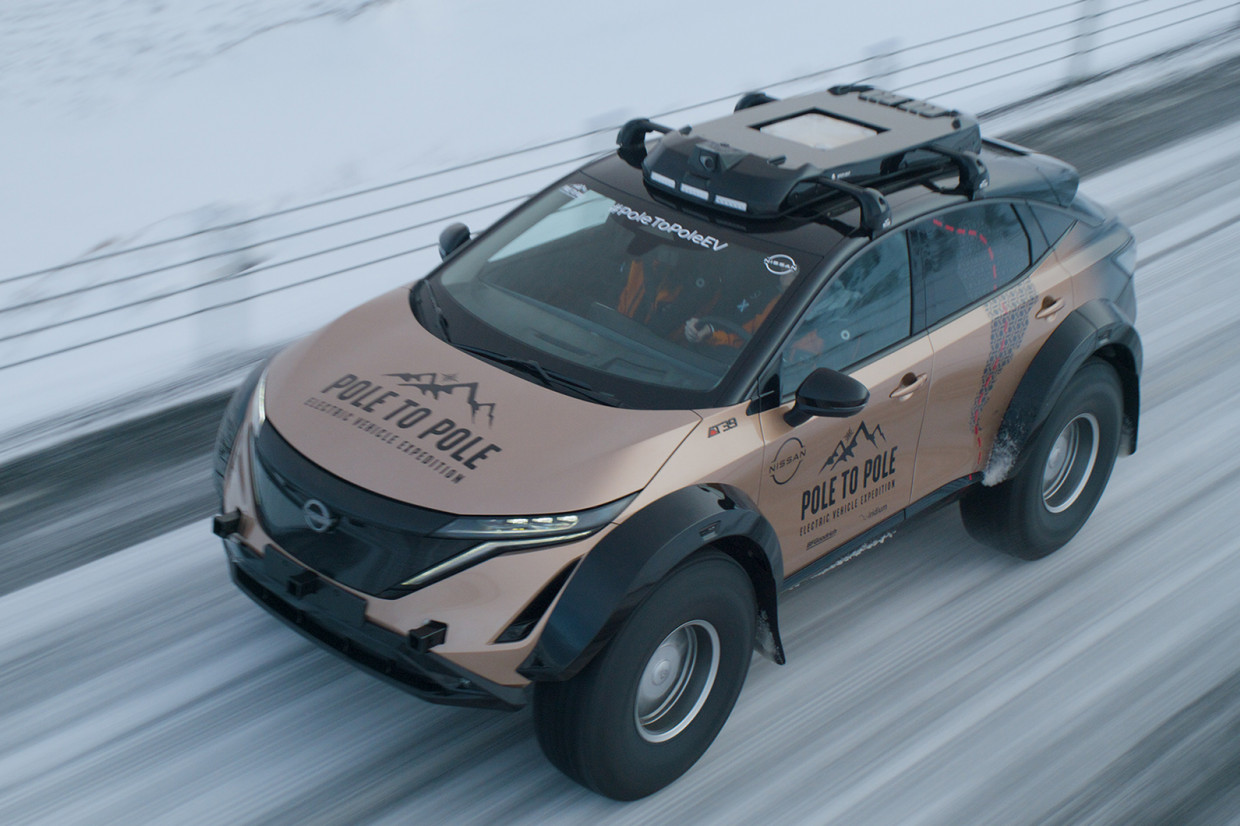 Everyone knows that current electric cars aren't suitable for long journeys, right? Well, that's what some people will tell you anyway. Such naysayers are clearly wrong – and a husband-and-wife team are out to prove why in emphatic fashion.
Adventurers Chris and Julie Ramsey will shortly embark on the world's first all-electric driving expedition, travelling 17,000 miles from the North Pole to the South Pole – in an electric Nissan Ariya.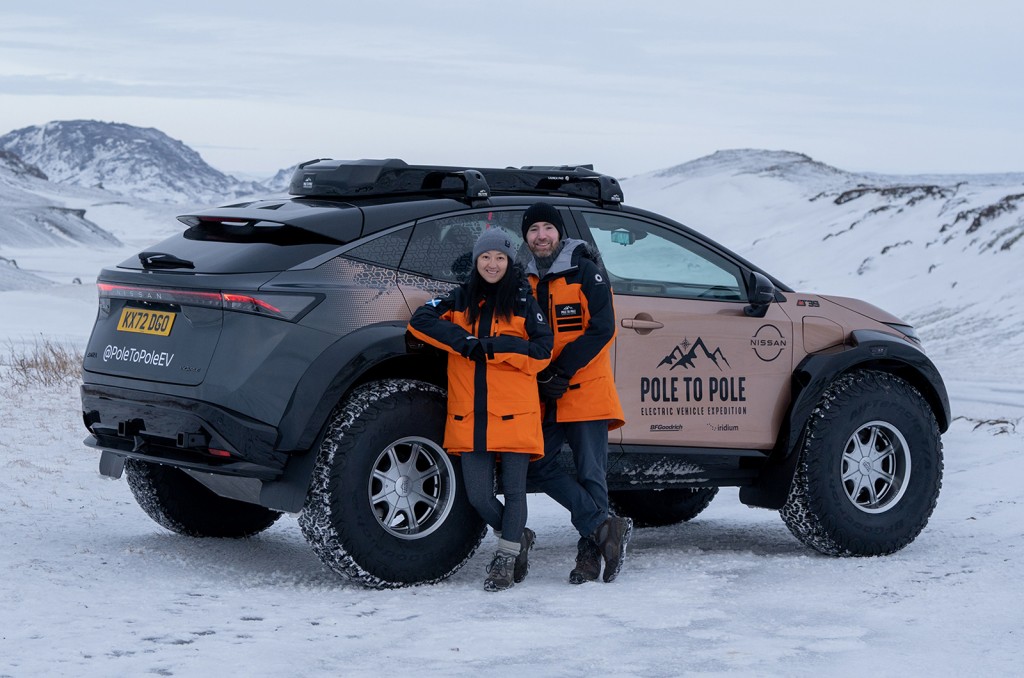 But they're not doing it in ordinary Ariya, obviously. While the expedition was announced last May, we've now been given our first glimpse at the modified machine they'll be using for their epic quest.
The twin-motor powertrain of the Nissan hasn't been messed with: it produces the standard 225kWh and has the same 87kWh battery. The use of the twin-motor powertrain means that the Ariya offers Nissan's e-4orce all-wheel-drive system, which will likely prove useful on the 10-month trek.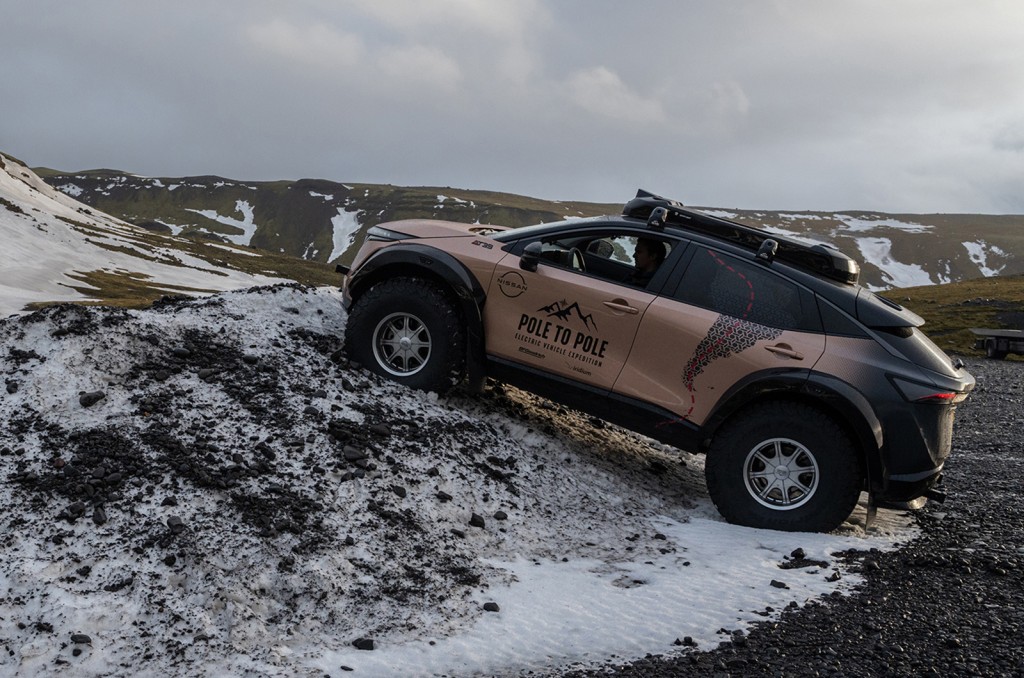 The big changes are the beefed-up suspension and massive 39-inch BF Goodrich off-road tyres – which also explains why the wheel arches have been widened.
Another addition is a built-in espresso machine to keep the pair in caffeine, along with a drone (for good video) and an integrated weather station.
The car will also carry a portable, renewable energy unit, which features a wind turbine and solar panels. The aim is to use that to charge the car in the polar regions, where there are long daylight hours and high winds – and apparently not that many rapid charging stations.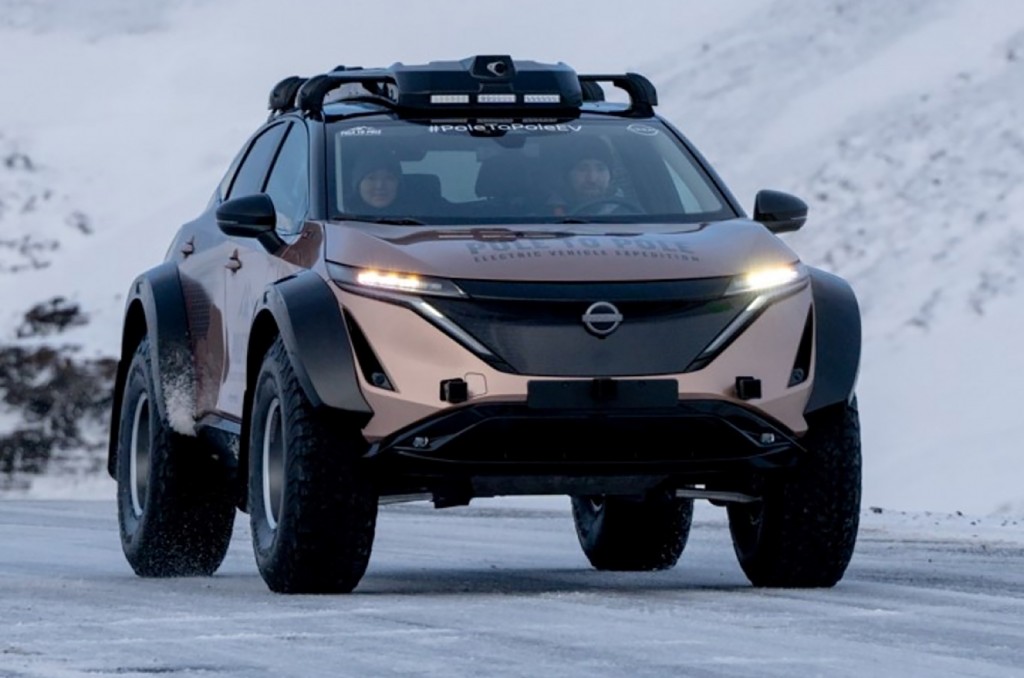 This isn't just an EV first, either: if they succeed with their planned trek from the Arctic through North, Central and South America before crossing into Antarctica, the Ramseys will be the first people to drive from pole to pole in a vehicle of any type. 
The pair are familiar with electric expeditions in a Nissan, having been the first people to complete the Mongol Rally in an all-electric Nissan Leaf. They travelled around 10,000 miles in 2017 in the EV. 
A second unmodified Nissan Ariya e-4ORCE will act as a support vehicle through the US leg of the expedition. 
e-4ORCE is Nissan's innovative all-wheel control technology that accurately manages power output and braking performance for smoothness and stability. The system is set to enhance driver confidence by tracing the intended driving live over a variety of road surfaces, including wet and snowy roads. As well as powering pole-to-pole expeditions, it's apparently also good for delivering noodle soup.
READ MORE
Subscribe to the Move Electric newsletter
e-CARS
New electric cars for 2022 and beyond: what's coming when
New BMW i7 unveiled as luxury electric saloon
e-BIKES
Best e-bikes for every category 2022
Moustache Samedi 28.7 e-bike review
e-MOTORBIKES
Yamaha Neo's electric scooter review
Cake launches new global electric motorbike race series 
e-SCOOTERS
Government set to announce plans to legalise private e-scooter use
New study finds e-scooters are five times safer than bikes
e-WORLD
World's first airport for flying taxis opens in UK