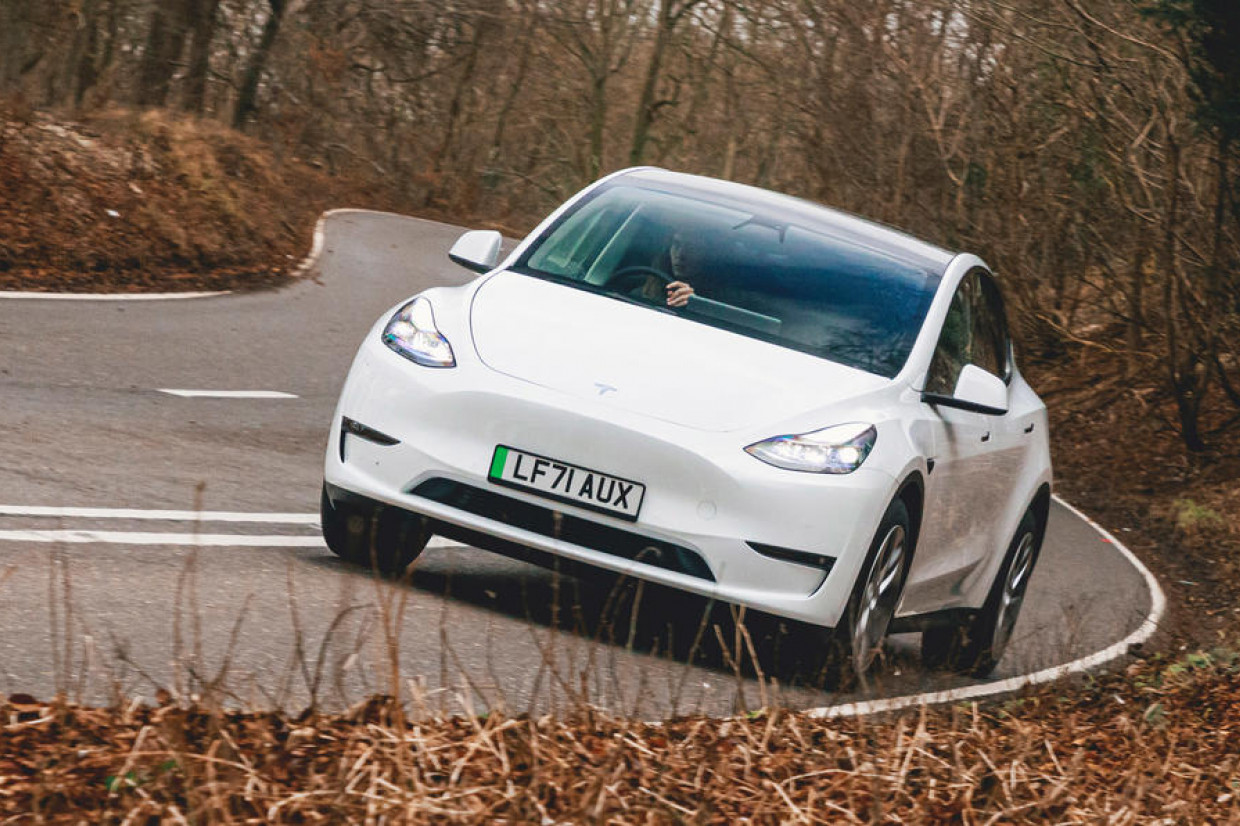 Electric cars had their best-ever month for sales in the UK in March, accounting for 16.1 per cent of all new cars bought – with the Tesla Model Y and Tesla Model 3 taking the top two spots in the sales charts.
According to data from the Society of Motor Manufacturers and Traders (SMMT), 39,315 battery electric cars were sold in the UK last month, which was up a massive 78.7% on the 22,003 cars sold in March 2021. That was the highest-ever monthly figure for BEVs, and was even more remarkable because supply chain issues meant that total new cars sales for the month fell by 14.3% year-on-year.
The ten best-selling cars in the UK 2021
Significantly, battery electric car outsold diesel (13,736 units), hybrids (27,737) and plug-in hybrids (16,037). Only petrol-engined cars were more popular, with 102,349 sold.
Notably, the new Tesla Model Y and Model 3 were the two best-selling cars for the month, with buyers snapping up 6464 of the SUV and 6457 of the saloon. Those figures were helped by UK Model Y deliveries starting in late February. The Vauxhall Corsa, which is offered with a number of powertrains including a battery electric option, wad the third best-seller, with 5515 sold.
Tesla sales can fluctuate month-on-month depending on when shiploads of deliveries arrive, and sales of both the Model Y and Model 3 in March dwarf the first two months of the year. The Model Y is the sixth best-selling car in the UK so far in 2022 with 7774 sold, with the Model 3 seventh on 7773.
The UK car market is in an unusual place, with dealers having strong order books but car firms simply unable to produce cars fast enough to meet demand due to various parts shortages and supply chain issues. But the SMMT has highlighted that with grants still available for electric cars and lower running costs benefits remain for drivers who can order vehicles now and wait for delivery.
SMMT boss Mike Hawes said: "Placing orders now will be beneficial for those looking to take advantage of incentives and lower running costs for electric vehicles, especially as the Ukraine crisis could affect supply still further. With increasing household and business costs, government must do all it can to support consumers so that the growth of electric vehicles can be sustained and the UK's ambitious net zero timetable delivered."
READ MORE
Subscribe to the Move Electric newsletter
Move Electric Awards 2022: full winners list and video
e-CARS
New Volkswagen ID Buzz: everything you need to know
How efficient are electric cars?
e-BIKES
Ducati expands e-bike range with first racing machine
e-MOTORBIKES
New Yamaha Neo is Europe-bound '50cc equivalent' electric moped
Electric Motion Epure Race e-motorbike review
e-SCOOTERS
Eskuta KS-450 e-scooter review
Taito unveils innovative new three-wheeled electric scooter
e-WORLD
Electric surfboard firm Awake aims to make waves with first e-foil
Volta Zero electric truck can 'dramatically improve' inner-city road safety