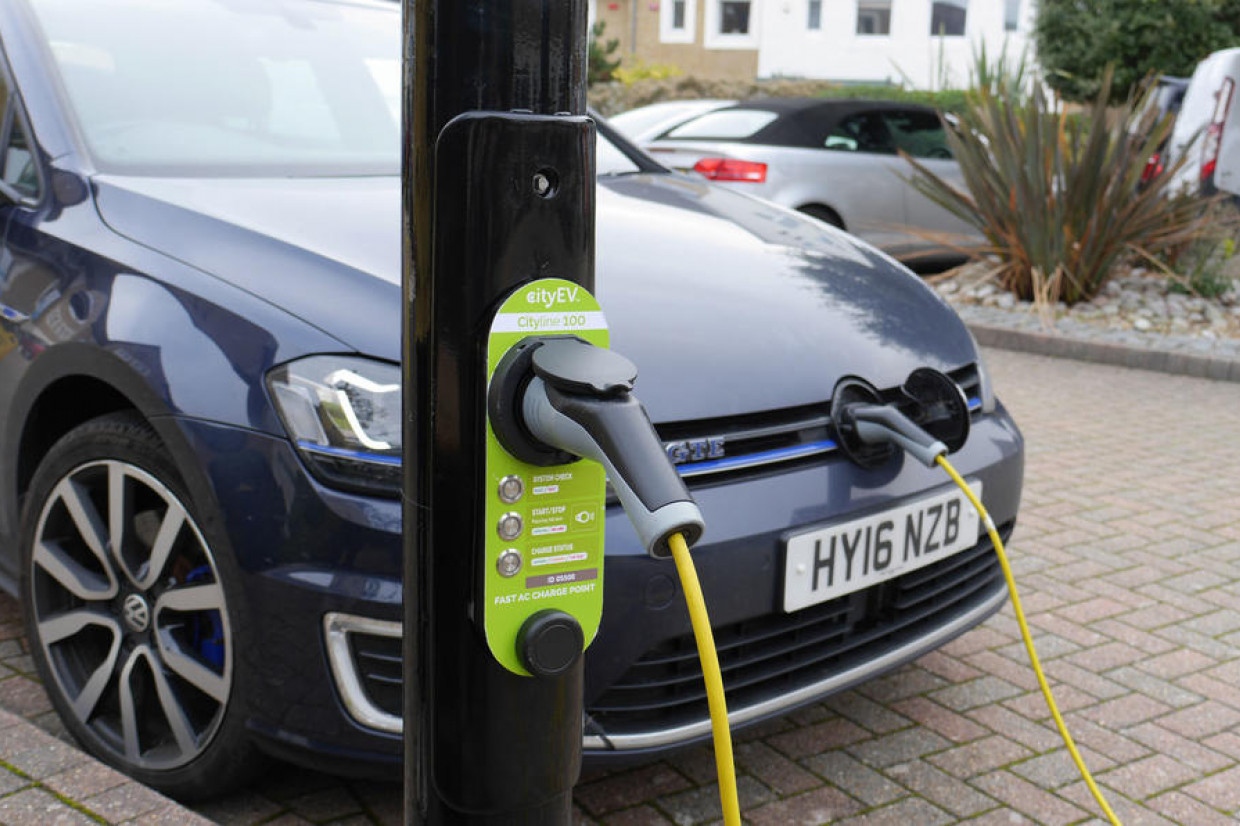 The UK government has set the goal of increasing the number of public electric car chargers more than 10 times to 300,000 by the end of 2030, to help keep pace with the growing sales of electric cars.
There are currently around 30,000 public chargers in the UK, but around 420,000 EVs in operation – and that gap has been growing quickly. The UK government is aiming to tackle that with a new Electric Vehicle Infrastructure Strategy, which it says includes a total of £1.6 billion of investment.
The government says the strategy will make charging easier and cheaper then refuelling a combustion-engined car, and will ensure the UK charging network "is robust, fair and covers the entire country."
But the strategy does not include any binding targets or commitments on the expansion of the UK's charging infrastructure – leading the boss of Vauxhall to call it "a missed opportunity."
What the government plan involves
The £1.6 billion total includes the previously announced £950 million Rapid Charging Fund, which will be used to back the rollout of at least 6000 super-fast chargers on England's motorways.
A new announcement is a £450 million Local Electric Vehicle Infrastructure (LEVI) fund, which will be used to help fund projects such as EV hubs and "innovative" on-street charging, with a major push to help ensure the one in three households without access to off-street parking – and so unable to fit a charger at home – can more easily switch to an EV.
The government has already launched a LEVI pilot scheme, with local councils able to bid for a share of £10 million in funding. The LEVI fund also allocated up to £50 million to fund staff to work on local public chargepoint planning, to make sure those chargers are integrated with other zeroed-mission travel options.
The government has also vowed to help address barriers to private sector chargepoint expansion, such as local councils delaying planning permission. But it has stopped short of setting binding targets for the number of chargers to be installed in the UK, or their geographic spread.
Prime Minister Boris Johnson said: "Clean transport isn't just better for the environment, but is another way we can drive down our dependence on external energy supplies. It will also create new high-skilled jobs for our automotive and energy sectors and ultimately secure more sustainable and affordable motoring for all.
"Drivers are at the heart of the revolutionary plan, with rigorous new standards and legislation being introduced to improve people's experience of using public chargepoints."
Tied in with the government's announcement, charging firm BP Pulse has pledged to invest £1 billion in expanding its fast-charging offerings.
Richard Bartlett, BP Pulse's senior vice president, said the investment "allows us to deliver more. More high-speed charging in dedicated hubs and on existing fuel and convenience sites. More home charging services. And crucial enhancements to our digital technology that will make charging fast, easy and reliable."
Reaction to the Electric Vehicle Infrastructure Strategy
Paul Willcox, Vauxhall's managing director, said: "Vauxhall recently welcomed the Government's Zero Emission Vehicle mandate announcement – a target on the amount of EVs sold in the UK – on the basis of it taking a 360-degree approach and including complimentary targets on charging infrastructure.
"Whilst we welcome the Government's Electric Vehicle Infrastructure Strategy, we feel that it is a missed opportunity to provide certainty to customers by mandating binding targets on the roll-out of the charging infrastructure in the UK. It is essential that infrastructure keeps pace with market demand, or in fact leads demand, to remove any customer fears of 'charging anxiety' and accelerates the electrification of Britain's roads as quickly as possible."
Mikes Hawes, the chief executive of the Society of Motor Manufacturers and Traders car industry body, said: "The EV infrastructure strategy points in the right direction, addressing problems with the current customer charging experience and setting out a nationally co-ordinated, locally delivered plan which aims to 'build ahead of need'. The UK already has an enviable and ever-growing rapid charging network, so focus must be given to expanding public on-street and destination charging provision."
Graeme Cooper, the head of future markets at the National Grid, said: "We welcome the Government's EV Infrastructure Strategy which sets out a mosaic of charging solutions, helps provide confidence and certainty, and enables government, industry and networks to shift from planning the EV transition to rapid action and delivery.
"Project Rapid is an important part of this strategy and will be key to achieving Government ambitions to decarbonise road transport. We now need to see action that makes best use of the available funding, and collaboration between transport and energy networks to deliver the most efficient network solution. Establishing the Delivery Body to deploy the Rapid Charging Fund is the next key step. And we can't just focus on cars and vans. There needs to be a holistic approach across the whole transport system - we need to see a plan in place for the deployment of charging infrastructure that will support the decarbonisation across road, rail aviation and maritime as well."
READ MORE
Subscribe to the Move Electric newsletter
e-CARS
New Volkswagen ID Buzz: everything you need to know
How efficient are electric cars?
e-BIKES
Ducati expands e-bike range with first racing machine
e-MOTORBIKES
New Yamaha Neo is Europe-bound '50cc equivalent' electric moped
Electric Motion Epure Race e-motorbike review
e-SCOOTERS
Eskuta KS-450 e-scooter review
Taito unveils innovative new three-wheeled electric scooter
e-WORLD
Electric surfboard firm Awake aims to make waves with first e-foil
Volta Zero electric truck can 'dramatically improve' inner-city road safety