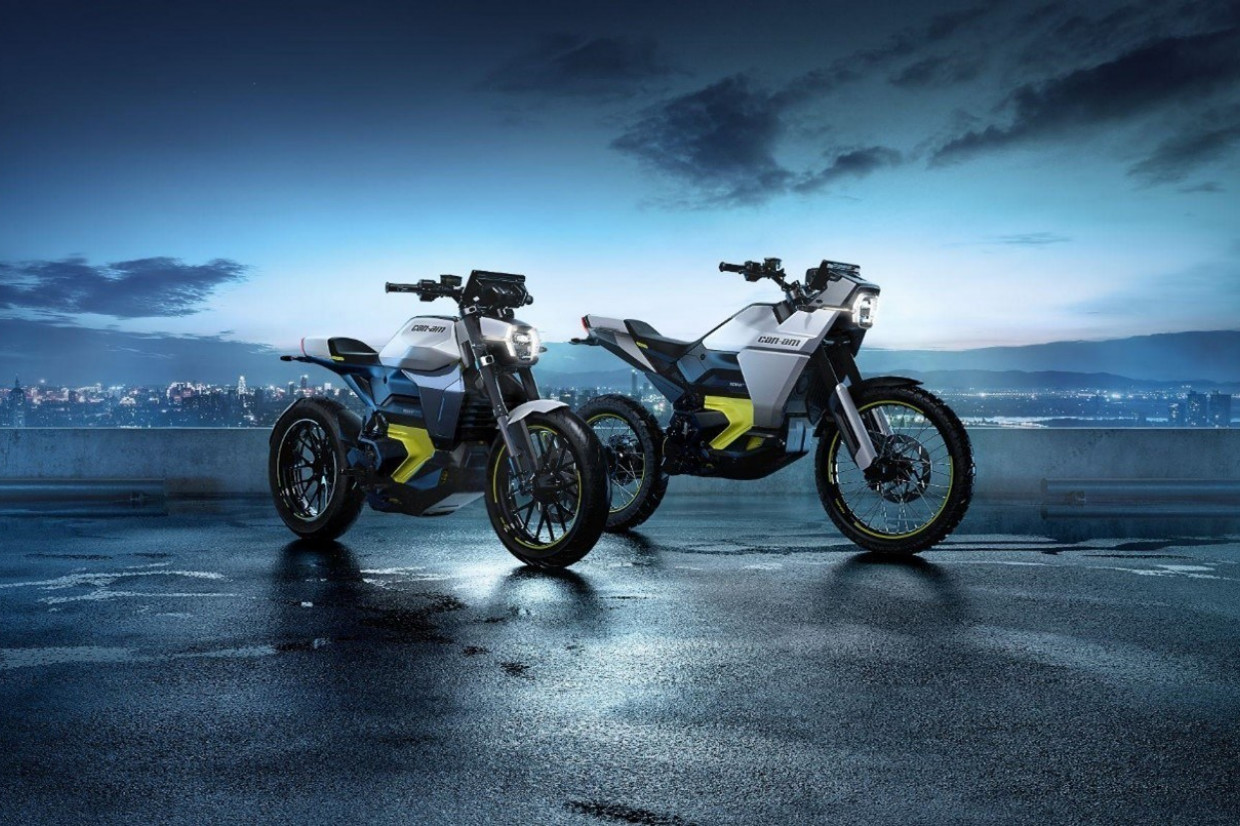 Motorbike and all-terrain vehicle manufacturer Can-Am has unveiled two new electric motorbikes, the Can-Am Origin and Can-Am Pulse.
The Canadian-based firm produces a range of vehicles from all-terrain off-road quad bikes to its popular three wheeler, which unlike most trikes has two front wheels instead of one. 
Can-Am"s Origin electric motorbike serves as a tribute to the firm's 'Track n' Trail' heritage and has been designed to be used in both urban and rural environments. 
The Can-Am Pulse meanwhile, has been described as "a balanced and agile motorcycle", aimed at inner-city electric commuting. 
Can-Am says the future electric two-wheelers will be built to showcase its "state-of-the-art" technology and promises to build the bikes in a way that makes them "easier to use and ride for novices".
Both models will be equipped with an all-new electric technology from powertrain manufacturer Rotax. 
Price and performance details of the forthcoming e-motorbikes remains under wraps, but Can-Am's parent company, BRP, plans to reveal full specifications in August 2023 before the firm's 50th anniversary. 
"Half a century ago, Can-Am roared to victory on the track and the trail, and today, a new legacy begins," said José Boisjoli, president and CEO of BRP. 
"With the Can-Am Origin and Can-Am Pulse, the first two models of our electric 2-wheel family, we are gearing up to reclaim our motorcycle heritage by crafting thrilling riding experiences for a whole new generation."
READ MORE
Subscribe to the Move Electric newsletter
e-CARS
UK charging networks: complete guide to every provider
New Cupra UrbanRebel is a bold EV supermini with 273-mile range
e-BIKES
10 fun things to try on an electric bike
Living with a Gocycle G4: how easy is it to adjust to?
e-MOTORBIKES
Seat Mó eScooter 125 UK review
How to do a CBT on an electric motorbike
Energica unveils new Experia electric tourer motorbike
e-SCOOTERS
Are e-scooters legal in the UK?
Private e-scooter rules 'cannot simply copy' rental regulations
Superpedestrian's European boss on why e-scooters are for everyone
e-WORLD
New Candela P-12 Shuttle to arrive as first electric 'flying' ferry
Pipistrel Velis Electro: meet the first certified electric plane