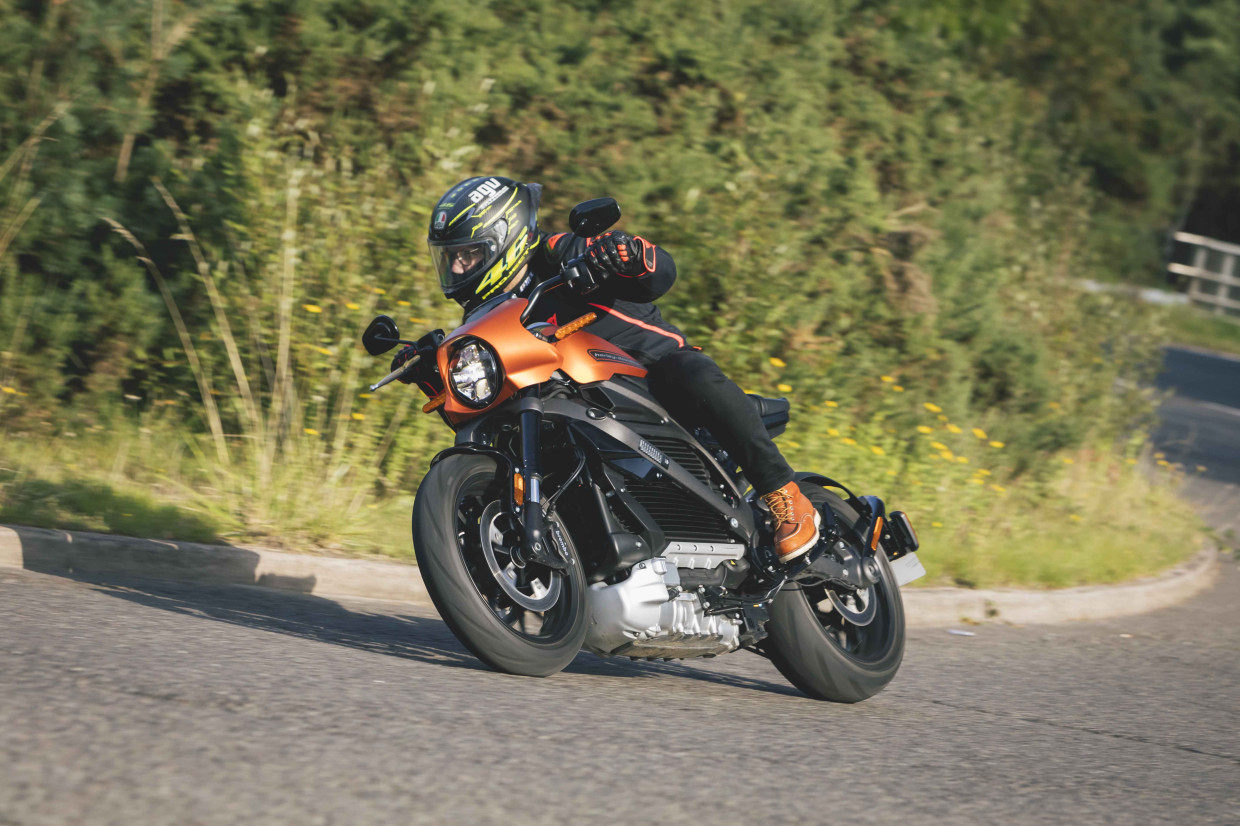 Move Electric rating: five stars out of five
Updated: March 2023 with UK sales details and pricing
Sell it to me in a sentence...
The Livewire One is not just the best Harley Davidson-produced bike we've ever ridden, but it also proves that electric motorcycles can have real character.
Is the wait finally over?
Oh yes. We actually reviewed the Livewire One back in 2021, when it was still known at the Harley Davidson Livewire. Since then, the fabled US motorbike brand split out Livewire into a standalone EV-only company – and UK buyers have been waiting patiently for the bikes to arrive here.
The wait is over: you can now order one in the UK, with deliveries expected to start soon. The UK is one of four European markets that the bike is now available in, with 30 dealerships across them.
So what does it cost?
In the UK the Livewire One will start from £22,990. Clearly, that's not cheap: you could have a range-topping Zero Motorcycles SR/S and a conventionally powered Yamaha MT-07 for the same price as one Livewire. But ultimately, this is a halo product that's intended to bring well-heeled early adopters to the new Livewire brand.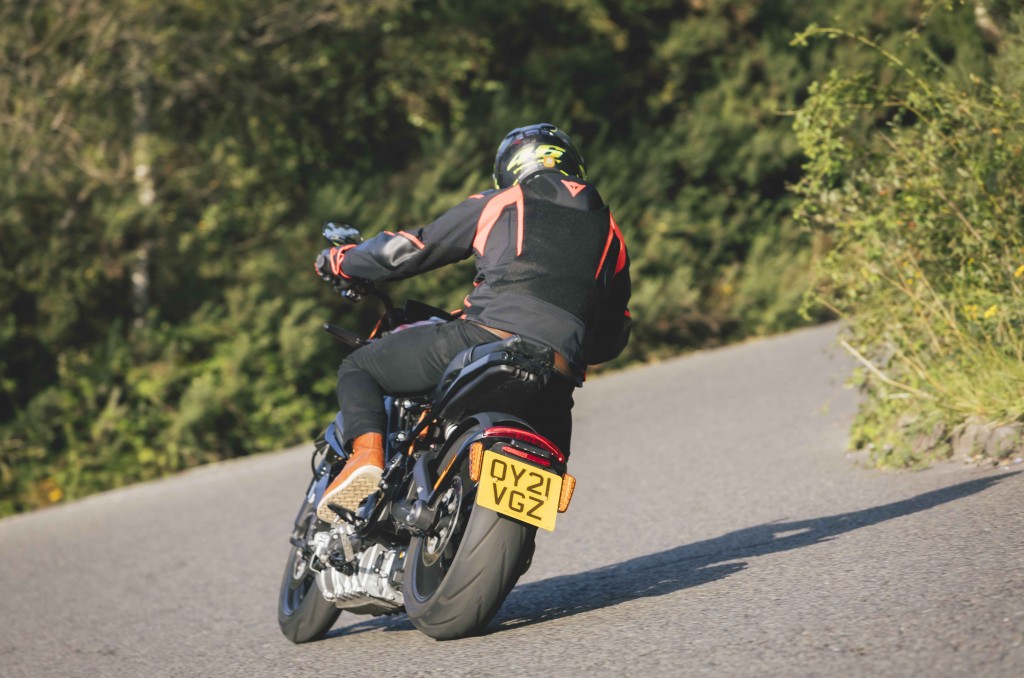 What is it?
An electric motorbike developed by Harley-Davidson, but you knew that already, didn't you? 
Launched in 2019, the Livewire is arguably the most talked-about new motorcycle of the last decade. Not only has it already starred alongside Ewan McGregor and Charley Boorman in the critically acclaimed 'Long Way Up' travel show (PR for a motorcycle doesn't get any better, just ask BMW) but Harley's decision to reposition itself as a tech company has also caused a real stir in the bike world. 
After all, who would have predicted that Harley-Davidson – a company not typically associated with technical innovation – would be the first mainstream bike manufacturer to produce a cutting-edge electric motorcycle? And who then expected Harley would quickly split out that motorbike into its own standalone, EV-only company?
Not us. But it's certainly a brave move, and one that, anecdotally at least, the wider public seems to be aware of. While photographing the bike for this feature, every five minutes or so a random passerby would stop to ask, 'is that the new electric Harley?'. 
As a marketing exercise, then, the Livewire has been a success, but what's it like to actually ride? Well, before we hit the road, let's assess the hardware. At its heart sits a whopping 15.5kWh battery paired to a compact electric motor. We'll get to acceleration later, but in terms of range, Livewire claims the One should be able to cover at least 146 miles in the city and 95 miles on a mixed test route, which is competitive for the class but not groundbreaking (the SR/S Zero we tested sported a city range of 161 miles).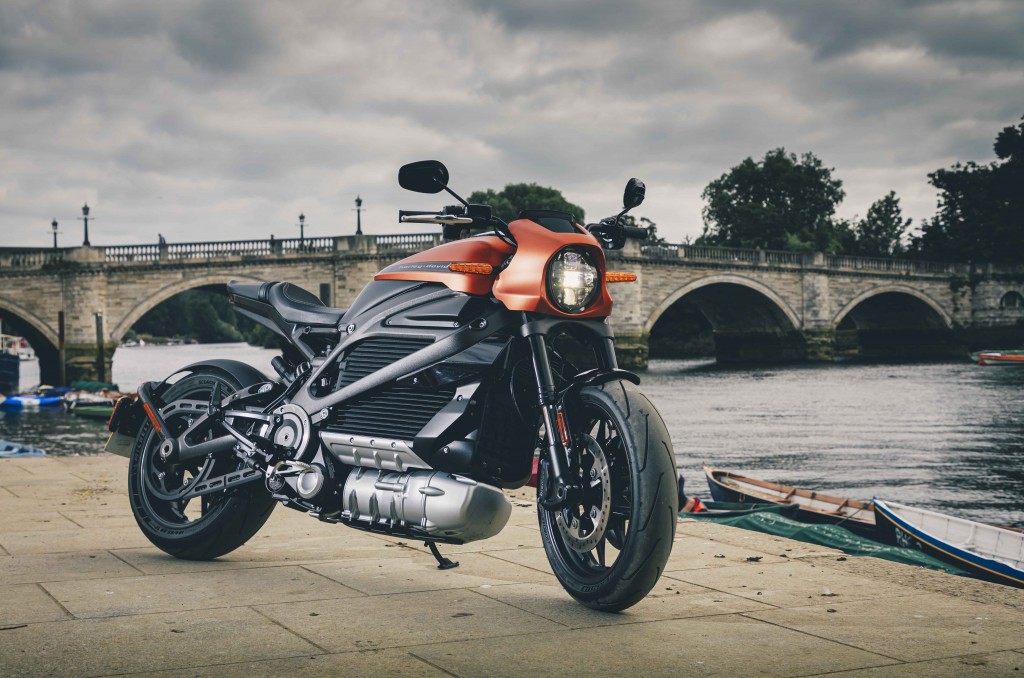 However, unlike the Zero SR/S, the Livewire One comes with a fast charging capability as standard. The Maximum DC charging rate is an impressive 13kW, which will take the battery from 0-80% in 40 minutes and 0-100% in 60 minutes. That's just enough time to grab a bacon bap and a cup of tea, provided you can find a fast charger at your local biker stop. There's also a cable and three-pin plug that lives under the seat – plugged into your 240-volt household supply it will deliver 13 miles for every hour of charging. 
Build quality and attention to detail, meanwhile, is top-notch. Everything, from the charging port on the top of the 'tank' to the chunky switchgear feels built to last and the paint finish on our 'Orange Fuse' example was exceptional. Then there are the standard-fit LED lights, TFT dashboard, keyless ignition, Showa forks and Brembo brakes – the kind of kit that makes the list price more palatable.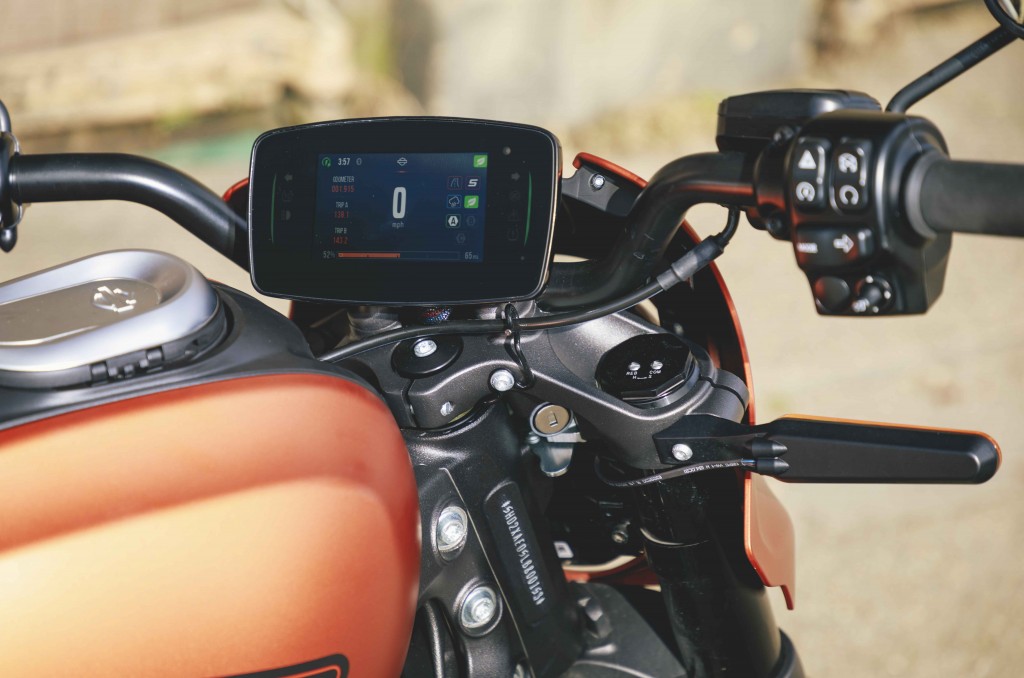 What's it like?
From the moment you thumb the starter button, you can tell that some serious time and effort has gone into making the Livewire a truly polished product; not only do the vertical light bars on each side of the TFT screen turn green to let you know the One is live, but you also feel a heartbeat-like pulse (produced by the electric motor) through the handlebars and base of the seat. This removes the need to twist the throttle to check if it's 'on' – something I found myself doing quite often on the Zero SR/S.
The fact that there's no clutch or any gears to worry about also makes the Livewire no scarier to ride than a large scooter, as does the impressively natural throttle connection. There are four different riding modes (Eco, Rain, Street and Sport), and each controls a host of riding parameters; Eco mode felt perfectly suitable for inner-city work and still delivered enough punch to smoke Uber drives away from the lights, while Sport, with its increased engine braking and instant throttle response, felt ideal on fast and flowing country roads. 
But with no clutch, no gears and no noise, surely it can't deliver the raw thrills of a petrol-powered motorcycle? Well, that was certainly a concern we had before throwing our leg over the Livewire, but happily, all it takes is one full-bore start to quell those worries instantly. With 0-60 taking just 3.0 seconds and with no noise to accompany the relentless turn of speed, you essentially feel like you're flying – clichéd, we know, but true. And because the Livewire comes as standard with a cutting-edge advanced traction control system (it makes the latest supercar systems feel archaic) you can give it the full berries out of every corner without worrying about getting spat off.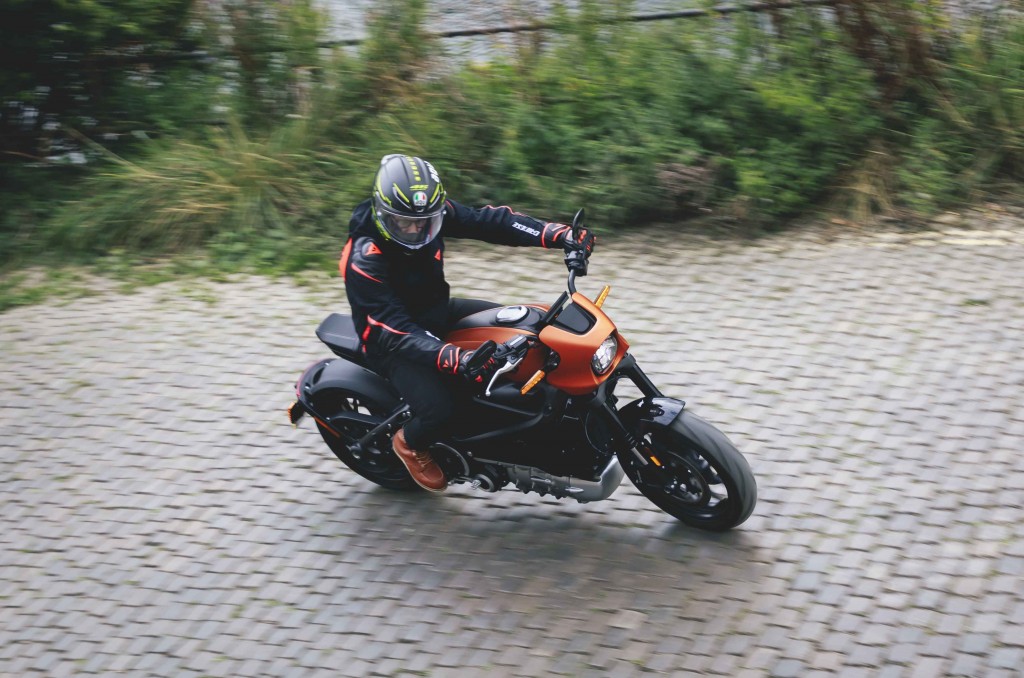 You also don't have to worry about keeping up with your mates in the corners, either, because, despite having a rather hefty kerb weight of 249kg (about the same as a BMW GS adventure bike), the Livewire delivers well-balanced and predictable handling. Granted, you do have to muscle it a bit to change direction quickly at speed, but the chassis never ties itself in knots and there is plenty of feel and grip from the Michelin Scorcher tyres. 
That said, your mates might get a little frustrated at how often you need to stop for a charge. On a spirited ride from south London to the Goodwood Motor Circuit in Chichester (a journey of around 68 miles) we arrived with a remaining range of 8 miles. That's 76 miles on a single charge – fine for a quick morning blast or commuting, but not great if you want to go farther afield. 
Should I buy one?
At £22,990 the Livewire One is never going to have mass appeal. As we mentioned in the introduction, you could have a range-topping Zero Motorcycles SR/S and a conventionally powered Yamaha MT-07 for the same price as one Livewire. And truth be told, that's exactly what we'd do. 
But judged purely as a design exercise, the Livewire is nothing less than a triumph. Not only has the firm nailed the basics with great ergonomics and a beautiful level of fit and finish, but it's also proved that electric bikes can be both fun and lust-worthy. If this is the future, we say bring it on. 
Where can I buy it?
Visit www.livewire.com for a full list of dealer locations.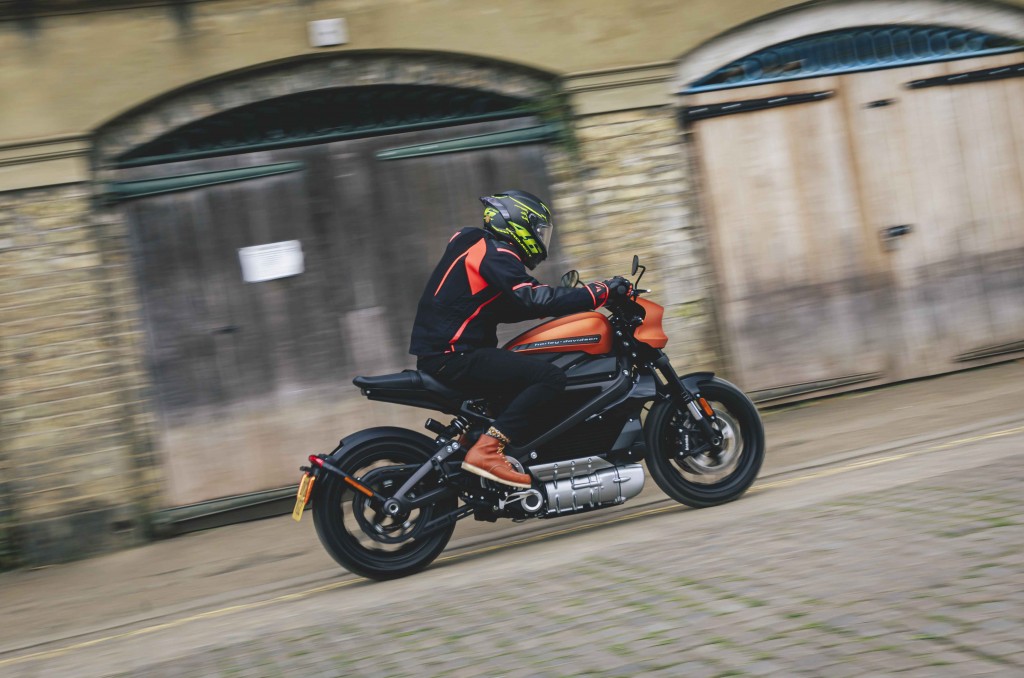 Livewire One technical specification
Model tested: Livewire One
Price: £22,990 
Electric motor/s: H-D Revelation
Drive battery: 15.5kWh lithium-ion battery
Power: 104bhp 
Torque: 86 ft-lb 
Top speed: 115mph
Range: 95 miles combined (MIC Combined Test – Non-WLTP)
0-62mph: 3.0 seconds
Kerb weight: 249kg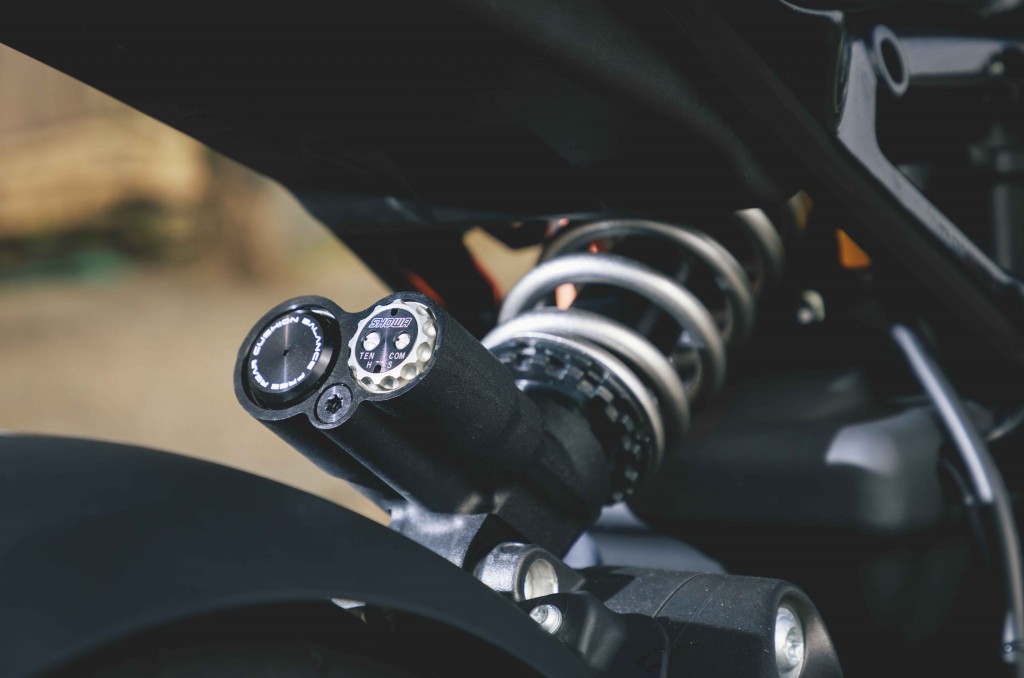 READ MORE
Subscribe to the Move Electric newsletter
e-CARS
What is a heat pump and how do they benefit electric cars?
Bold new Volkswagen ID 2all previews sub-£22,000 electric car
e-BIKES
Ten electric bikes we're excited for in 2023
Nine ways to keep your e-bike safe
E-bike theft: how common is it and what can you do to protect your e-bike?
Haibike AllMtn CF 6 e-bike review
e-MOTORBIKES
10 electric motorbike start-ups you should watch out for
Energica e-motorbike to take on all-comers in US racing series
Ducati: How the Italian motorbike brand is gearing up for the electric era
e-SCOOTERS
Planned laws to legalise private e-scooters face delay
Leading e-scooter firms team up on best-practice guide for cities
Ambiguity over e-scooter legality causing 'confusion', says police chief
e-WORLD
Solar panels: 8 ways the sun can power your electric life
First ride: Lunaz Upcycled Electric Vehicle bin lorry
AutoFlight secures huge order for Prosperity 1 eVTOL craft
VIDEO: Watch Move Electric's epic e-race across London