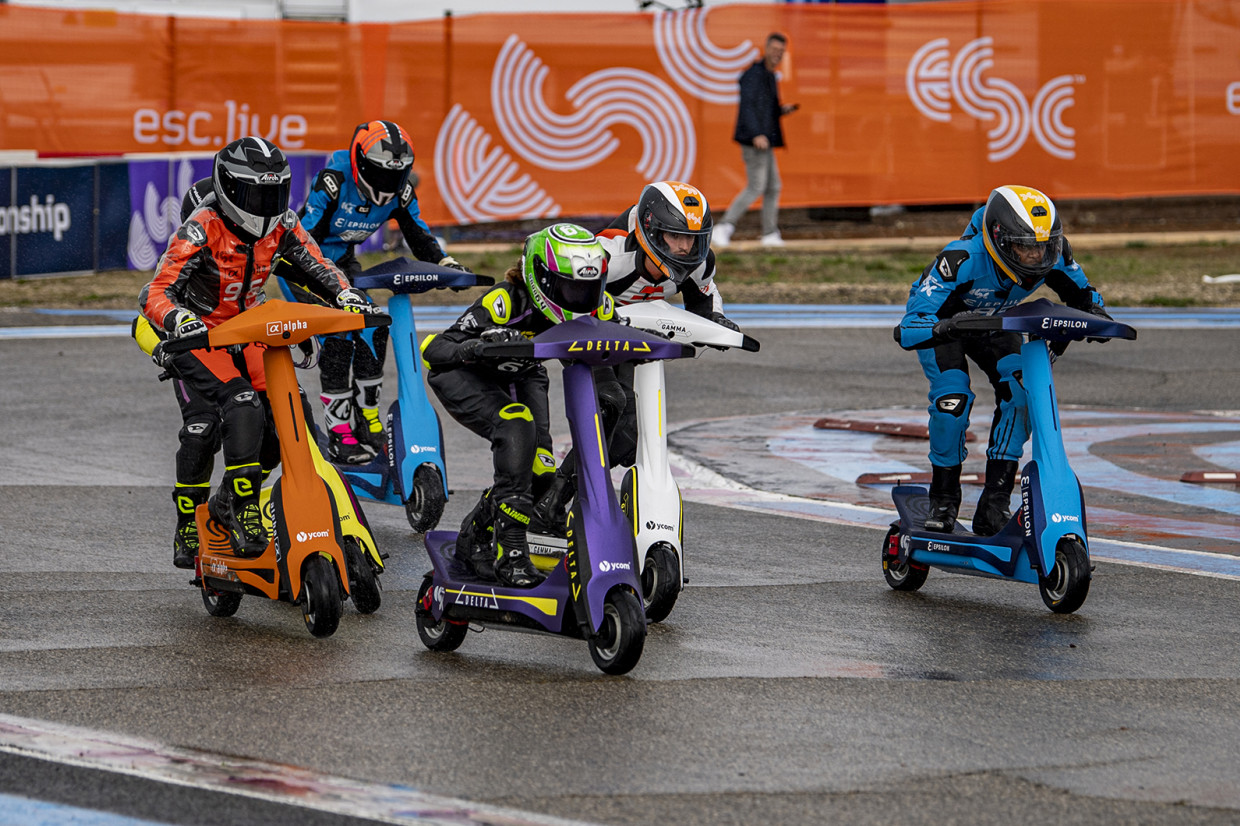 It's proving to be a big week for e-scooters in the UK. Not only has the government confirmed plans to fully legalise e-scooters for use on public roads – but this weekend London will host the inaugural round of the new eSkootr Championship.
Subscribe to the Move Electric newsletter
Yes, it's a championship for high-speed, prototype racing e-scooters. Think of it as the Formula E of micromobility (we're slightly disappointed they didn't call it Formula E-scooter, now we think of it). 
Sounds exciting, right? Well, here's everything you need to know...
Racing e-scooters? What madness is this?
It's not madness. While the prospect of a world championship for electric scooters might sound a bit silly, the organisers behind it are incredibly serious. And with good reason. After all, micromobility is growing rapidly, and since there are races for cars, bikes, motorbikes and just about every other forms of transport, why not e-scooters?
And the organisers behind the eSkootr Championship are taking it very seriously. They've recruited some of the top organisers from two- and four-wheeled motorsport organisations to head up the sporting, safety and technical aspects. 
They've even created a bold new Commission for Micromobility and Sport, which is designed to promote the safe and sustainable development of micromobility sport - and micromobility more generally.
So this isn't just about a single championship?
Absolutely not. The S1-X racing scooter has been designed so that it can be offered with varying degrees of power, allowing it to be used to create a ladder of championships for riders with varying experience.
The ultimate goal is to offer young riders taster sessions at venues, and then offer them a clear path to race their way up to the main global eSkootr Championship. That will take years, but the organisers are very committed to that goal.
To find out more about the plans by eSC organisers to aid the development of an e-scooter racing ladder and micromobility generally, read our Q&A with series co-founder Alex Wurz.
So what exactly is a racing e-scooter?
Effectively, the S1-X has been created from the ground-up for racing: this isn't an e-scooter you could rent on a UK street with a few go-faster bits on.
It's a quick thing, too: series co-founder Wurz says "aggressive design, performance and handling targets" were set. It can top 60mph, and can corner at angles of up to 50 degrees.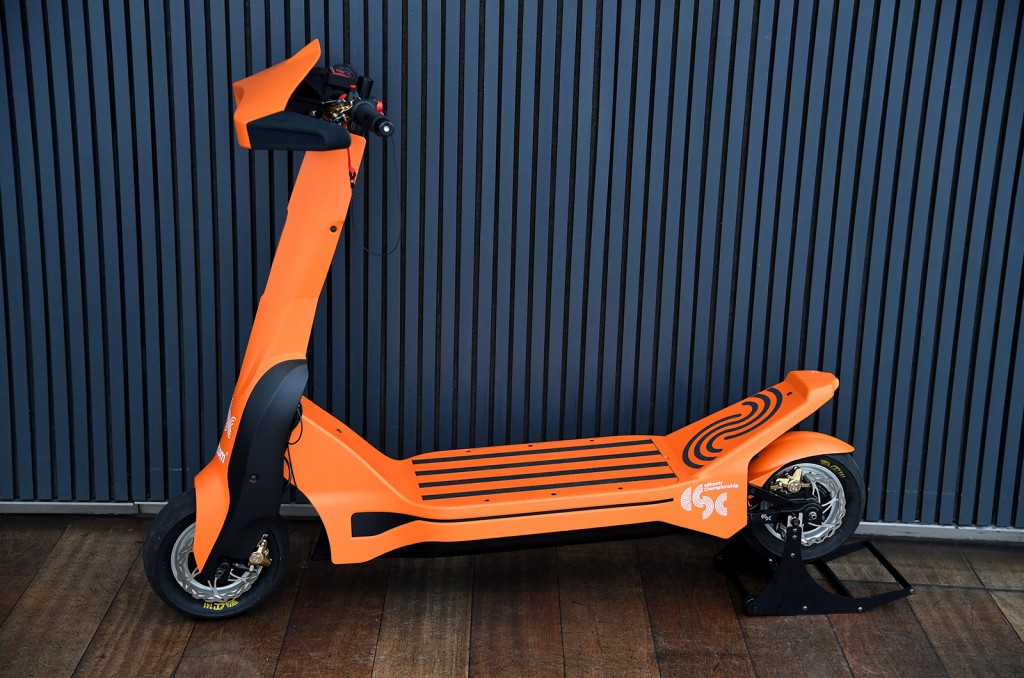 The S1-X is powered by a pair of 6kW motors in each wheel – making it the first two-wheel-drive two-wheel motorsport machine – and weights 16kg. It sits on 11in racing tyres, has hydraulic disc brakes and weighs just 40kg. Power comes from a 1.33kWh battery developed by Williams Advanced Engineering.
The machine has been designed and built by Italian advanced engineering firm YCOM, with the bodywork made from sustainable natural fibre composites provided by Bcomp.
Sustainability is also a key goal: organisers says eSC will be carbon neutral from the off, and have already secured a deal to recycle the batteries used in the machines.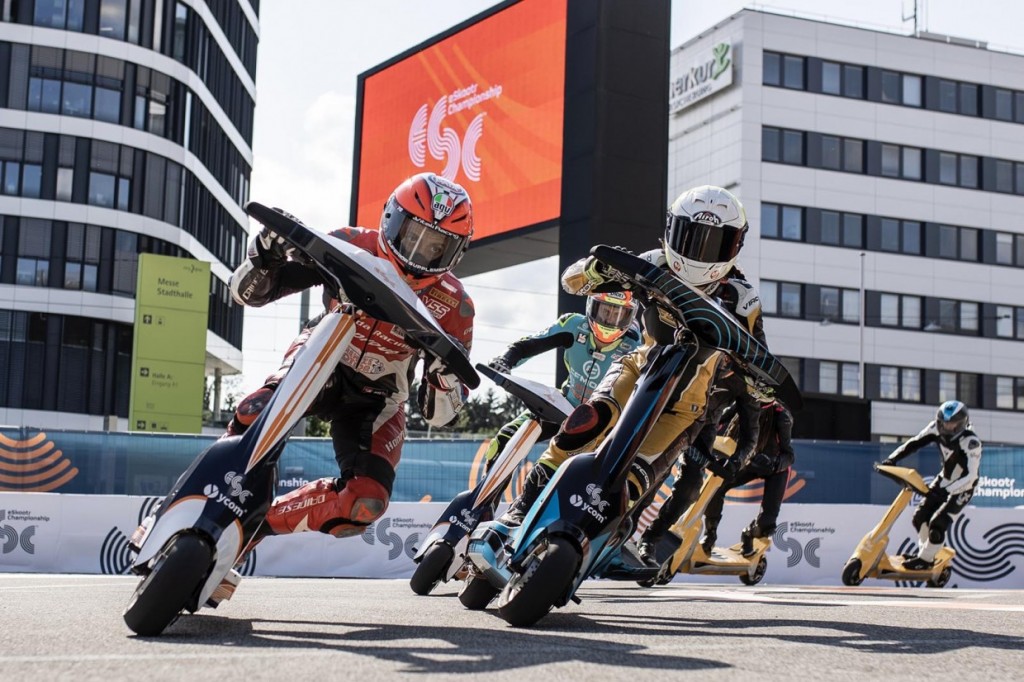 Where will the eSC championship be racing this year?
The championship will feature six events in its opening season, starting with the London season-opener at Printworks London this weekend.
The next event will be on the street of the historic town of Sion, Switzerland on May 27/28, with the third race at a yet-to-be-confirmed venue in Italy on July 15/16.
There will then be races in France in August, Spain on Sept 16/17 and the USA in October. Again, locations - and specific dates in the case of France and the USA – are yet to be confirmed.
The tracks will be between 600 and 1km in length.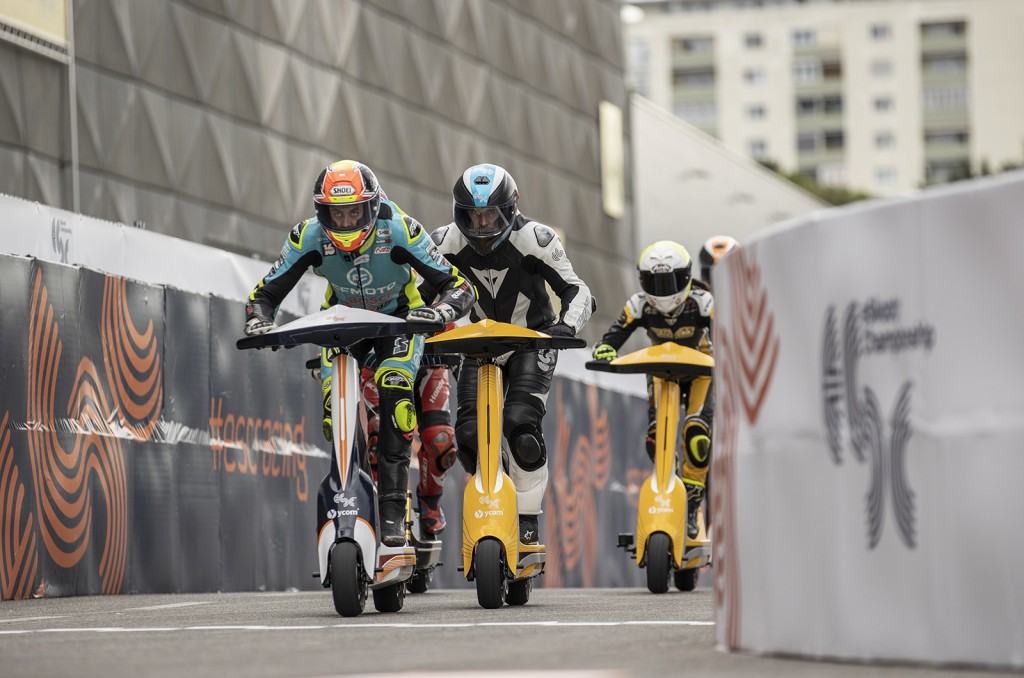 Printworks London? Is eSC racing inside a printing factory?
Essentially, yes: Printworks London in Rotherhithe was formerly known as the Harmsworth Quays Printing Works, and copies of the Daily Mail and Evening Standard were printed there until 2012. The site was sold off, and reopened in 2017 as Printworks London, a nightclub and entertainment venue. And, for this weekend at least, an e-scooter racing circuit.
The 600-metre track runs both inside and outside of the venue, and organisers say it has been laid out both to allow for great racing and to make a compact festival-style spectator event. Tickets are limited, and can be bought on the eSC website. Under 16s must be accompanied by an adult.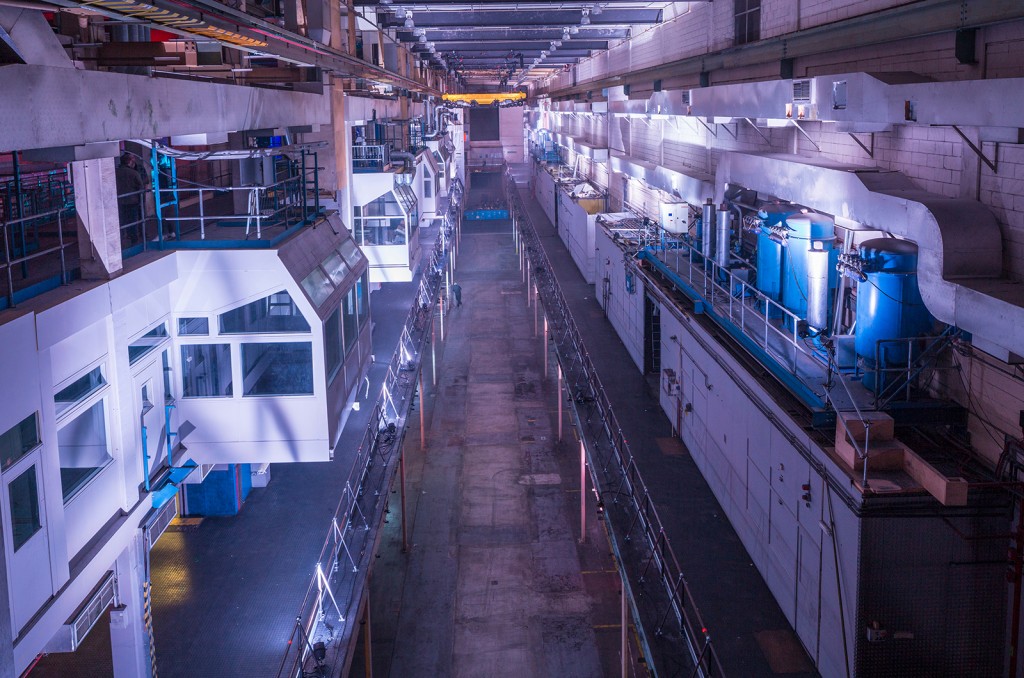 So what's the race day format?
The event will take place over a single day on Saturday May 13. The gates open at 1230hrs, with the heats starting at 1400hrs, the quarter- and semi-finals taking place from 1600hrs and the final scheduled for 1900hrs.
Building on the concept of eSC to mix racing and entertainment, a post-race concert will begin at 1930hrs. It will be headlined by Lady Leshurr, and also feature Anz and DJ La La. That concert will only be for those aged 18 or over.
Leaving aside the concert, how does the race format work?
It's a series of short, sharp races that will gradually whittle the 30 racers down to determine the winner. If you've watched a rallycross event you'll have some idea what to expect.
The event will start with six heats, with five riders in each. The last-place finisher in each heat is eliminated, with the top four (so 24 riders in all) progressing to the quarter-finals.
There will be four quarter-finals, each with six riders in - with the top three finishers (12 riders in total) in each progressing to one of the two semi-finals.
The top three finishers in each of the six-rider semi-finals will progress to the final, with the winner of that six-rider clash claiming the big, shiny event trophy and getting bragging rights.
Points are handed out throughout the event with a 6-5-4-3-2-1 format for the heats, quarter- and semi-finals. In the final, points are distributed 15-12-10-8-6-4. A driver's points are all added up to make their total for the weekend.
Our tip: don't worry too much about trying to add up all the points as you go along. If you take a calculator, it will only fall out of your pocket when you're dancing along to Lady Leshurr later. Possibly.
Okay, tell us about these 30 riders then...
They are, to put it mildly, a mixed bunch. The 30 riders were selected after what eSC bosses call an intensive test and evaluation programme, and with e-scooter racing being a brand new thing, come from a range of disparate backgrounds.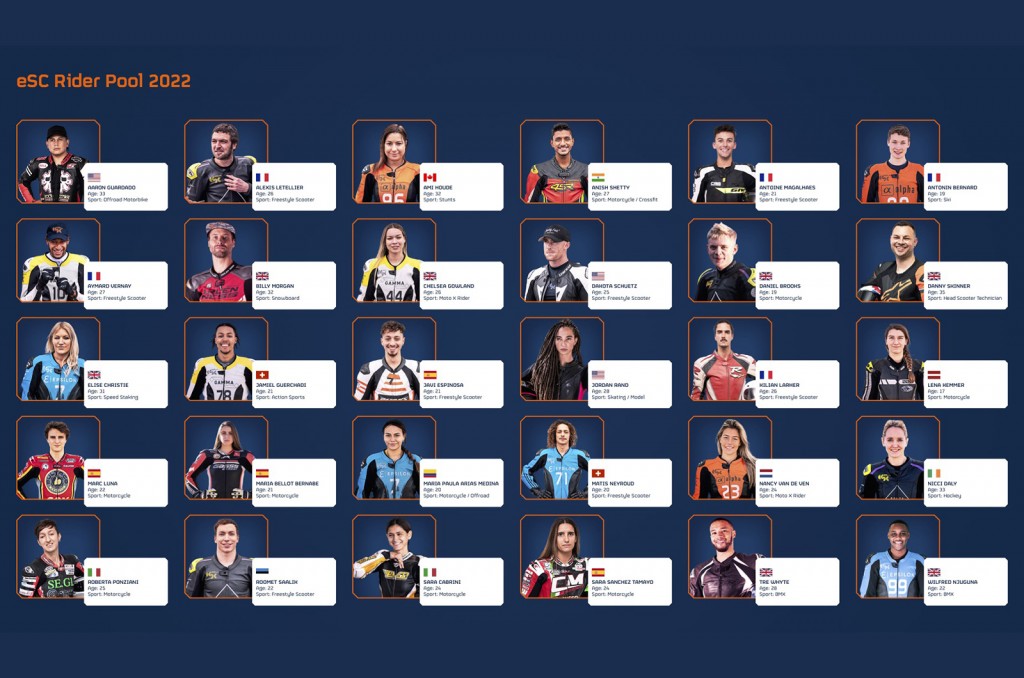 There are 10 teams, and each will run three riders during the season. Unusually, rather than finding their own, teams 'drafted' their three riders from the central pool, similar to the way young players are signed to teams in American sports.
Any big names?
Definitely. Perhaps the highest-profile – for UK fans, at least – is Elise Christie, a multiple European and World champion short track speed skater. 
She's joined by another Winter Olympian: Billy Morgan, who won a bronze medal in snowboard big air in the 2018 Winter Olympics. Another extreme sports star is Tre Whyte, a former BMX World Championship bronze medalist.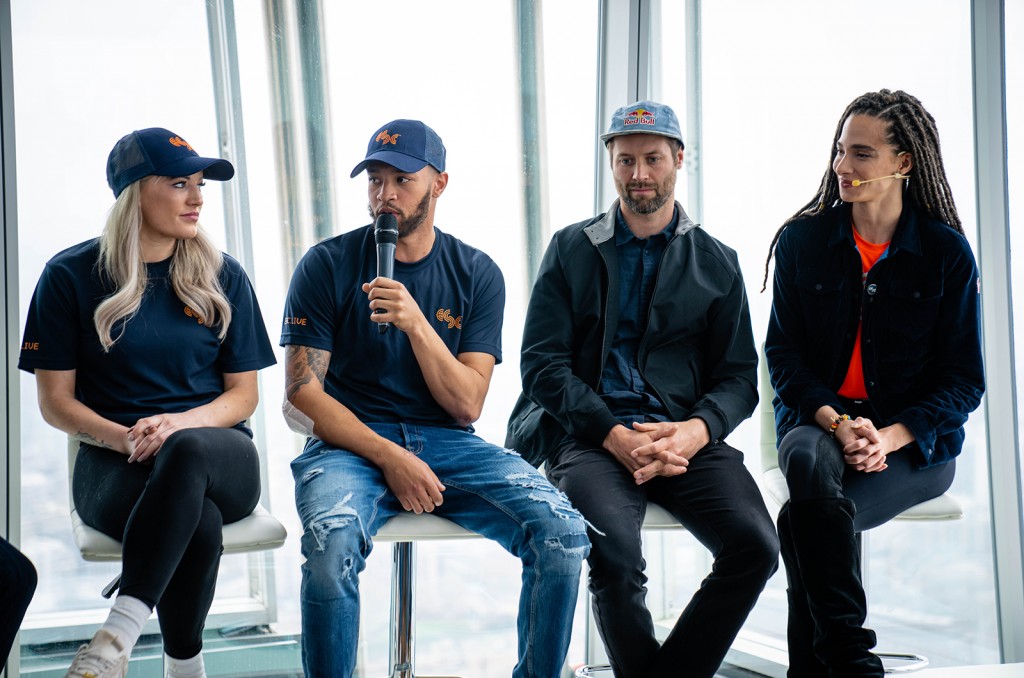 There are four other British racers: motorbike racers Daniel Brooks and Chelsea Gowland, GT4 Racine driver Danny Skinner and BMX racer Wilfred Njuguna.
Any other notable competitors?
Other competitors include French Alpine slalom skier Antonin Bernard (a former kart racer whose childhood hero was Jenson Button) and Indian Anish Shetty, a former bike racer who also has a claim to be the fittest man in Asia after winning the Cross Fit Open Championship. 
Irishwoman Nicci Daly is a former field hockey player who also works as an engineer in the Indy Lights single-seater championship, while American Jordan Rand is a professional model and motorbike enthusiast (and a former figure skater and track athlete).
Roomet Saalik, Aymard Vernay, Javi Espinosa and Alexis Letellier can claim some competitive scooter experience – both are freestyle scooter stunt riders, albeit on non-electric machines. Although Saalik has also successfully completed a backflip on an e-scooter – a stunt he hopefully won't replicate this weekend...
There's also a monster truck racer (Ami Houde), a former equestrian rider (Maria Bellot Bernie) and a lot of current and former motorbike, motocross and flat track riders.
So who are the favourites?
Who knows? Not us. We'd mutter something about throwing the form book out of the window, but since this is the first-ever e-scooter race there isn't actually a form book to hurl.
The feeling is that, at least initially, the motorbike riders will have an edge, due to their experience of the techniques needed in terms of riding and race craft. 
Series co-founder Khalil Beschir says that when recruiting riders they initially looked at two-wheel motorsport competitors, but added: "There are just so many ways to ride these things. We also found that having experience in balance sports was key, because you really need to keep these things balanced. 
"In testing we've seen lots of different styles of riding, and it will be interesting to see how it develops."
During testing, snowboarder Billy Morgan had one of the most unusual styles, which he jokingly calls the "stanky leg approval", in which he instinctively leaves one of his feet dangling off the e-scooter. He jokes that doing so "also helps block people from overtaking."
Still, even if one rider does have an edge this weekend, it might not last the full season: all the data from the test sessions was shared between riders, so they've all been able to study the varying styles and techniques, and learn from each other. 
Who are the team bosses?
The 10 teams are just as disparate as the riders, with outfits headed up by starts of a wide array of other sports.
They include world champion boxer Anthony Joshua (258 Racing), and Formula 1 racer Nico Hulkenberg (27X Racing). Professional cyclist Nico Roche runs an eponymous team, while Austrian mountain biker Fabio Wibmer's Sick! Racing Team outfit is named after his clothing line.
Teams are also entered by single-seater racing giant Carlin, sportswear squad Murphy Prototypes and micromobility manufacturer Helbiz.
Where can I watch?
If you can't make it to Printworks London, you can watch in the UK on BBC iPlayer or BBC Sport's online platforms. You can also watch online via the eSC Fan Hub.
READ MORE
Subscribe to the Move Electric newsletter
e-CARS
New electric cars for 2022 and beyond: what's coming when
New BMW i7 unveiled as luxury electric saloon
e-BIKES
Best e-bikes for every category 2022
Moustache Samedi 28.7 e-bike review
e-MOTORBIKES
Yamaha Neo's electric scooter review
Cake launches new global electric motorbike race series 
e-SCOOTERS
Government set to announce plans to legalise private e-scooter use
New study finds e-scooters are five times safer than bikes
e-WORLD
World's first airport for flying taxis opens in UK
Meet the firm electrifying the tuk-tuk