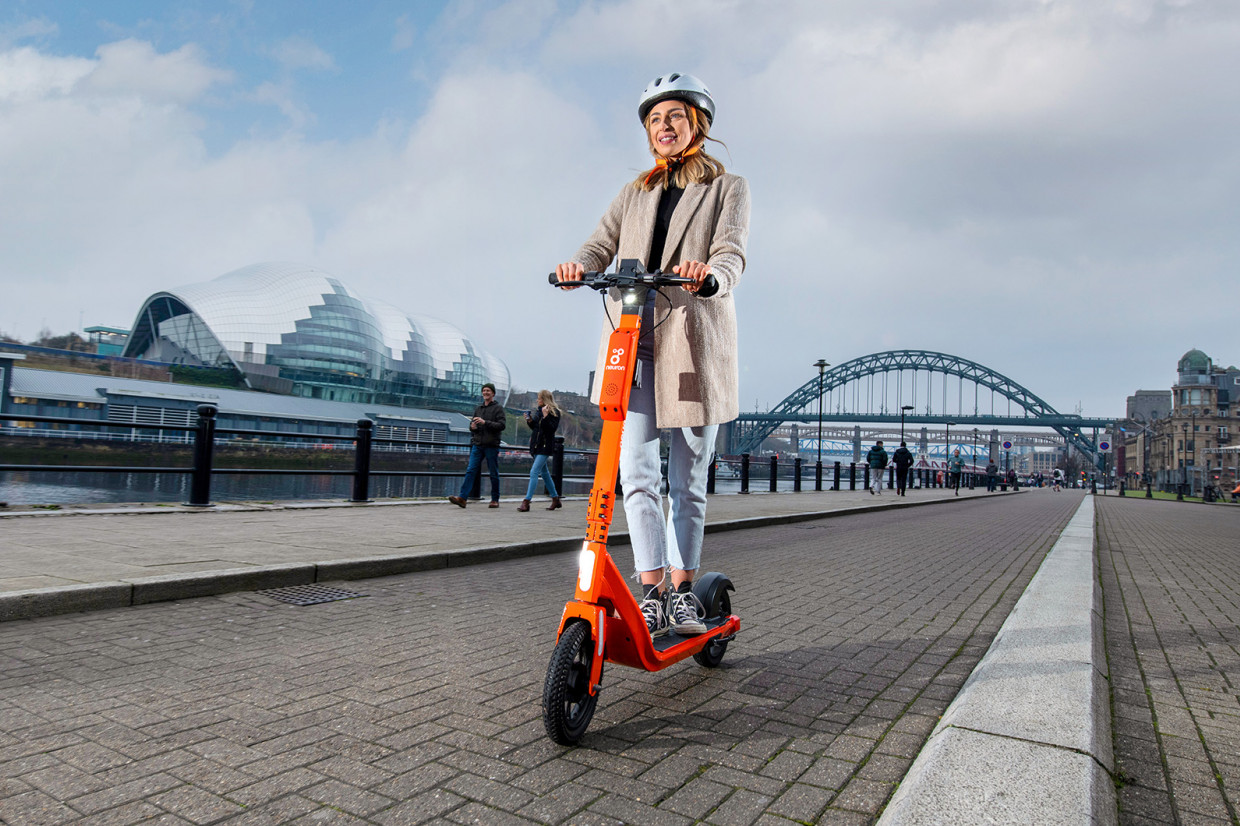 The e-scooter rental service in Newcastle-upon-Tyne will continue until at least the end of November, after Newcastle City Council became the latest authority to extend its trial service.
The city's rental service is run by Singapore-based Neuron, and has been in operation since February 2021. The service was initially due to run for 12 months in line with the government e-scooter trial period, but the Department for Transport has now extended that until November. That is in order to gather more evidence as the government continues to consider the future legality of e-scooters.
Are e-scooters legal in the UK? Everything you need to know
In the first year of the scheme, Newcastle City Council says that people have travelled more than 500,000 miles on Neuron e-scooters, and claims a third of those trips replaced a car journey. The council also claimed that 55 per cent of rides made a purchase at a local business as part of a trip. It is understood Neuron's trial scheme in Sunderland will also be extended.
When the scheme launched in Newcastle the e-scooters were only available in the city centre, but they have since been extended into various residential areas. Councillor Ged Bell, Newcastle City Council's cabinet member for transport, development and neighbourhoods, said that: "We believe this gives us the opportunity to understand more about the journeys people make on them and what role they could play in providing clean and sustainable transport options for local people."
Spin class: what Ford's e-scooter firm is learning in UK trials
Neuron's Oliver Irons, who manages the Newcastle trial, said: "We're proud to be contributing to Newcastle City Council's sustainability goals, and it is so encouraging that over 30 per cent of trips taken on a Neuron e-scooter have directly replaced a car journey."
The firm says it has put a focus on safety feature, with its scooters featuring integrated helmets - and users can get a discount by submitting a 'helmet selfie' showing them wearing it. 
Neuron is also rolling out a new scooter fitted with a number of advanced safety features in some cities it operates in, including Slough in the UK. The firm is also due to launch a rental service in Perth, Scotland soon.
READ MORE
e-CARS
The ten best-selling electric cars in the UK
e-BIKES
Cairn Cycles E-Adventure 1.0 e-bike review
Ten e-bikes we're looking forward to in 2022
e-MOTORBIKES
Ten electric motorbikes to look forward to in 2022
Art, sustainability and choppers - the wonderful world of Stirling Eco
e-SCOOTERS
Hypercar firm Bugatti's first electric vehicle is an 18mph e-scooter
Ride-hailing firm Bolt set for UK expansion after big investment
e-WORLD
Veolia to open first UK plant for recycling EV batteries
The new Bobcat T7X is a truly groundbreaking electric digger