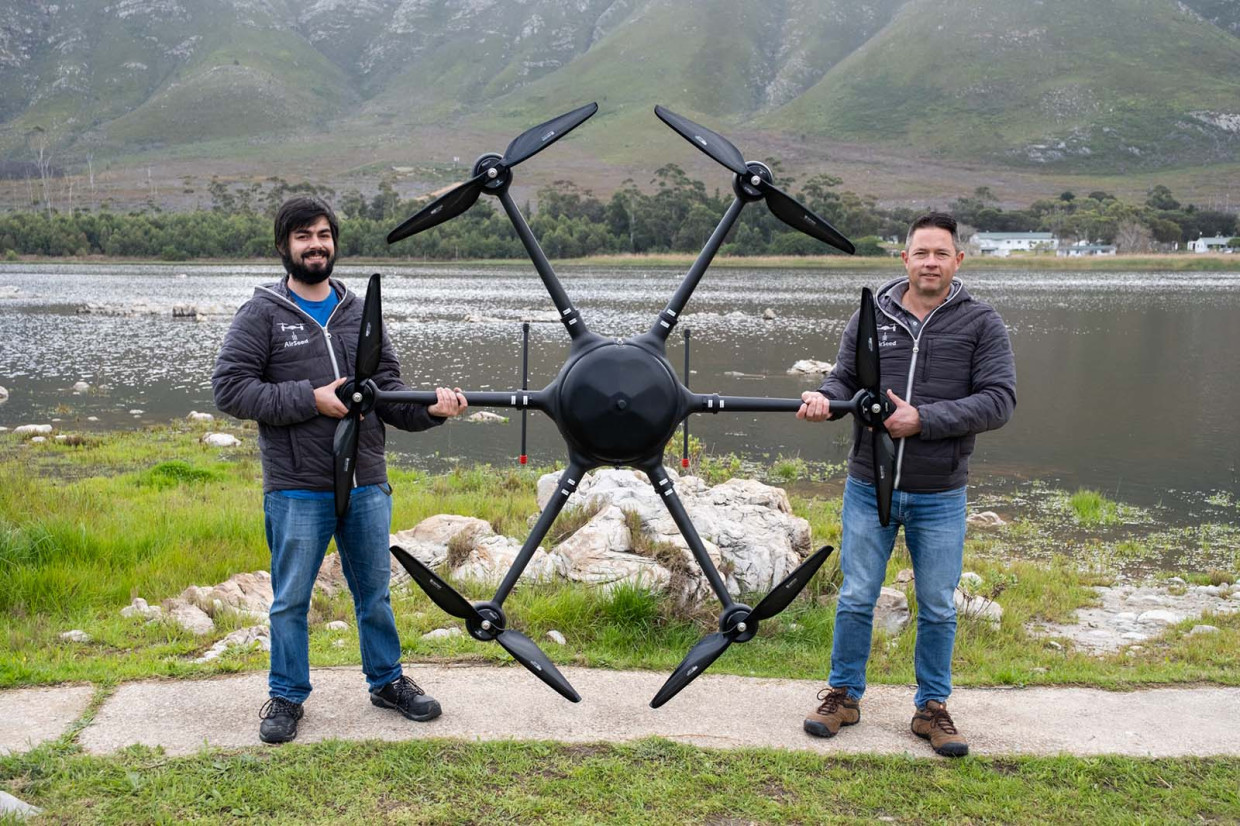 A table-top EV designed to deliver ramen noodle soup and an electric hydrofoiling surfboard from Seadoo are just two of the more intriguing electric vehicles we've come across this year.
Now, there's an electric drone which is set to carry out very important task. Meet the Airseed drone, an electric remote control craft designed to tackle climate change through reforestation – by dropping seeds while it flies.
Get the latest news on everything electric: subscribe to our FREE newsletter
Australian firm Airseed Technologies has partnered with British engineering and tech company Cal International to develop the machine, with the aim of planting 100 million trees by 2024. 
Airspeed says that not only will the project help to combat deforestation, it will also help to lessen the impacts of global warming. 
As part of the partnership, Cal international has designed and engineered a seed pod delivery system for the Airseed tree-planting aerial drone. 
The Liverpool-based firm was approached by Airseed to refine its planting systems for its drone technology. 
The aim was to take Airseeds existing seed delivery system and redesign the user interface and manufacturability of the seed pod system.
The Airseed drone, which relies on artificial and data intelligence, uses a payload and delivery system that identifies and locates targets areas with GPS coordinates, then fires carbon pods onto the ground. 
Seeds on the ground are then pinpointed in line with the flight path. This means the drone can return to the area and travel on the same route then identify and map tree growth. 
Using a two-person team, Airseed aims to plant 40,000 pods per day. 
"AirSeed is a business that is pushing the boundaries with an ambitious strategy around reforestation," said Airseed co-founder Andrew Walker. 
"Working with CAL, they have managed to take an existing delivery system design and turn it into a unique pod delivery mechanism.
"The design and engineering that has gone into the aerial platform from CAL also means we can produce a great number of AirSeed aerial platforms and deploy these into the field quicker to speed up the process of reforestation which will help us in a race against time to mitigate climate change."
READ MORE
Subscribe to the Move Electric newsletter
e-CARS
Video: Can the National Grid cope with a surge in electric vehicles?
e-BIKES
What to look for when buying an e-bike: Move Electric's top tips
The rise of Volt Bikes: 'when we launched, people thought we were mad'
e-MOTORBIKES
Maeving RM1 electric motorbike review
Q&A: Zapp founder on why electric mopeds are the future
Government plans 2035 ban on new non-zero emission motorbike sales
e-SCOOTERS
Tier to upgrade e-scooter fleet with a smart 'Parrot'
Q&A: Neuron Mobility's UK boss on e-scooters, safety and helmet selfies
e-WORLD
Polestar to supply battery tech to electric boat firm Candela
Engineering giant ABB working on electric Dover-Calais ferry