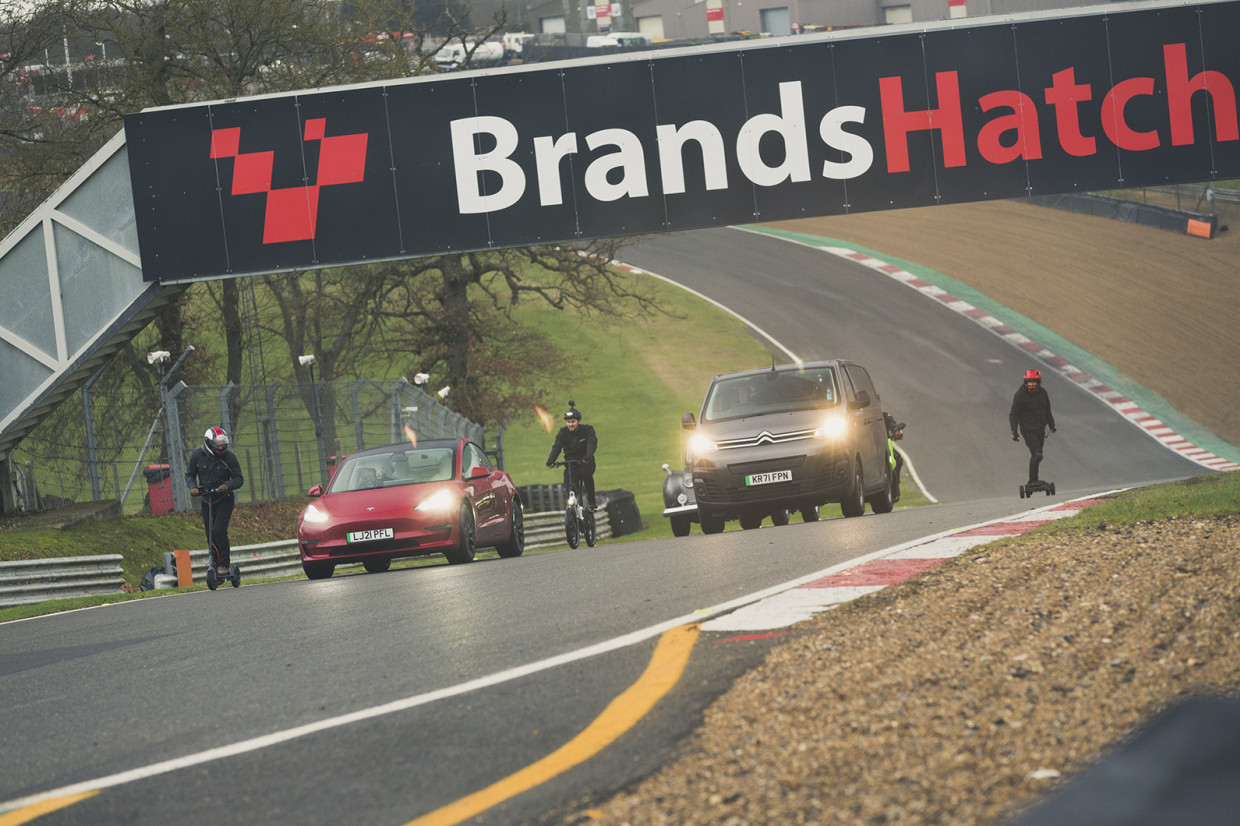 Move Electric has set an amazing seven – yes, seven! – electric laps records at the famous Brands Hatch circuit, to highlight the amazing diversity of electric machinery.
The seven records were all set simultaneously on the former home of the British Grand Prix's 1.2-mile Indy Circuit, using a range of electric vehicles that encompasses pretty much everything we cover. 
Over the decades, Brands Hatch has hosted everything from hugely powerful Formula 1 cars to bumper-bashing touring cars and wild rallycross specials – but never before has a grid of such diverse machines taken to the track... until now. Check out our epic video to see what happened.
Move Electric established unofficial lap records for an electric production car, an electric van, an 'electromod' car conversion, an electric moped, an electric bike, an electric scooter and an electric skateboard. We'd have added an electric boat, but Brands Hatch bosses weren't keen for us to flood the venue.
Now, full disclosure here: these were all unofficial lap records. Official records can only be set during proper sanctioned timed sessions at race events. And, frankly, nobody else has been daft enough to even try and set some of these records before. But we're still claiming them...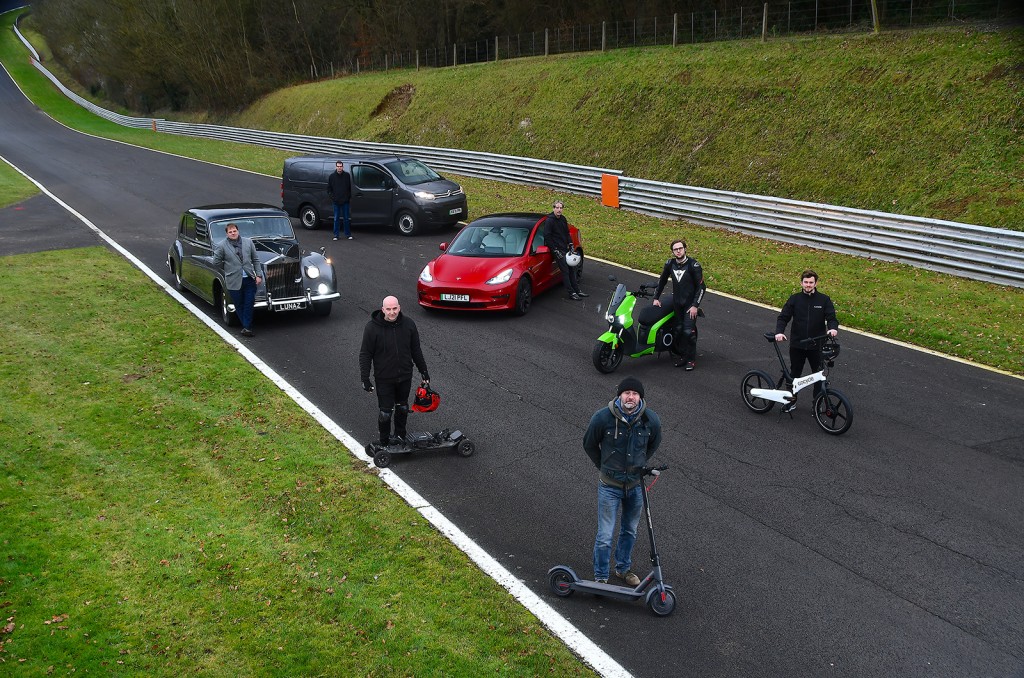 The field was led by the Tesla Model 3, driven by The Sun Motors editor Rob Gill with a lap time of 1 minute 6.77seconds - despite being limited to 87mph for safety reasons. That helped the Citroën e-Dispatch XL van set a time just 4.71 seconds slower. It also helped that the van was driven by Andrew Coley, who as well as being an Extreme E commentator and excellent video presented – that's him, in the video you just watched – is also a former Brands Hatch circuit instructor.
The Silence S01 electric moped was the third quickest machine, ridden by What Car?'s Neil Winn. The Silence outpaced our electromod, a 1961 Rolls-Royce Phantom V which had been lovingly converted to electric power by Lunaz, the world's leading restoration and electrification company for classic cars. Rolls driver James Warren didn't exactly go flat-out during his lap, but given the Phantom is worth £1 million and at its best when gently wafting, you can't blame him.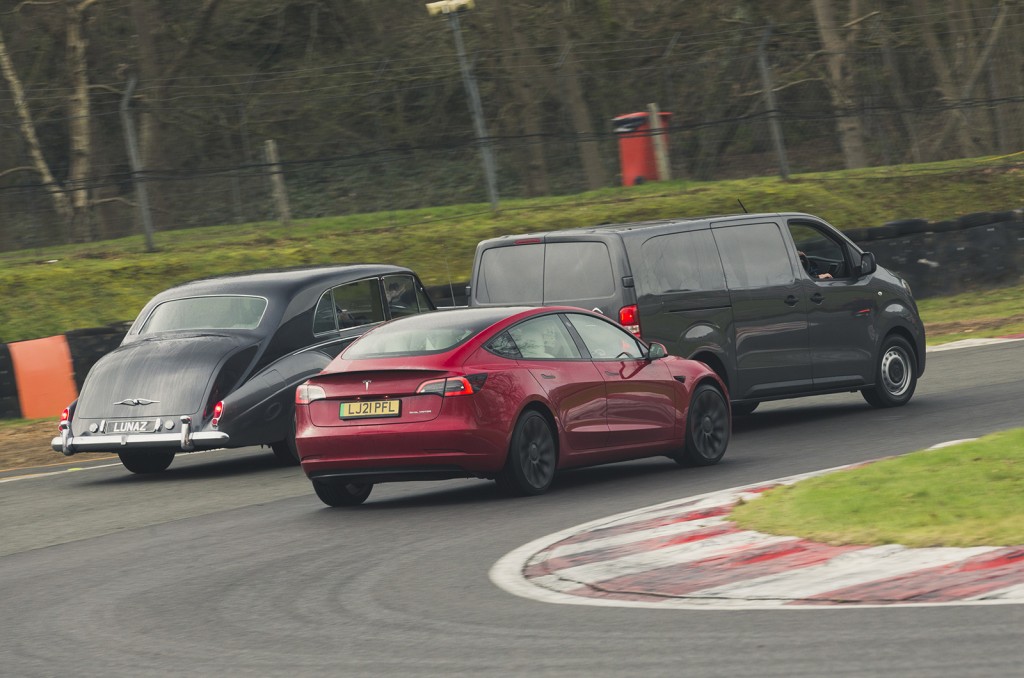 Rising British firm Gocycle provided a G4 e-bike, which features a built-in electric motor that helps to boost the efforts of the rider and has a range of 40 miles. This was ridden by Gocycle's Tom Dowrick, an engineer who helped to build the bike with the goal of making cycling more widely accessible and suited to longer journeys.
 
Tim Wood, an electric skateboard enthusiast who runs the online eskate.shop, brought an Apex Predator ith a top speed of 30mph. Even Brands legend Nigel Mansell probably wouldn't have been willing to attack Paddock Hill Bend on such a machine...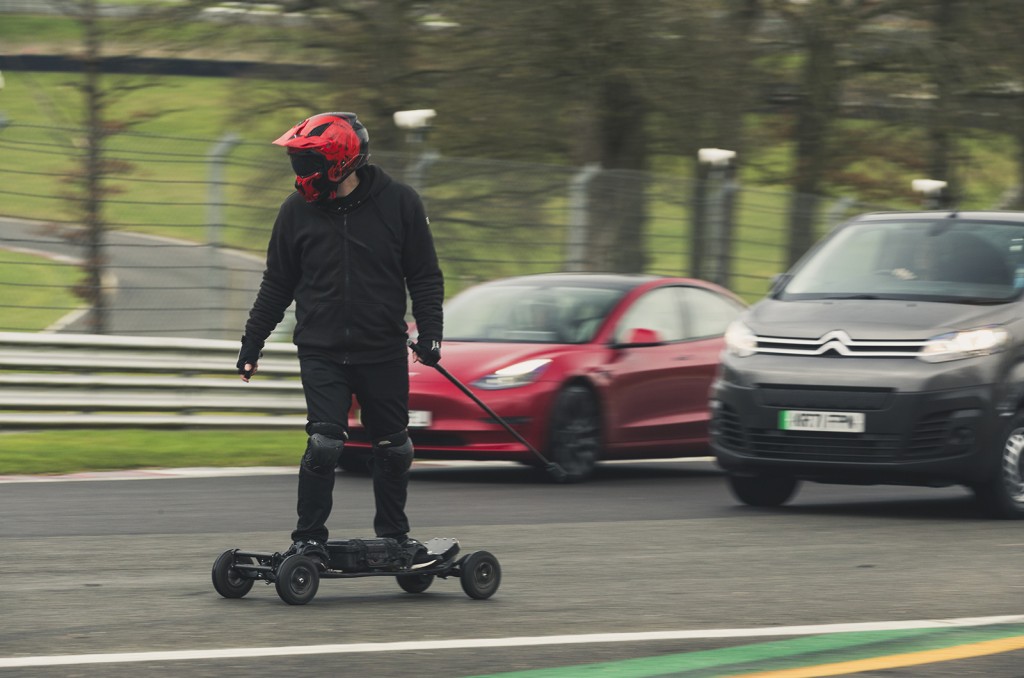 Finally, the slowest time was set by a British-built Perry P4 e-scooter, ridden by Autocar editor-at-large Matt Prior. The G4 has a relatively low top speed, which helps to meet its brief of offering responsible urban transport - but doesn't help make it quick on a race circuit. As a reminder, privately owned e-scooters can only be used at private venues with landowner permission, such as Brands Hatch.
The full list of lap times is below, and there'll be plenty more coverage of our record-setting day coming up on Move Electric.
VEHICLE
TYPE
DRIVER
LAP TIME
AVERAGE SPEED
Tesla Model 3 Rear Wheel Drive
Production Car
Rob Gill (Motors Editor, The Sun)
1min 06.77secs
65mph
Citroën e-Dispatch Enterprise Pro XL 75kWh
Electric Van
Andrew Coley (Commentator, Extreme E)
1min 11.48secs
61mph
Silence S01 Connected
Electric Moped
Neil Winn (Deputy Reviews Editor, WhatCar?)
1min 29.03secs
49mph
Lunaz Rolls-Royce Phantom V
Classic EV conversion
Classic EV conversion
James Warren (Group Commercial Director, Lunaz)
2min 07.04secs
34mph
Apex Predator
Electric skateboard
Tim Wood (eskate.shop and Tim Wood YouTube)
3mins 01.35secs
24mph
Gocycle G4
E-bike
Tom Dowrick (Engineer, Gocycle)
3mins 19.44secs
22mph 
Perry eHopper P4
E-scooter
Matt Prior, Editor-at-large, Autocar)
5mins 10.03secs
14mph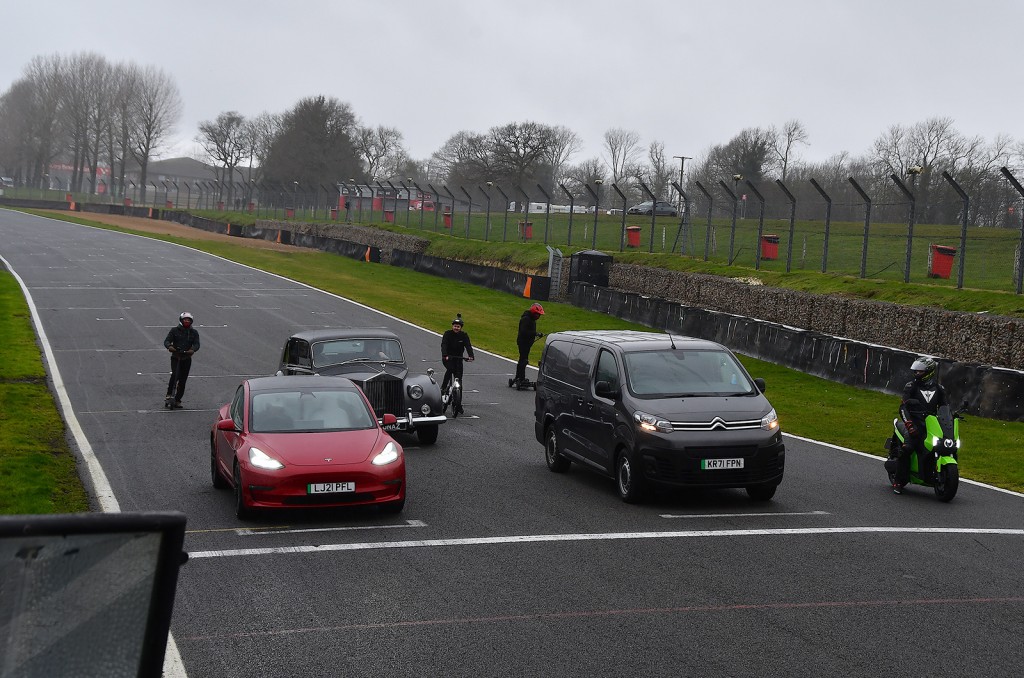 READ MORE
e-CARS
The 10 electric cars with the longest range
e-BIKES
Desiknio Pinion C1.9 Classic e-bike review
Ride for a worthy cause: Big Issue eBikes launches in Bristol
e-MOTORBIKES
Triumph reveals first electric TE-1 motorbike
BMW CE 04 electric scooter review
e-SCOOTERS
Superpedestrian Link e-scooter: first ride
The new battery tech designed to make e-scooters more sustainable
e-WORLD
New Candela C-8 electric hydrofoil has first 'flight'
Awake Ravik S 22 aims to take electric surfboards to the extreme