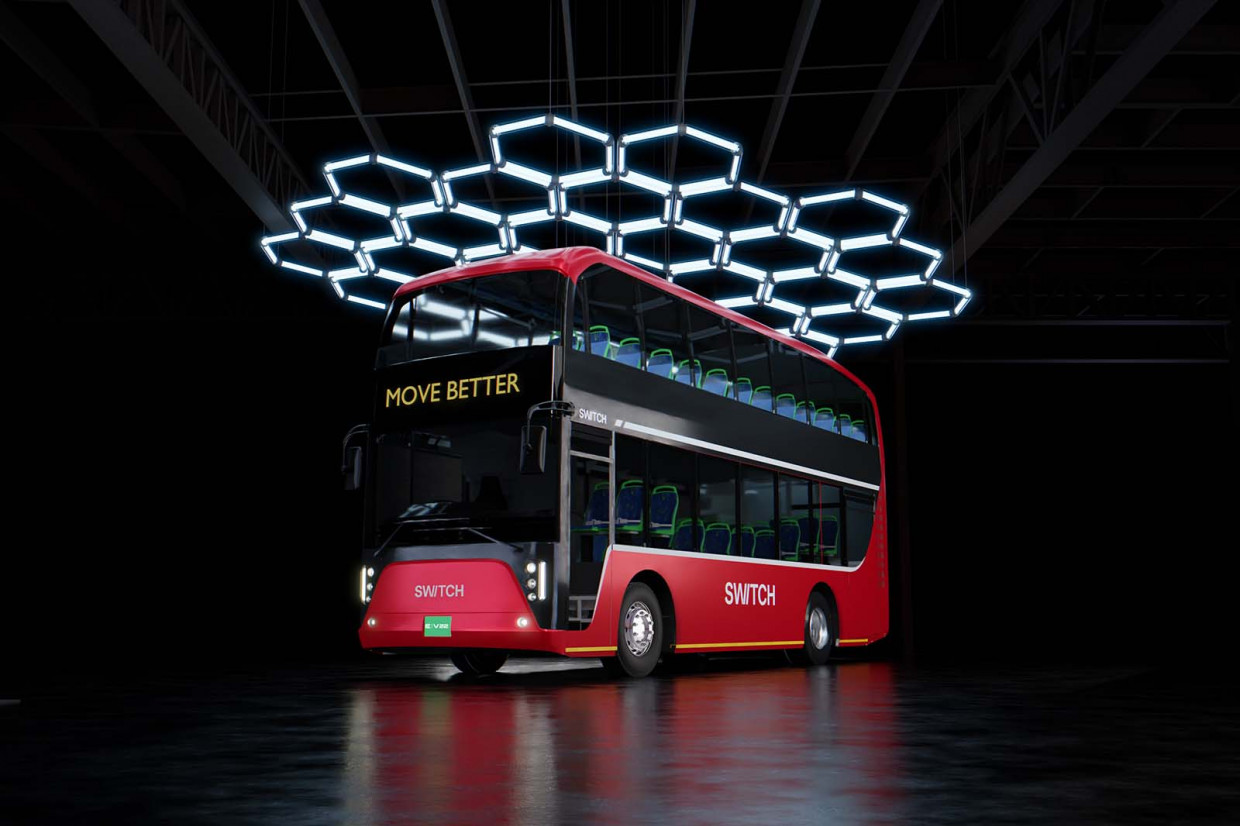 Electric vehicle manufacturer Switch Mobility has unveiled the EiV 22, an all-electric double-decker bus which has been designed and developed in India. 
Designed specifically for the Indian market, Switch says its new EiV 22 double-decker bus features the firm's latest technology with the "highest safety and best-in-class comfort". 
Switch added that the double-decker bus is designed to "revolutionise transportation in India and will set new standards in the intra-city bus market."
Switch Mobility was formed when global bus firm OEM Ashok Leyland merged with UK manufacturer Optare.
The Anglo-Indian firm recently secured one of the largest orders of electric buses ever having signed a memorandum of understanding to supply 5000 EiV 12 vehicles to transport company, Chalo. 
The Switch EiV 22 is equipped with a 231kWh liquid cooled battery and a dual connector charging system. The firm says the double-decker should be able to travel 250km (155 miles) for inner city applications. 
The electric double-decker is able to transport nearly twice the number of seated passengers than a single-decker bus, according to Switch, with just an 18% increase in kerb weight. 
Switch says the 65 seater bus comes with air conditioning due to India's hot climate conditions, with the firm promising "car-like comfort" for passengers. 
The Indian arm of the company has already secured an order of 200 electric double decker buses, which will be put into service in Mumbai. 
"The Switch EiV 22 is our latest innovation and builds on our expertise in the electric double-decker segment to deliver a product with class leading efficiency for the Indian market," said Switch boss Andy Palmer.
"With our Switch EiV 22 and Metrodecker buses, we are now well positioned to address the global double-decker market and support cities in meeting their net zero targets."
Switch Mobility's chairman, Dheeraj Hinduja added: "With our strong expertise in double-deckers, both in India and UK and with over 100 Switch electric double-deckers in service on UK roads, we are happy to not only bring back this icon to life and look forward to introducing newer electric products for the Indian and European markets, always keeping the customers at the forefront."  
READ MORE
Subscribe to the Move Electric newsletter
e-CARS
UK charging networks: complete guide to every provider
New Cupra UrbanRebel is a bold EV supermini with 273-mile range
e-BIKES
10 fun things to try on an electric bike
Living with a Gocycle G4: how easy is it to adjust to?
e-MOTORBIKES
Seat Mó eScooter 125 UK review
How to do a CBT on an electric motorbike
Energica unveils new Experia electric tourer motorbike
e-SCOOTERS
Are e-scooters legal in the UK?
Private e-scooter rules 'cannot simply copy' rental regulations
Superpedestrian's European boss on why e-scooters are for everyone
e-WORLD
New Candela P-12 Shuttle to arrive as first electric 'flying' ferry
Pipistrel Velis Electro: meet the first certified electric plane