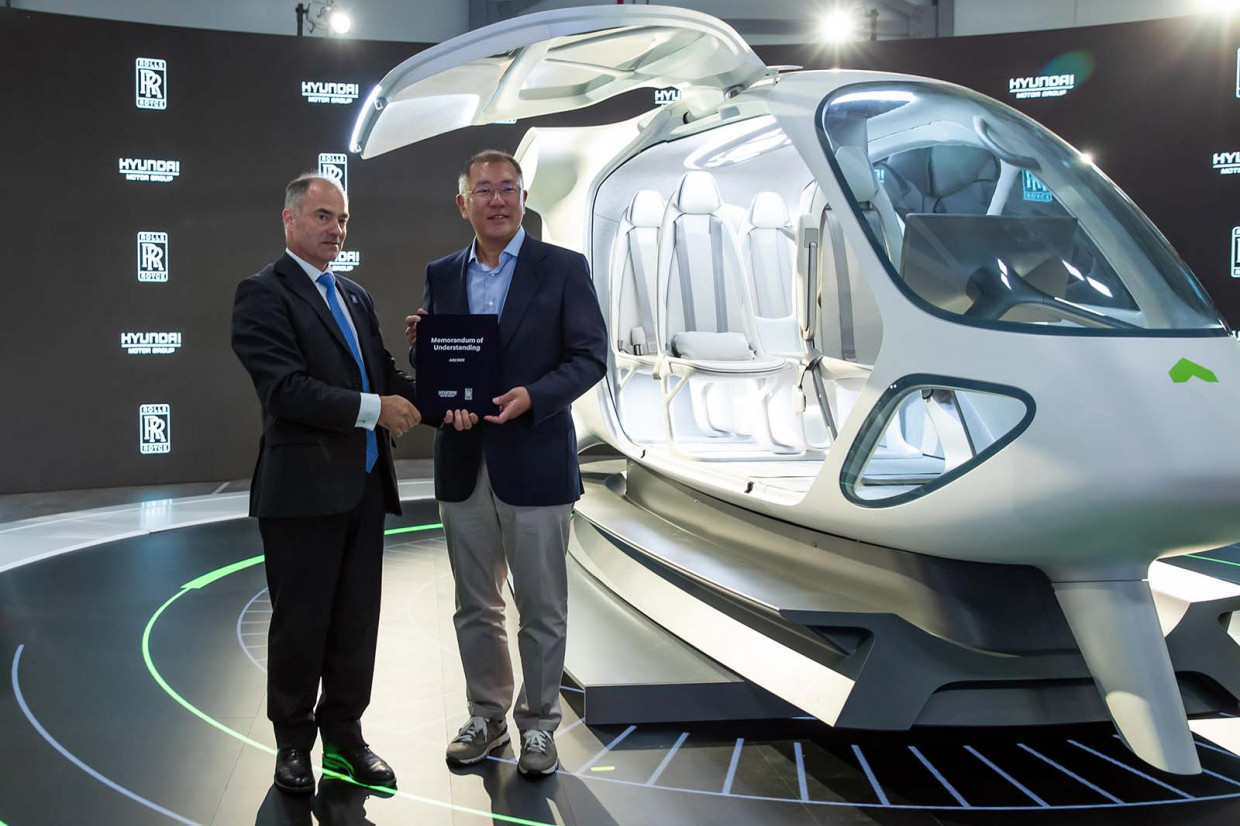 British aviation firm Rolls-Royce will collaborate with Hyundai Motor Group to bring all-electric and hydrogen fuel cell technology to the Advanced Air Mobility (AAM) market.
The two firms have signed a memorandum of understanding to bring new electric and fuel cell solutions to the Urban Air Mobility (UAM) and Regional Air Mobility (RAM) markets. 
The collaboration will draw upon Rolls-Royce's aviation certification capabilities and Hyundai's hydrogen fuel cell technology and industrialisation capability. 
Rolls-Royce and Hyundai says the partnership has a number of strategic aims, with the firms looking to collaborate on the development of electric propulsion systems based on hydrogen fuel cells for future RAM platforms. 
Both firms will look to deliver a joint fuel cell electric aircraft demonstration by 2025. 
Last year, Rolls-Royce announced its own pathway to net zero carbon emissions, citing its electrical technology as one way in which the company is helping to decarbonise the global economy. 
Rolls-Royce has committed itself to ensuring that its new products will be compatible with net zero carbon operation by 2030.  
Earlier this year, Hyundai Motor Group announced its Advanced Air Mobility (AAM) roadmap which includes the UAM and RAM segments. 
The aim of Hyundai's plans is to offer eco-friendly air mobility solutions for people within and between cities, with the firm looking to begin commercial services in the US by 2028. 
"Hyundai has successfully delivered hydrogen fuel cell systems to the global automotive market and is now exploring the feasibility of electric and hydrogen propulsion technologies for aerospace integration. 
"We are pleased to partner with Rolls-Royce to draw upon their aviation and certification expertise to accelerate the development of hydrogen fuel-cell propulsion systems," said Jaiwon Shin, president of Hyundai Motor Group. 
"We believe this to be the key technology to support the global aviation industry's goal to fly net zero carbon by 2050."
Rob Watson, president of Rolls-Royce Electrical added, ""We are delighted to partner with Hyundai Motor Group which provides a valuable opportunity to leverage and build on the capabilities each company brings from the aerospace and automotive sectors.
"The Advanced Air Mobility Market offers great commercial potential, and this collaboration supports our joint ambitions to lead the way in the Advanced Air Mobility Market."
READ MORE
Subscribe to the Move Electric newsletter
e-CARS
UK charging networks: complete guide to every provider
New Cupra UrbanRebel is a bold EV supermini with 273-mile range
e-BIKES
10 fun things to try on an electric bike
Living with a Gocycle G4: how easy is it to adjust to?
e-MOTORBIKES
Seat Mó eScooter 125 UK review
How to do a CBT on an electric motorbike
Energica unveils new Experia electric tourer motorbike
e-SCOOTERS
Are e-scooters legal in the UK?
Private e-scooter rules 'cannot simply copy' rental regulations
Superpedestrian's European boss on why e-scooters are for everyone
e-WORLD
New Candela P-12 Shuttle to arrive as first electric 'flying' ferry
Pipistrel Velis Electro: meet the first certified electric plane