Swedish firm Volta is out to use electric power to reinvent how trucks drive and are operated.
We've already covered how the firm aims to reinvent the way last-mile delivery businesses run – but what are its machines actually like to drive? We've been behind the wheel of a prototype version of the Volta Zero to find out – and get a taste of its unique, McLaren F1-style three-seat cabin and central driving position.
Volta Zero: the electric truck tearing up the rule book
On paper the design makes sense increased visibility, being within the eye-line of vulnerable road users like cyclists and pedestrians. Passengers that sit slightly behind you is also another benefit as they're out of your peripheral vision and less likely to distract you. But sitting in that central driving seat is a considerable adjustment. 
Our drive in a design prototype left us with as many questions as it did answers, first and foremost of which was about the suitability of the driving position.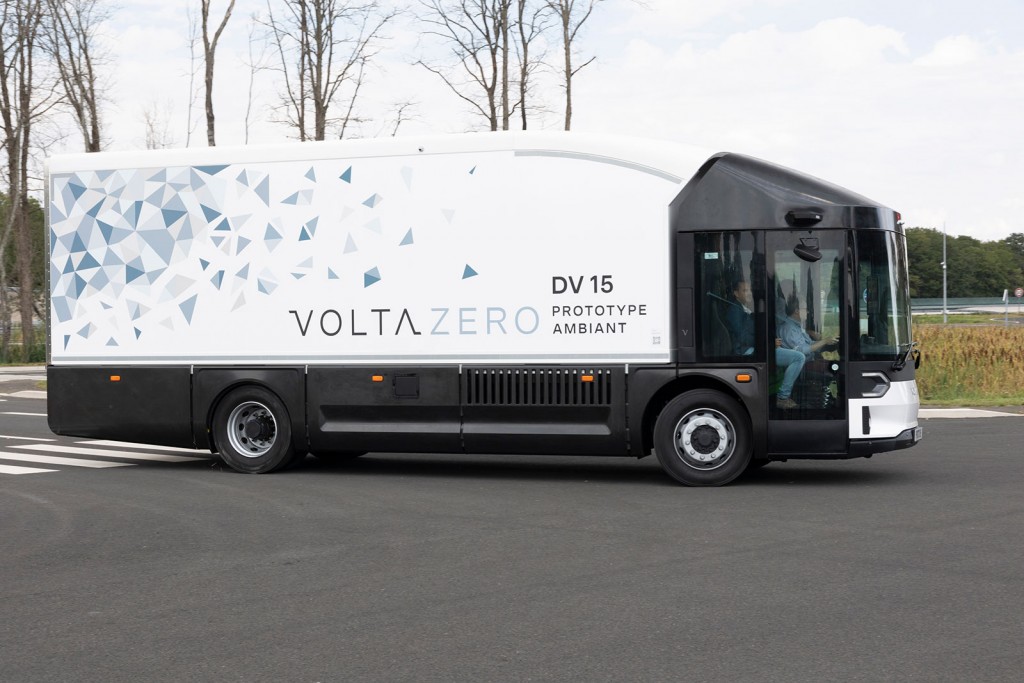 The principle is sound – a central position gives you the maximum vision around the vehicle and supplemented with digital screens on the A-pillars and rear-view mirror you really do have a physical or digital 360-degree view of the area surrounding the truck.
Volta Zero: the electric truck tearing up the rule book for the electric age
What the concept doesn't allow for is the ingrained ability of a human to judge distance and position from the traditional left or right seats of the cabin, where you either use the gutter or the white lines as reference points.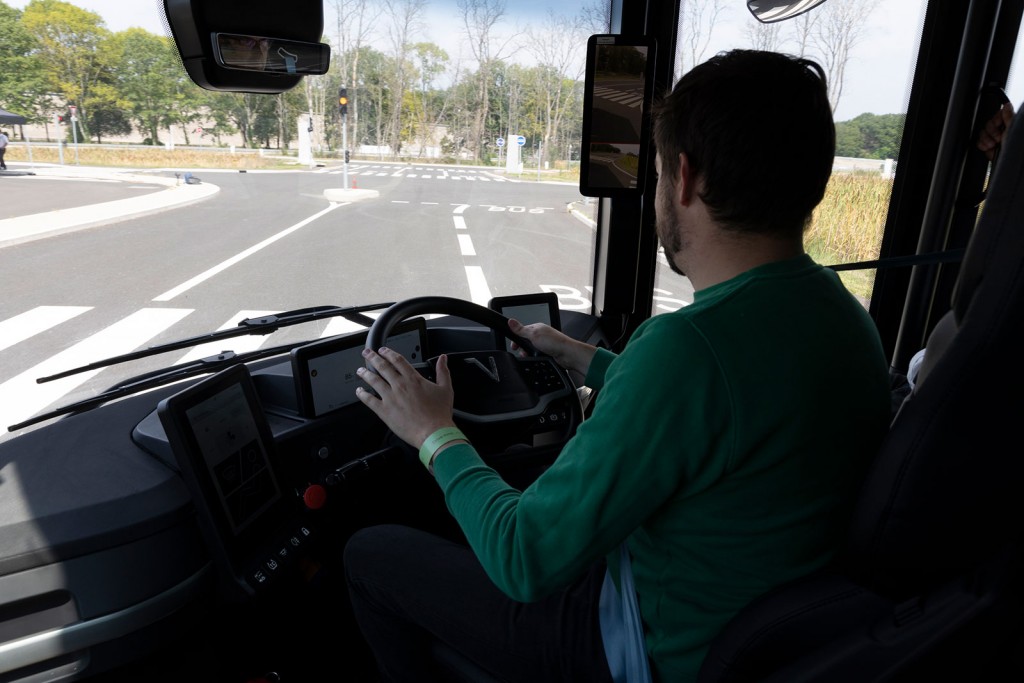 By sitting centrally, you partly remove that ability, and while it might not be a problem for a narrow McLaren supercar (the inevitable reference point for a centrally seated vehicle) the 2,550mm Volta Zero, nearly 1m wider, isn't quite so straightforward to position. 
Acclimatisation to the centred seat does come quickly and its benefits when tackling tight turns become obvious when you broaden your horizons and use floor to ceiling windows. With the clear view out of both sides, through the full-length bus-style doors, allowing you to actually see the road, kerb, bollards or other hazards.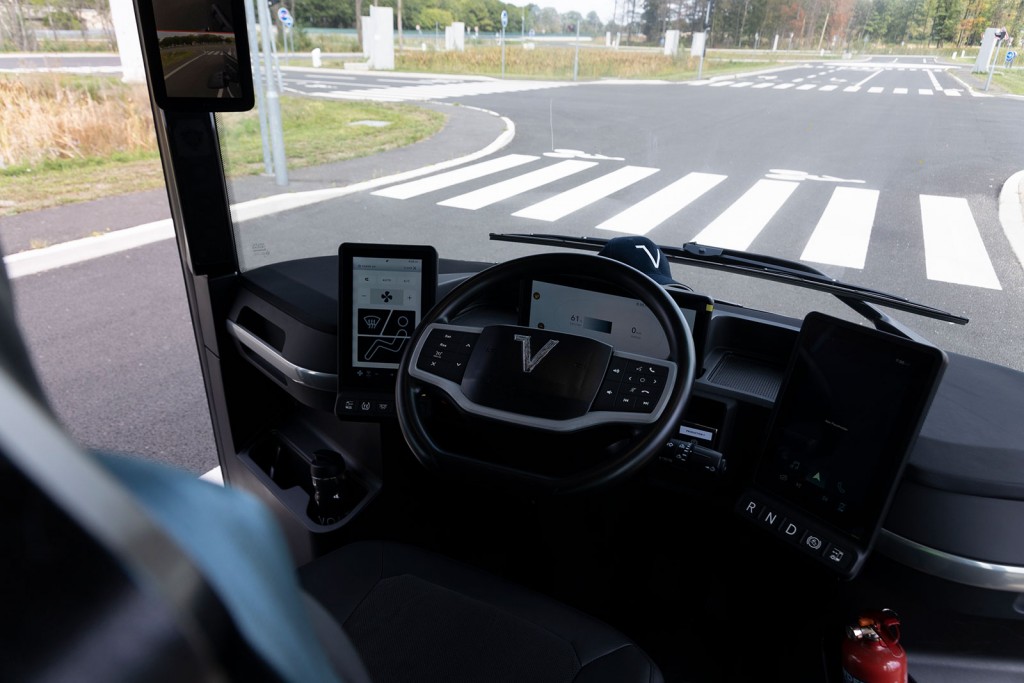 Supplemented with the comprehensive view from the digital wing mirrors it is safe to say that Volta's claims of superior visibility are well founded. 
Nevertheless, you'll still find yourself drifting out of position, something we did when mid corner in a fast-sweeping right hander, but the dynamics and centre of gravity of the truck also play their part here.
Subscribe to the Move Electric newsletter
Our unladen test vehicle was deceptively fast, hardly surprising thanks to its 200kW of continuous power and 570Nm of torque that is boosted to 250kW and up to 1,100Nm of torque at its peak. It has a two-speed transmission with the second gear change occurring at a predetermined 28mph.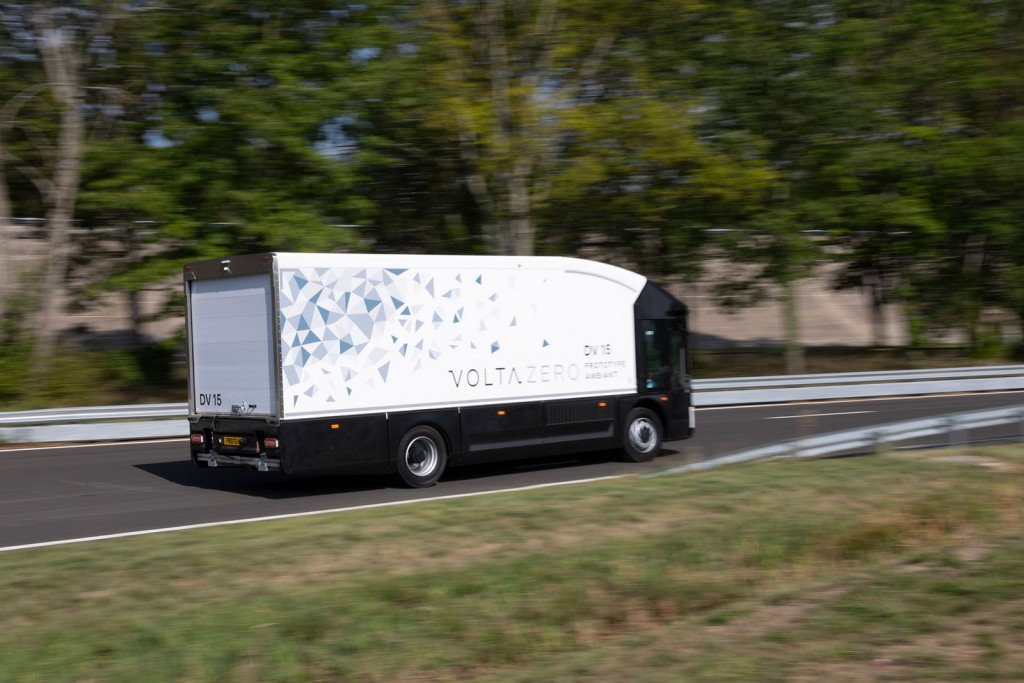 Unlike the few other two-speed electric trucks on the market which push the change through in a fraction of a second, the gear shift in our prototype vehicle was considerably slower. When it did arrive, it was unrefined and slow. The shift speed and smoothness can be adjusted, according to Volta, but it is when those change occur that is likely be the greatest inconvenience to driver.
As an urban delivery vehicle, in the UK it will spend its time nudging up towards the still prevalent 30mph city street speed limit. Drivers will then find themselves regularly going in and out of first and second gear as they cross the 28mph changepoint. The Zero gives a good amount of steering feedback and the ride is comfortable, even in an unladen vehicle.
Where power is plentiful in the Volta Zero, braking is not. Despite our 16-tonne GVW truck being empty it felt heavy under braking without any regenerative assistance. We're told production models will have regenerative braking that is likely to be adjustable, which should solve that issue. 
Prototyping is all about ironing out the bugs and Volta was frank about the shortcomings of its test vehicle but the Volta Zero is a test case for a new concept. Its central seat will make urban driving safer and that alone is progress. 
George Barrow
READ MORE
Subscribe to the Move Electric newsletter
e-CARS
Video: Can the National Grid cope with a surge in electric vehicles?
e-BIKES
What to look for when buying an e-bike: Move Electric's top tips
The rise of Volt Bikes: 'when we launched, people thought we were mad'
e-MOTORBIKES
Maeving RM1 electric motorbike review
Q&A: Zapp founder on why electric mopeds are the future
Government plans 2035 ban on new non-zero emission motorbike sales
e-SCOOTERS
Tier to upgrade e-scooter fleet with a smart 'Parrot'
Q&A: Neuron Mobility's UK boss on e-scooters, safety and helmet selfies
e-WORLD
Polestar to supply battery tech to electric boat firm Candela
Engineering giant ABB working on electric Dover-Calais ferry