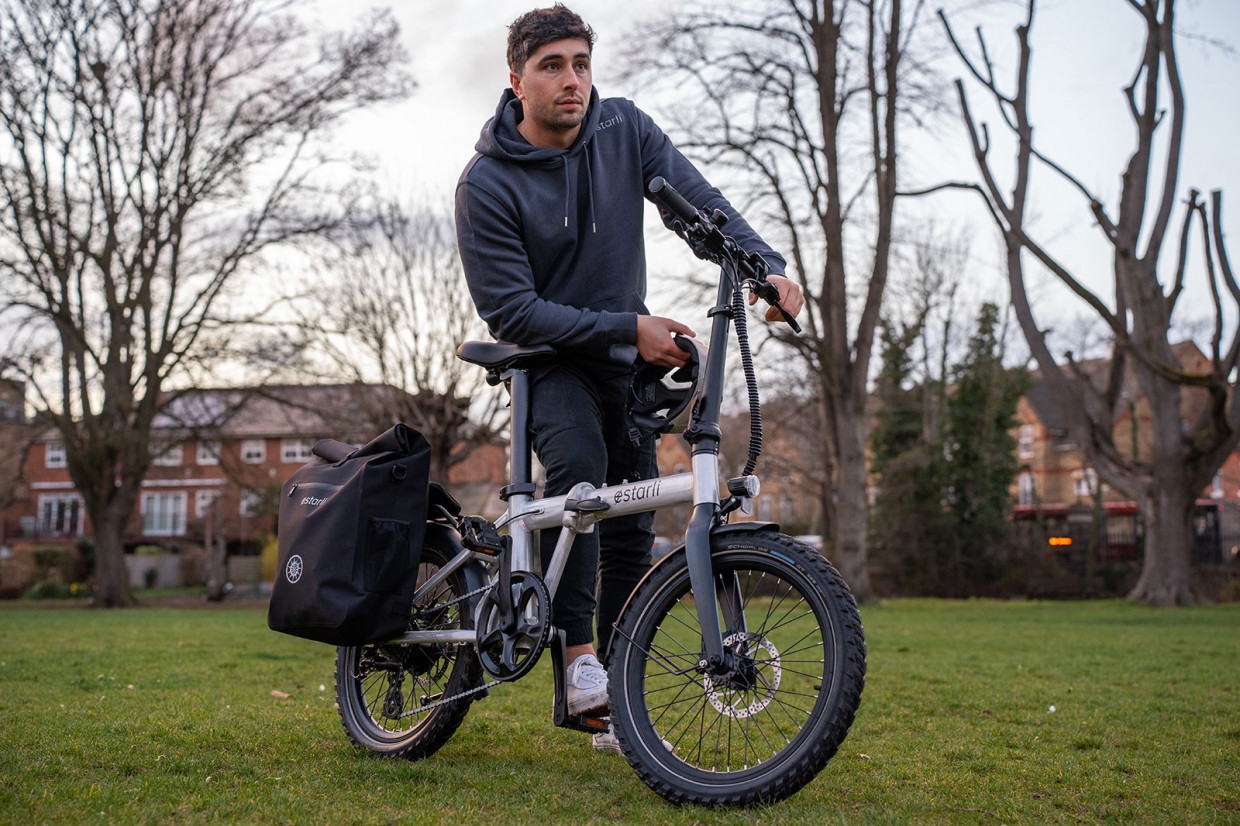 British e-bike brand Estarli launchied the beefier, more off-road-friendly sibling to their already established e-folder, the e20 this week.
The new e20 Play is more BMX influenced and aims to appeal to a younger audience, with more focus on the fun of riding – although not at the expense of utility.
The latest e-bike news in your inbox: get our FREE newsletter
Move Electric spoke to Alex Francis, Estarli's product technologist and the mastermind behind the new model, to learn about his inspiration and what's new on the e20 Play versus the e20.
After previously being predominantly a direct-to-consumer brand, in the last year Estarli has steadily increased its retail presence across the country. This, as Francis puts it, has meant they got "lots of slightly different feedback than you'd get from direct customers."
This feedback included a request for something a, "little bit more premium," which for Estarli, meant retaining the value the brand is known for but at a slightly different price point. 
"It's woken up another part of the market that perhaps we don't connect with at the moment. So we kind of listened to the feedback from our customers and a lot of the customers like venturing out a little bit more and perhaps going a little bit more off-road with their bikes. 
"We combined those two items with some of our sort of own ideas and desires, and that's where the e20 Play came from. It's an evolution of the e20, it doesn't replace it. But it's an evolution of it, and it's an upgrade on most parts of it."
The upgrades from the previous model include 10Nm extra of torque from the rear hub-motor (now 50Nm compared to 40Nm), an 8-speed Shimano drivetrain rather than 7-speed, all-terrain tyres for off-road capability, and internally routed cables for a sleeker look. But it's not just about the looks that made Francis and Estarli design a new model. The target audience of the e20 is intended to be wide, but the e20 Play appeals to a different segment they've not yet focused on.
Move Electric's best electric bikes for every category
"The target audience of our e20 is so broad. I remember when we first launched and a dad getting in touch with us saying, "I'm ordering this for my son. He's 14, and he turned down a PlayStation for an Estarli." He lived in Wales and it meant that he could cycle to see his mates and do those kinds of journeys, and that's one end of the spectrum. 
"Then locally to us we had a 97-year-old who had always loved his folding bike, but wanted a bit of power assistance so he could continue riding. So he's the other end of the spectrum – it's a really broad audience. I guess the Play probably appeals to the slightly younger generations in there.
"It's meant to be a bit more playful, it's got mountain bike style tyres, it's a bit more sort of stylised, and a bit more sort of off-road looking. It's not a mountain bike per se, but it's designed to handle a bit more and grip a bit better."
The beauty of a folding e-bike isn't just that you can take them on the train or store them in places that aren't that spacious. If you own a car or a motorhome and want to get out of the city, they're easy to put in most boots and take to quieter areas to ride – and with the off-road additions to the e20 Play, the idea is that more people can ride in more places and throughout the year. 
"So many of our customers go for the folding option so that they can fold the bike and put it in their car, and then drive to like a nice picturesque woods or National Park for a ride as opposed to riding there, and that's what works for them. And for some of those who want to sort of carry it on throughout the seasons, perhaps this is sort of the perfect option for them."
How safe are electric bikes? Move Electric investigates
To make it more off-road ready (think towpaths, forest roads and well-kept bridleways, not red or black mountain bike trails), some subtle changes have been made compared to the e20. 
"We've strengthened up the rear triangle so the bike is a little bit more rigid – not that it had a problem with it before – but this gives it a little bit more strength for going a bit more off-road. We've also done things like routed all of the cables through the frame internally, which just looks a bit neater, and we've changed the design of some of the tubes so that the routing works more effectively. 
"While we've done some bits and pieces like that, we've always been quite BMX inspired. We like the function of a BMX in terms of how it's a bike that you can quickly grab and go and do stuff on and it's a bit utility-focused, so we've always enjoyed that inspiration of the BMX and it's a little bit more BMX than even perhaps the current e20."
The design and building of the bikes are done locally in Estarli's Hertfordshire headquarters. Only the brazing of the frames is done abroad, and that is something the brand is looking to bring to the UK in the future. 
"Our desires are to become even more British in the future. And we would love to braze the frames at some point. We do build the battery packs which we think we're one of the first to be doing in the UK, and it is quite a complex part of the process. But the industry in the UK is not set up for frame brazing, and it would be incredibly costly for us to do that, and the bikes would not be in that accessible space which is what we aim for."
The e20 Play is the fifth bike in the brand's line-up and will sit alongside the original e20 as a more premium e-folding option. It's clear to see Estarli has big plans, not just in bringing their entire production to the UK, but in terms of expansion and e-bike design. They're in a competitive part of the market, with all their bikes costing below £2000, and Francis also mentioned they're looking into the "e-cargo space", which will again bring in a whole new audience, and undoubtedly, new fans.
The e20 Play will be available to pre-order from April 21 at a starting price of £1,850 with an aim for the first deliveries being made towards the end of May. 
READ MORE
Subscribe to the Move Electric newsletter
e-CARS
What is a heat pump and how do they benefit electric cars?
Bold new Volkswagen ID 2all previews sub-£22,000 electric car
e-BIKES
Ten electric bikes we're excited for in 2023
Nine ways to keep your e-bike safe
E-bike theft: how common is it and what can you do to protect your e-bike?
Haibike AllMtn CF 6 e-bike review
e-MOTORBIKES
10 electric motorbike start-ups you should watch out for
Energica e-motorbike to take on all-comers in US racing series
Ducati: How the Italian motorbike brand is gearing up for the electric era
e-SCOOTERS
Planned laws to legalise private e-scooters face delay
Leading e-scooter firms team up on best-practice guide for cities
Ambiguity over e-scooter legality causing 'confusion', says police chief
e-WORLD
Solar panels: 8 ways the sun can power your electric life
First ride: Lunaz Upcycled Electric Vehicle bin lorry
AutoFlight secures huge order for Prosperity 1 eVTOL craft