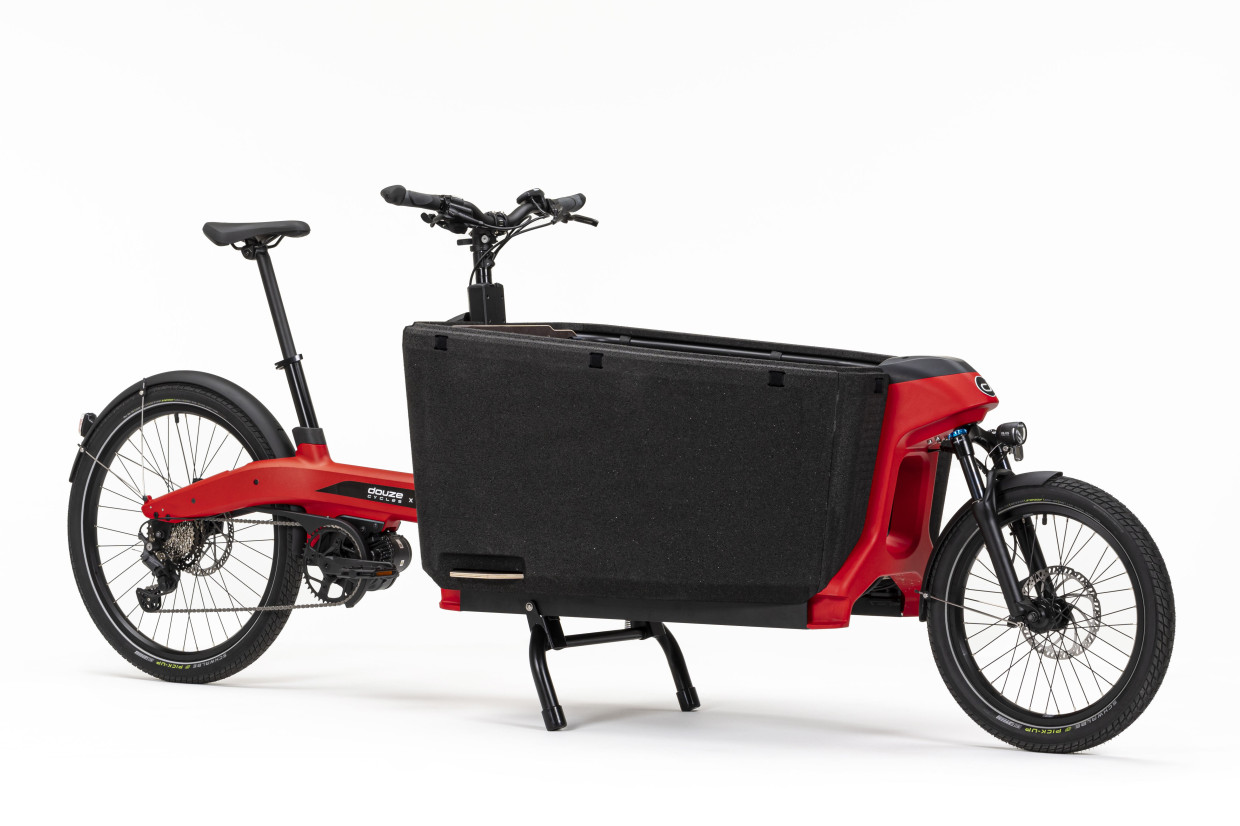 Japanese car giant Toyota has taken a further leap into the world of electric mobility by launching its first electric cargo bike. Well, sort of. And only if you live in France.
Toyota France has agreed a partnership with Douze Cycles to put its name to a new e-cargo bike. The machine will be made by the Dijon-based e-bike firm, but will go on sale in September 2023 in the Japanese firm's 300 French car dealerships.
The latest electric vehicle news in your inbox: it's the FREE Move Electric newsletter
The new Douze Cycles x La mobilité Toyota features an aluminium frame, with a large 850mm load platform ahead of the rider that can be fitted with a 300-litre polypropylene storage box. The bike is designed to offer the lowest possible centre of gravity.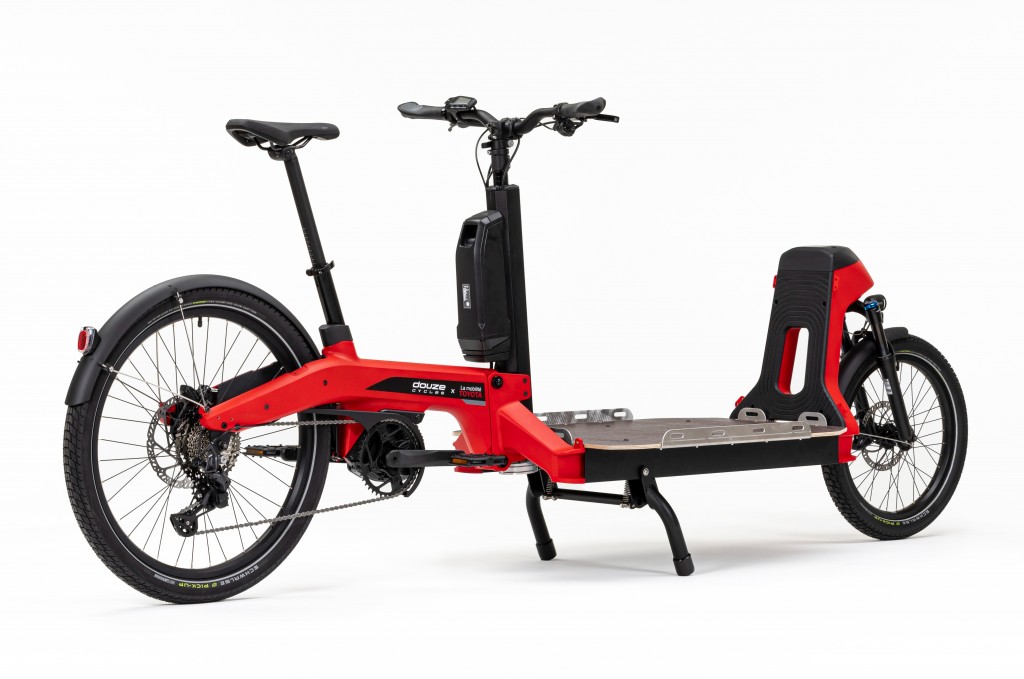 The machine can carry loads of up to 100kg – of, if you prefer, up to three children or one adult. Notably, the frame of the bike can be separated into two parts to make it easier to store.
While the Douze Cycles x La mobilité Toyota carries the Japanese firm's branding, the electric motor is entirely unrelated to the powertrain on the Toyota bZ4X. In fact, it's actually a Yamaha unit, which offers 250 Watts and is powered by a 500Wh removable battery. It will offer electric assist for up to 62 miles on a charge, and can be fully charged in around four hours.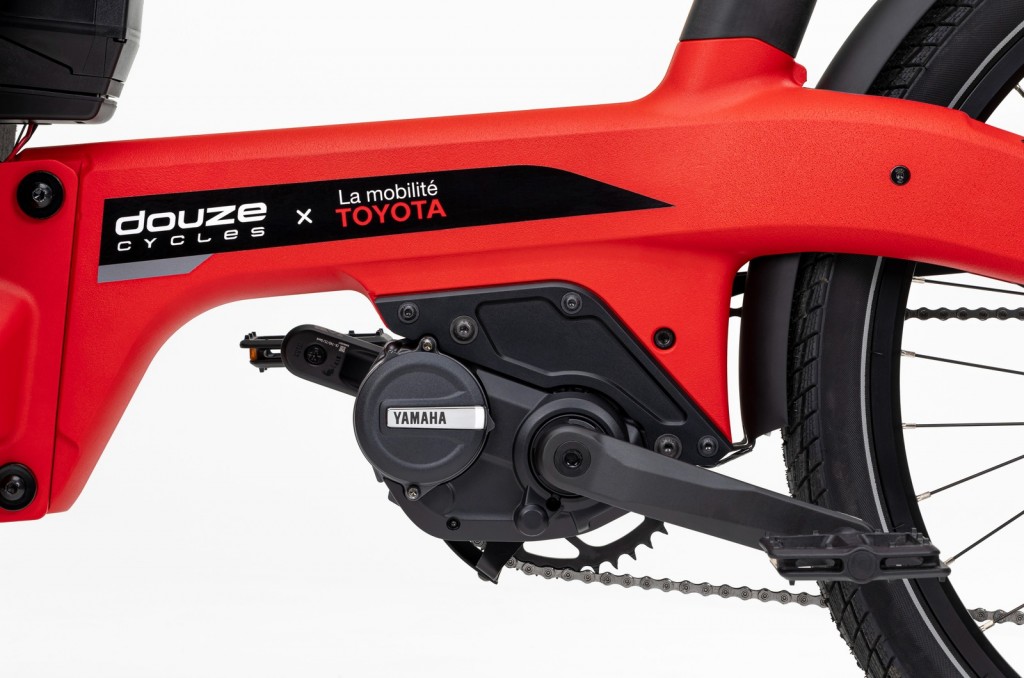 There's a 10-speed Shimano gear system, Tektro M750 four-piston hydraulic disc brakes, cargo e-bike-specific Schwalbe Pick-up tyres and Busch and Müller LED lights. The front wheels are 20in, with 26in units at the rear.
Douze Cycles puts a major focus on minimising the carbon footprint of its products, and the new bike has been built using polymer parts made from recycled materials. The machine is constructed in 17 interchangeable parts, which means that small elements can be repaired or replaced easily, while the frame can also accommodate different motors. The bike is also intended to be easy to dismantle and recycle.
READ MORE
Subscribe to the Move Electric newsletter
e-CARS
Ten electric cars we're excited for in 2023
Getting an EV sideways: how easy is it to drift a Kia EV6 GT?
Q&A: Jaguar Racing's Sam Bird and Mitch Evans on Formula E's new era
e-BIKES
Ten electric bikes we're excited for in 2023
Can you get fit using an electric bike?
e-MOTORBIKES
Ten electric motorbikes we're excited for in 2023
Super Soco TC Max electric motorbike review
Cake and Polestar team up for new special edition Makka e-motorbike
e-SCOOTERS
Planned laws to legalise private e-scooters face delay
Five key takeaways from the rental e-scooter trials report
Which train firms have banned e-scooters from their services?
e-WORLD
Move Electric's best features of 2022: lap records, tuk-tuks… and sausage rolls
Volvo Trucks keeps on electric trucking with three new models