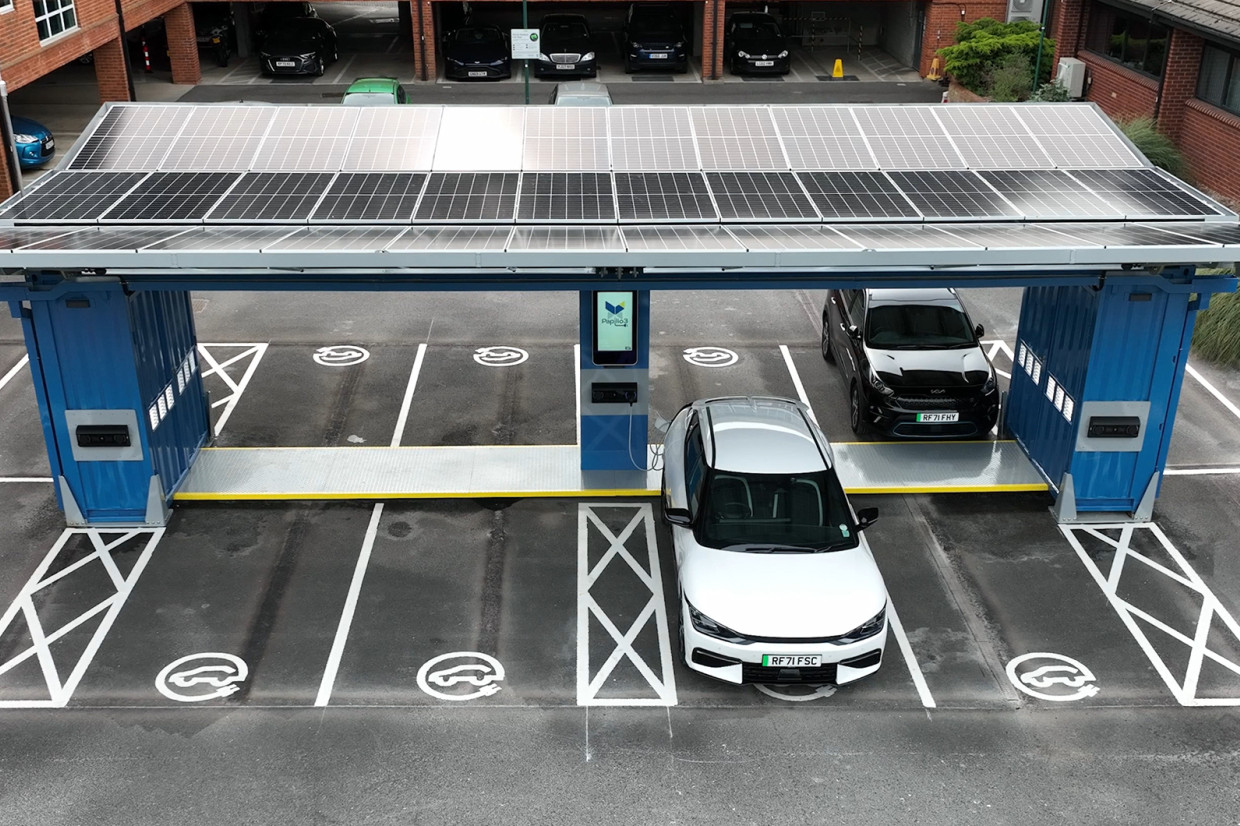 Electric vehicle sales are rising rapidly, but there's a problem: the charging network isn't growing at the same speed. The UK needs a lot more places to charge – and fast. Oh, and it would be great if those charging points could use as much renewable energy as possible.
It's a bit of a problem, and British tech firm 3ti has unveiled the prototype of a new product it thinks can help: a 'pop-up' mini solar charging car park made out of a recycled shipping container, which it says can be deployed and operating in just 24 hours.
The modular Papilio3 turns 14 car parking spaces into 12 EV charge points that can operate at speeds of up to 22kWh. The unit is designed to be used as a 'destination charger' at places like offices, shopping centres and hotels.
Having launched the Papilio3 in May, 3ti recently launched a Crowdcube page in a bid to secure £500,000 worth of investment. The firm has smashed that target, securing the full amount within an hour of the page going live.
3ti boss Tim Evans said that the speed of the investment "demonstrates a public belief in 3ti's technology, our vision for renewable energy solutions and the team behind the two largest solar car parks in the UK."
The firm will use the money to expand its team and continue development of the production system. The funding page will remain open for 28 days.
Now, if you're looking up at grey, overcast British skies, you might have some doubts about the effectiveness of a 'pop-up' solar car charger – but 3ti bosses insist that the tech of the Papilio3 means it can be effective even if the weather is distinctly dull.
Move Electric recently took a trip to the Surrey Research Park in Guildford, where the prototype Papilio3 has been set up, to plug in the Citroën e-Berlingo we're living with and find out more.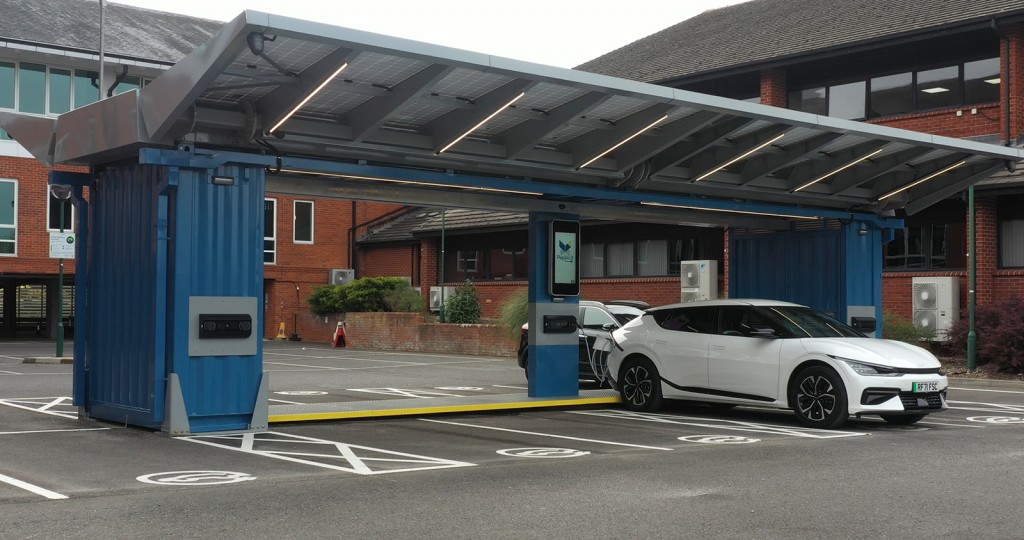 How the Papilio3 pop-up solar car park and charger works
The Papilio3 has been crafted out of a recycled shipping container, although little evidence of that remains. Designed with the help of Cambridge Design Partners, it retains the same footprint as a 40ft shipping container, which means it can be transported on any lorry trailer or train.
When placed in a car park, it sits between two rows of spaces, with a raised platform down the centre section. The unit is covered by a canopy of 36 solar panels and contains a battery up to 250kWh in size that can be used to store energy. That canopy also serves as a waterproof shelter, and there is also the option to add lightning and CCTV for added security.
Up to 12 EV chargers – which can run at 7, 11 or 22kW, are located on three pillars on the unit – and designed so they can be easily accessed wherever a car's charging port is located.
Tim Evans, 3ti's founder and CEO, said that the decision to offer a maximum of 22kW charging was driven by the expected utility of the device – especially for those EV drivers who want to charge up at the office because they can't at home.
"We believe solar and battery-boosted destination and workplace charging will become the best EV charging solution for drivers, irrespective of the type of home they live in," said Evans. 
So is it entirely run on solar power?
While the solar panels are a key part of the design (and could in theory be the sole energy source), 3ti estimates that in most cases it will provide around 30 per cent of the power for the unit.
The rest will come from connecting the Papilio3 to the electricity grid – but unlike most EV chargers the unit works on the existing mains electricity supply on a site. That avoids the needs to upgrade the electricity connection at an installation site, which also removes the need for ground works.
Effectively, the unit then draws energy to fill the 250kW battery from both the solar panels and the mains electricity supply, generally at off-peak hours when prices are lower. That helps to overcome one issue with electric vehicle charging at an office: people use them to charge their cars during the working day, when demand on the grid is highest – which also leads to more use of gas to generate the power to meet that demand.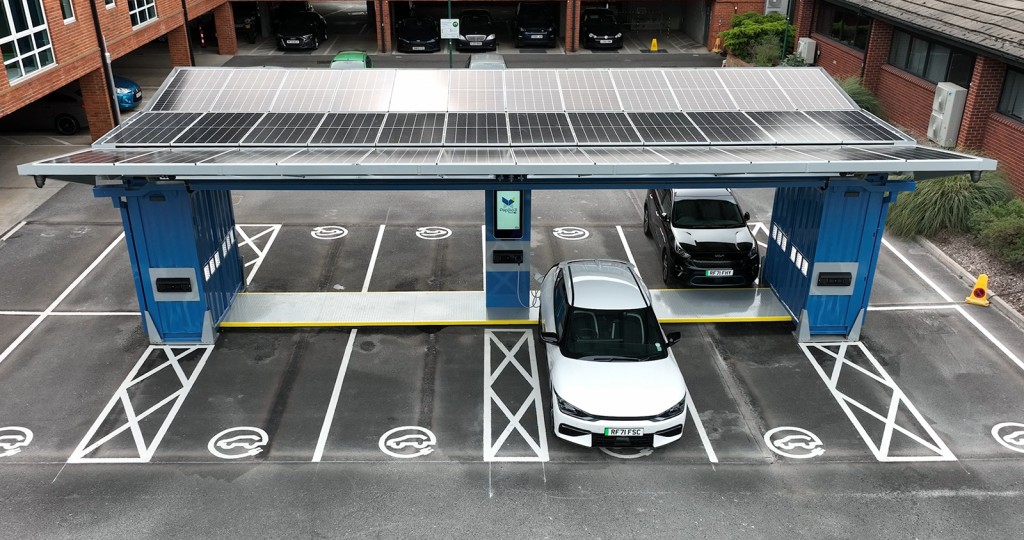 Effectively, the Papilio3 draws power from the grid overnight when there's no demand in an office, and tops it up with solar power from the panels.
3ti – which stands for 'three technology infrastructure' to reflect its focus on solar, energy storage and EV charge points – has plenty of experience when it comes to sun-based charging: the firm has installed some of the UK's biggest solar car ports, including at Bentley and JP Morgan.
"This is the same concept, but on a mini, portable scale," added technology chief Mark Potter.
In total, the Papilio3 has installed DC power of 16.59 kWp (kilowatt peak), with an annual energy production of 13,116kWh, depending on location. That is enough to power 82 homes, an saves an estimated 65.3 tonnes of CO2 equivalent.
How easy is it to install?
3ti says that the Papilio3 can be set up in no more than 24 hours – in fact, it claims the prototype version at the Surrey Research Park was installed in around nine, which included painting new lines on the ground to denote the EV spaces.
The canopy can feature a range of solar panel designs, in part so it can be best adjusted for each location. 
Notably, 3ti claims that because it is a temporary unit, the Papilio3 requires no planning permission 'in most locations'. Evans added: "It's also designed to be really visible, so it help really showcase solar charging technology." The unit can also feature digital advert screens and other branding.
Rather than selling them, 3ti will offer the units on a rental contract, which it says removes the need for capital investment by customers – and enables venues to add extra chargers for a limited period.
Does it work?
We got to try it with our Citroën e-Berlingo – and certainly got a useful top-up of power. With the e-Berlingo's charging port located on the rear pillar, we were grateful for the bright yellow markings on the raised platform, and the clear signage to spot the charging slots.
The unit was certainly prominent, and from the statistics 3ti showed us it drew in a pleasing amount of power from the solar panels – even on a very grey day.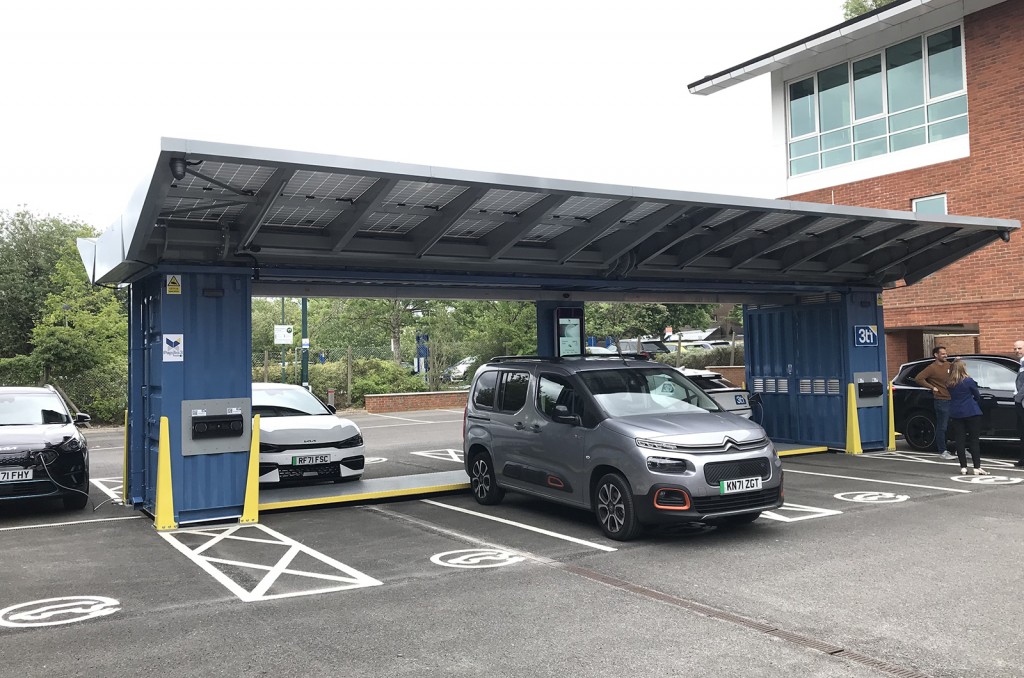 What happens next?
The unit installed at Surrey Research Park is a prototype, and has been used to refine the design: Evans notes it has already led to changes to the solar canopy to offer more protection from rain for users, and higher, more prominent columns that are easier to spot when reversing.
The firm is now in the process of building 10-12 further units that will be installed at a number of clients in around September for further evaluation. 
Q&A: Mark Potter, 3ti chief technology officer
How did you settle on the size? Why 14 spaces?
"The container was the starting place. Using a container makes the logistics really easy, and they come in a standard size of 40 feet. So you look at how many parking spaces that fills, and then work out how many EV chargers you could fit. Then you look at how many solar panels you can fit in that space, and what size of battery you need. We worked out you needed a little bit of extra space with EVs – well, with modern cars in general – so those 14 spaces became 12."
Why did you go for a solution that supplements grid power, rather than cutting it out entirely?
"Before I joined 3ti, I developed electric vehicle batteries, and one of the first things you observe in the automotive world is this closed-loop system: a car sits on four bits of rubber and when it's not plugged into anything you look at it in isolation.
"The grid, naturally, is completely the opposite. It's an open-loop system. What we've created here is a micro-grid in the box, which we can integrate with a smart building, a smart grid and smart energy service. We can add more layers as we go on, too. But you've got to look at the consumer too: it's not about putting in the cheapest install for a business if you're not going to get a good experience for the people using it."
We all know the weather in Britain, so can a solar car park actually be effective?
"One of the things that I found surprising when I joined this industry is actually how much solar panels generate even on a cloudy day. Modern solar panels work a lot better than the kind of ones in the past.
"And part of my role is to model scenarios depending on the customer. If you take a tourist destination, it will be absolutely true to say that during the summer, if they've got a very small grid connection, they're going to be able to charge vehicles a lot faster than during the winter [because they'll have more solar energy]. But during the summer, a tourist destination will likely be a lot busier than they are during the winter.
"We're able to crunch our numbers and say to those businesses if they need a bigger feed for that system to work. And one of the benefits of having a battery is that we can supplement the solar. So that 250 kilowatt hour battery might only be used to 100% of its capability in the deep, dark winter."
READ MORE
Subscribe to the Move Electric newsletter
e-CARS
New electric cars for 2022 and beyond: what's coming when
New BMW i7 unveiled as luxury electric saloon
e-BIKES
Best e-bikes for every category 2022
Moustache Samedi 28.7 e-bike review
e-MOTORBIKES
Yamaha Neo's electric scooter review
Cake launches new global electric motorbike race series 
e-SCOOTERS
Government set to announce plans to legalise private e-scooter use
New study finds e-scooters are five times safer than bikes
e-WORLD
World's first airport for flying taxis opens in UK