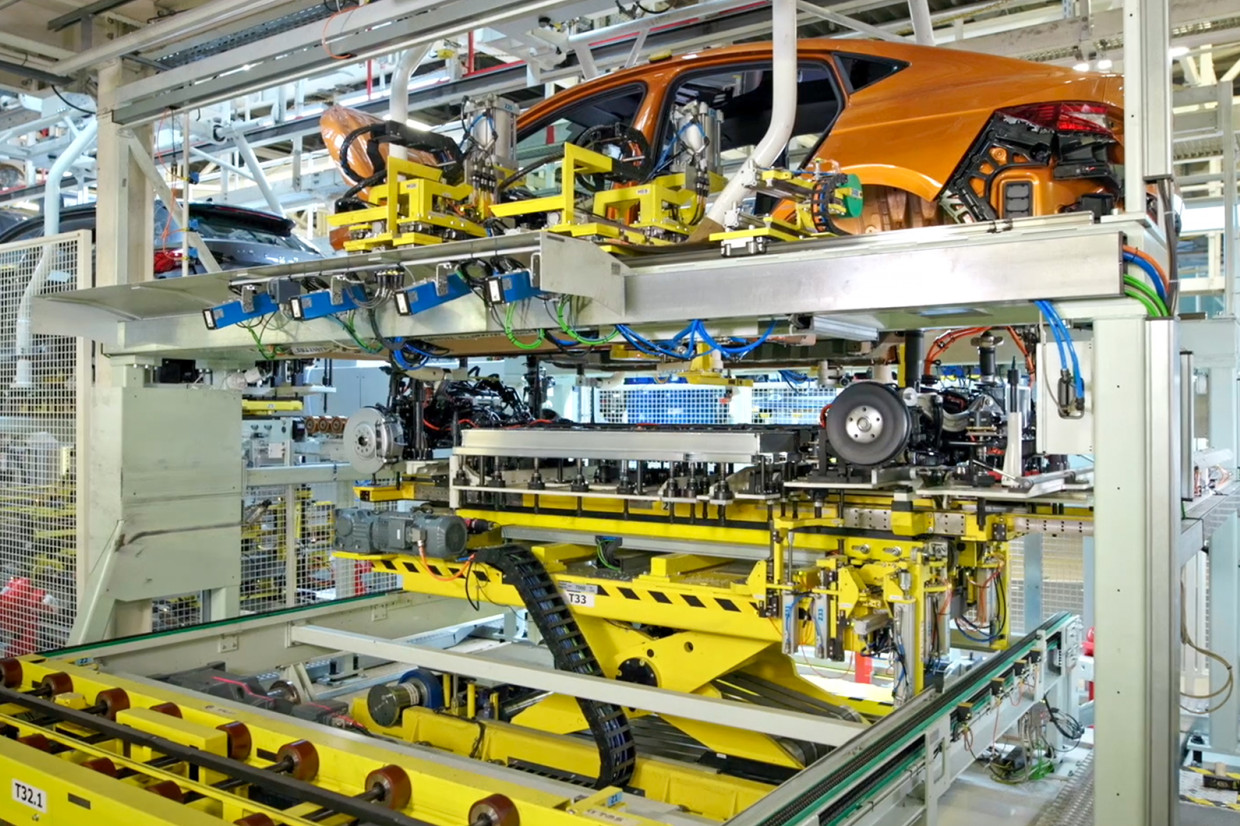 Skoda has been making cars at its factory in Mlada Boleslav in the Czech Republic for 117 years. The cutting-edge modern production lines at the current plant would be unrecognisable to the handful of workers who built the original Voiturette A there back in 1905 – and yet the site is currently in the process of perhaps its boldest transformation yet.
Like all car firms, Skoda is undergoing a huge shift as it grows its electric car line-up. The firm already produces the Skoda Enyaq iV and has just launched the Enyaq Coupe iV, and has promised three more EVs by 2030. 
Subscribe to the Move Electric newsletter
The Enyaq and Enyaq Coupe are both being built at Mlada Boleslav – and significantly, the firm has now opened a huge new production line to build battery systems. Those won't just be used for Skoda models, either: they'll also be sent to other Volkswagen Group plants for use in other EVs that are built on the MEB electric platform.
Move Electric was recently given the chance to tour the Mlada Boleslav factory to take an up-close look at how Skoda is transforming for the electric age – and to hear about its even bolder plans for the future.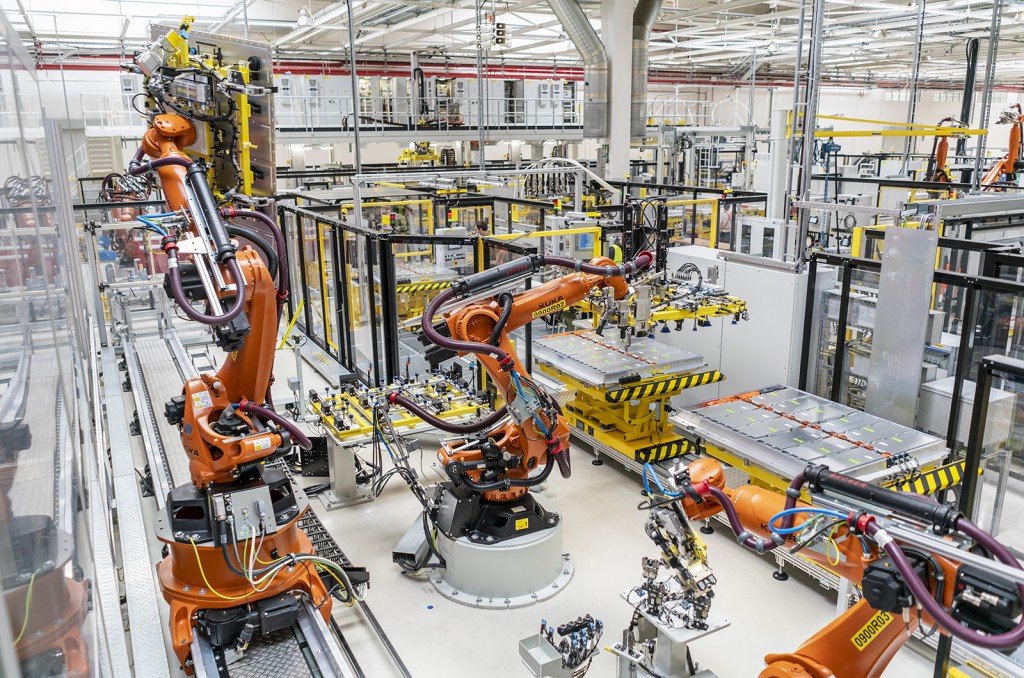 A brief history of Mlada Boleslav
Skoda's main factory in Mlada Boleslav, around 30 miles outside Prague, has grown somewhat since Vaclav Laurin and Vaclav Klement started making bikes there in 1895. Laurin & Klement began making cars a decade later, before being absorbed into the Skoda Works industrial group in 1925. The first production line was established five years later (below).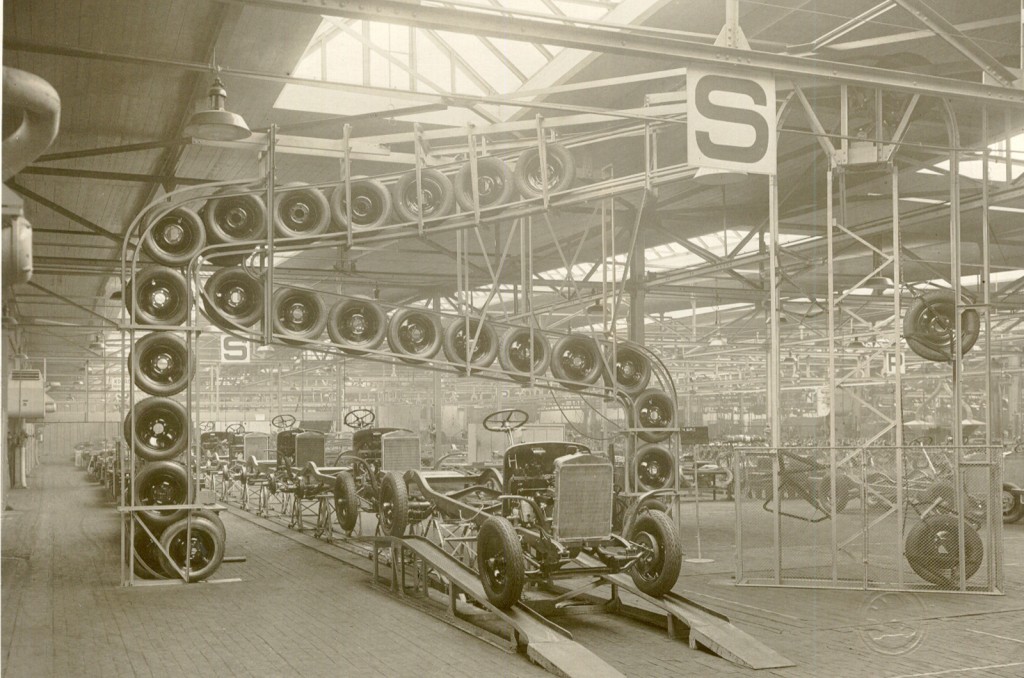 Skoda is now part of the Volkswagen Group and the Mlada Boleslav plant is a thoroughly modern car factory that sprawls over a vast site. It has multiple production lines that currently produce a range of Skoda models – the Enyaq, Octavia, Fabia and Karoq – but also includes other production lines that produce various parts for use by a range of VW Group models.

The site has long produced DSG gearboxes, for example, and since 2019 it has produced hybrid battery systems for use in various VW Group plug-in hybrids. That line is now located in hall M6, next to – and dwarfed by – Skoda's shiny new MEB battery systems line.
The new facility is modelled on the original MEB battery system line at the VW Group plant in Braunschweig. Christian Bleiel, Skoda's head of component production, says: "We worked in co-operation with the team there to set this up, and use the same production line system and layout and same techniques - but we hope we've been able to improve it."
That isn't a bit of brand rivalry, by the way: since Braunschweig was the first MEB battery systems plant, Bleiel says that the improvements stem largely from the experience gained there. But he also highlights Skoda's favourable location for securing metals and other raw materials from local suppliers.
What exactly is a battery system anyway?
First off, Skoda doesn't actually take lithium ion and other elements and produce battery cells here: that happens in a dedicated battery factory. Instead, the facility receives completed battery modules – each containing 24 cells – and assembles them into a single battery system ready to go into an electric car.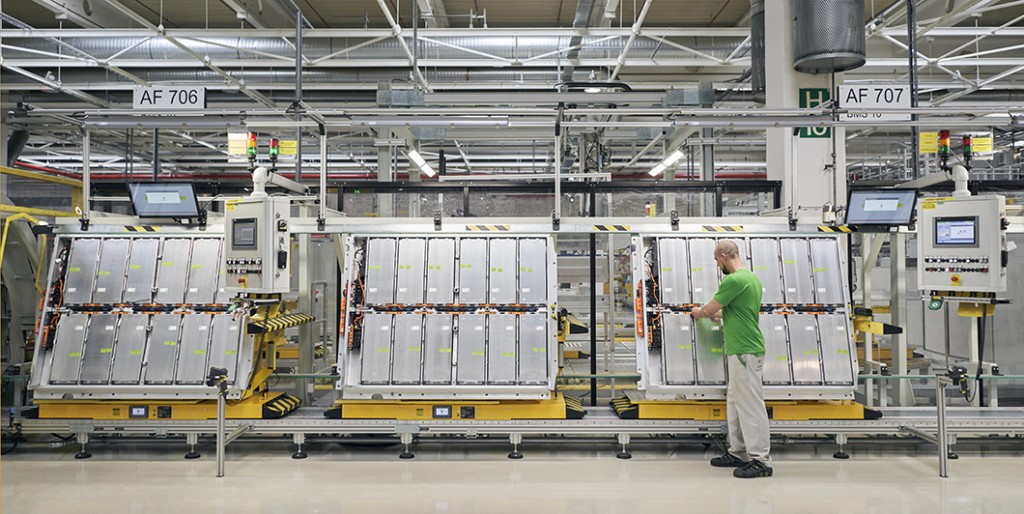 Essentially, it's a big square battery case that contains all of the lithium-ion battery cells, grouped into modules, along with the electrical connections, battery management and cooling systems required to make them work.
The finished product is a metal-cased big, flat shiny block, that is designed to be mounted in the floor of an MEB electric car architecture, basically underneath the passenger cabin. The battery systems Skoda produces are used in Mlada Boleslav for the Enyaq and Enyaq Coupe (below), but will also be sent to other VW Group facilities to be used in other cars that use the platform, such as the Volkswagen ID 3 and ID 4, the Cupra Born and Audi Q4 e-tron.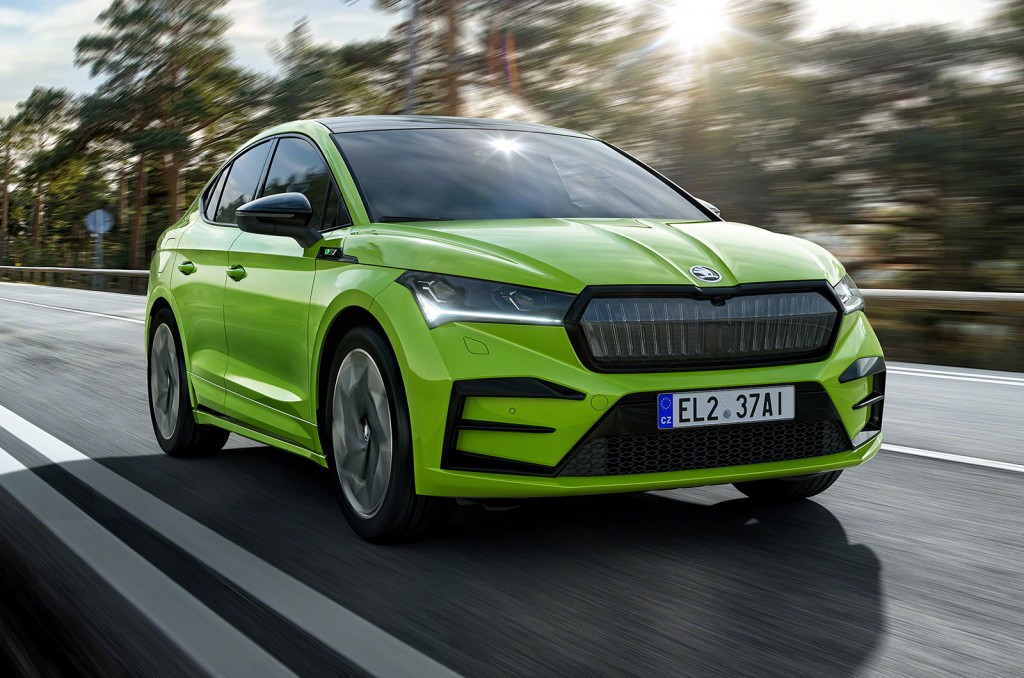 Skoda makes three sizes of battery system for the three battery sizes that MEB platform can currently house. The smallest 55kWh system features eight battery modules totalling 192 cells, with the 62kWh version containing nine modules (216 cells). The largest 82kWh version features 12 modules which, if you've got the hang of this by now, you'll have worked out has 288 cells.
Despite Skoda producing three different sizes, the firm only uses two sizes of case: the 55kWh version sits in the same case as the 62kWh unit, but features extra housing elements to keep everything in place.
Unusually, the differences in the connections caused by the battery density in each shell means the 62kWh battery runs at 400V, while the 55kWh and 82kWh units run at 350V.
A rough guide to assembling an MEB battery system
Each MEB battery system will pass through more than 70 stations on the production line. It's a truly blended operation, with a mix of human engineers and more than 30 robots sharing the work throughout that journey.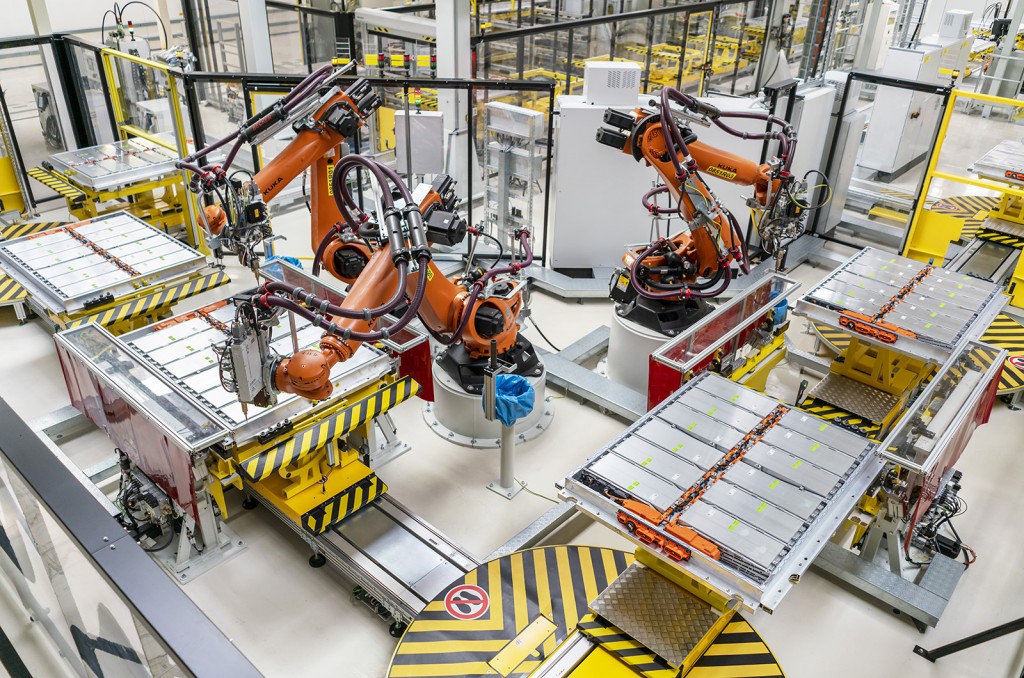 All the workers wear special shoes and outfits that are designed to send any static electric forces straight down into the specially treated floor. But before they step up onto any section of the production line they have to step on special plates that make sure they are not charged.
The robots are generally used for the tasks that require heavy lifting, extreme force or precision, with the production line engineers then taking over for the skills that require handiwork and judgement. 
Those robots aren't the only ones you'll see: autonomous trolleys criss-cross the floor, carrying materials and parts to stations as they're needed.
The battery pack largely takes shape early in the process, as the battery modules are carefully pressed into place and then screwed and glued into position. Once done, the system must be wired. The modules use two colours of cables: low-voltage wires used for the system electronics are black, while the high-voltage cables that carry the power from the modules through the battery are orange. Top tip: do not touch the orange cables.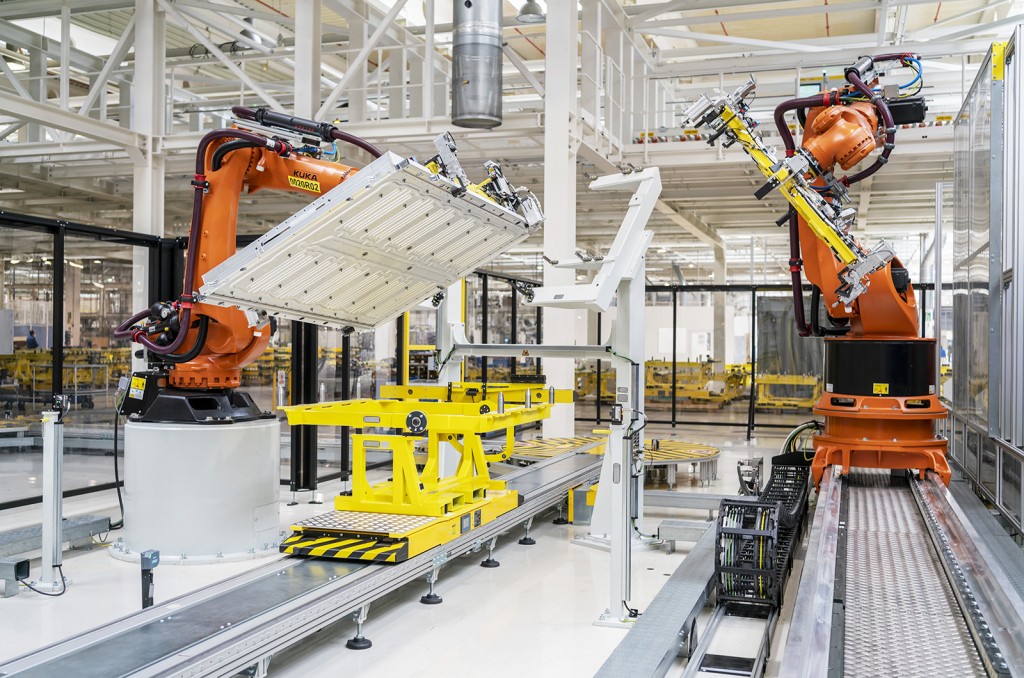 The control module and other units (there are three black boxes in total) are then added, and the system is connected up in serial. 
Before anything gets sealed up, the system is extensively tested. Checks are a big thing during the production process: there are 16 test benches dotted throughout the production line, with more than 65 control units and 40 thermocameras that monitor progress. To work and be safe, an electric car battery unit must be incredibly well sealed and secured, so it's critical to spot any potential faults before that happens. You don't want to have to go to the trouble of opening up a battery pack unless you really need to.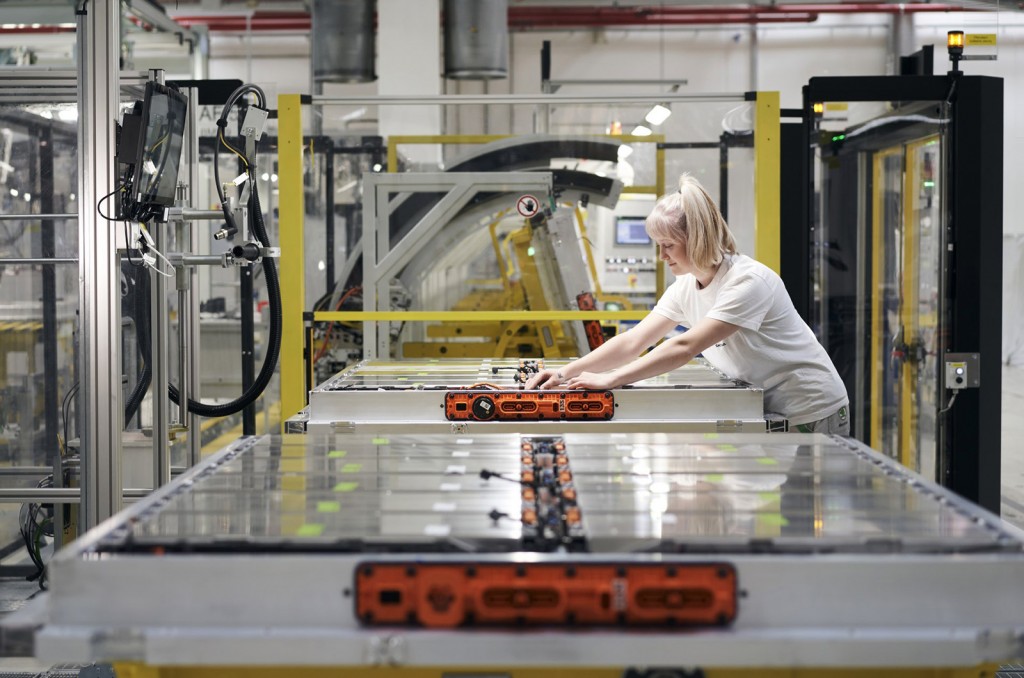 The sealing process is a sight to behold by itself: it's quite intoxicating watching massive robot arms perform very delicately applying glue into the most precise, hard-to-reach corner of a battery system.
Generally, there are two ways to seal up a battery pack: you can screw it or glue it. VW plants use an innovative form of self-cutting screws, which are pressed and twisted really quickly into a soft material (Skoda likens it to a quark soft cheese) using a friction motor, before it all seals up.
Once sealed up, all the external connectors and parts must be attached to the battery system, before the units are charged for the first time using a 125kW DC fast charger. They don't charge the batteries to full, though, for the simple reason of time: Skoda can make battery packs faster than it can charge them. It churns out 45 battery packs an hour, and it takes far longer to charge a unit to full.
The battery modules that arrive at Mlada Boleslav already have some charge in – around 14% – and they're charged up to 24% to make sure they work. The battery won't be charged to full for the first time until it's been put into a car, finished and shipped to a dealership ahead of being collected by a buyer.
From the production line to a car
Once finished, the battery systems are transferred by an autonomous machine to a special store at the back of the site. The 3500m2 unit can house up to 3200 battery systems, until they're ready to be shipped – either just round the corner to Skoda's Enyaq production line, or by train to other VW Group plants.
If having 3200 big battery systems stacked up in a single unit sounds like a bit of a fire risk to you, rest assured the room is temperature controlled, constantly monitored and designed to alleviate all risk. Besides, Skoda's on-site fire station is directly across from Hall M6. "The firemen would be able to walk here in less time than it takes to drive," jokes our guide.
When electric car battery pack meets electric car
Skoda currently makes around 250 electric Enyaq a day in Hall M13 at Mlada Boleslav. Unusually, unlike other VW Group machines, the SUV is not produced alongside other MEB models: it's made on the same production line as the Octavia saloon.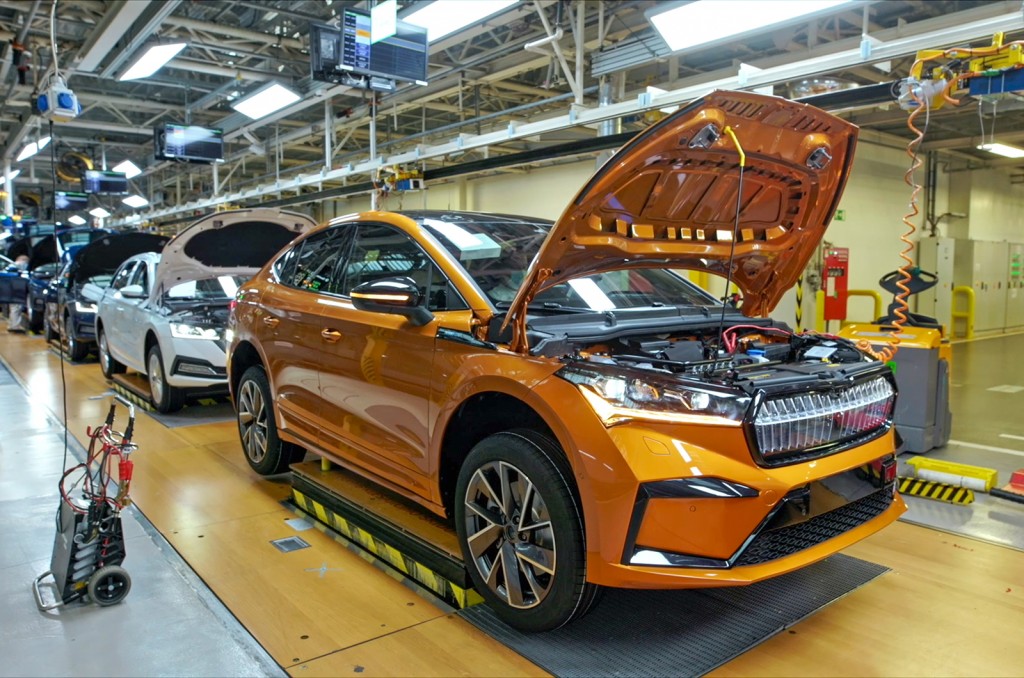 It's the only production line in the VW Group where electric and combustion-engined cars are produced alongside each other and, frankly, it's baffling to watch and get your head round it.
Consider this: the Enyaq and Octavia are built on two different platforms, with two completely different powertrains and layouts. The Enyaq either features a rear-mounted motor or a motor at each end; the Octavia models are all front-drive. There are three different powertrain layouts for the Enyaq, and two different battery sizes. Meanwhile, there are four different combustion engines used in the Octavia: pure petrol, diesel, plug-in hybrid and natural gas.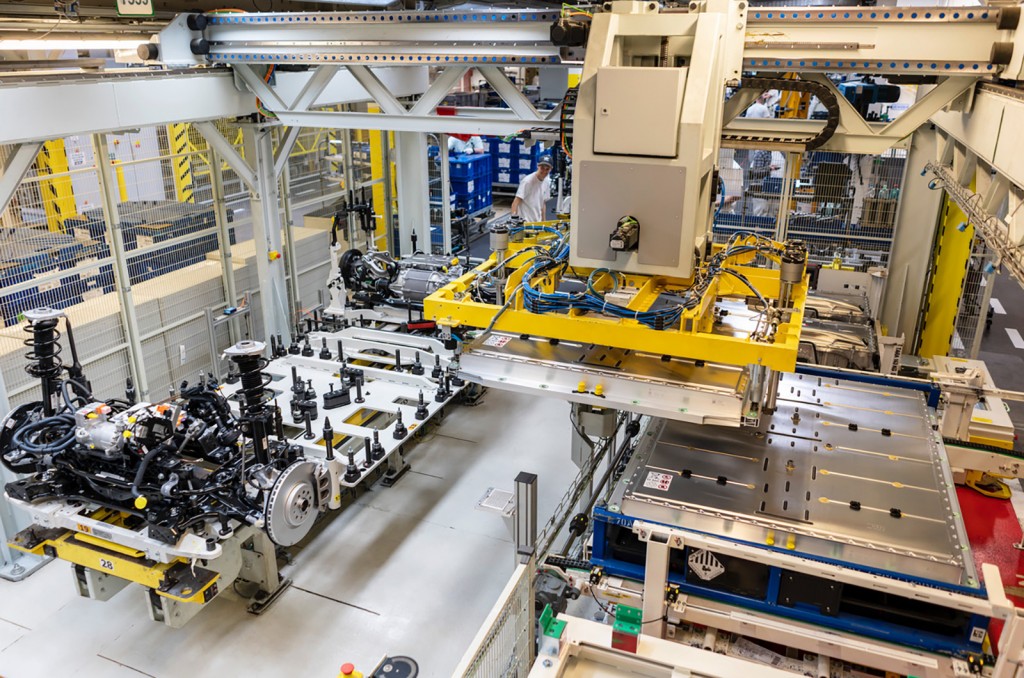 Thankfully, Skoda's production line workers are far less confused than a humble journalist, and also have a smart computer system to help them. When each machine arrives at head station, the system tells them what sort of machine it is, and what needs to be put where for their respective jobs.
The battery pack meets the chassis relatively early in the process. The packs arrive in the hall on a big conveyor, and in perfect sync are lowered into the MEB platform and then secured and sealed into place, before being attached to the electric motors.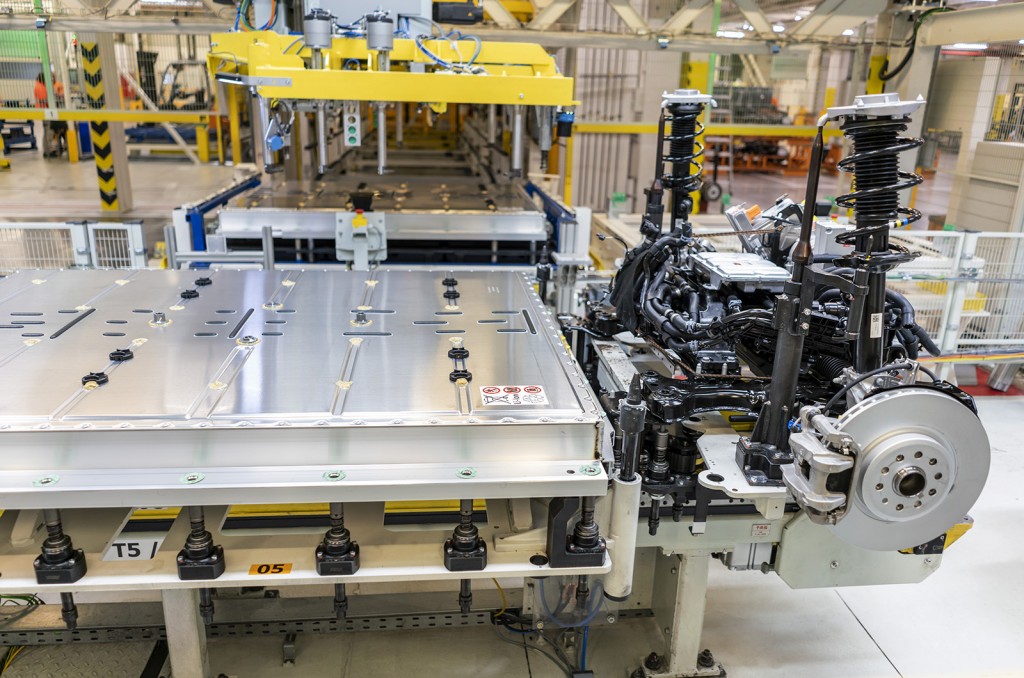 Further round the loop the upper body of the chassis is then lowered carefully onto that chassis and sealed up. Once done, the other elements – doors, wheels, interior fittings – are all added. And with that, after a series of tests and evaluations, the Enyaq is complete, and ready to be shipped to a dealer. Where, of course, it will be charged to full before collection.
Why the new production line is just the start
The new facility in Hall M6 is impressive enough: Skoda has sunk about £110 million into it, and the 18,000m2 site can produce around 255,000 units a year. But as Skoda and the wider VW group ramp up their electrification plans, more batteries will be needed.
So Skoda is already committed to building a second production line, increasing capacity by a further 125,000 units per year. The site is already marked out: it's currently a big, open space right next to the first production line. "We didn't build all this just to play football in," jokes Bleiel.
As Skoda increases its battery production, so it will increase the number of electric cars. It is aiming to build 800 EVs per day at Mlada Boleslav by 2025. And it also wants to broaden production.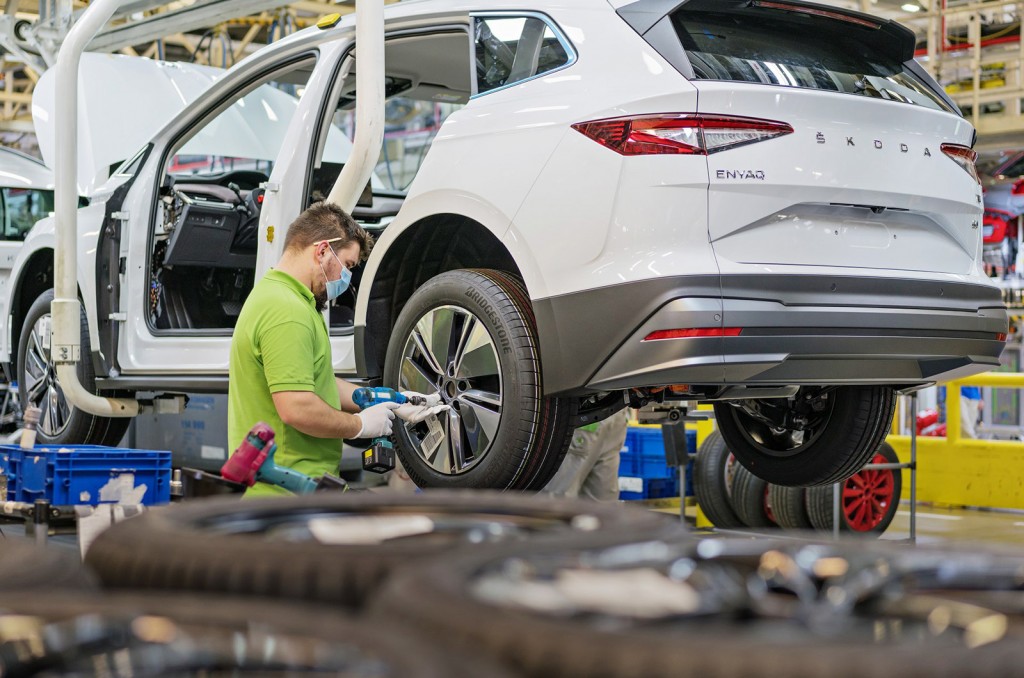 Remember how we said Skoda assembles battery systems but has the actual batty modules shipped in? Well, the firm really wants to get into battery cell production too. The VW Group has committed to building six European gigafactories.
The first is in Sweden, with the second being built in Germany and the third earmarked for Spain, where it will produce cells for the planned Cupra, Skoda and Volkswagen small electric cars. The fourth will be in Eastern Europe – and Skoda is pushing heavily for that to be in the Czech Republic.
"Battery cell production is not important for Skoda only but Czechia as well," says Michael Oeljeklaus, Skoda's production and logistics boss. "We believe that Czechia is ideally suited to battery production, because we have lots of materials here and good traffic links within Europe, so we would be able to supply other VW Group facilities. 
"We're working with the government and other local industries towards this goal, but the final decision will be taken in Wolfsburg [at VW Group HQ]. We hope they will take a decision sometime late this year or early next."
If the VW Group does give the thumbs-up, it would be a huge boost to both the Czech Republic and Skoda. And another remarkable step in Skoda's remarkable journey. Mlada Boleslav has changed a lots in its 100+ year history – but it's set to change even more in the near-future.
READ MORE
Subscribe to the Move Electric newsletter
e-CARS
New electric cars for 2022 and beyond: what's coming when
New BMW i7 unveiled as luxury electric saloon
e-BIKES
Best e-bikes for every category 2022
Moustache Samedi 28.7 e-bike review
e-MOTORBIKES
Yamaha Neo's electric scooter review
Cake launches new global electric motorbike race series 
e-SCOOTERS
Government set to announce plans to legalise private e-scooter use
New study finds e-scooters are five times safer than bikes
e-WORLD
World's first airport for flying taxis opens in UK