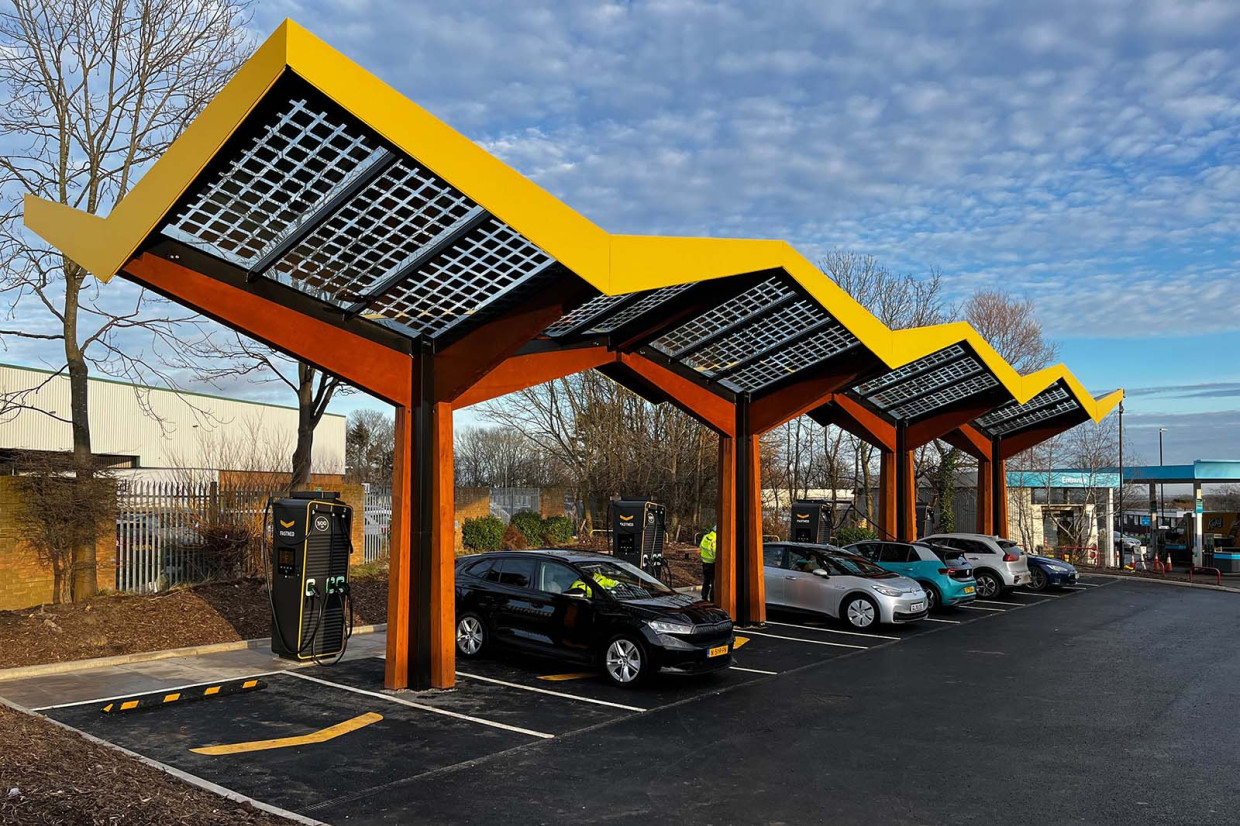 European rapid charging firm Fastned has launched a new ultra-rapid charging station in Washington. 
Located off the A183, the new hub - the 13th Fastned has opened in the UK - will serve EV commuters to and from South Tyneside, as well as Sunderland. 
The new station features eight ultra-rapid charging points offering speeds of up to 300kW, with the site powered by 100% renewable energy sourced via a solar canopy that sits above the charging hub. 
Fastned says the charging station can add 300 miles of range to an electric car in around 20 minutes. 
"Our new Washington site, based just down the road from Nissan's EV powerhouse, adds to the fantastic network of charging stations we have established in the area," said Fastned's UK country manager, Tom Hurst. 
"We look forward to welcoming drivers from Washington and beyond to our award-winning, unique electric vehicle charging experience that puts drivers at the centre".
Last year the Amsterdam-based charging firm opened its 200th fast charging station in Europe, with 133 of those located in the Netherlands. As well as the 13 sites it now has in operation in the UK, Fastned says it is working on further sites.
READ MORE
Subscribe to the Move Electric newsletter
e-CARS
Ten electric cars we're excited for in 2023
Getting an EV sideways: how easy is it to drift a Kia EV6 GT?
Q&A: Jaguar Racing's Sam Bird and Mitch Evans on Formula E's new era
e-BIKES
Ten electric bikes we're excited for in 2023
Can you get fit using an electric bike?
e-MOTORBIKES
Ten electric motorbikes we're excited for in 2023
Super Soco TC Max electric motorbike review
Cake and Polestar team up for new special edition Makka e-motorbike
e-SCOOTERS
Planned laws to legalise private e-scooters face delay
Five key takeaways from the rental e-scooter trials report
Which train firms have banned e-scooters from their services?
e-WORLD
Move Electric's best features of 2022: lap records, tuk-tuks… and sausage rolls
Volvo Trucks keeps on electric trucking with three new models