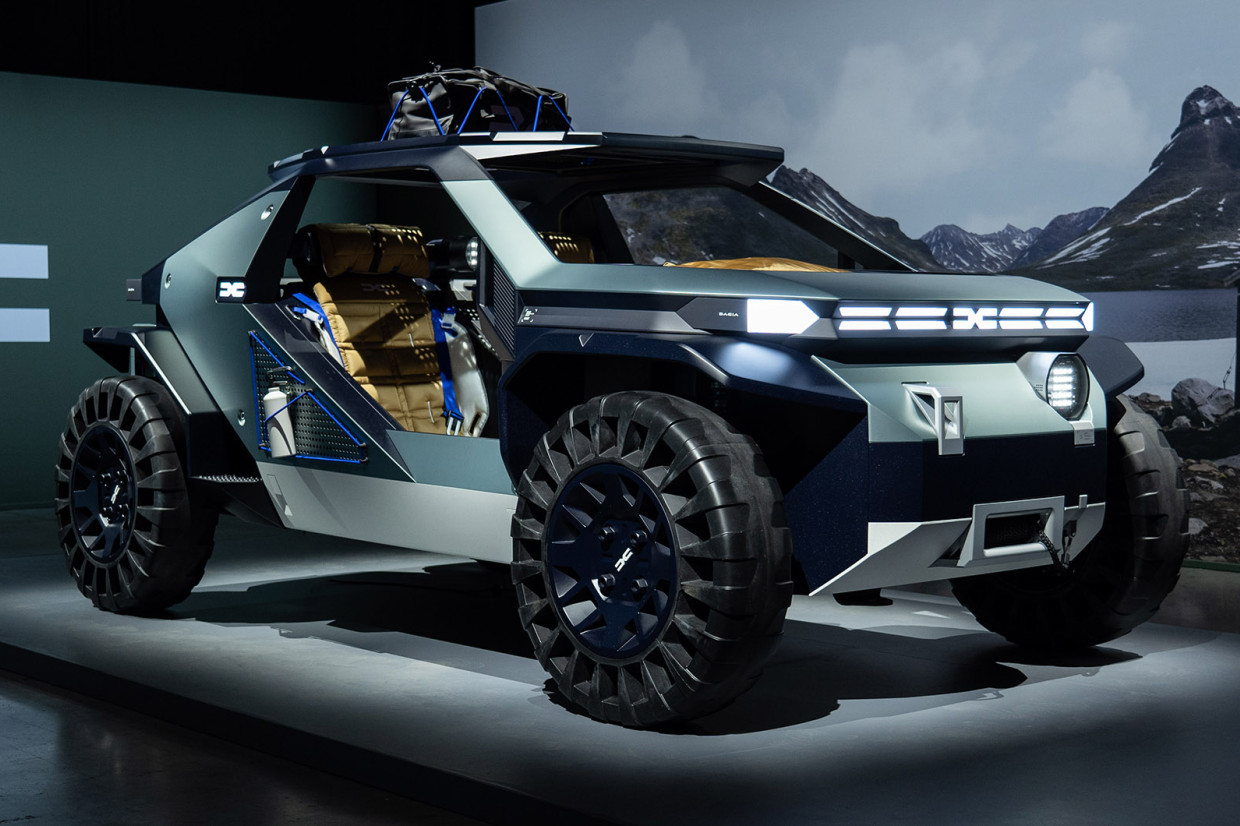 Dacia, the Renault Group's budget brand, has revealed a new bold concept car that takes the form of an off-road buggy and previews features and concepts that could be seen on future models.
The rugged – and pleasingly bonkers-looking – machine is called the Dacia Manifesto Concept, and the name gives a clue to its purpose: it doesn't preview a specific future production car but sets out ideas the firm wants to use in its future line-up. Hopefully, unlike some manifestos, Dacia won't quickly abandon many of the ideas set out here…
Commit to getting e-mobility news: sign up for our FREE newsletter
At its most basic, the Dacia Manifesto Concept is a lightweight and minimalist – there are no doors, windows or windscreen! – machine that's designed to help drivers enjoy outdoor pursuits. It's rugged, high-riding and designed to be fun to drive. But it's been developed in a way that would make it affordable and environmentally efficient.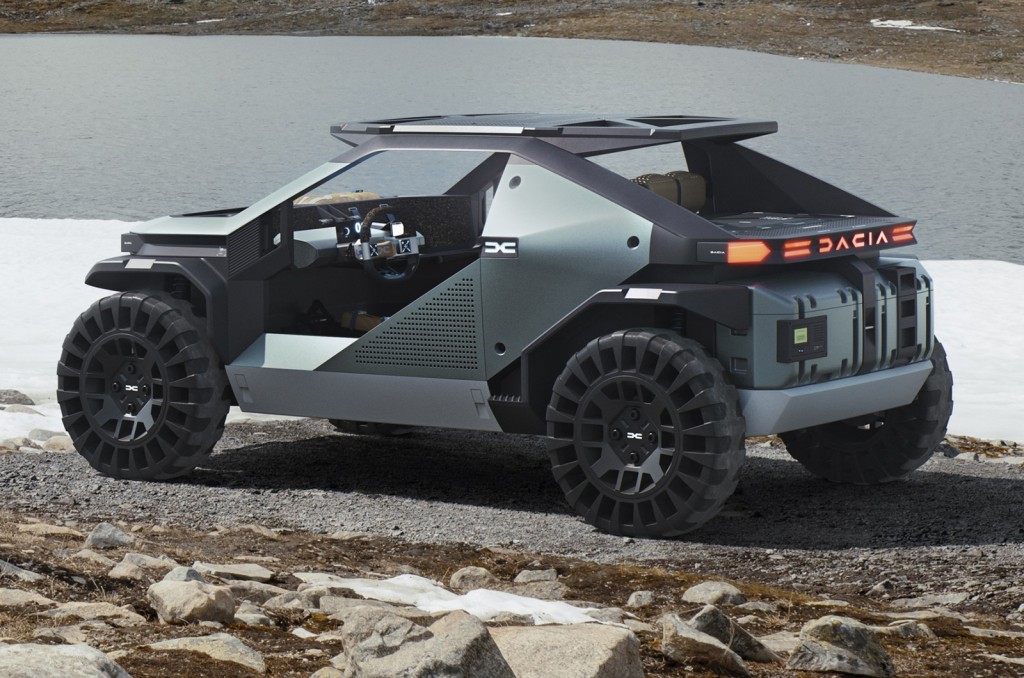 So this is an electric concept car then?
Sort of. Dacia hasn't revealed anything in the way of technical details but advanced design chief Romain Gauvin reckons the Manifesto is a "multi-fuel" car, which would be able to accept electric, petrol, hybrid and LPG powertrains – all of which would offer four-wheel-drive.
New Renault 4 EV to be revealed at Paris motor show
He added that any electric version would still be extremely lightweight: it would be the heaviest of the powertrain types, but would still only weigh a claimed 720kg.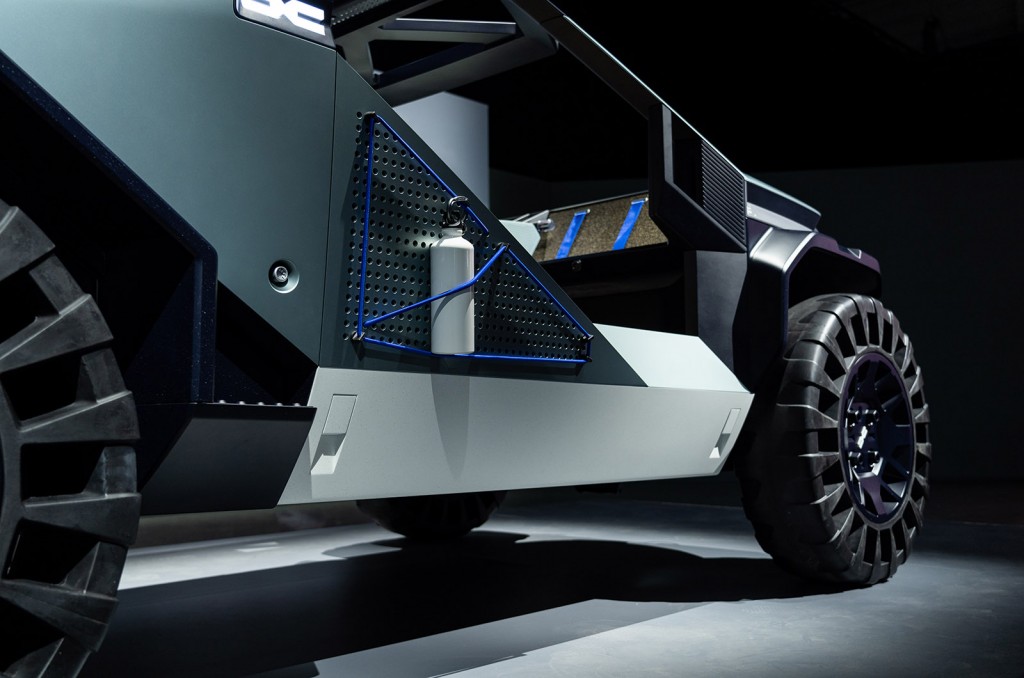 How is it that lightweight?
Because a big part of the focus of the Dacia Manifesto is on reduction, both so that it offers more 'connection' between driver and nature and because it reduces the environmental footprint of the car.
So the Manifesto is really very small: it's around 3.6 metres long, 1.85 metres wide and 1.55 metres high. The lack of doors clearly helps reduce the weight substantially, and the body panels are made from plastic that features a material called Starkle. It's made from already processed polypropylene, since you were about to ask.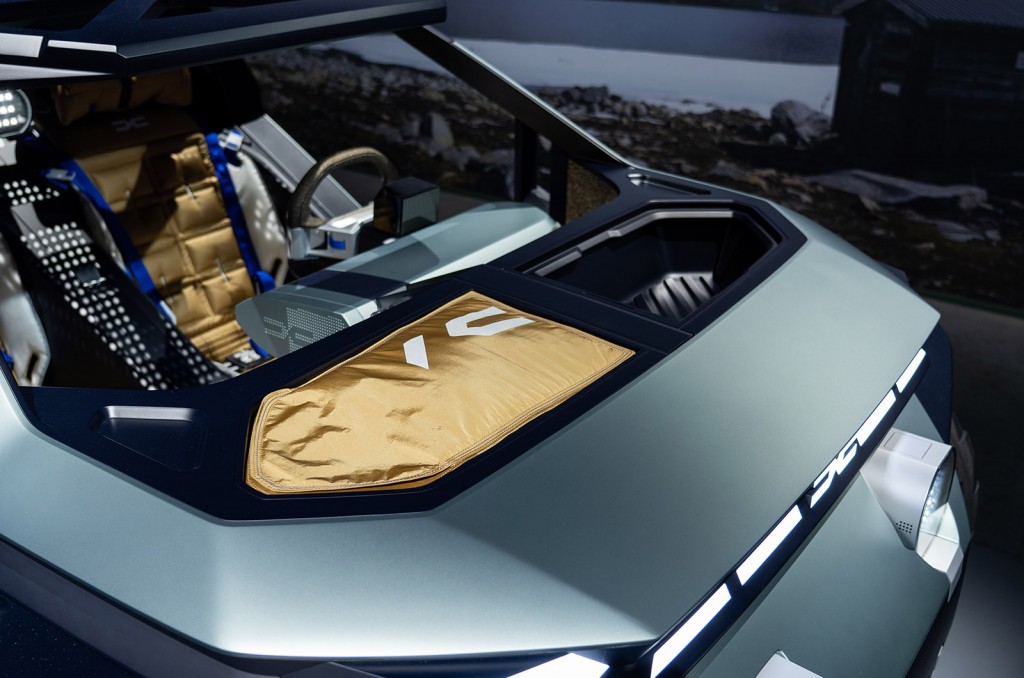 The interior uses plenty of natural materials including cork that covers the dashboard.
Dacia says that the lightweight focus of the Manifesto builds on its existing petrol-powered models such as the Sandero, Duster and Jogger, which it tries to make substantially lighter than rivals to help achieve better fuel economy.
So what other manifesto items does the concept feature?
There are also concept airless tyres, which are 850mm large and designed to be puncture-proof. While still a concept at this stage, the tyres are envisaged to last the life of the vehicle, offering substantial environmental benefits.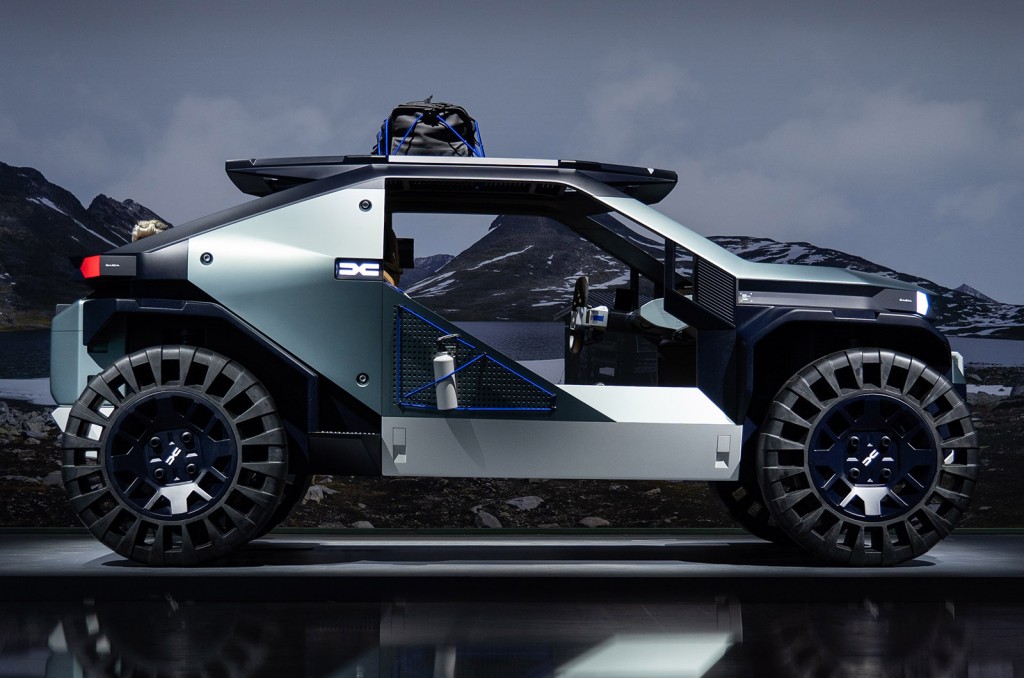 It also features Dacia's bring-you-own-device approach to infotainment: basically, it's all run from your smartphone, which saves cost and complexity.
There's also another feature called 'YouClip'. No, it's not some type of short form internet video content: it's a universal mounting point that can be used to house multiple accessories such as cup holders and phone mounts. Dacia is even pondering an approach where users could 3D print their own accessories.
There's only one headlight (why use two when one will do?), which can be removed and used as a torch.
Meanwhile, the car is completely waterproof, and the roof rack can be used in a variety of configurations. Oh, and the seat coverings are removable and can be used as sleeping bags.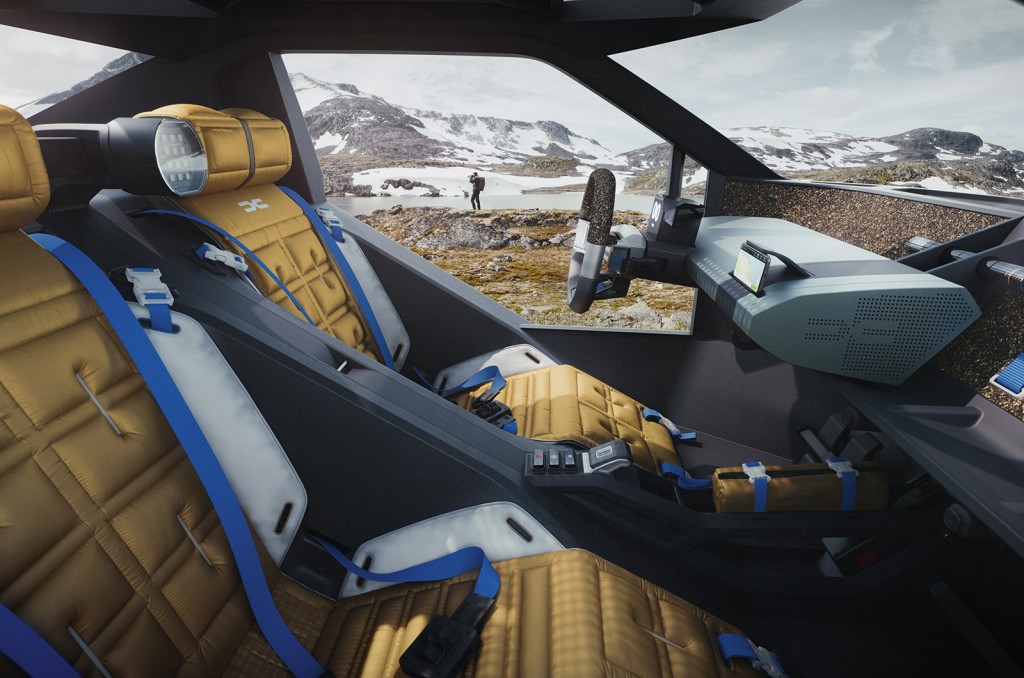 In a new twist on vehicle-to-load charging there's also a dedicated, removable battery that can be used as a portable power source for outdoor activities.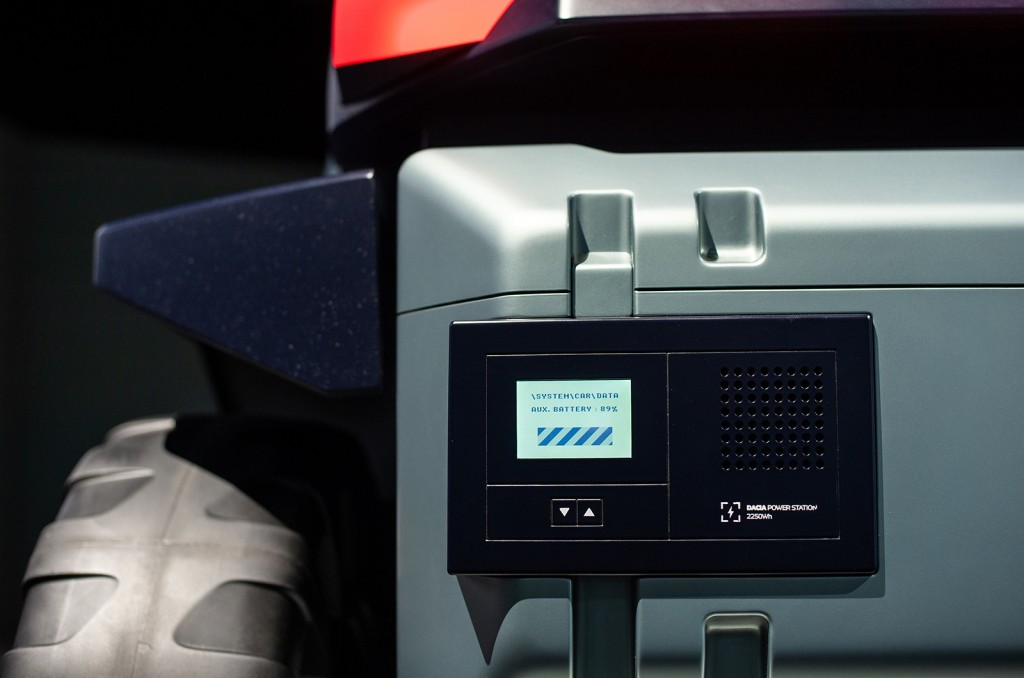 I totaly want to buy one. Are they really not going to make it?
Dacia insists not: this is all about the ideas within it. Which is a shame, because it looks brilliant. 
More details of the Manifesto Concept are set to be revealed when it goes on display at the Paris Motor Show in October.
Meanwhile, we'll have to keep waiting for the first electric Dacia to reach the UK. While the brand is developing the budget (and basic) Spring Electric in some markets, it's being deliberately slow over its EV plans, waiting for the technology to reach a point where it can be offered at Dacia's traditional value-for-money pricing.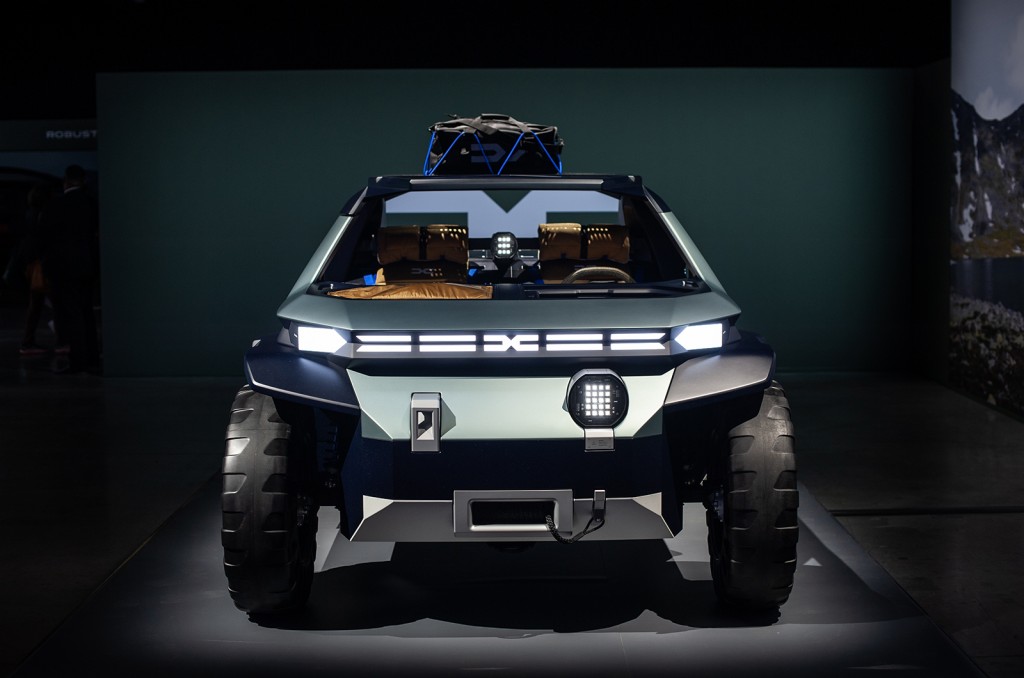 READ MORE
Subscribe to the Move Electric newsletter
e-CARS
Video: Can the National Grid cope with a surge in electric vehicles?
e-BIKES
What to look for when buying an e-bike: Move Electric's top tipsx
The rise of Volt Bikes: 'when we launched, people thought we were mad'
e-MOTORBIKES
Maeving RM1 electric motorbike review
Q&A: Zapp founder on why electric mopeds are the future
Government plans 2035 ban on new non-zero emission motorbike sales
e-SCOOTERS
Tier to upgrade e-scooter fleet with a smart 'Parrot'
Q&A: Neuron Mobility's UK boss on e-scooters, safety and helmet selfies
e-WORLD
Polestar to supply battery tech to electric boat firm Candela
Engineering giant ABB working on electric Dover-Calais ferry