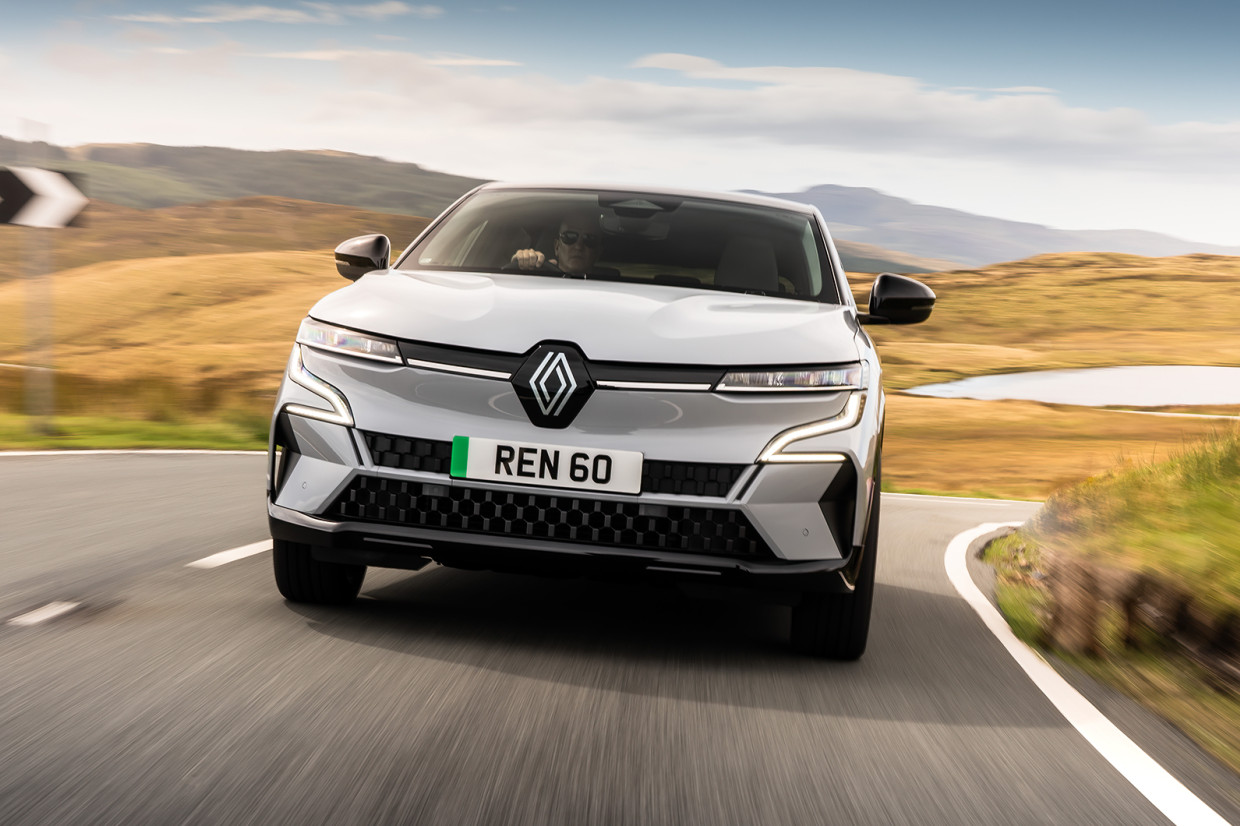 Move Electric verdict: four stars out of five
Review updated October 2022 following first drive of production versions in the UK
Sell it to me in a sentence….
The Megane E-Tech is a Volkswagen ID 3-rivalling family hatchback that's stylish, good to drive and packed with tech and, starting from £35,995, intriguingly priced.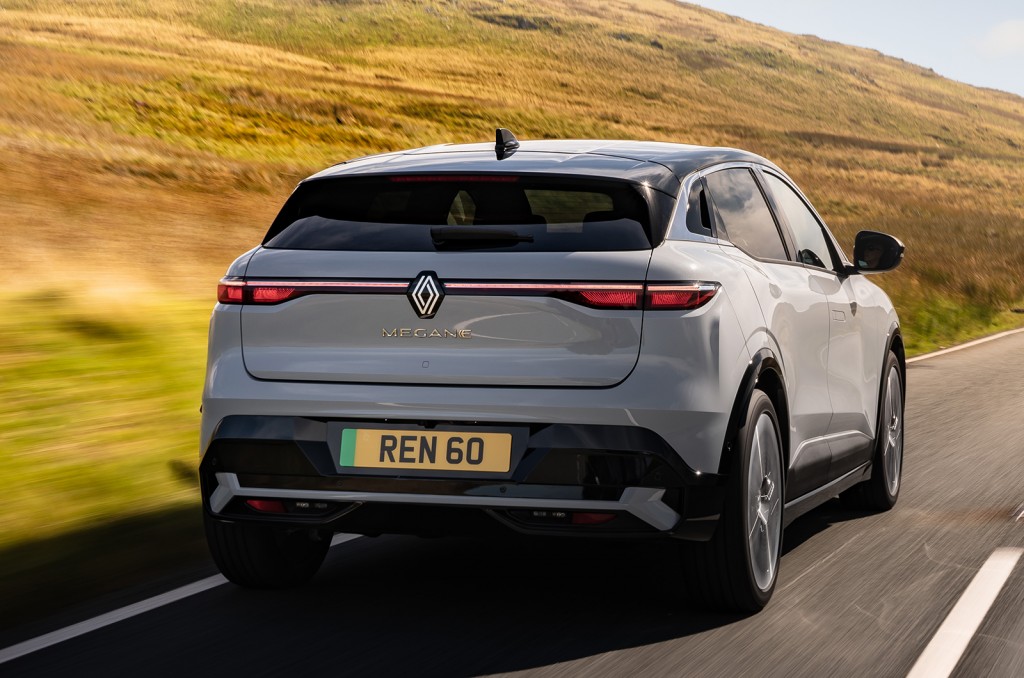 That all sounds rather good, tell me more?
To be honest, it's surprising Renault has taken this long to come up with the Megane E-Tech. The pioneering Renault Zoe supermini made its debut in 2013, giving the French firm plenty of time to cash in on its EV know-how. Instead it let rivals steal a march with models such as the excellent ID 3.
Still, while Renault has taken a while to finally launch its second all electric model (we'll forget the flawed and unpopular Fluence), the wait has been worth it.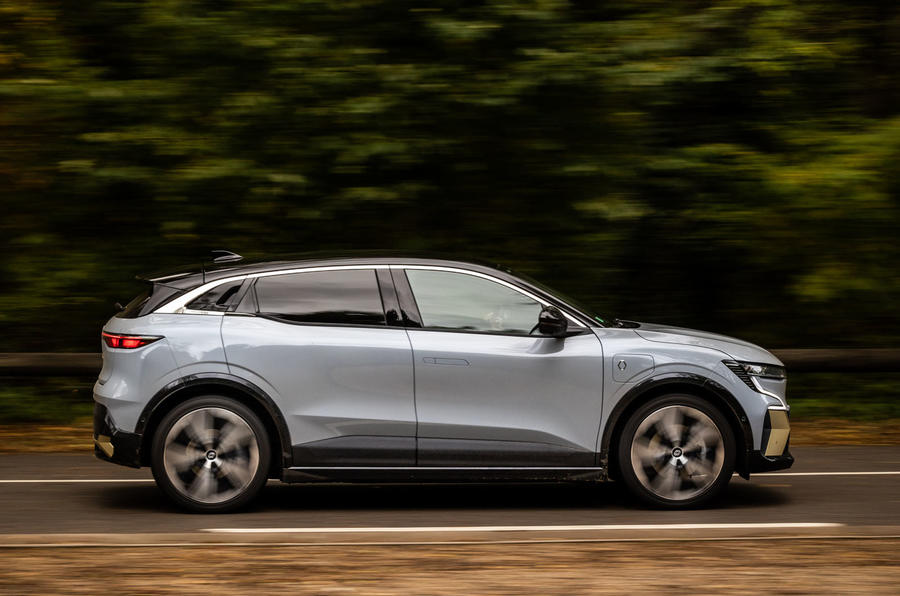 Now, just to be clear: the Megane E-Tech Electric is entirely unrelated to the line of Megane hatches that Renault produced has produced since 1996. While it broadly fits into the same class, this is a new model built on a new EV platform. 
Reviving old nameplates for new electric models is kind of becoming Renault's thing: the Zoe will soon be replaced by the Renault 5 hatch and a Renault 4 crossover, and there's also a new electric Renault Scenic on the way.
Like the Zoe, the Megane is a clean sheet bespoke electric design, and is the first car from the brand to use its dedicated CMF-EV platforn. That's the same platform as the Nissan Ariya, but that's a whole size up in the SUV ranks. 
Designed from the ground up to be an EV, the Megane E-Tech Electric packages its lithium-ion batteries under the floor, but unlike the ID 3 it mounts its motor at the front where it drives the front wheels. Either way, this layout helps free up extra space for the interior, which is always a good thing. 
It's also around 200kg lighter than the ID 3, which has a positive effect on both the way it drives and its efficiency.
Finally, there's  also a range of battery sizes and motor options, so like all the best family cars there should be a Megane E-Tech to suit most bank balances.
Okay, give me the highlights
Well, let's start with the styling because, well, just look at it. We're becoming used to the latest generation of EVs delivering head-turning styling, but we think the Megane looks better than most.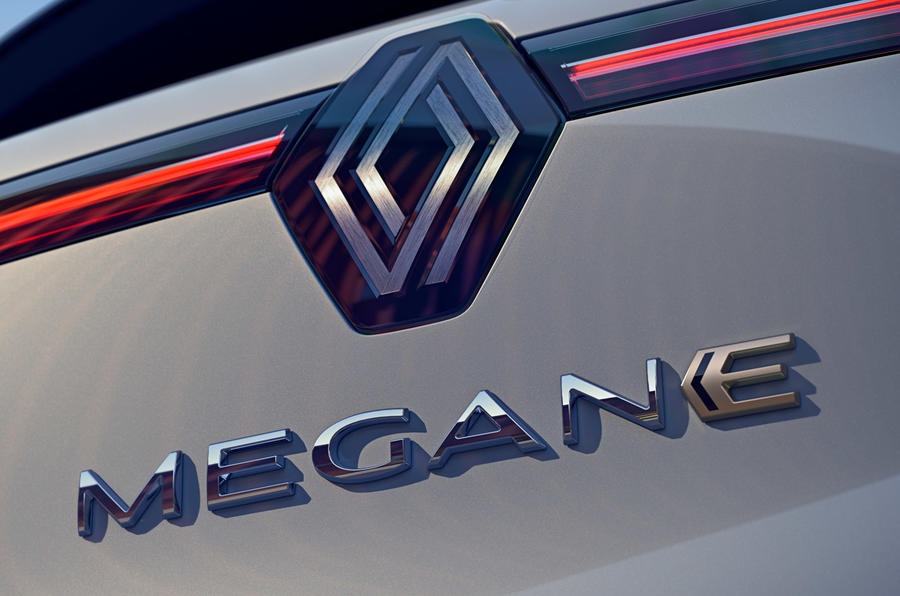 Because it's based on a bespoke electric car structure the designers haven't been as constrained as with a normal internal combustion-engined car, with the result they can let their imaginations run wild a bit. Renault has been leaning into its French design roots a lot more recently – look at the retro-styled new logo for an example – and the Megane is all the better for it.
As you'd expect there's more than a hint of SUV in its high-riding stance, but with its swoopy lines, bold LED light signatures and vast 20-inch wheels the Renault looks just like it's driven straight out of a stylist's sketch pad. Really cool features include the flush door handles that pop out as the sense your approach, like they do on the much more expensive Jaguar i-Pace.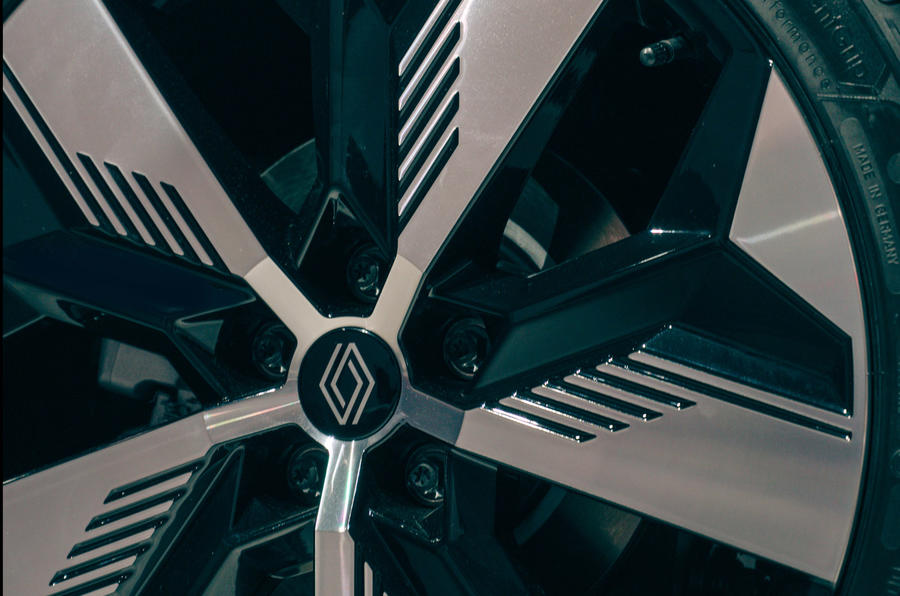 Yet the really great news is that the Megane is as good to drive as it looks. If you've never driven an EV, then the first thing that will strike you is how easy the Renault is to drive. You sit high with a good view out, while the steering is light and accurate making the car a doddle to place on the road.
There are no gears to worry about: just select Drive using the stubby gear lever and then away you go. Like all EVs there's instant and beautifully progressive acceleration from the near-silent motor, allowing exploit gaps in traffic that traditional internal combustion cars might miss.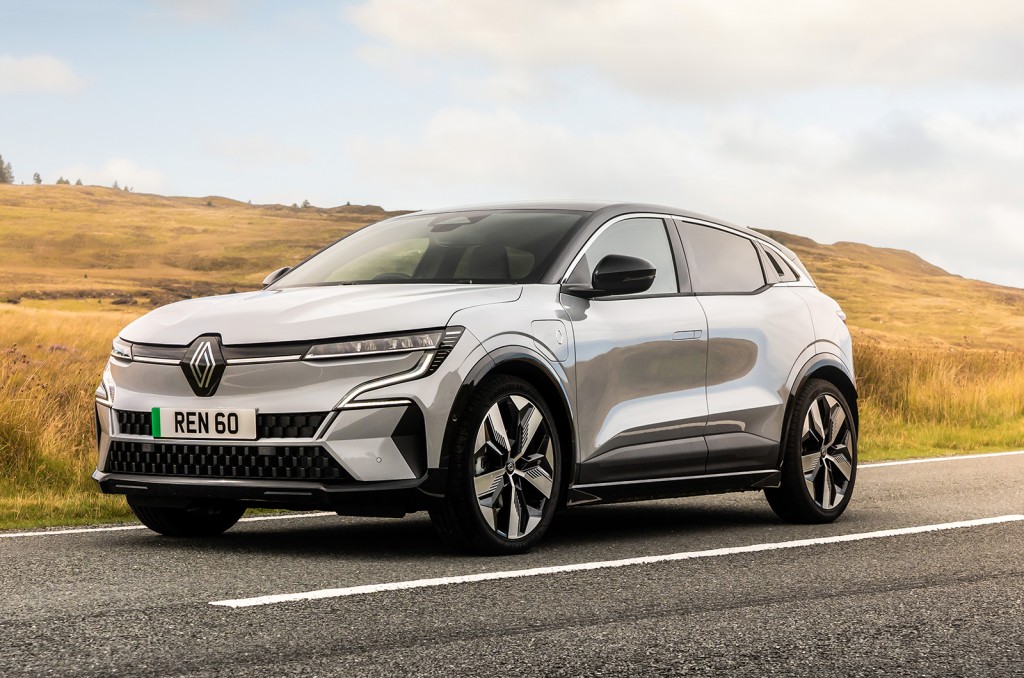 If you have driven an EV before, you'll likely detect that the Megane has a lightness and agility that some of its class rivals lack. You can zip along twisting roads with enough poise and precision that it'll genuinely make you smile. Like all the best French cars, it combines this agility with a soft and comfortable ride that makes it relaxing when you just want to take it easy. Few rivals can lower your heart rate as easily.
It offers regenerative braking too, which you can control through paddles on the steering wheel. There are four different settings, including one that just about allows for 'one-pedal' driving. As ever, you'll have to adjust your driving to suit a bit, but once you're used to it it becomes incredibly natural.
Right, now hit me with some numbers
Renault has aimed to keep things simple with the Megane: the line-up features two battery sizes, each with a different motor. But to make things even more simple, we're only getting one of those models in the UK.
In some markets there will be a 40kWh battery with a 186-mile range, which leaves it trailing the entry-level ID 3 and models such as the Citroën e-C4. But the UK will get the EV60 model, which features a 60kWh battery with an official WLTP range of 280 miles – which puts it among the class leaders.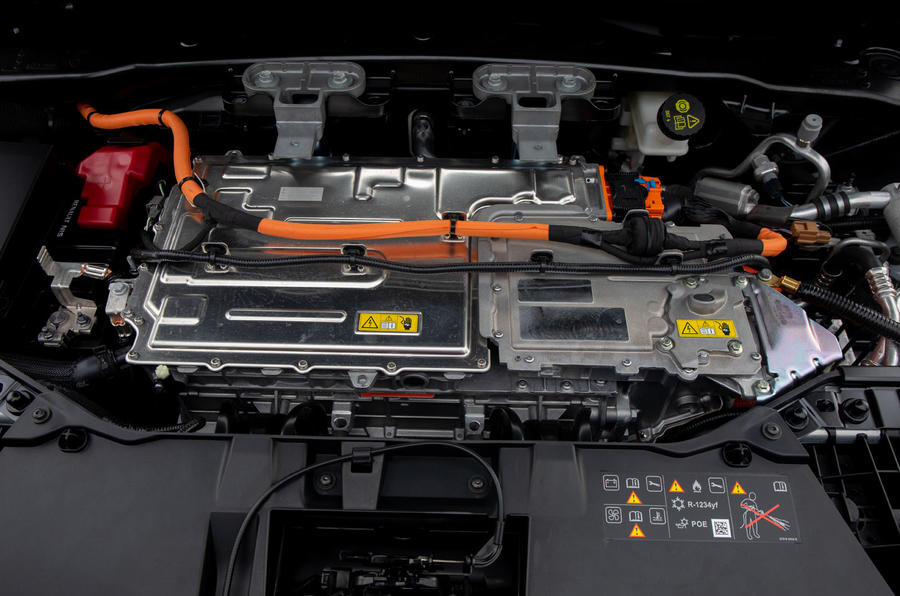 The bigger battery is capable of accepting DC CCS rapid charging at up to 130kW, meaning you can be back at 80 percent capacity in around half-an-hour. You're likely to do most of your charging using a 7kW domestic wallbox, however, allowing you to leave the car's cells to be replenished overnight. For the 60kWh battery you'll need to allow nine hours for a full charge.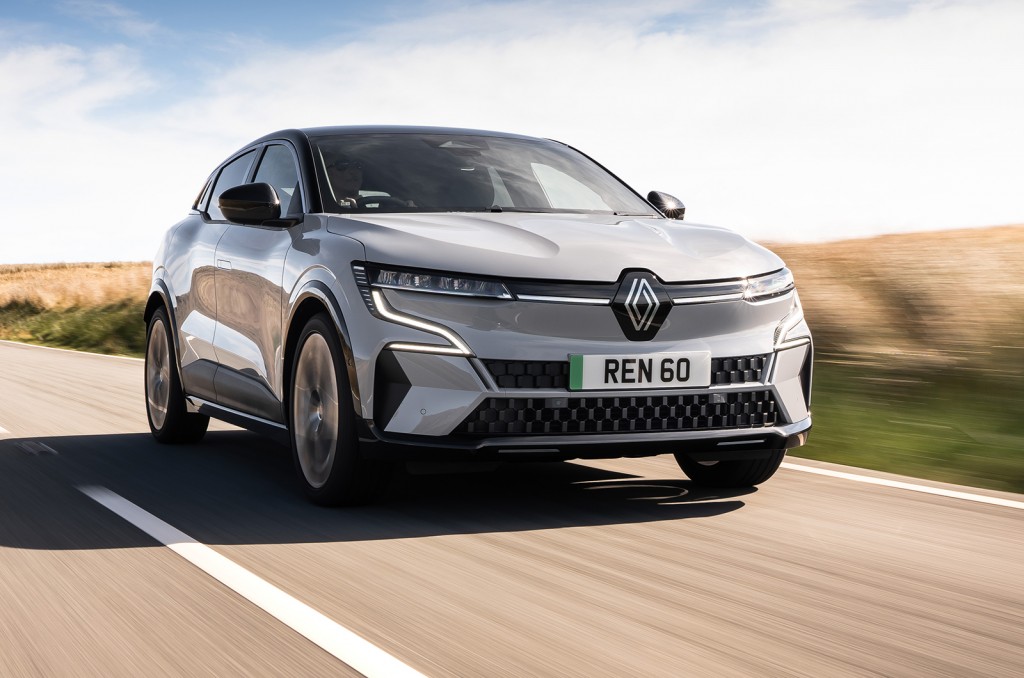 We've touched on the Megane's brisk performance, but in raw statistical terms the 60kWh version is far quicker thanks to its powerful 160kW (217bhp) motor. It feels quick off the mark and that's reflected in a very brisk 0-62mph time of 7.4 seconds, more than fast enough to make you a traffic light grand prix world champion.
For the record, the 40kWh car that UK buyers can't have features a 96kW (129bhp) motor. That sounds a little weak-kneed by comparison, but when we drove it in France it feels faster than its 10.0 second 0-62mph time suggests, its instant power allowing to leave drivers of more powerful internal combustion-engined machines trailing in your zero emissions wake.
Renault's made a name for itself with its tech, how does the Megane shape up?
If you love your technology the Megane will be a bit of a treat. While rivals such as the ID 3 have taken a minimalist approach to their interior design, the Renault embraces its hi-tech heart.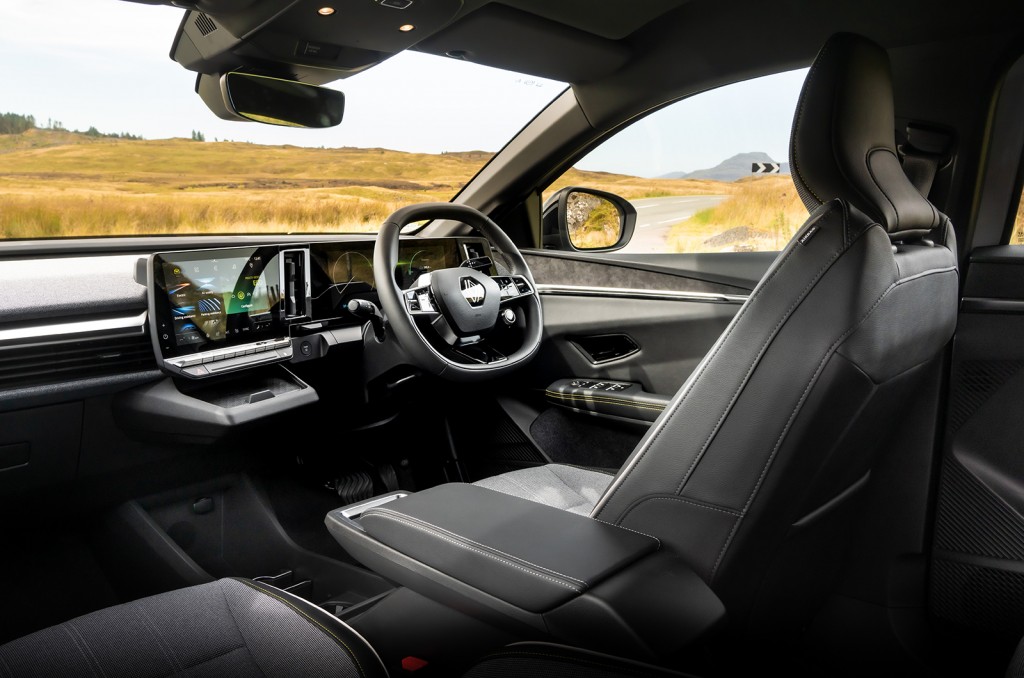 Ahead of you is a large 12.3-inch display for the instruments, while next to this is a 12-inch touchscreen infotainment screen, snappily titled OpenR Link. Angled towards the driver, the combine to create a widescreen experience that rivals far more expensive models such as the Mercedes EQS's Hyperscreen set-up.
While it's fair to say the infotainment can be a bit tricky to use on the move as there's nowhere to rest your hand to stop it being jolted by any bumps, the graphics are crisp, it responds quickly and the menus are logically laid out. Like the Polestar 2 it also uses a Google operating system, so promises even greater connectivity and over-the-air updates, especially on higher-end models that have the full suite of Google Assistant systems.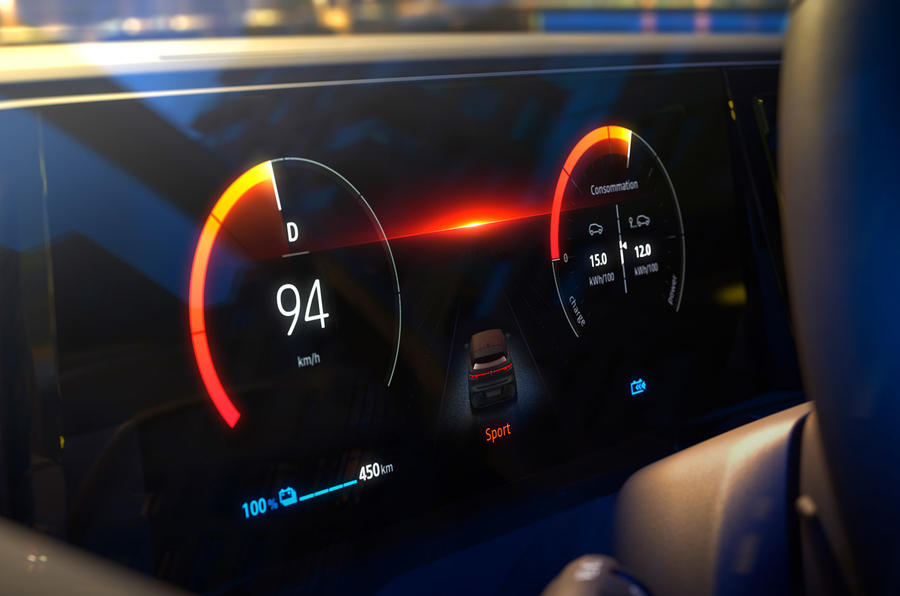 And what about the practical stuff?
Ah yes, of course; this is a family car after all. Having a bespoke EV platform means that the Megane isn't constrained by the same packaging compromises as traditional cars, which results in more room inside than you'd expect.
Now, it's not quite as spacious in the back as an ID 3, while the smaller windows means it's not as airy, but there's still enough room for most family needs. Crucially, Renault has really thought about what buyers need, so there's an impressive 30-litres of storage, including a large seven-litre compartment between the front seats where the gear lever would normally go.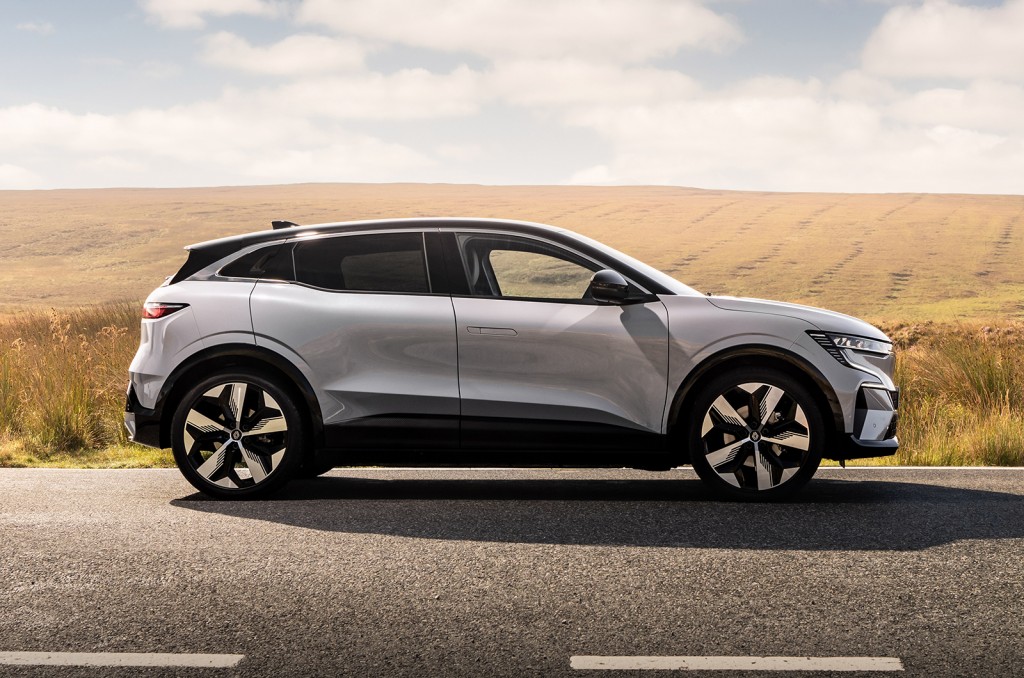 You'll also find numerous cupholders and more USB-C charging ports than you can shake a dying smartphone at. The boot's a decent size too, its 440-litre capacity giving it a healthy advantage over the ID 3.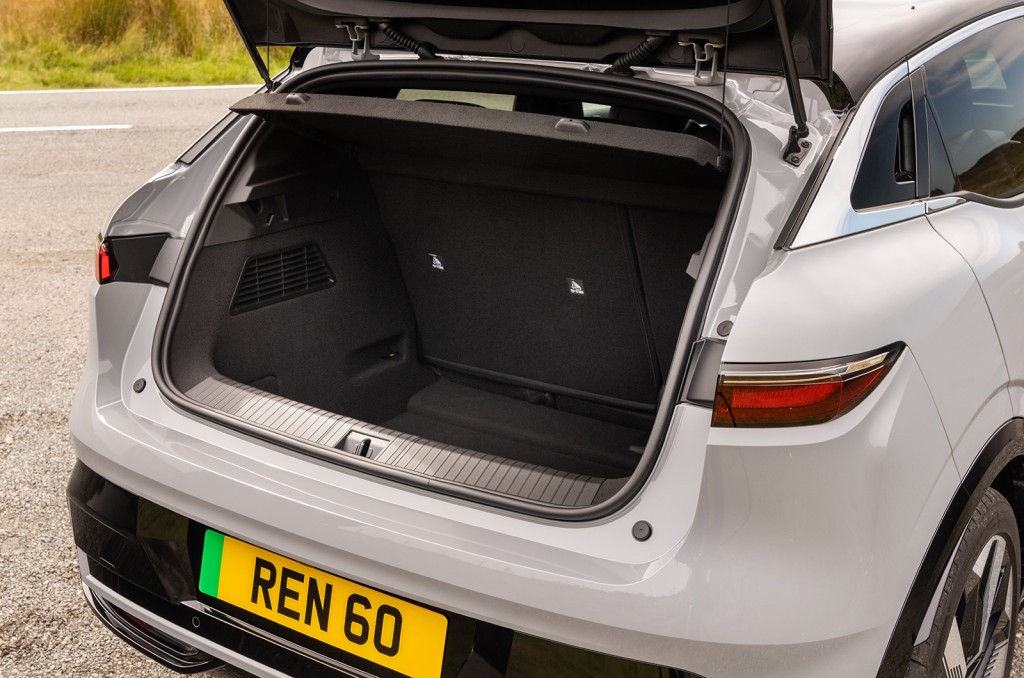 So what will this cost me?
The UK line-up will feature two trim levels called Equilibre and Techno, along with a special Launch Edition model for early customers.
The entry-level Equilibre models, priced from £35,995, have a good deal of kit, including 18-inch wheels, LED headlights, air conditioning, electric windows, heated seats and steering wheel, park assist and a rear-view camera.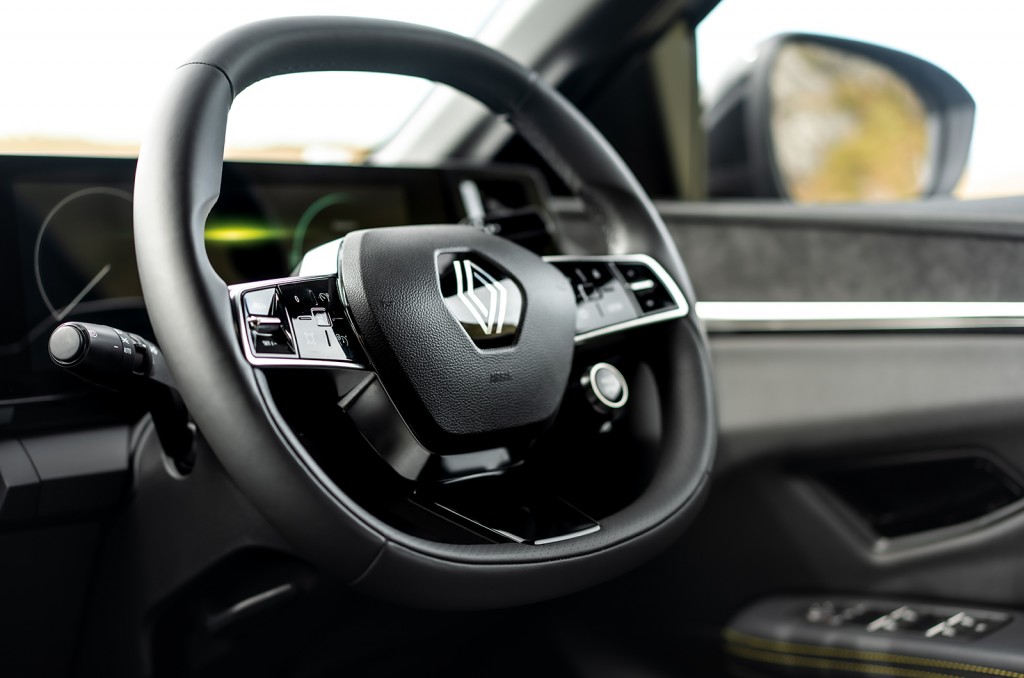 Meanwhile, Techno trim – which was features on our UK test car – is priced from £38,495 and adds 20-inch wheels, adaptive LED headlights, 'signature' lighting with dynamic indicators, contrasting door mirrors, synthetic leather upholstery, an auto-dimming rear-view mirror, automatic windscreen wipers, dual-zone climate control, two rear-mounted USB-C ports, extra driver assistance features and custom driving modes. Oh, and connected Google services such as Google Assistant.
The Launch Edition models are priced from £39,995 and featured 20in alloys, a gold 'F1 blade', a 360-dree around view camera and a nine-speaker Harman Kardon audio system.
What rivals should I consider?
If you've counted up the amount of times we've mentioned the Volkswagen ID 3 in this review you'll have a pretty decent idea of one of the key rivals for the Megane: yes, the MG 4. See, we threw you a curveball there.
Certainly, the ID 3 is the obvious comparison. Much like its petrol-powered Volkswagen Golf sibling, it's the absolute mainstream choice for anyone seeking an electric family hatch: an extremely capable and safe car that you likely won't regret buying, but perhaps just lacks a little bit on the excitement side.
But you can't now consider the ID 3 without considering the MG 4, the Chinese-built, British-badged hatch that is substantially cheaper, just as nice to look at and we reckon better to drive. The MG 4 also substantially undercuts the Megane, although there's no doubt Renault has an extra dash of French flair.
You could also look at the Cupra Born, which is closely related to the ID 3, or even a more rugged SUV model such as the Kia Niro EV.
Verdict
Not only does the Megane E-Tech look great inside and out, but it's fun to drive, practical and, in 60kWh guise, unlikely to bring on an attack of range anxiety. It looks like the ID 3 has some sleepless nights ahead of it.
Additional reporting: James Attwood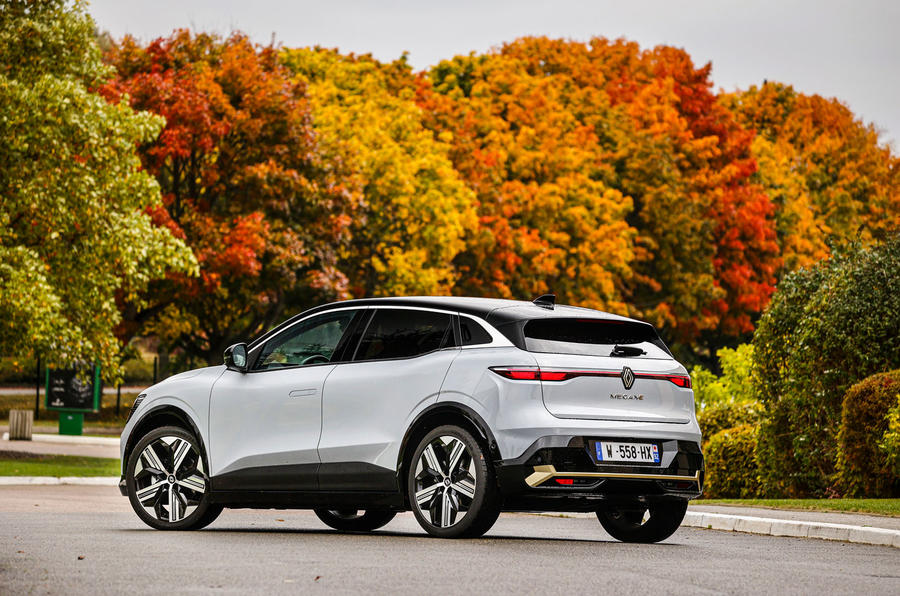 Renault Megane E-Tech Specification
Price from: £35,995
Motors: Electric asynchronous
Gearbox: Automatic
Driven wheels: two
Power: 160kW
Top speed: 99mph
0-62mph from: 7.5secs
Battery size: 60kWh
Electric range (official): 280miles
CO2 emissions: 0g/km
Tyres from: N/A
Kerb weight excluding driver: 1636kg
Height: 1505mm
Length: 4210mm
Wheelbase: 2700mm
Width with mirrors folded: 1780mm
Boot capacity: 440 litres
RIVALS
READ MORE
Subscribe to the Move Electric newsletter
e-CARS
New electric cars for 2022 and beyond: what's coming when
New BMW i7 unveiled as luxury electric saloon
e-BIKES
Best e-bikes for every category 2022
Moustache Samedi 28.7 e-bike review
e-MOTORBIKES
Yamaha Neo's electric scooter review
Cake launches new global electric motorbike race series 
e-SCOOTERS
Government set to announce plans to legalise private e-scooter use
New study finds e-scooters are five times safer than bikes
e-WORLD
World's first airport for flying taxis opens in UK
Meet the firm electrifying the tuk-tuk