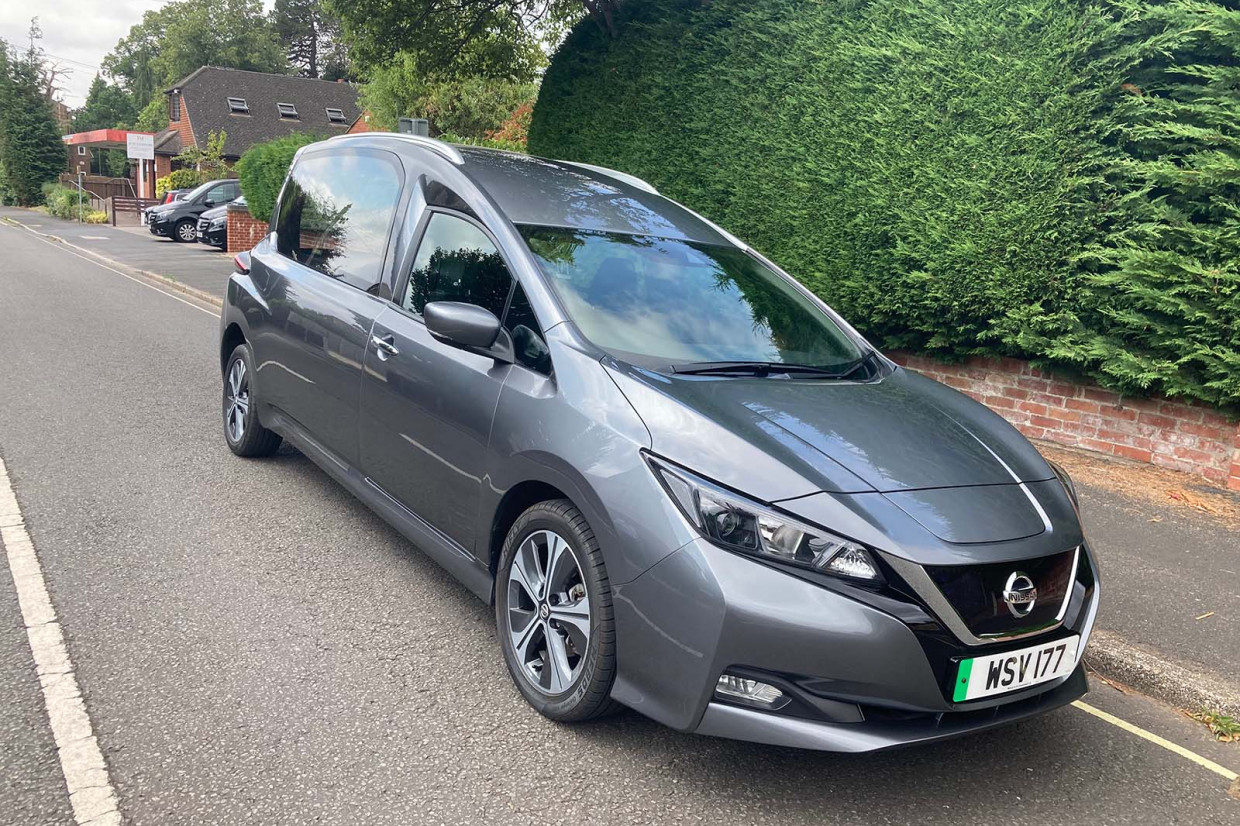 After more than 10 years on sale, Nissan's electric family hatchback has turned over a new Leaf – as a hearse. 
Based on a 62kWh Nissan Leaf, the conversion is the work of Wilcox Limousines, the British-based coachbuilders of funeral vehicles and limousines.
The electric hearse can accommodate a driver and funeral 'conductor' in the front with capacity for a payload of up to 230kg, including a seven-foot coffin, behind.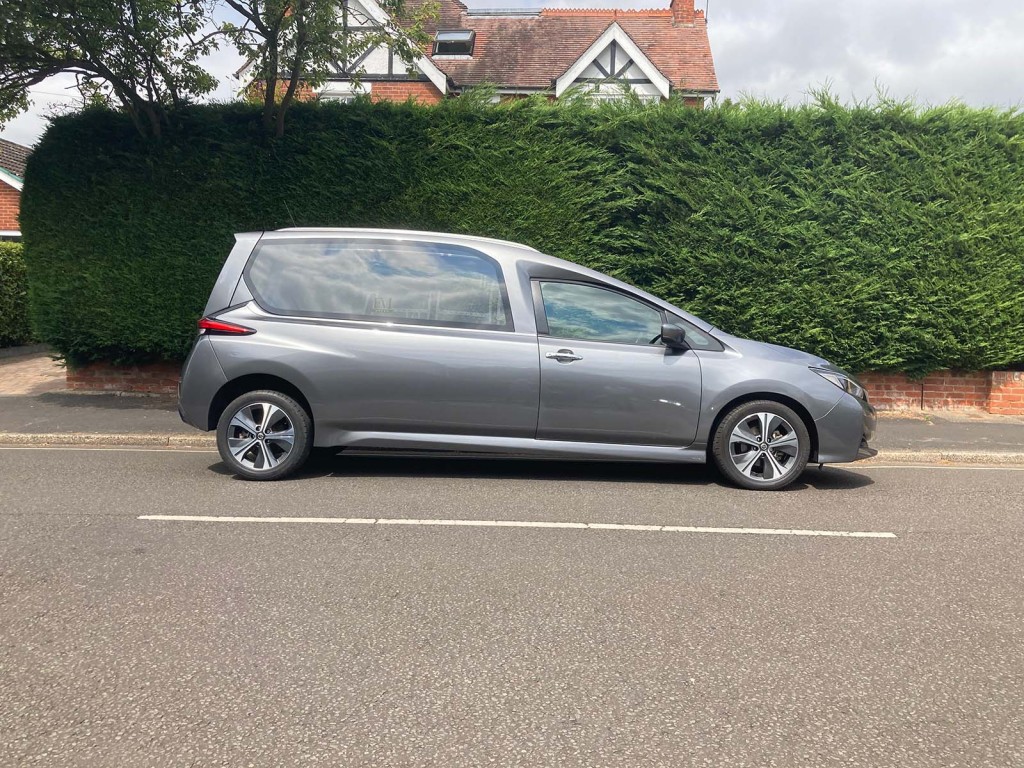 To construct the model, engineers removed the original Leaf's roof and pillars and replaced them with recycled carbon-fibre, styled by a specialist designer. The body was cut and extended by 80cm, the battery pack moved rearwards to optimise weight distribution and the vehicle's rear section stiffened and braced. 
Despite these modifications and being taller and longer, the Leaf hearse is only 3% heavier than the standard Leaf hatchback thanks, in large part, to the removal of the original car's two rear doors and rear seat. This puts the new model at odds with conventional hearses which have five doors and four seats for additional funeral staff.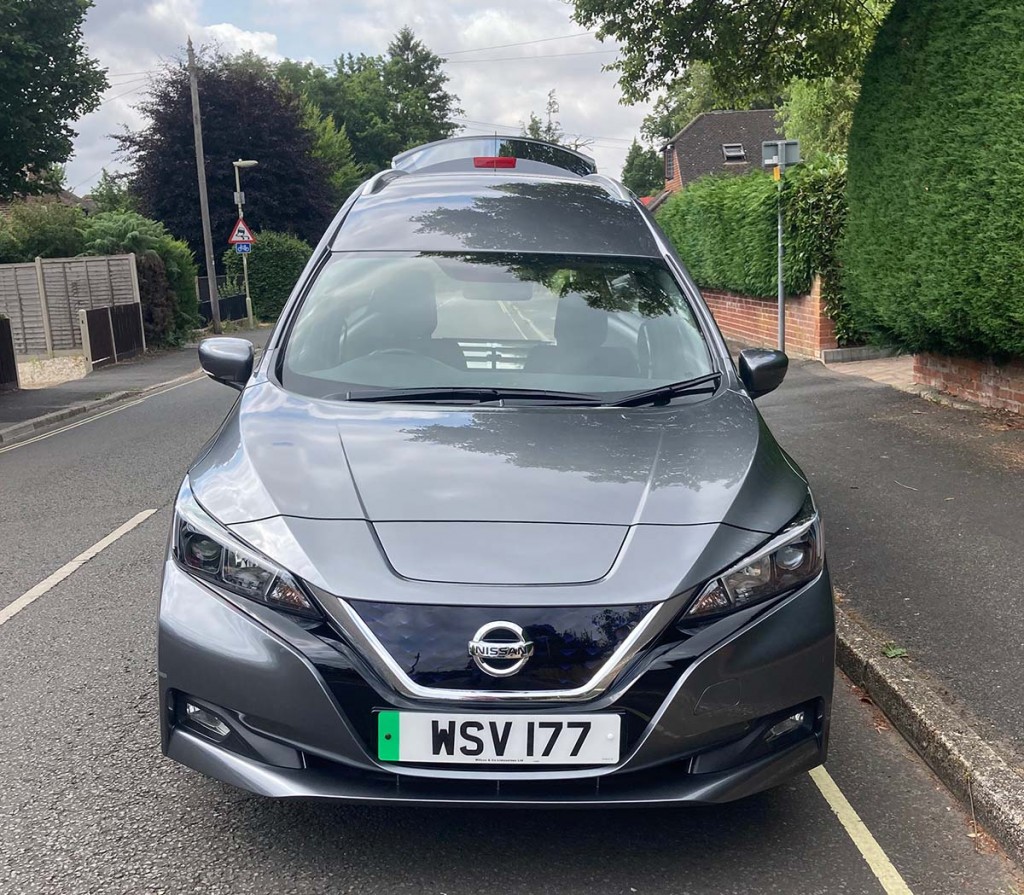 Despite this, Louis Wilcox, grandson of company founder William Wilcox, said the new model had been well received by the country's major funeral companies who, he said, want a greener alternative for environmentally conscious customers. "The Leaf hearse is ideal for the increasing number of people who are asking for a simpler and greener burial or cremation for their loved ones." 
Move Electric had an exclusive first drive – unladen – of Wilcox's development Leaf hearse. The 40kWh vehicle (production versions have the larger 62kWh battery) is an intelligent and sensitive restyle that is also remarkably well finished. But for its high roof, large side windows and larger tailgate it could be a Leaf estate from the Nissan catalogue, the design is that cohesive.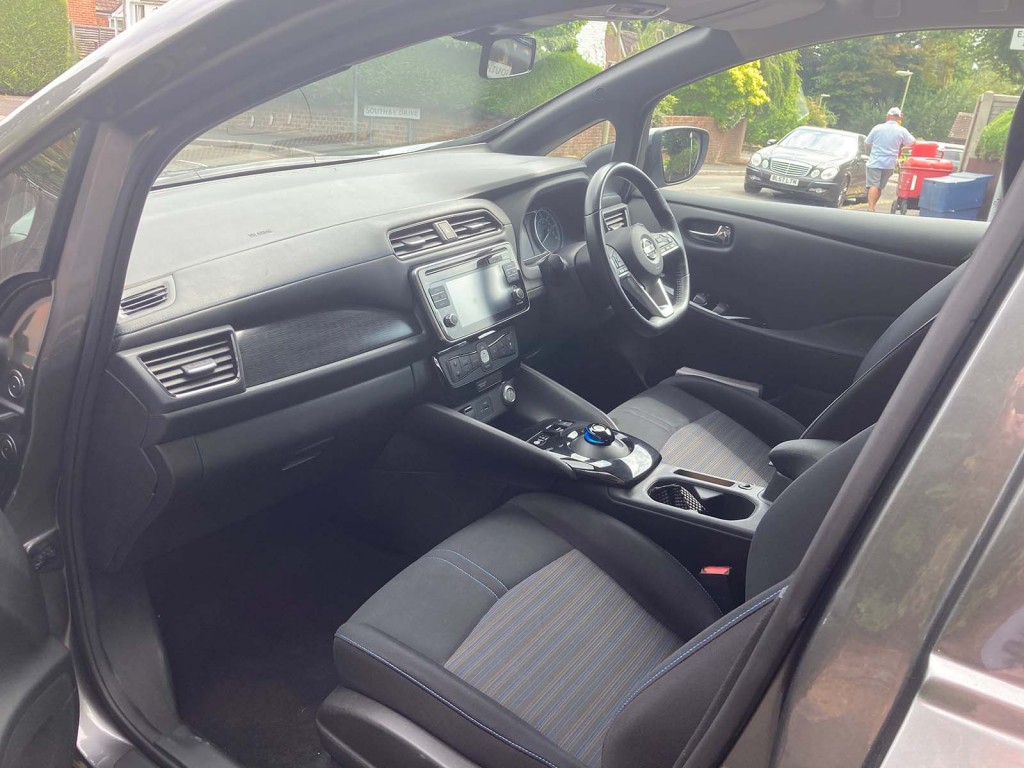 Underway, performance is unaffected by the car's slight increase in weight, the Leaf pulling away with un-hearse-like enthusiasm. On our bumpy suburban test route and at gentle speeds it was comfortable and composed, while at higher speeds on country roads it cornered securely and predictably. The only sour note was a deep pothole that jarred it noticeably. Wilcox claims a maximum range of 210 miles for the 62kW version or slightly less than the hatchback equivalent. 
Being electric the Leaf hearse is, of course, quiet but while this is an ideal attribute for such a vehicle, Wilcox admits that the Leaf's near-silence could also be a liability.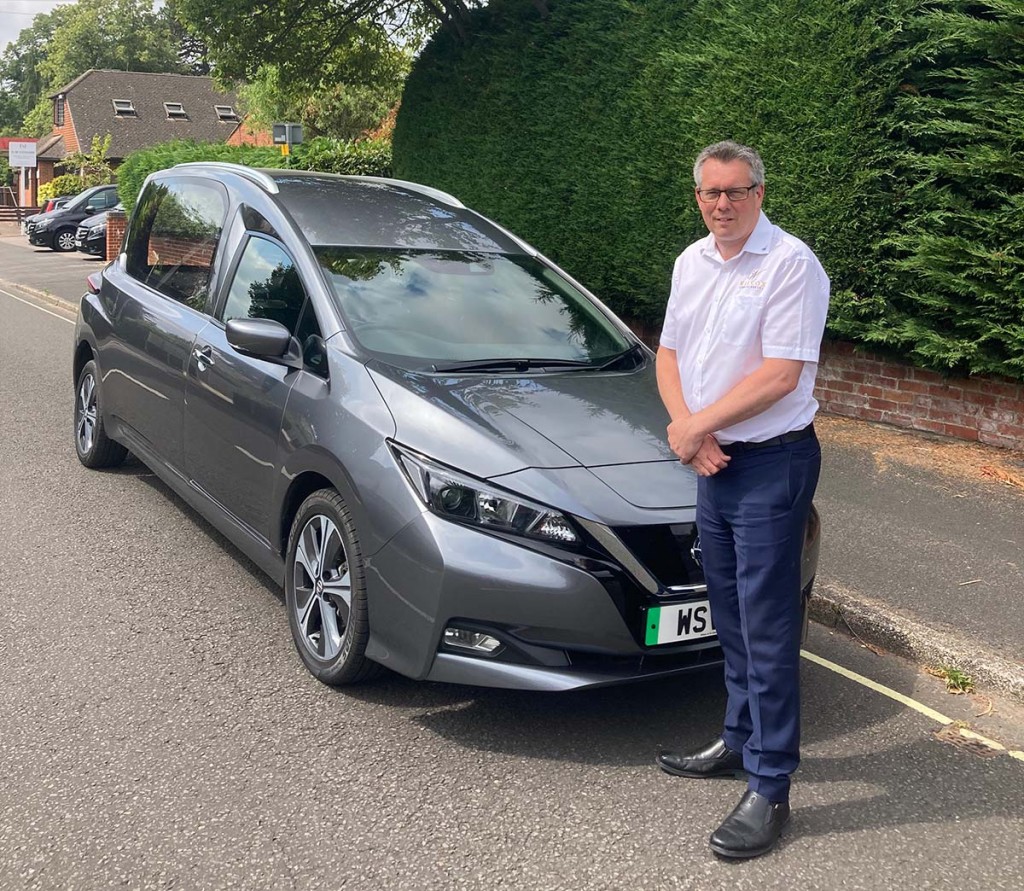 "The conductor, who walks ahead of the hearse in a funeral procession, needs to know where the vehicle is without turning around. With the Leaf, he could be half way along the road before he realises it hasn't moved. To avoid any confusion, we'll adapt the Leaf's reverse 'beeper' to alert them."
Costing £109,950, the Leaf hearse is cheaper than Wilcox's larger and more traditional Jaguar XJ hearse conversion costing around £145,000. The company delivered its first Leaf hearse to Leverton & Sons, the London-based funeral directors responsible for Royal funerals, in July. Meanwhile, it has orders from other funeral companies for 12 more, to be delivered over the next four months.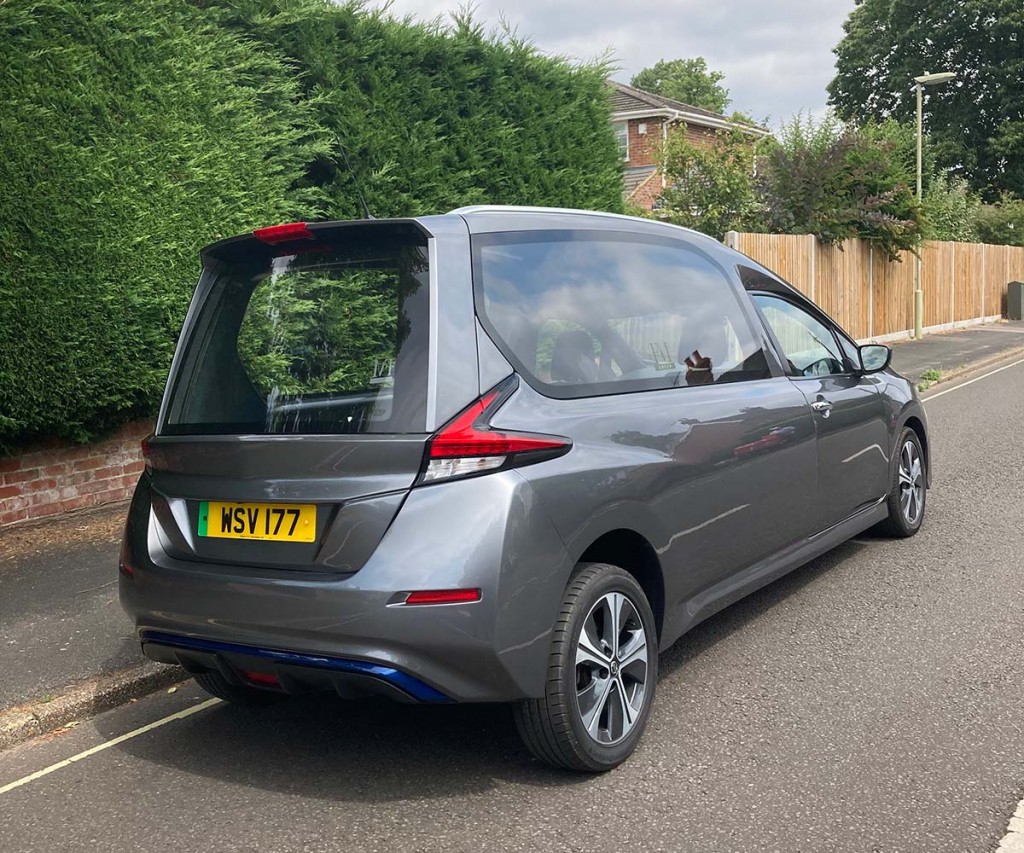 Meanwhile, looking ahead to 2030 when the sale of petrol and diesel cars and, in 2035, hybrids, is banned, Wilcox predicts challenging times for the conversion of electric funeral vehicles and, in particular, the eight-seat limousines the industry is used to.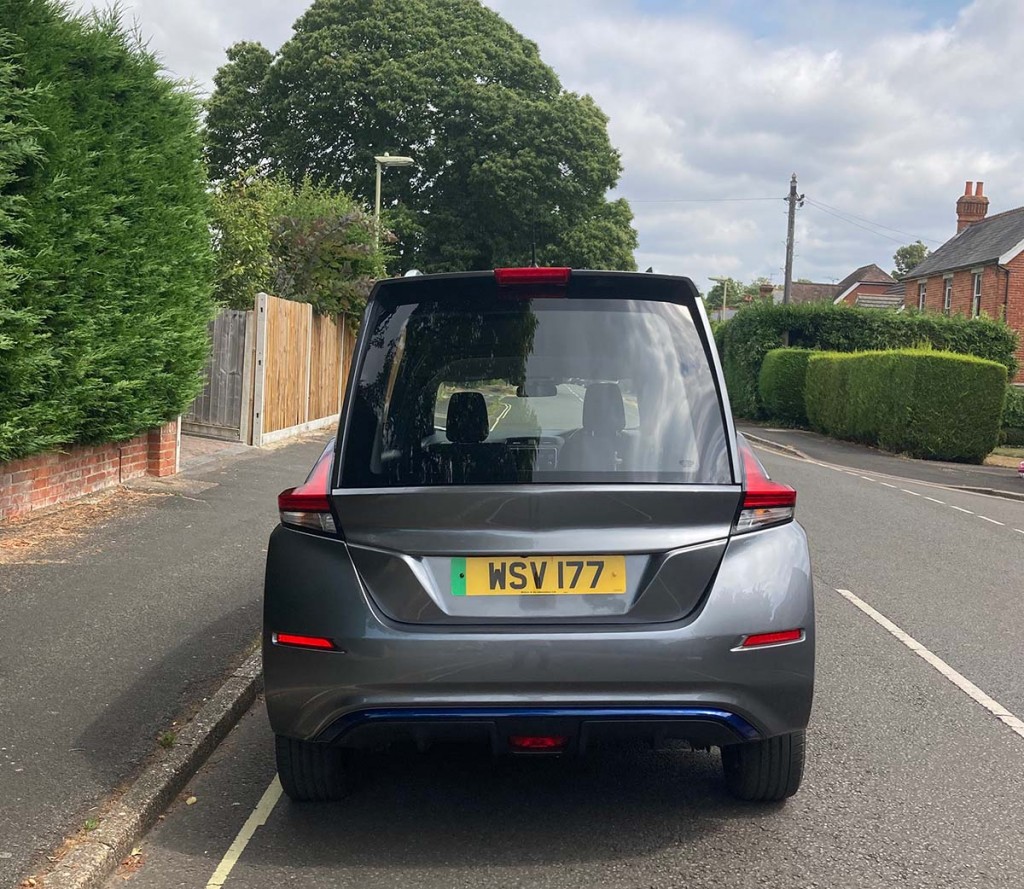 "Vehicle payload is the issue. We're permitted to increase the official payload by up to 25% but that includes the weight of the conversion as well as of additional passengers. Because they're heavy cars to begin with, electric cars have lower payload capacities than petrol or diesel ones, so the increase is barely enough to cover the additional passengers and modifications."
So expect traditional petrol-engined hearses and limousines to be a feature of funerals for a while yet, at least until electric vehicles become lighter. Now that would be turning over a new leaf.
John Evans
READ MORE
Subscribe to the Move Electric newsletter
e-CARS
UK charging networks: complete guide to every provider
New Cupra UrbanRebel is a bold EV supermini with 273-mile range
e-BIKES
10 fun things to try on an electric bike
Living with a Gocycle G4: how easy is it to adjust to?
e-MOTORBIKES
Seat Mó eScooter 125 UK review
How to do a CBT on an electric motorbike
Energica unveils new Experia electric tourer motorbike
e-SCOOTERS
Are e-scooters legal in the UK?
Private e-scooter rules 'cannot simply copy' rental regulations
Superpedestrian's European boss on why e-scooters are for everyone
e-WORLD
New Candela P-12 Shuttle to arrive as first electric 'flying' ferry
Pipistrel Velis Electro: meet the first certified electric plane