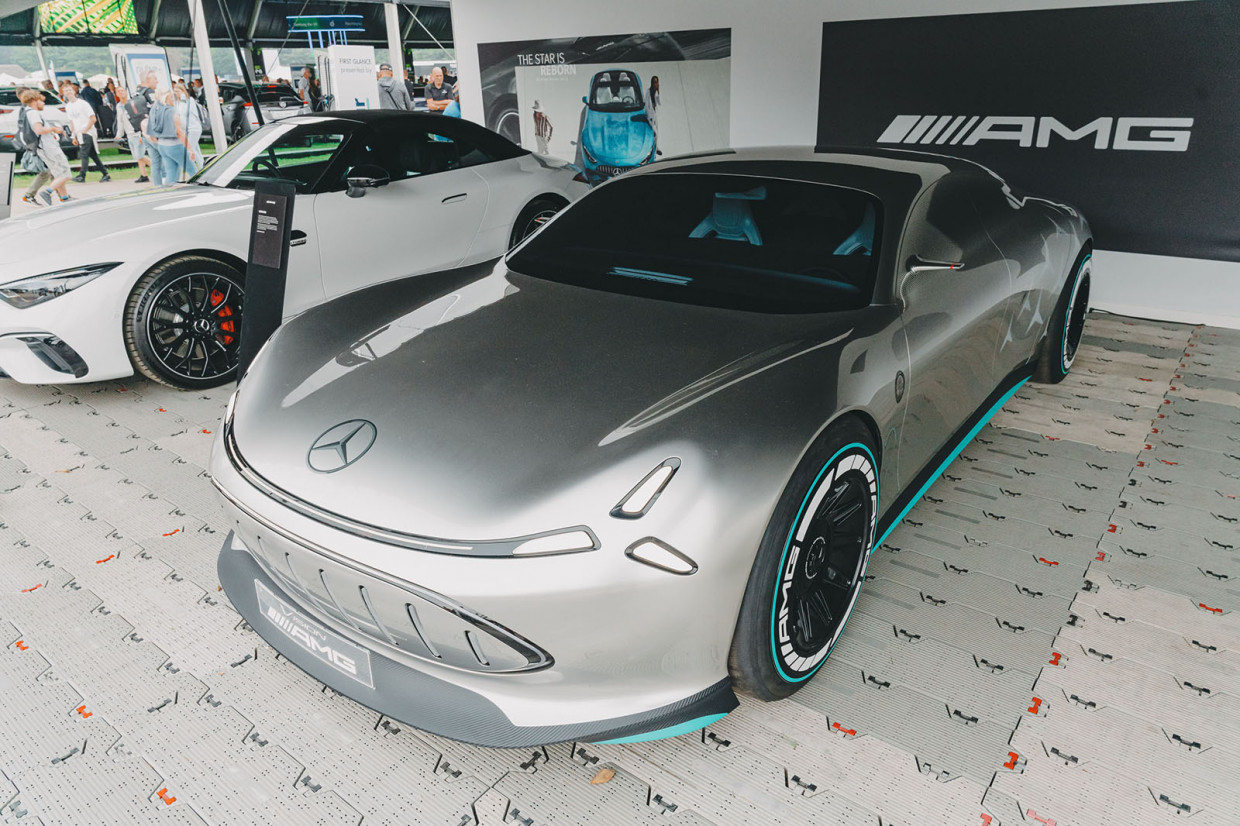 The Mercedes-Benz Vision AMG has made its UK debut at this year's Goodwood Festival of Speed, with the future EV set to rival the Porsche Taycan Turbo and Audi e-tron GT. 
The low-slung lift back saloon previews the first standalone electric model from Mercedes-AMG, the performance division of the German giant. The production version is due to go on sale in 2025 and will be a true halo model for Mercedes's line of EQ-branded electric cars.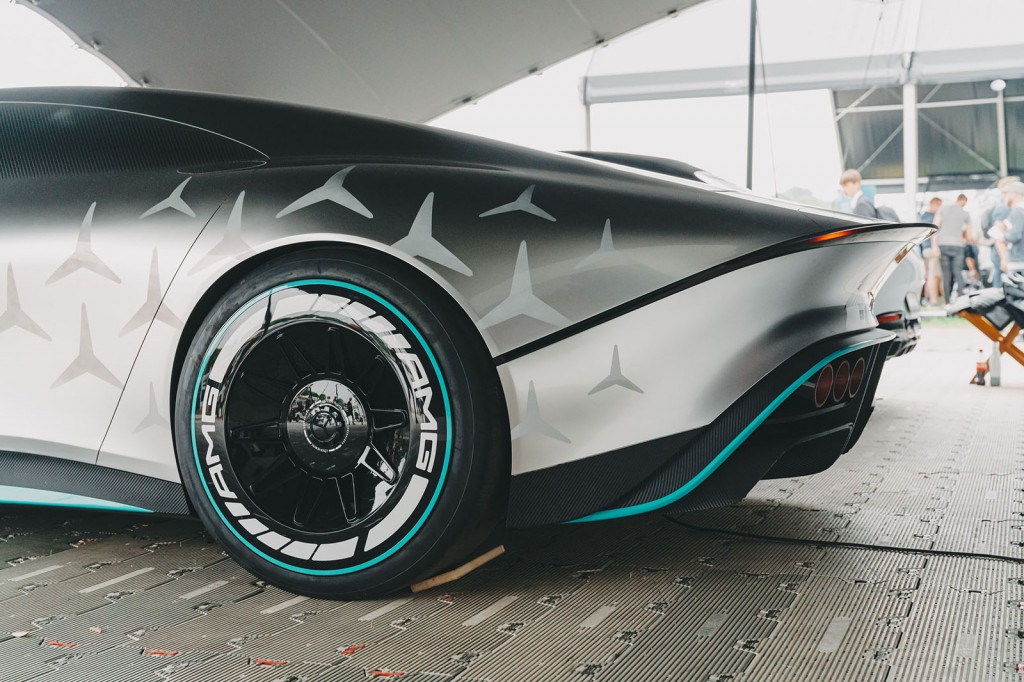 The production version of the Vision AMG will use a new platform called AMG.EA which, as the name suggests, will only be used for AMG performance models. It's designed around a more compact battery design than the platforms used for the Mercedes-Benz EQE and EQS, which will allow the AMG models to sit lower, in theory making for better aerodynamics and handling.
As with the platform used for the Taycan, the chassis floor features 'footwells' – gaps between the battery packs to offer extra legroom – with elements of the battery also housed under the rear seat. It is understood that the AMG.EA platform will use some of the battery pack as part of the load-bearing structure of the machine.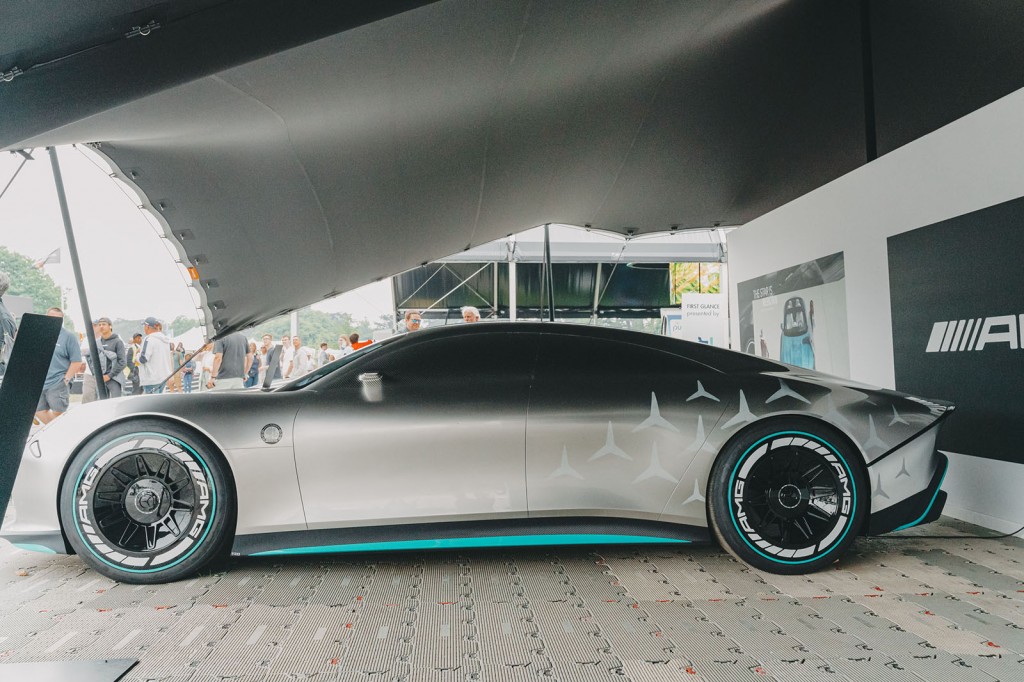 Mercedes-AMG boss Philipp Schiemer said: "At AMG, we have always stood for that extra shot of emotion, driving fun, handling, ingenious aerodynamic features and other innovative solutions. And that's what we continue to stand for with our first BEV developed entirely in Affalterbach."
Mercedes-Benz design boss Robert Lešnik said that the concept is designed to show off the benefits of the platform "in both the design and proportions", resulting in what he called "a low and sleek saloon with outstanding aerodynamics and the space to accommodate four adults in comfort." 
That aerodynamic focus means that you can sport hints of the Vision EQXX concept that was designed to showcase an EV with a 620-mile (1000km) range – and which won the Best Use of Electricity prize in this year's Move Electric Awards.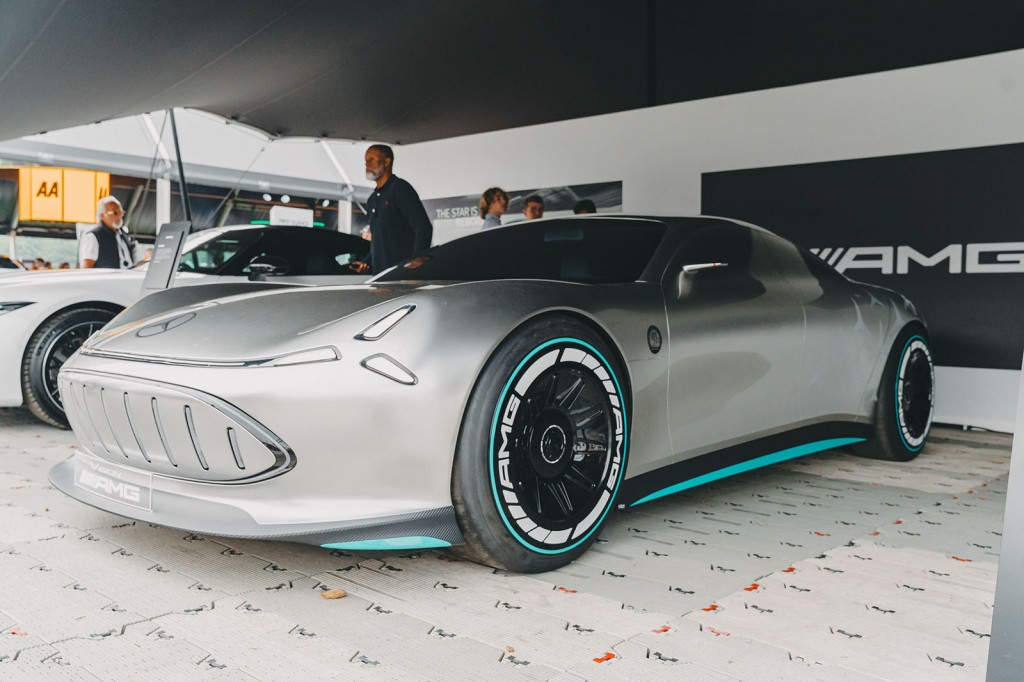 So there's a special blanked-off version of Mercedes-AMG's traditional grille, headlights with a new start design graphic and a very low bonnet. There's a plunging roofline at the back, with Mercedes officials saying the production version will feature a large liftback-style boot. It sits on 22in wheels and has large rear wheel arches to highlight its wide track.
The most unusual design feature is at the rear of the car: it ends abruptly, and features a long overhang with six illuminated 'electric tailpipes' and a diffuser. There are several elements featuring active aerodynamics, including a rear spoiler that extends at high speed. 
The Vision AMG is 5100mm long – 147mm longer than a Taycan – with a wheelbase that exceeds 3000mm. Mercedes is yet to show off the interior.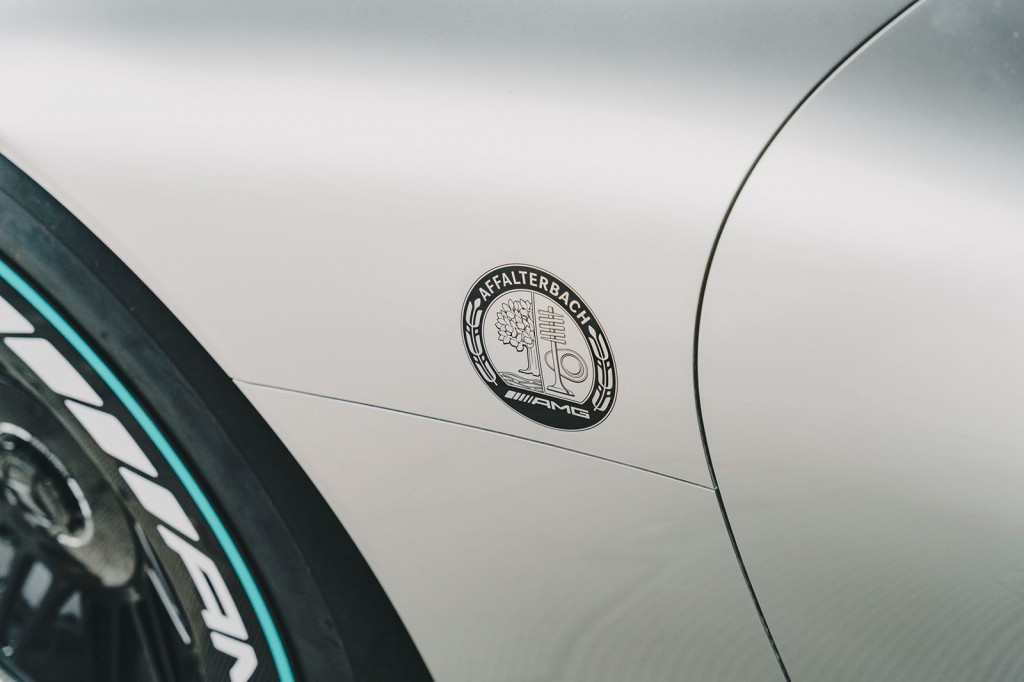 No details of the powertrain have been provided yet, although it is likely to use axial-flux motors developed by Oxford firm Yasa, which is now owned by Mercedes-Benz. Those units are more compact than the traditional radial motors used in existing Mercedes-Benz EQ models, and also offer improved efficiency. 
 
Mercedes-Benz is yet to provide any specific details to the proposed driveline for the upcoming production version of the Vision AMG. However, the German car maker has already confirmed its purchase of Oxford-based YASA, whose electric motors are set to be used exclusively in the AMG.EA platform.
It is likely that the design will allow for single-and dual-motor versions offering two and four-wheel drive. And it is through Mercedes will be out to match the most powerful Taycan Turbo S, which produces 560kW from its two electric motors.
The Vision AMG was revealed by Mercedes during a major strategy event, in which the firm outlined a plan to focus more heavily on the luxury markets. That will involve focusing on 'top end' models, including those from Mercedes-AMG and the luxurious EQS and EQS SUV, and trimming its range of 'entry luxury' models, which likely means cutting a number of smaller cars from its line-up.
READ MORE
Subscribe to the Move Electric newsletter
e-CARS
New electric cars for 2022 and beyond: what's coming when
New BMW i7 unveiled as luxury electric saloon
e-BIKES
Best e-bikes for every category 2022
Moustache Samedi 28.7 e-bike review
e-MOTORBIKES
Yamaha Neo's electric scooter review
Cake launches new global electric motorbike race series 
e-SCOOTERS
Government set to announce plans to legalise private e-scooter use
New study finds e-scooters are five times safer than bikes
e-WORLD
World's first airport for flying taxis opens in UK