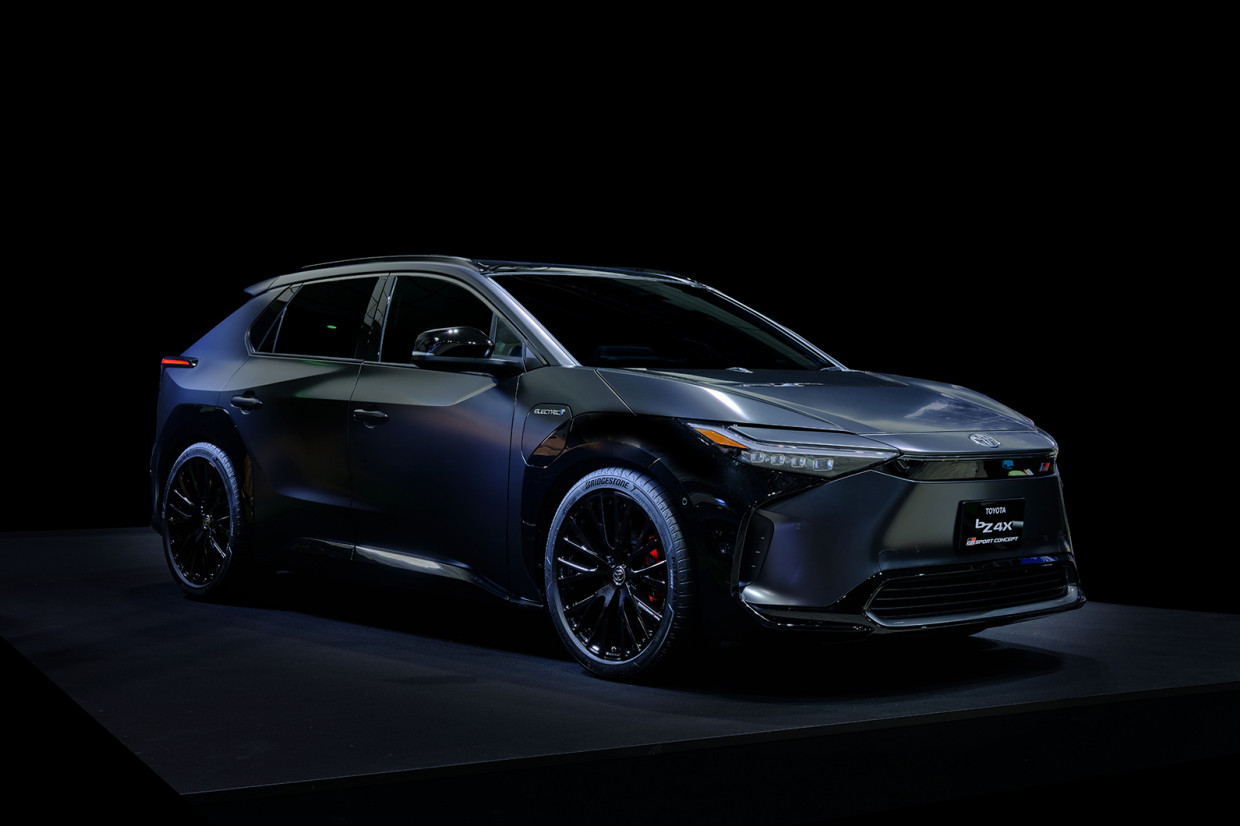 Toyota is gearing up to rapidly expand its new bZ range of electric vehicles with at least four further vehicles in the near-future – and it's considering a hot performance version of the recently launched bZ4X.
The firm's first series production EV, the Toyota bZ4X crossover has just gone on sale in the UK as a battery-powered equivalent to the popular Toyota RAV4. It will initially be offered in 150kW rear-drive and 160kW all-wheel-drive form, although more powertrain options are expected. And, as you can read in our review, it's really very good.
Intriguingly, bZ4X chief engineer Daisuke Ido has confirmed to Move Electric that the machine could gain a performance version that will be tuned by Toyota's GR Sport division, which currently offers the GR Yaris hot hatch, GR Super and GR 86.
Ido told Move Electric: "We are talking with the GR guys, but it's still not a concrete idea yet." 
He confirmed that the biggest challenge of developing a performance variant was not achieving power or torque from the electric powertrain, but on ensuring it offered handling and performance that buyers would expect from such a machine – and which matched other models in Toyota's GR line-up.
"That is a challenge, always," said Ido. "We can control any profile with a battery EV, so the feeling is very important, and we have to work out how to offer a higher power with the same mechanism. That's the challenge."
A Toyota bZ4X GR Sport Concept shown at the Tokyo Auto Salon in January previewed how a high-performance variant of the machine could look. While no details were given about the powertrain, one option would be to create a twin-motor set-up using a pair of the 150kW motors – offering a total output of 300kW.
However, it is likely that GR Sport would want to further tune the machine for handling and performance. The GR Yaris bears little relation to the Yaris hatch on which it is based, for example.
As well as developing the bZ4X, Ido is leading development of all of Toyota's electric vehicles, including the ultra-compact Japan-only C+pod (and yes, we did suggest to Ido that Toyota should launch it in the UK...), and the future bZ machines.
Late last year, Toyota revealed a raft of future electric concepts, which suggested the next bZ models are set to be a compact SUV, a large seven-seat SUV, an urban crossover similar in size to the Aygo X city car and a mid-sized saloon.
The bZ4X is built on Toyota's E-TNGA platform, which is designed for C- and D-segment cars (family saloons and SUVs). But Ido did confirm it is working on a new electric platform for smaller cars.
Here's more from Ido on the bZ4X and Toyota's future electric strategy.
Q&A: Daisuke Ido on the bZ4x, hybrids and Akio Toyoda
You've spoken about how your hybrid experience has helped you develop electric cars. In what ways has that technology informed the development of the bZ4X?
"The key components of both are built with the same technology: the inverter, motor and charger, even the transaxle. With hybrids, we have a long history of developing almost the same technology that we use on the bZ4X. Also, we have a a know how of how to make a [driving] profile of how a car will feel good for people, and we can apply that here."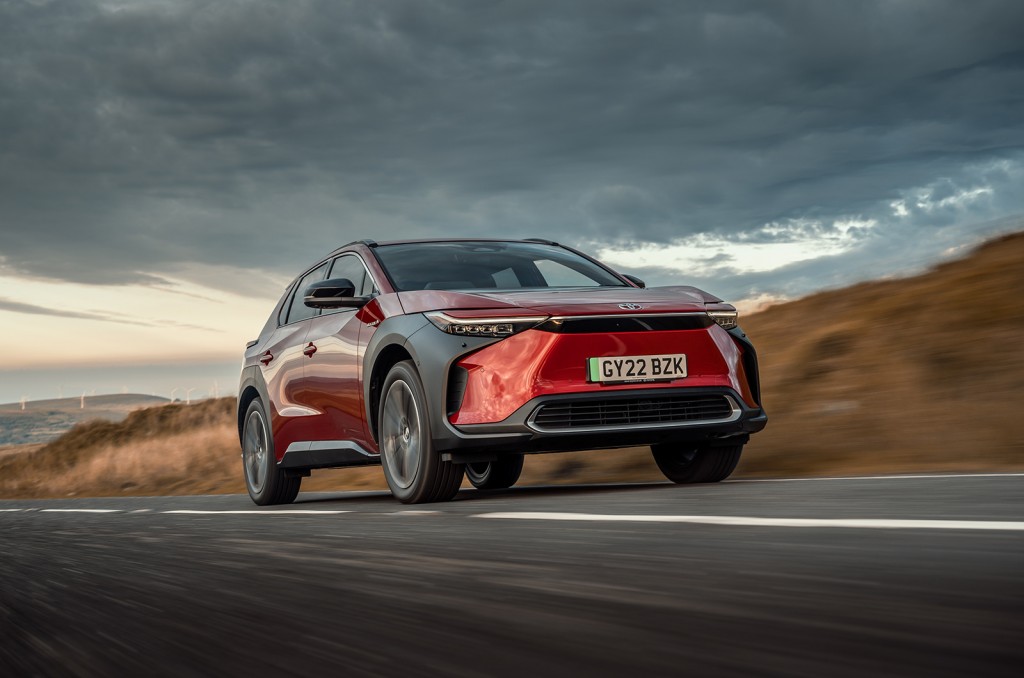 Some people have said Toyota is behind with rivals on electric cars because you have been so focused on hybrids...
"We don't think the battery EV is the only one solution. We want to give the customer the option to choose a product which the customers want to use. So the ICE, hybrid, PHEV, battery EV and even fuel cell EV. So these are core line-up of powertrains, and maybe only one company has such type of variety in the world. That's a strength point of Toyota."
What's the goal of the bZ4X: to win new customers to Toyota, or to help existing customers go electric?
"Of course we try to find a new customers, but we cannot forget the loyal customers of Toyota. So we chose front-wheel-drive, and we chose to have the same user interface as a conventional Toyota, because if a loyal Toyota customer moves into a bZ4X we want them to feel the comfortable, with no complications."
You have spoken about how you have worked hard to develop the longevity of the Toyota bZ4X, so it can be used for multiple ownership cycles. How important is that for Toyota?
"Quality, Durability and Reliability [QDR] is still our strength, and customers who will eventually buy this car second-hand may like Toyotas as well, so they are our customer as well. QDR is a a big focus for us always, and in the early phase of battery EVs the battery is always a weak point. We don't want the customer to feel anxious about the battery durability or lifetime. So our first priority was on the development of the battery to offer durability and reliability."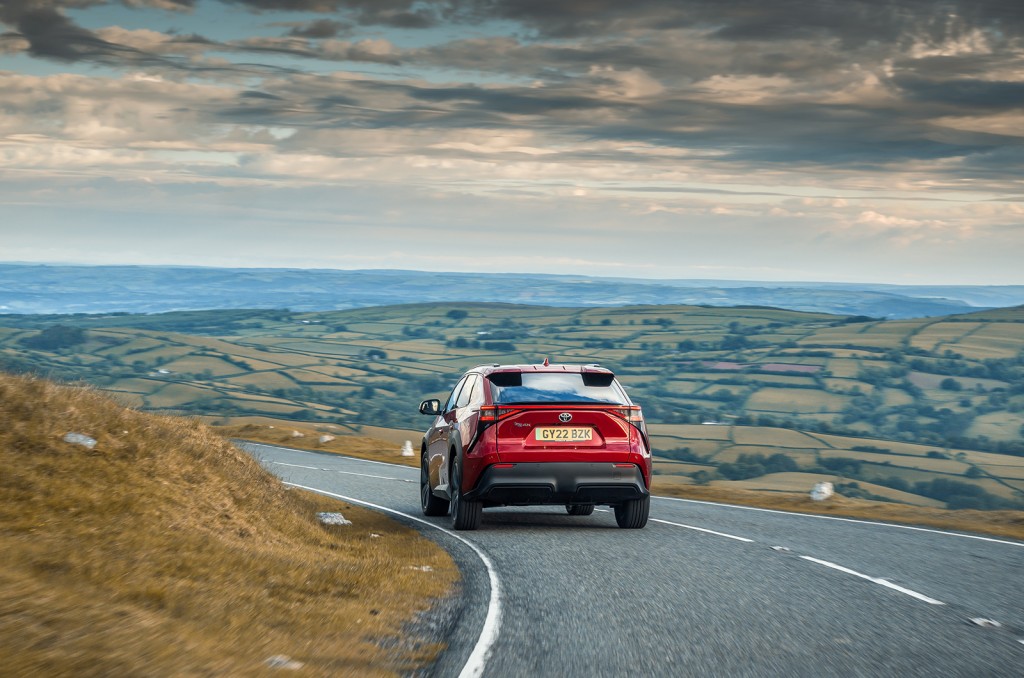 Has [Toyota boss] Akio Toyoda driven the bZ4X, and what did he think?
"Yes, our president drove a bZ4X. He got out of the car and went 'oooooooh! It's fun.' 
That must have been good to hear...
"Of course, it makes it easy to progress a project then, and we can have a confident feeling."
When developing future EVs, how different will they be? Will you aim for different handling for different types of car?
"With the E-TNGA platform in the bZ series we can offer some variety, and a wide range of products – maybe some sporty types of car, or maybe a big car for facilities. That's not saying we will do those – that's just my imagination for now."
What's your favourite feature on the bZ4X?
"You might think this is a funny answer, but I like the blue brake calipers. It's not for the performance, but I think it is a very nice colour. It's very difficult to make a cream blue, because the caliper is just aluminium and has no surfacing treatment. But we could achieve a beautiful blue on the caliper – and I like that."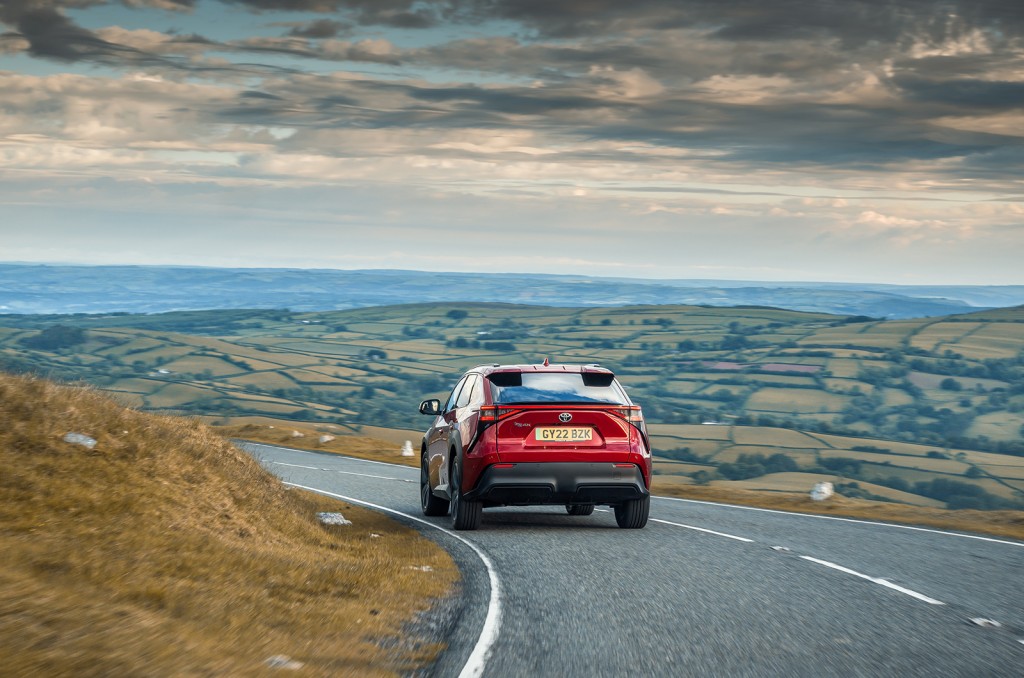 READ MORE
Subscribe to the Move Electric newsletter
e-CARS
New electric cars for 2022 and beyond: what's coming when
New BMW i7 unveiled as luxury electric saloon
e-BIKES
Best e-bikes for every category 2022
Moustache Samedi 28.7 e-bike review
e-MOTORBIKES
Yamaha Neo's electric scooter review
Cake launches new global electric motorbike race series 
e-SCOOTERS
Government set to announce plans to legalise private e-scooter use
New study finds e-scooters are five times safer than bikes
e-WORLD
World's first airport for flying taxis opens in UK