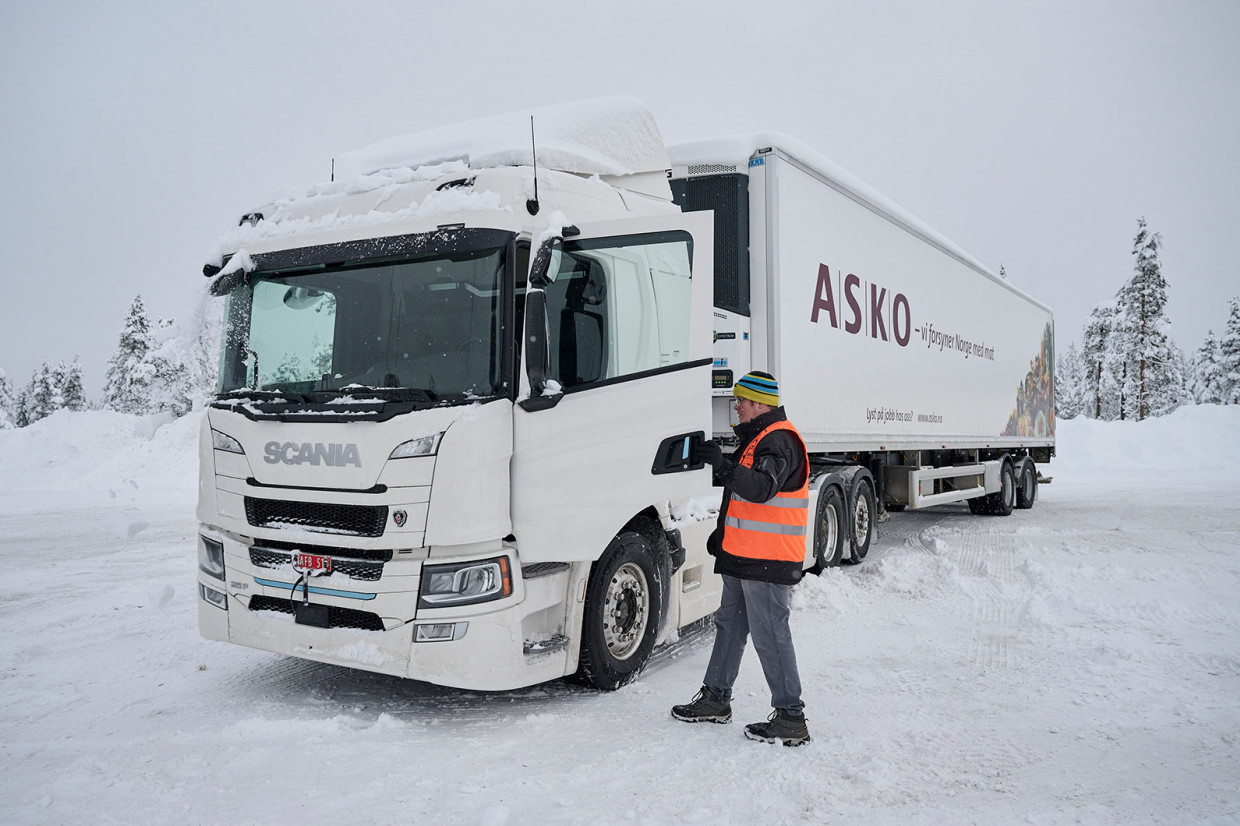 A large and threatening question mark hangs over the electrification of the heavy goods vehicle - and it's about infrastructure. Delivering a viable electric passenger car or even a van suddenly seems indecently simple, after all, when you consider what it might take to allow a cargo vehicle weighing close to 50 tonnes to move hundreds if not thousands of miles across Europe - and all without burning a single hydrocarbon. 
It'll take an awful lot of battery storage, needless to say; some uncompromising engineering, performance and towing capability, of course; and all of it delivered for a viable asking price. Funnily enough, those are the doable parts - or else they should be, in the fullness of time.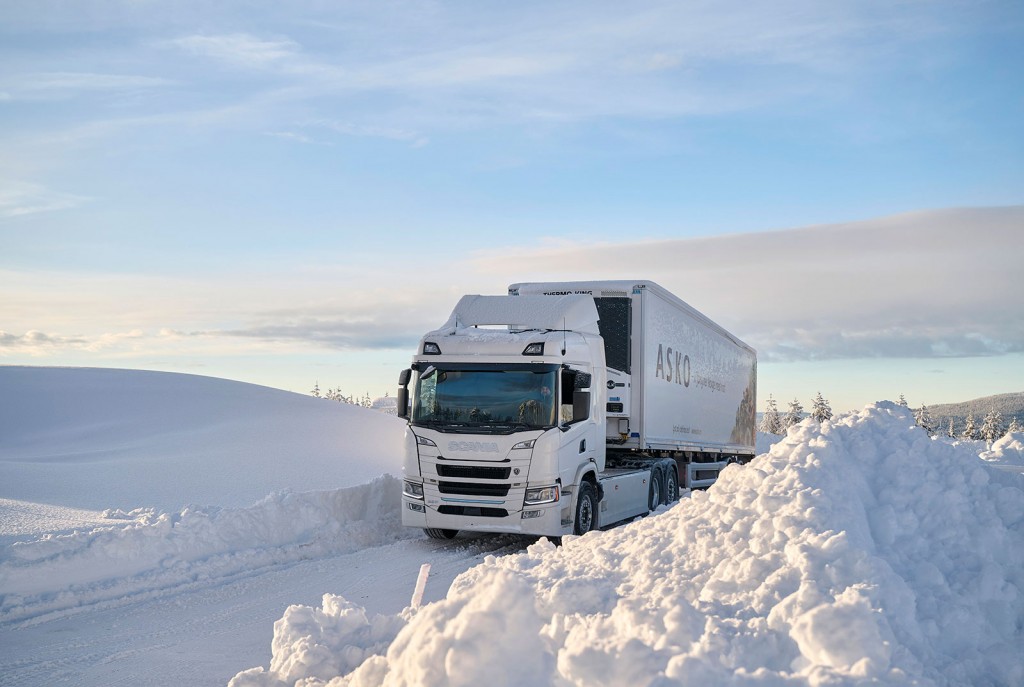 But most of all, you need transformative rapid charging infrastructure in place of a kind that, it's thought, many national power grids probably couldn't support without significant local upgrades. In order to put enough energy into a battery at the kind of pace that'll keep lorries hauling day and night, across the UK, Europe and elsewhere - and without a highly problematic amount of costly 'vehicle downtime' brought into the mix which businesses simply won't be able to afford - it'll take a great many more truckstops than we currently have.
Scania unveils two new electric lorries with up to 217-mile range
And those truckstops will need enough megawatt rapid chargers between them to keep a continental fleet of trucks on the move, many of which currently enjoy the simplicity of 600-litre fuel tanks and 1000-plus-mile fuel ranges.
The chink of light is that, according to European law, truck drivers must take breaks: 45 minutes every four hours. That might just be long enough to recharge a gigantic drive battery from a megawatt charger - in theory, and all other things being equal.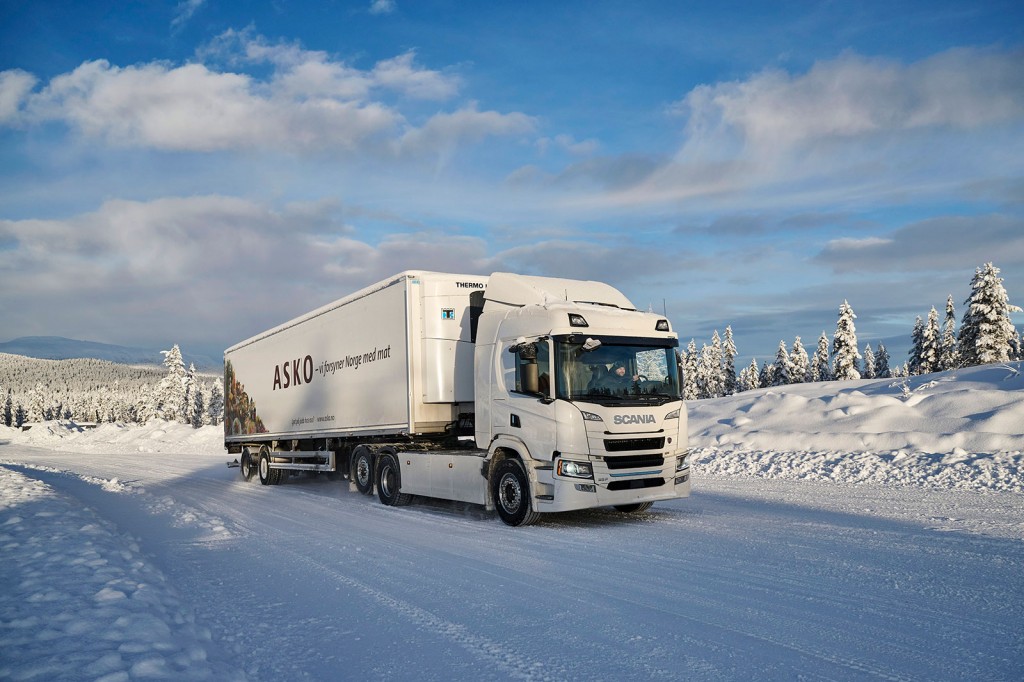 But just what - and how much - will it take to make those chargers available? Will logistics operators, even those that run regional routes, be minded to invest in the trucks, depot chargers and power supply upgrades they'll need to make battery-electric logistics actually work? And would any of it even be a question if not for the slow fall from grace, over the last decade or so, of hydrogen as a potential vehicle fuel?
European leading-light truck-maker Scania has decided to spread its bets. If you're a logistics company, you can already buy a 'diesel-engined' truck from Scania and run it on recycled vegetable oil. It offers alternatively fuelled trucks run on compressed natural gas, or liquified natural gas; and it has both plug-in hybrid and hydrogen fuel cell prototypes also.
Scania clearly wants to be ready to supply whatever its customers decide is going to be the dominant truck fuel of the future. And, having launched its first battery electric trucks into fairly small-scale trials in 2020, it's now ready to move into a second phase of eMobility.
Volta Zero: the electric truck tearing up the rule book for the electric age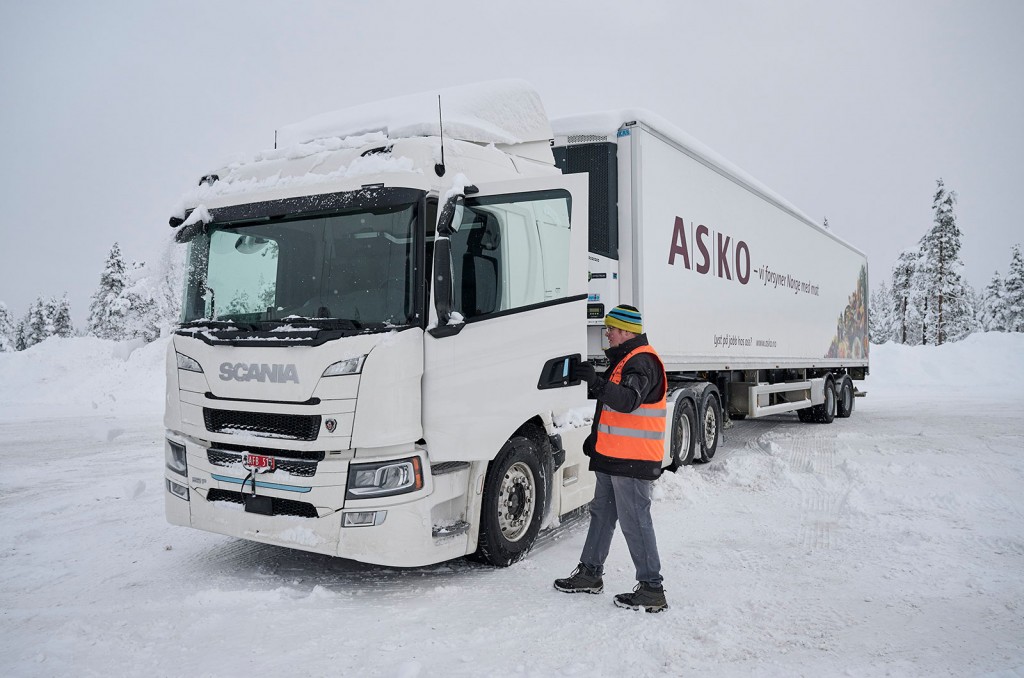 On the ice in front of us at a repurposed airfield in Norway is an apparently quite ordinary Scania lorry. It's articulated - full size, if you like - and rated to tow more than enough cargo to hit the UK's 44-tonne legal limit for heavy goods vehicles. But unlike the majority of the near-identicate trucks lined up next to it at Scania's annual Winter Test, it doesn't have a seven-, nine-, eleven- or sixteen-litre diesel combustion engine buried underneath its high-rising cabin.
"This is our latest-generation 'BEV' truck," explains Scania's Pilot Partner (its customer-facing eMobility product development department) director Tony Sandberg. "To begin with we focussed on smaller BEV trucks for urban use, because that was what the technology was best suited to; but now, we feel it's mature enough to work on bigger, heavier vehicles with regional (though not quite long range-) deliveries in mind."
Volvo Trucks keeps on electric trucking with three new models
"This one has a lithium ion battery pack built by Northvolt in Sweden that can be scaled up to 624kWh of capacity," he goes on. "That's more than twice as large as the storage in our earlier smaller, rigid-chassis BEVs; but it costs the same as the old packs, and also weighs the same. That means a BEV tractor unit is only about two tonnes heavier than an equivalent diesel; so that's only two tonnes of load that the customer has to sacrifice."
"We have a new tri-motor powertrain that can develop more than 600 horsepower, and as much torque as our V8s have (just under 3000lb ft). At the moment, we only offer one driven axle, but the potential is there to go to a 6x4 driveline (one in which both of the tractor unit's rearmost axles drive) if we need to. Even with a 6x2, our test drivers tell us that they can pull 64-tonne loads as well as in anything else we make."
Impressive. But what about the thorny issue of range? Towing a more typical 40-tonne load, this truck will cover 200 miles or so on an 80 per cent charge, says our man. Right now, it charges at up to 375kW; but Scania's already working so that, as soon as megawatt charging is possible on the European road network (along with rivals, it's already investing in suitable charging sites), their trucks will be ready to use it.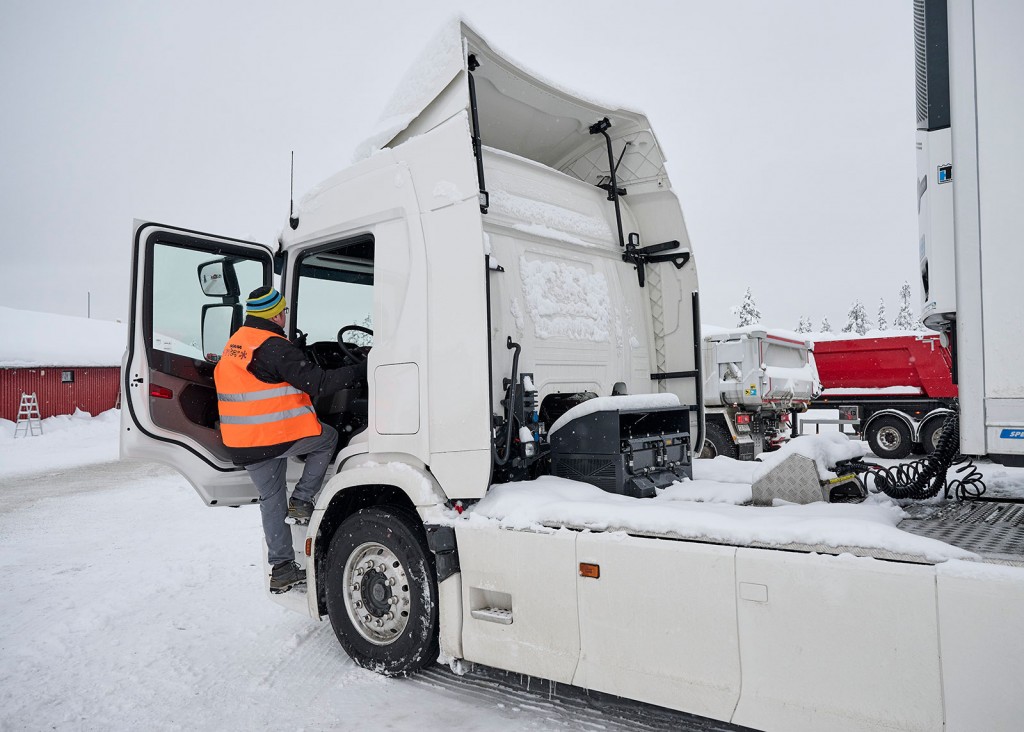 "Using depot charging as a starting point, the technology already works," Sandberg goes on. "We know it won't suit every use case; but honestly, it's great to drive. Go on; find out for yourself."
That's all the invitation and preparation necessary, it turns out, to get yours truly into the deliciously suspended driver's seat of an articulated Scania Battery Electric Truck. I have no Class 1 HGV driving licence. My towing experience is pretty limited, and none of it in sub-zero temperatures. And now I have some specially prepared snowy tracks on a repurposed airfield on which to gently explore what driving the zero-emissions future of road haulage might be like.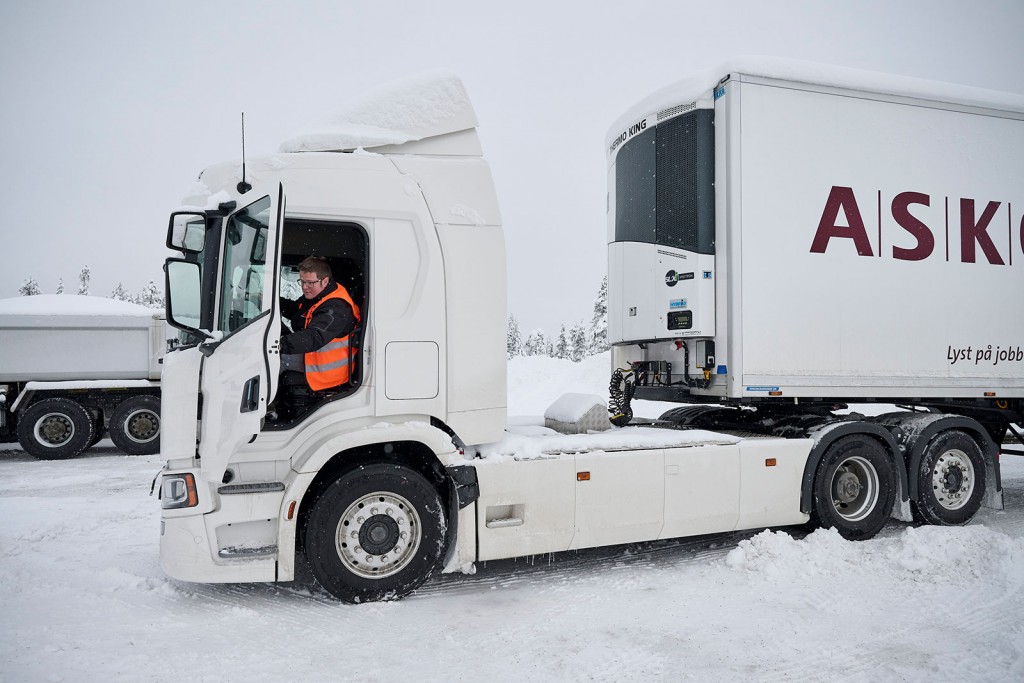 For someone used to stooping down into most test cars, it's hard to believe that Scania makes two lorry cabs taller than this. There are three big steps up into the 'BEV's' cab, and waiting for me up there, way over on the far side of what seems like a very wide cockpit indeed, is driver coach Dennis.  
Adjusting the truck's mammoth steering wheel from its horizontal 'access' position to a slightly more natural angle is the work of only a second or two. Then, just survey your surroundings for a moment. 
Subscribe to the Move Electric newsletter
The proliferation of rows of plastic buttons and multi-function knobs across the fascia is a reassuring sight for someone who grew up with 1990s passenger-car interiors. There are no all-dominating touchscreen control consoles in here. Truck-makers clearly think twice before fitting cabin technology that might distract a driver responsible for enough moving mass to level a semi-detached house.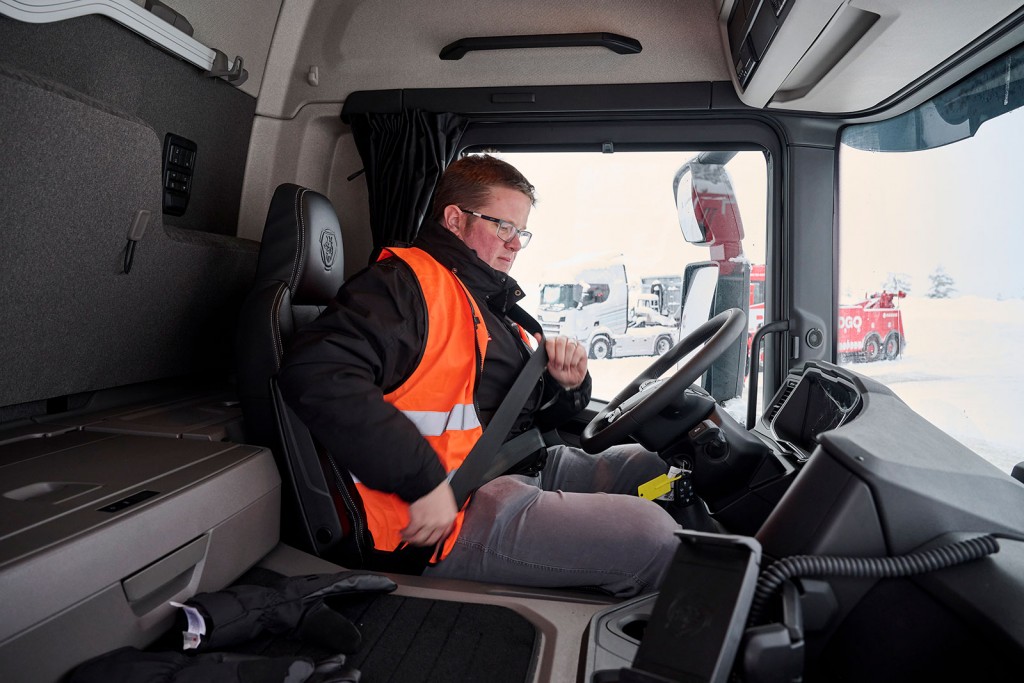 The rest of the major controls aren't complicated. "Usually you have a handbrake lever, but in here even that's automatic," explains Dennis. "So first, check you're happy with the position of the mirrors. Now just nudge that column stalk drive selector into D, and off we go."
My word; how easy was that? The gentle hissing and sneezing of pneumatically operated trailer brakes are the only noises that announce our departure. The truck's throttle calibration is quite tender, just as you'd want it to be; and Scania's traction control is subtle but effective enough on the snow and so, once you're easing your way up above walking pace, controllability is good.
In the prevailing conditions, we don't get up too much of a head of steam; even if we had, I'd have had no useful benchmark against which to compare the BEV truck's performance, with the sum total of my truck driving experience being the last ninety seconds.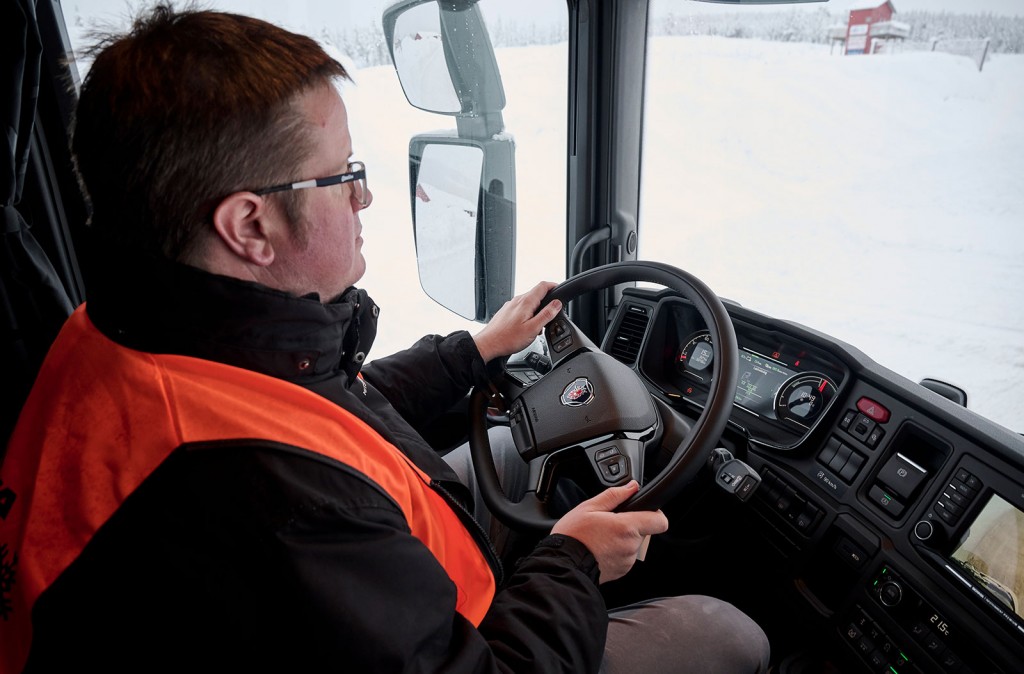 But on a slippery surface - even with a total train weight of only a little above 20 tonnes as I tested it - excessive speed isn't to be trifled with. Picking the right line around tighter corners, to keep your rearmost axle clear of the snowbanks at the margins of the road, can be quite an art. And staying on that line, given that the weight of your trailer can easily punt the tractor unit into understeer on a downward grade, or if you don't quite balance the power smoothly, isn't to be taken for granted either. 
But there's no mistaking it: that electric powertrain definitely makes managing the vehicle's momentum easier than it might be. The 'BEV' has loads of smooth, accessible torque, useful stabilising regenerative braking, and a six-speed automatic gearbox which you don't generally feel shifting at all. A test of a V8 diesel later (14-speed automatic) reveals that clunkier gearshifts can make low-speed progress trickier and more awkwardly punctuated, especially on snow. The BEV just doesn't feel like it has them.
British start-up Tevva to mass produce 7.5t electric truck
My second stint in the electric truck concludes without any Scandinavian swearing from Dennis, and without any need for reversing, both of which I'm pleased about. I'm clearly not quite ready for the call from Stobart's; but the truck's driving experience has done plenty of quiet convincing all the same. If this was my truck, I'd be delighted with it; the range and charging questions notwithstanding.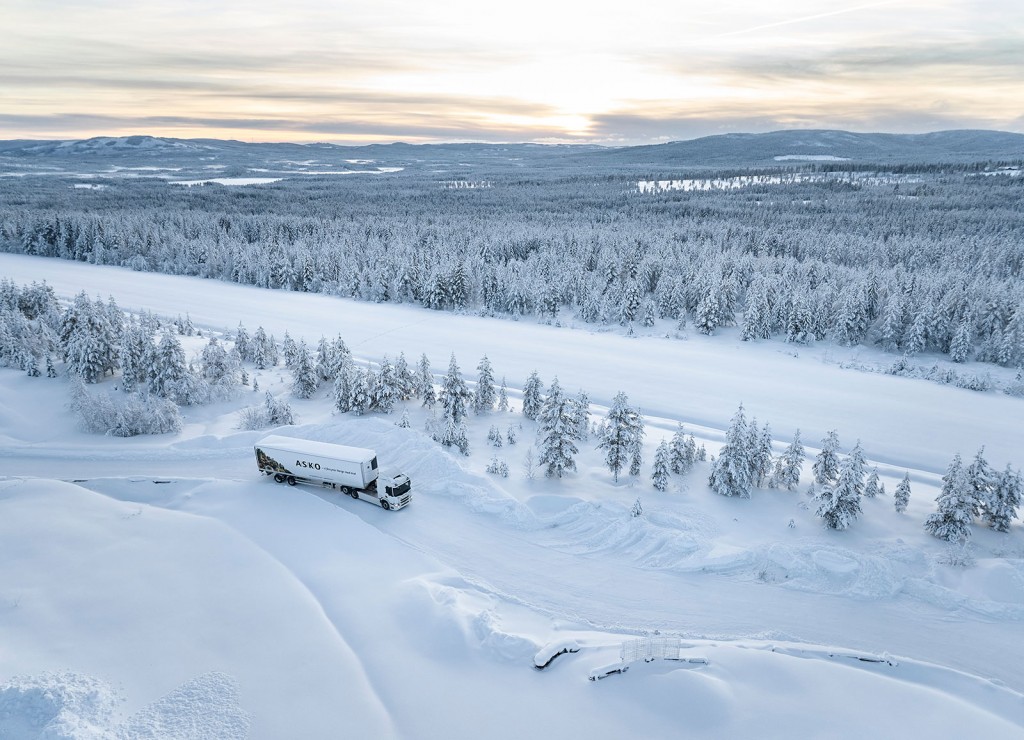 There are still questions with the technology for long-distance usage, mind. They say 'uptime' is everything to a truck operator; that cost is critical; and that plenty of diesel trucks barely have time to cool down in the yard after a job before they're out again with a different driver. 
Right now, Scania's Battery Electric Truck is more than double the price of an equivalent diesel; its 200-mile loaded range isn't likely to appeal to some operators much more than the price will; and, as with electric cars, the infrastructure will take time to develop.
Still, if the world suddenly becomes ready, the likes of Scania will clearly be on the spot with a truck to suit; and, on this evidence, we can expect it to be a very capable one.
Matt Saunders
READ MORE
Subscribe to the Move Electric newsletter
e-CARS
Ten electric cars we're excited for in 2023
Getting an EV sideways: how easy is it to drift a Kia EV6 GT?
Q&A: Jaguar Racing's Sam Bird and Mitch Evans on Formula E's new era
e-BIKES
Ten electric bikes we're excited for in 2023
Can you get fit using an electric bike?
e-MOTORBIKES
Ten electric motorbikes we're excited for in 2023
Super Soco TC Max electric motorbike review
Cake and Polestar team up for new special edition Makka e-motorbike
e-SCOOTERS
Planned laws to legalise private e-scooters face delay
Five key takeaways from the rental e-scooter trials report
Which train firms have banned e-scooters from their services?
e-WORLD
Move Electric's best features of 2022: lap records, tuk-tuks… and sausage rolls
Volvo Trucks keeps on electric trucking with three new models