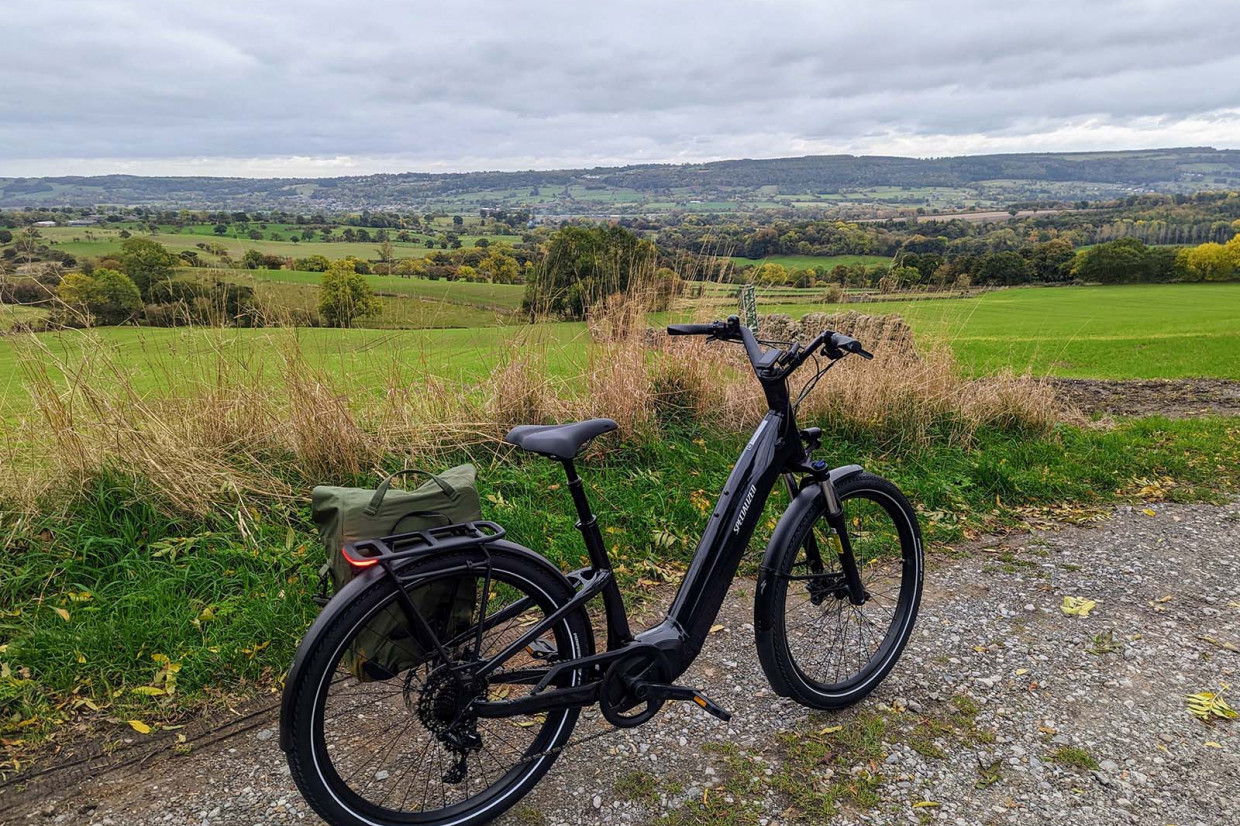 It's no secret that public transport can be pretty patchy in England, especially when yo get out into the countryside. So it is easier to get around using an e-bike? We've decided to out it to the test.
After living in Japan for a few years and seeing just how well a country can implement infrastructure for trains and buses, England just doesn't seem to compare – particularly when you don't live close to a train station. 
Get the Move Electric newsletter for more insights into buying and living with an e-bike
Usually, when an electric bike comes to me for review, it's delivered and I build it up, trip over the big box for a month, ride the bike, dismantle and shove it into the box and send it back.
When Specialized asked if it would be possible for me to pick a bike up instead from one of their Concept Stores, I immediately said yes. The bike in question was the Specialized Turbo Como, which we recently reviewed. It's not the smallest of bikes and while I enjoy surprising people with just how much boot space my 1992 Peugeot 205 has, I try to use it as little as possible for various reasons. So I decided to get the train to collect the bike.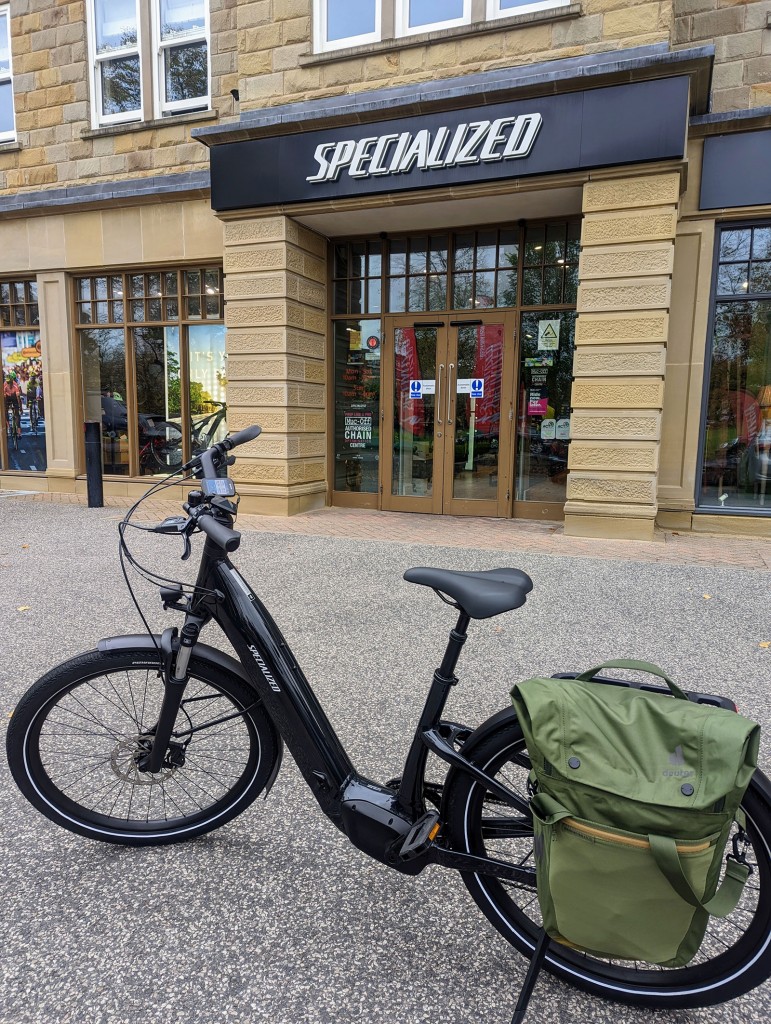 I picked the bike up with relative ease and rode it home. Dropping it back, however, would be the real test, because I couldn't rely on anyone to pick me up from a train station, and to be quite honest, I wanted to see what a full journey on public transport looked like. 
The journey was as follows: getting a train from Move Electric's Northern Annex (okay, my house) in Harrogate to Bradford Interchange, changing at Leeds. From Bradford, I'd get the bus roughly four miles out of the city and to my house. On paper, it should take about two hours (1.5 hours for the train, then 30 minutes for the bus if I make a quick dash to the bus stop). 
The outward bike journey to the Harrogate Concept Store was 24.8 miles from door to door. There is a slightly more direct route which knocks off about two miles, but for the sake of avoiding some of the busier roads and towns, I decided to take the more scenic option.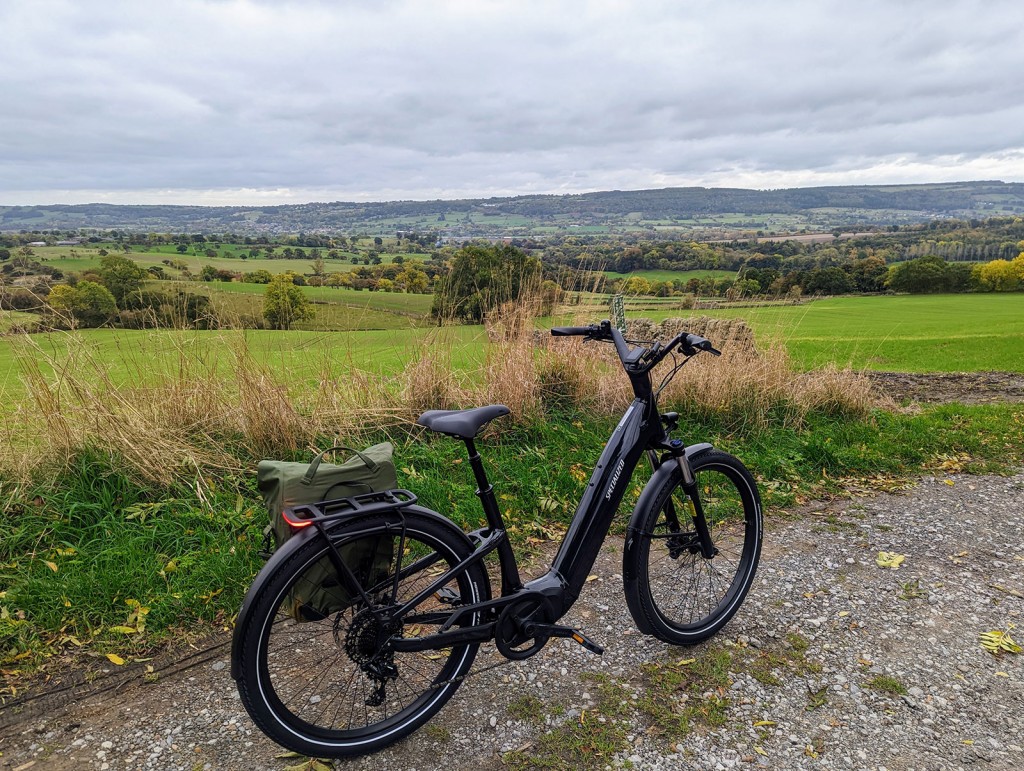 The ride over was extremely pleasant. I'm not going to turn this into another bike review, but the Turbo Como is a joy to ride, even outside of the city. It makes hills that I have to put my car into second gear for easy to conquer, and honestly, there's nothing better than getting outside and seeing the seasons change before your eyes. 
Move Electric's best e-bikes for every category
I rode through some places I've been meaning to since moving here earlier this year, and as I was fortunate enough to be avoiding rush hour traffic, it was a pretty pleasant ride. And, for once, it wasn't raining. 
I managed an average speed of 15mph, with 2,655 feet of elevation climbed. The full ride took me 1 hour and 39 minutes from door to door. Not a bad starting point, and I've dispersed enough energy so I'll be calmer for the return leg and less anxious about getting on a train to Carlisle by accident.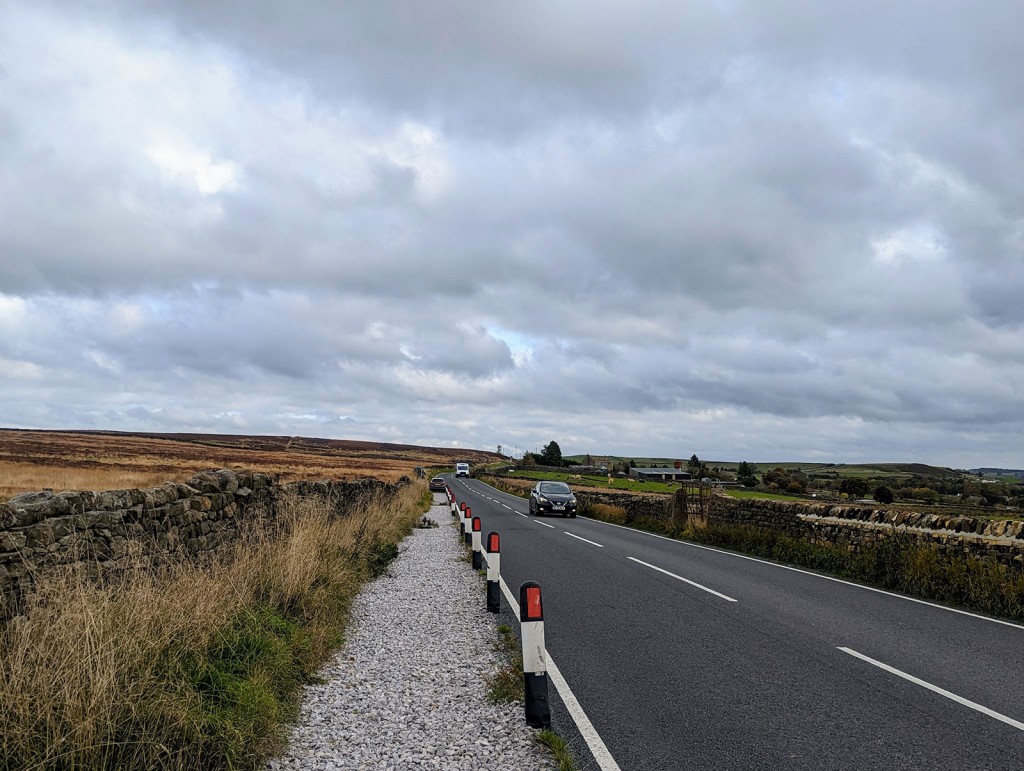 I reluctantly dropped the bike off at the Specialized Concept Store, wishing I was taking another with me. Instead, I started the stopwatch and walked a third of a mile to the train station. I booked my train ticket in advance and it cost £6.10 for the full journey to Bradford. The clock ticked past half-an-hour before I even got on a train, because they don't exactly run every 10 minutes. 
Given it was lunchtime at this point, I made the mistake of crossing the barriers before realising my only real chance of lunch was on the other side. 'Damn', I thought, 'I'll have to wait until I get to Leeds'. The train took about 30 minutes to get to Leeds, where I'd have another 20 to wait for my connection. 
I knew there was a Delice de France on the Leeds concourse so I ran up the stairs hoping they'd still have a baguette left. Instead, to my horror, I realised my only option at this point lay in spending four pounds on a sausage roll. Yes, four pounds. I clocked the price, did a double-take, and then checked again. I must have accidentally stepped through a portal and ended up in London to justify this sort of price – but no, I was definitely in Leeds, and it was £4 for a single sausage roll. Granted, I was not expecting Greggs's prices here and the roll was quite large, but even in this age of inflation that just seemed excessive.
But I was hungry, so grudgingly I paid, subsequently handed over my northern passport to the person behind the till and made my way to the platform for my next train.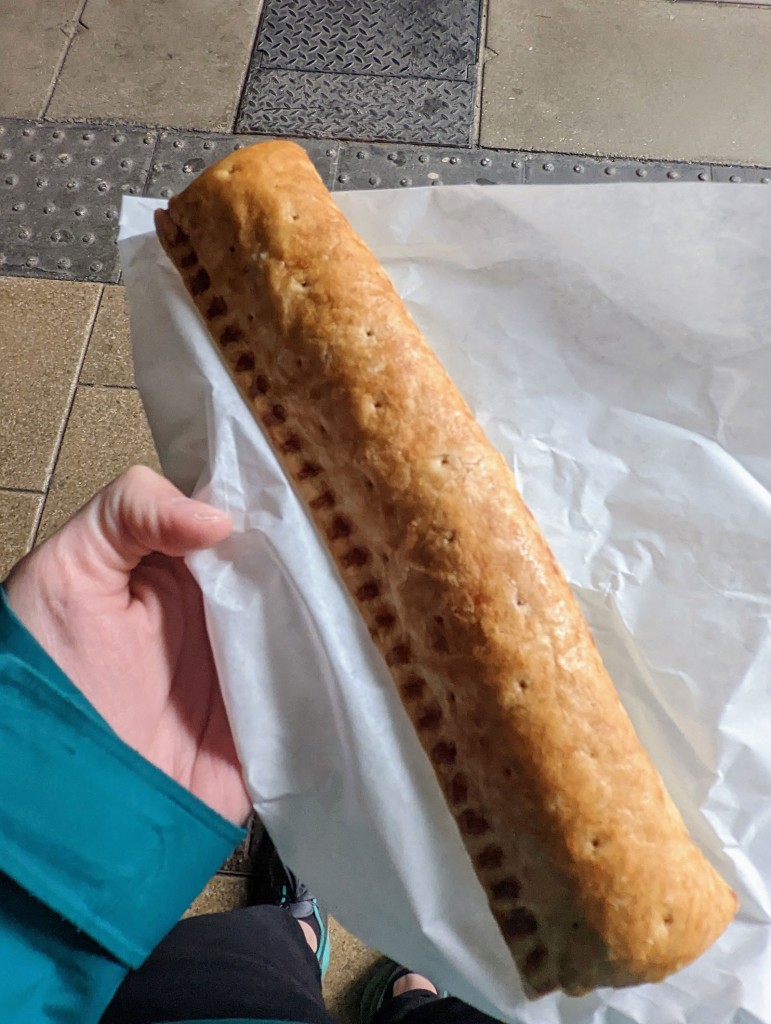 After trying to drag out my sausage roll consumption to make sure I savoured every expensive bite, the train departed Leeds and headed to Bradford Interchange. Just under 20 minutes later and I arrived, now completely out of my element since I'd never been into Bradford before. I began following the Google Maps route to the bus stop and beat the next bus by two minutes. Well, I would have, if it hadn't been cancelled. 
Nineteen minutes went by before the next one, and I bought a ticket on my phone for the sum of £2. I heard a few months prior that bus tickets were reducing in cost across West Yorkshire, and I think it's great. An old commute into Leeds cost me £6 a day from a village about 12 miles away, so this was a big improvement. Eventually, I shuffled onto the bus and sat down waiting for the final stretch of my journey to begin.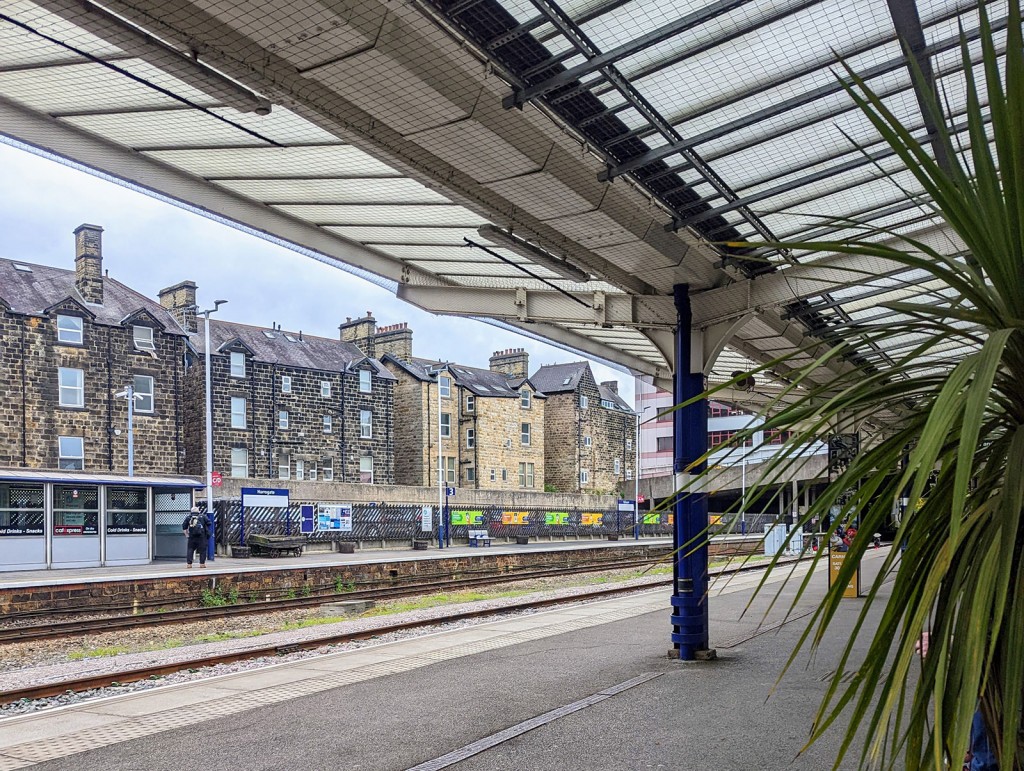 Bradford is not the quietest of cities in terms of vehicle traffic, and by this time it was 1500hrs and the schools were emptying for the day. Naturally, a suggested 20-minute journey now looked like it would take a lot longer, and the bus struggled to travel at a reasonable speed.
Once we made our way beyond the ring road, you'd think the traffic would ease – quite the contrary. We'd made it about two-thirds of the way up to my stop and about 20 schoolchildren got on. I made a quick decision at this point given the traffic and sheer volume of people alighting that it would probably be quicker to walk the rest of the way (just over half a mile). So that's what I did. 
The bus eventually passed me just as I walked past the stop I would have gotten off anyway, so I took that as justification for my impatience. I stopped the clock at two hours and 51 minutes – more than 70 minutes slower than riding the same journey, and it cost me £12.10 for the privilege.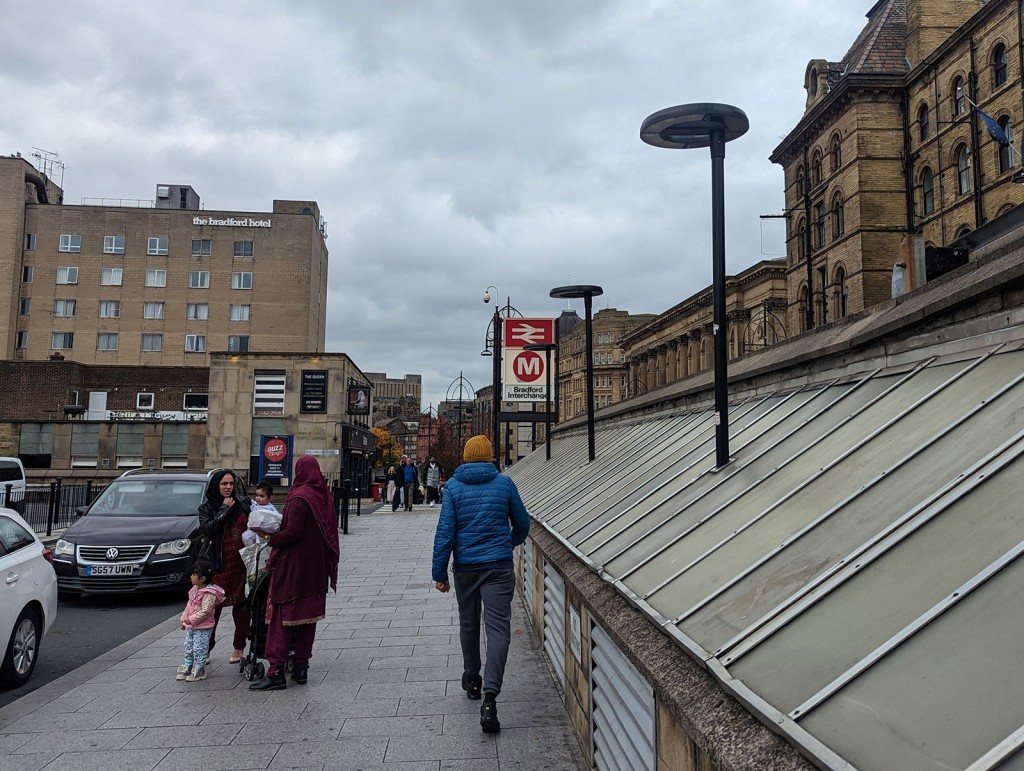 Cycling isn't for everyone, sure. But when the public transport in your area doesn't allow you to take a direct route to your destination and takes far longer, it's no wonder people turn to other options – most frequently involving their cars. Especially when a journey is not straightforward.
The transport links in west Bradford aren't even that bad – the bus is every 20 minutes compared to one per hour in my old area. However, it's slow, and the time taken relies on traffic being fast-flowing. If it was my choice, I'd much rather ride a e-bike and buy a proper lunch, and not have to remortgage for a sausage roll. 
READ MORE
Subscribe to the Move Electric newsletter
e-CARS
Chinese car brand Nio to expand into UK by end of 2023
Driving a Citroën Ami around London: five things we learned 
New Polestar 3: 380kW performance EV aims to 'redefine' the electric SUV
e-BIKES
Seven essential accessories to improve your e-bike life
The Lake District village that's pioneering community e-bike schemes
e-MOTORBIKES
Honda to launch more than 10 electric motorbikes by 2030
New Zero DSR/X launched as electric adventure motorbike
Stilride: the brand reinventing electric motorbike production
e-SCOOTERS
8Tev B12 Roam e-scooter review
Pure Electric launches two new machines that 'reinvent' the e-scooter
Rise in e-scooter accidents prompts call for 'urgent' government action
e-WORLD
Artemis electric ferry revealed for Bangor to Belfast service
New Mobilize Solo Concept is a safety-conscious e-scooter rival
Volta Zero: the electric truck tearing up the rule book for the electric age