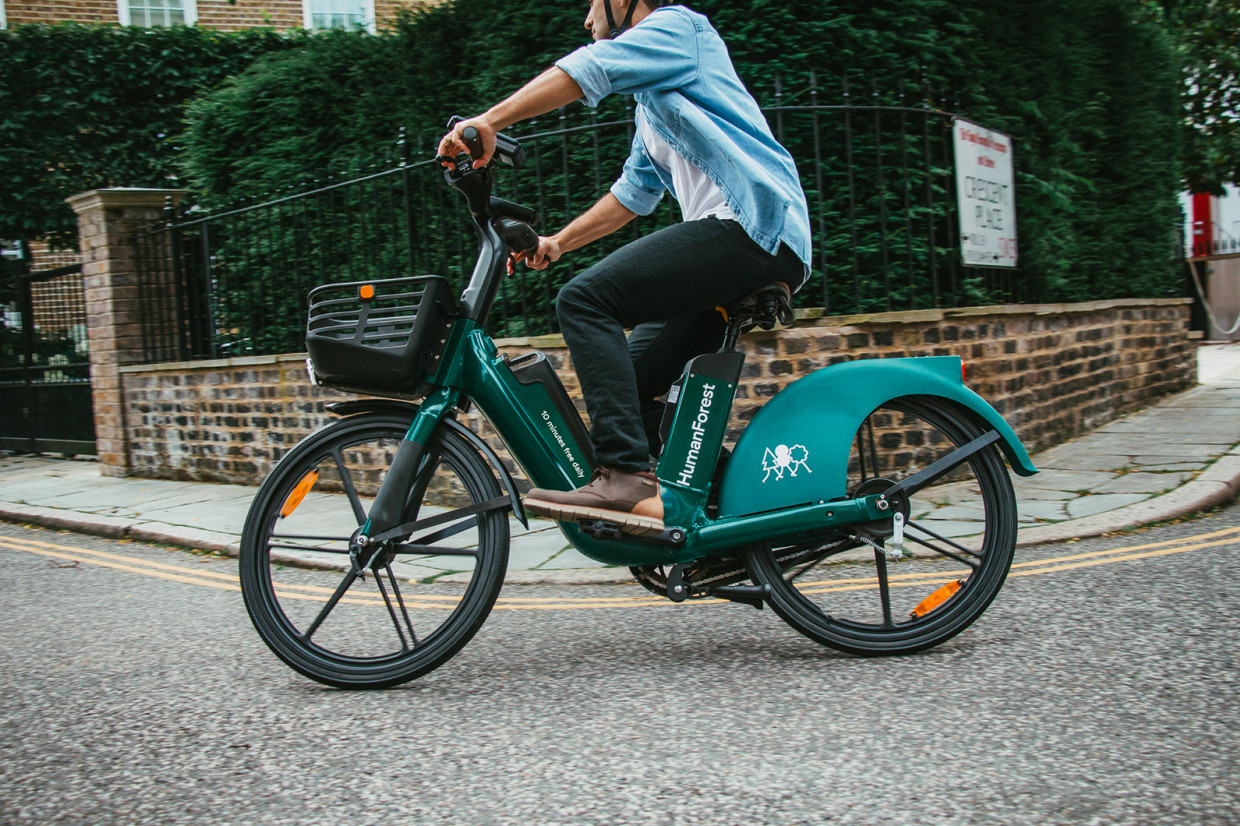 HumanForest refers to its headquarters as the Greenhouse, but when you visit you won't find a grand glass structure full of opulent, blooming plants. Instead, nestled in a busy, built-up part of Southwark, you'll find a nondescript, brick building, with an austere frontage that hints at its former life as a police station.
But there is something to the greenhouse analogy. In the central yard behind the Greenhouse's hefty gates, HumanForest's technicians tend and maintain the firm's distinctive green e-bikes before sending them onto the streets of London, much as a gardener will use a greenhouse to cultivate plants before exposing them to the elements. 
The latest e-mobility news in your inbox: get our FREE newsletter
Okay, that might be a little tenuous. Still, HumanForest insists that its goal as a shared mobility firm is to make cities such as London greener. It's just that instead of planting trees, the firm is aiming to do that by switching people from cars to rental e-bikes. "The dream is to reforest the world," says Caroline Seton, one of the firm's founders and head of growth.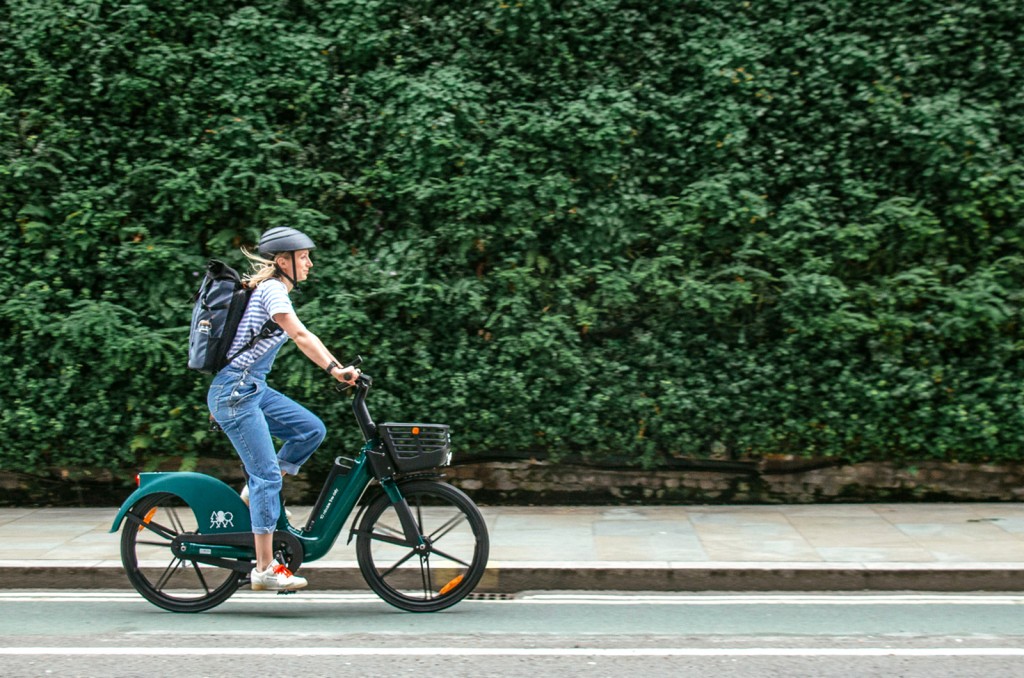 Planting the seeds
The idea behind HumanForest came from one of Seton's co-founders, Agustin Guilisasti, one of the founders of Cabify – an Uber-style ride-hailing app that operates in Spain and Latin America.
"Agustin came to London on a sabbatical to do a Master's degree in data science, and he saw this huge opportunity for shared bikes," says Seton. "At the time there were the [Transport for London] Santander hire bikes and a some options like Lime and Jump, but London was massively lagging behind other European cities in terms of shared e-bike penetration."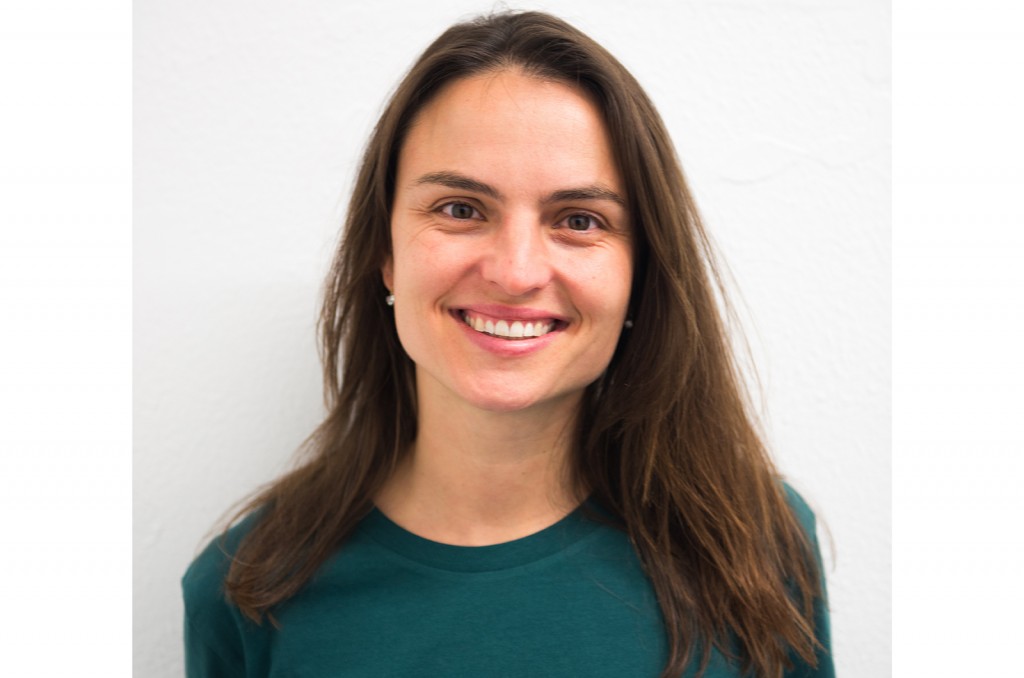 Guilisasti eventually opted to leave Cabify to start a UK-based rental e-bike firm focused on the London market. He turned to Seton, who has previous worked in regulation and public affairs, and Michael Stewart, who has experience in marketing.
After various rounds of venture funding, HumanForest's e-bikes first took to the streets of London for a trail in 2020. The trial used 200 bikes and despite the vagaries of the Covid-19 pandemic, convinced the team that the concept could work.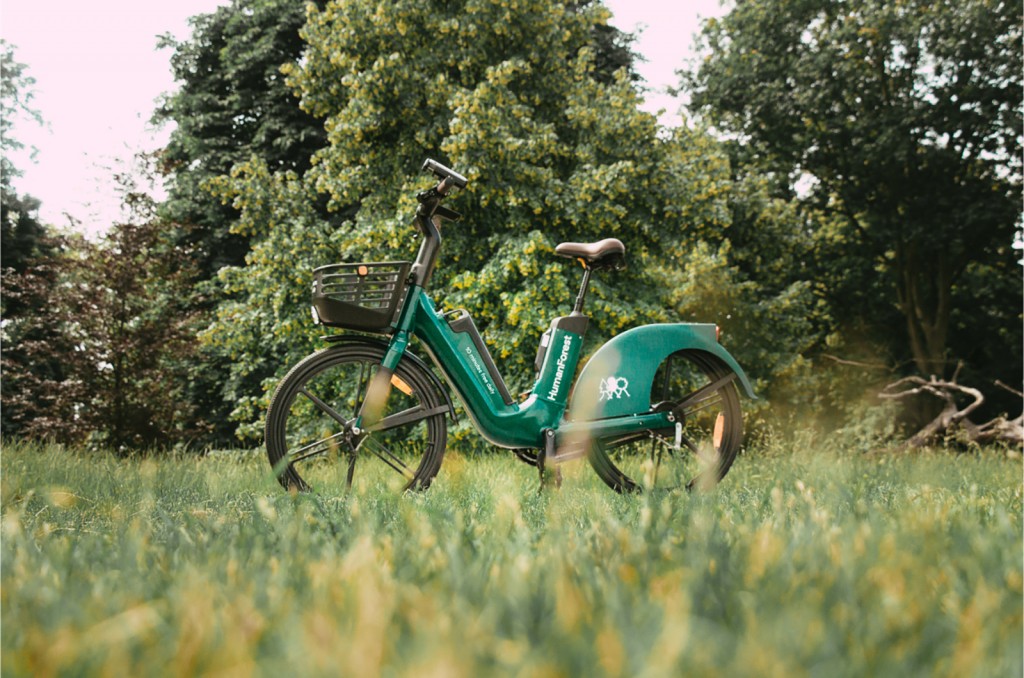 Further fund-raising followed and after a slight delay due to supply chain issues, HumanForest had a full launch in four London boroughs in August 2021. Since then it's been consistent and rapid growth into further boroughs.
"We actually set monthly ridership records into October last year, which is amazing because we're a seasonal business and you'd expect numbers to drop when the weather is bad," says Seton. "It just shows there's a massive structural change in the way people move".
The challenges of operating in London
HumanForest is different from most of the other dockless e-bike firms operating in London: while those are big multinational firms, the UK firm is still a small, single-city start-up.
But it has adopted a plan for careful, steady growth, but the main reason it began in four boroughs – Islington, the City of London, Camden and Kensington & Chelsea – is because of the complexity of operating in the Greater London market.
Unlike e-scooters, where Transport for London licences the three London operators who run rental schemes (individual councils could choose to part), there is no central authority for e-bikes in the capital. Which means HumanForest has to negotiate separate deals with every borough.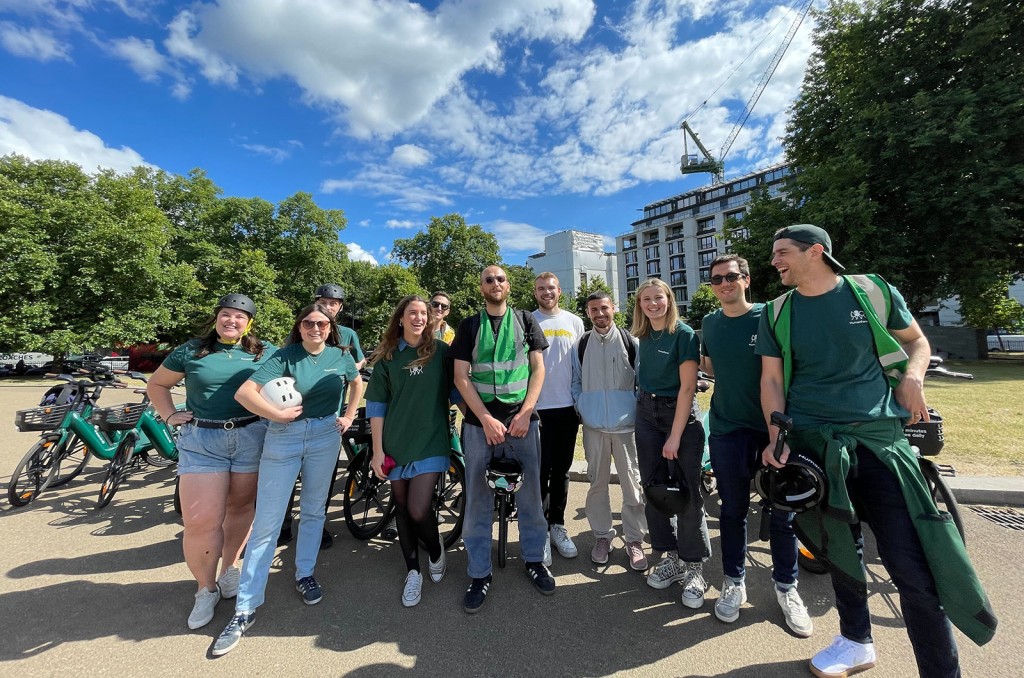 "With a city like Paris, you get one central licence and that's Paris done," says Seton. "But London has 33 boroughs, so theoretically that's 33 boroughs you need to form a relationship with." 
As head of growth, much of that work falls to Seton, who says the key is "understanding the needs of each borough".
She adds: "Westminster has huge footfall and lots of tourism, which is very different from Kingston-upon-Thames, where a lot of trips are taken to and from the train station.
"We have great relationships with the councils we work with, and we're seeing others who weren't initially as progressive on deckles bikes and shared mobility coming to us."
While each council might have slightly different requirements for where bikes can be 'parked', and vary in how much space they will allocate to shared mobility parking, Seton says the biggest challenge is "trying to gauge what the demand is going to be like in five years time. How do you make a scheme that will be fit for purpose in the future, because we're just seeing such a high growth rate.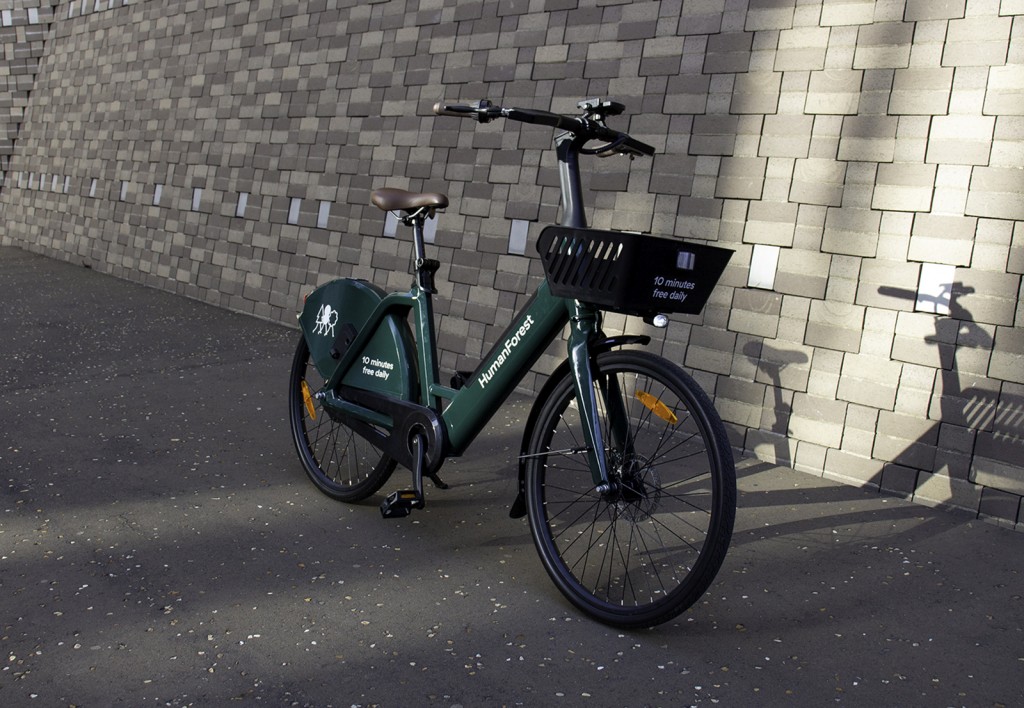 "You want to make sure you've got adequate levels of service so people can rely on us as a service, but you won't want to overburden the public realm [with the volume of e-bikes on the streets] either."
One of the ongoing challenges for the industry is rental e-bikes being left in boroughs that aren't part of that scheme, something HumanForest tries to combat with a parking charge (we'll get to that later).
"It's tricky for users because they don't know the nuance of every council boundary," says Seton. "Ultimately, we'd like to see cohesion across all the councils, and we've really advocated for a carriageway parking bay model. It's where a lot of councils are heading, and we're definitely getting there. It's a question of time and resource: you can't just close to the road for, like, 500 parking bays. Parking is revenue for many councils."
How HumanForest stands out
There's plenty of e-bike competition in London, especially with TfL adding them to the hugely popular Santander scheme recently. But Seton says: "There are a huge number of people that can be converted to e-bikes, so having multiple operators is good for increasing standards and service levels, both for users and councils. It's important that we all work together."
From the start, HumanForest has taken a notably different approach to some of its rival mobility firms. That starts with the unusual name, which hints at the firm's sustainability ambition to promote zero-emission mobility. Even the dark green colour of the firm's bikes stands out from the more lurid colours of many rivals. And it's also branched out further by launching an e-moped service in some boroughs.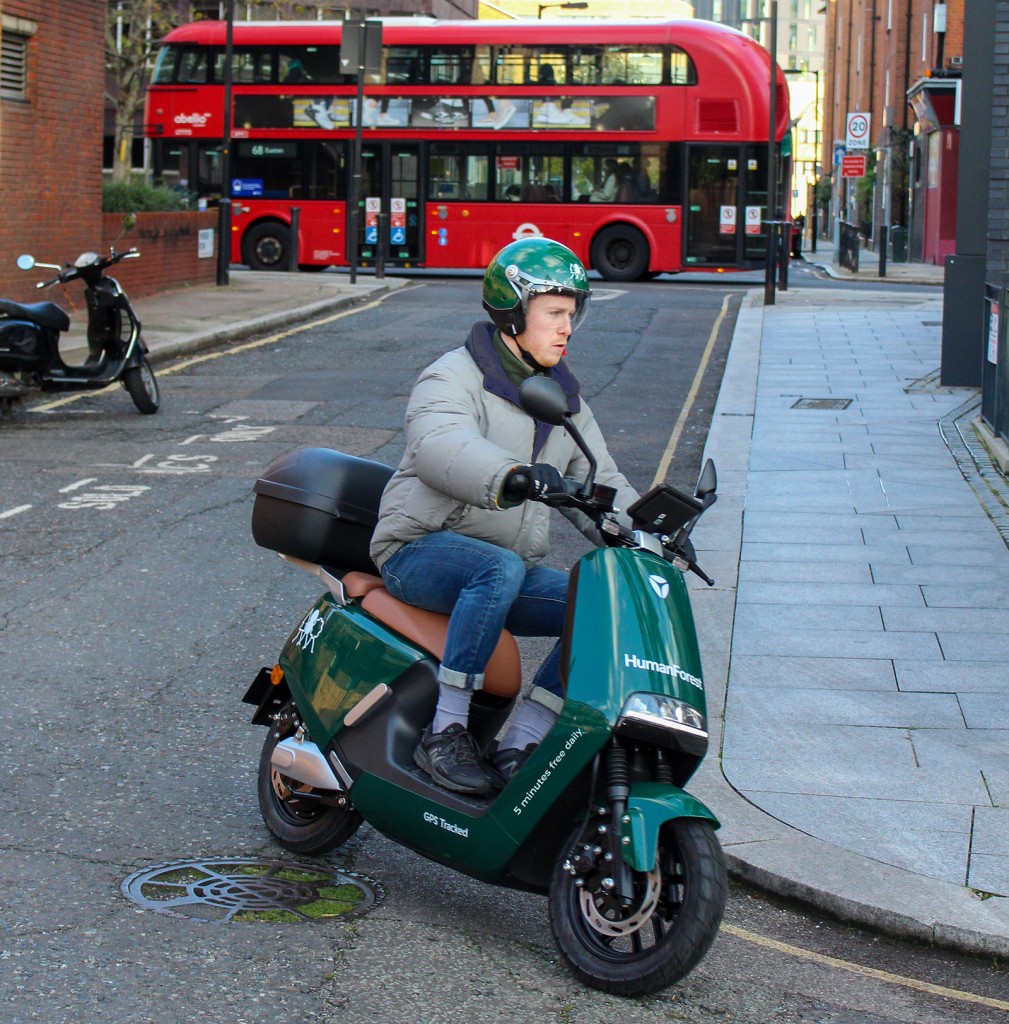 The differences are also reflected in HumanForest's pricing structure. Most firms charge a few to unlock a bike and then a per-minute charge. HumanForest riders get their first 10 minutes of riding each day free. After that there's a 19p per minute, and then a parking fee: 50p inside a designated 'Green Bay' parking area, or £2 outside a bay. Various bundles are also offered, along with discounts for NHS staff and students.
"The ten free minutes concept came because we really want to offer affordable mobility," says Seton. "London is really undeserved, with quite expensive options. We want to make modal shift to active mobility easy for people, and we don't think sustainable active travel should come at a premium.
"Our service is not just a luxury, a once-a-week thing. We really want to integrate our service into commuter habits. Our main user base are commuters. And sustainability is as key for them as us: when we surveyed our users they put sustainability and price on a par. It shows what makes us unique is really resonating with our users."
HumanForest only operates electric service vehicles, and Seton says that the firm has already achieved no Scope One or Scope Two emissions (the emissions a company makes directly and indirectly). 
"There's a lot of greenwashing in the industry," says Seton. "While it's great to have an e-bike, the whole infrastructure has to be sustainable as well. If you're servicing bikes with petrol or diesel vans and clogging up the streets, it's not quite the virtuous circle users really want to see."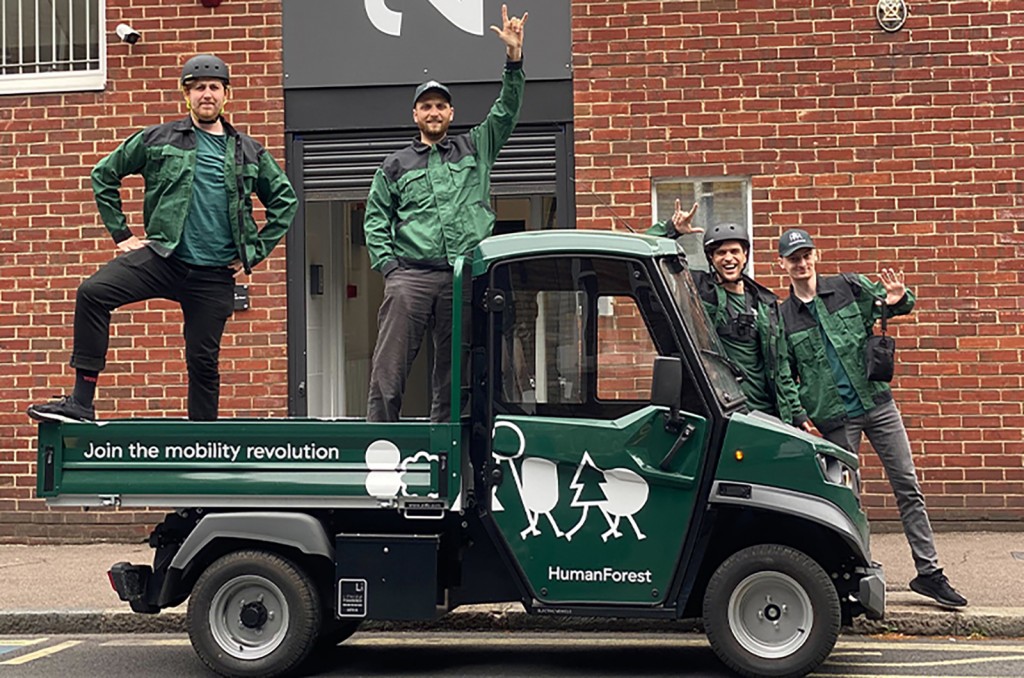 Another novel concept that HumanForest offers is its loyalty and partner schemes. There's a loyalty rewards scheme called Tree Coins, where users gain tokens roughly related to saving as much CO2 as a tree captures in a day, which can then be redeemed to get free products from partners. "It's about showing that while you might not think a single trip makes a big difference to the environment, over a week or a month it all adds up," says Seton.
The 10 free minutes of riding is also sponsored, while HumanForest has also tried schemes where users can watch a video and gain extra free riding time.
Plotting the mighty HumanForest acorn
HumanForest might be based in London, but Seton says that the firm's ambitions extend far beyond the M25. "The plan is to expand into Europe this year, and then beyond," she says. 
She adds: "We're all from London, and this is where we wanted to start. It's a lot trickier here, so if you can crack it here…
"We've been able to fine tune our in-house processes, and we've got a really good playbook for going to new cities. That means we can really streamline the process and push efficiencies. We're a pretty small, agile team so we're able to implement ideas and processes really quickly."
READ MORE
Subscribe to the Move Electric newsletter
e-CARS
Ten electric cars we're excited for in 2023
Getting an EV sideways: how easy is it to drift a Kia EV6 GT?
Q&A: Jaguar Racing's Sam Bird and Mitch Evans on Formula E's new era
e-BIKES
Ten electric bikes we're excited for in 2023
Can you get fit using an electric bike?
e-MOTORBIKES
Ten electric motorbikes we're excited for in 2023
Super Soco TC Max electric motorbike review
Cake and Polestar team up for new special edition Makka e-motorbike
e-SCOOTERS
Planned laws to legalise private e-scooters face delay
Five key takeaways from the rental e-scooter trials report
Which train firms have banned e-scooters from their services?
e-WORLD
Move Electric's best features of 2022: lap records, tuk-tuks… and sausage rolls
Volvo Trucks keeps on electric trucking with three new models