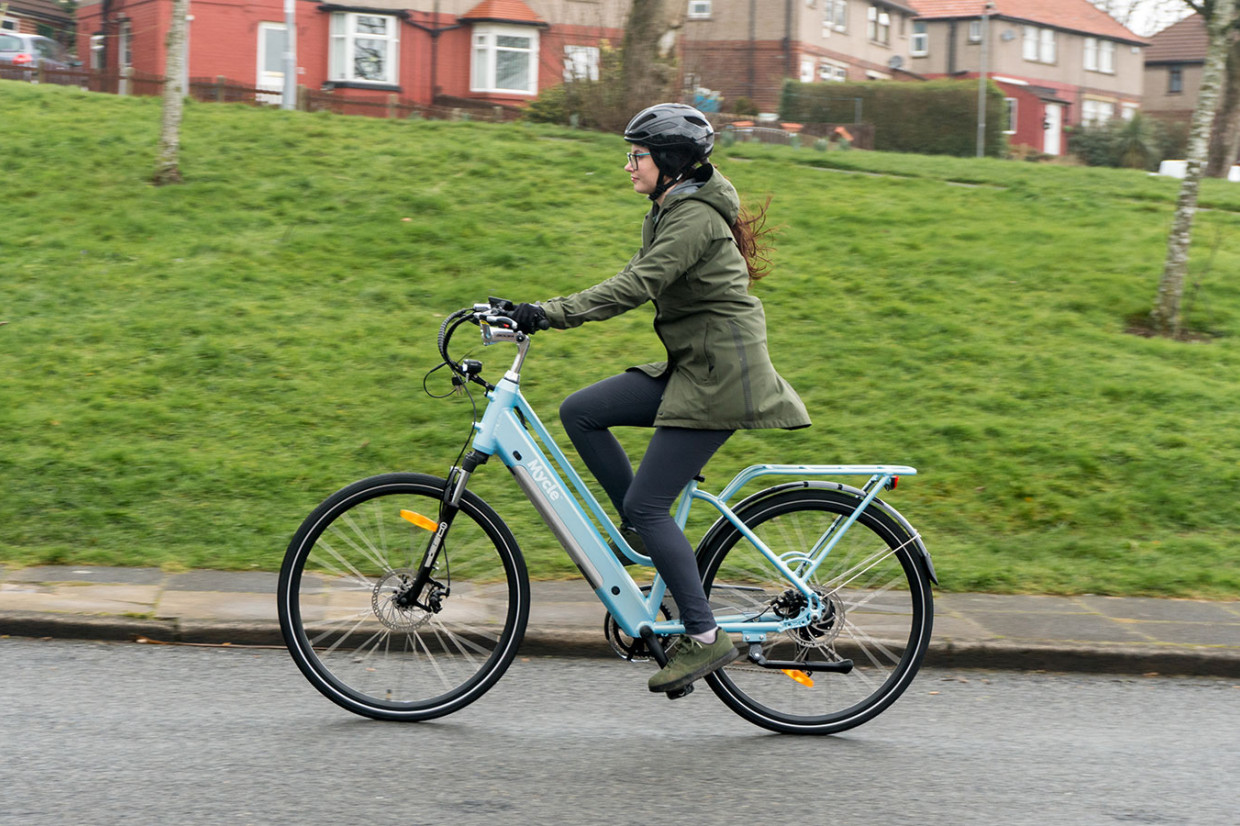 Move Electric rating: three stars out of five
What does it cost? 
£1199 (£1099 without the digital display upgrade)
What is it?
The Mycle Comfort is, as it says, designed for comfort. In essence, this means a more upright riding position, ergonomic handlebars and wider semi-slick tyres (in this case, 40mm width) for a bit more plushness.
The British brand has also included RST Neon suspension forks with less than 100mm of travel to take the harshness out of the roads or tracks. The product description also boasts alloy suspension in the saddle and seat post, although I can't say I particularly noticed it – perhaps if I'd had my dog in a backpack I might have. 
Subscribe to the FREE Move Electric newsletter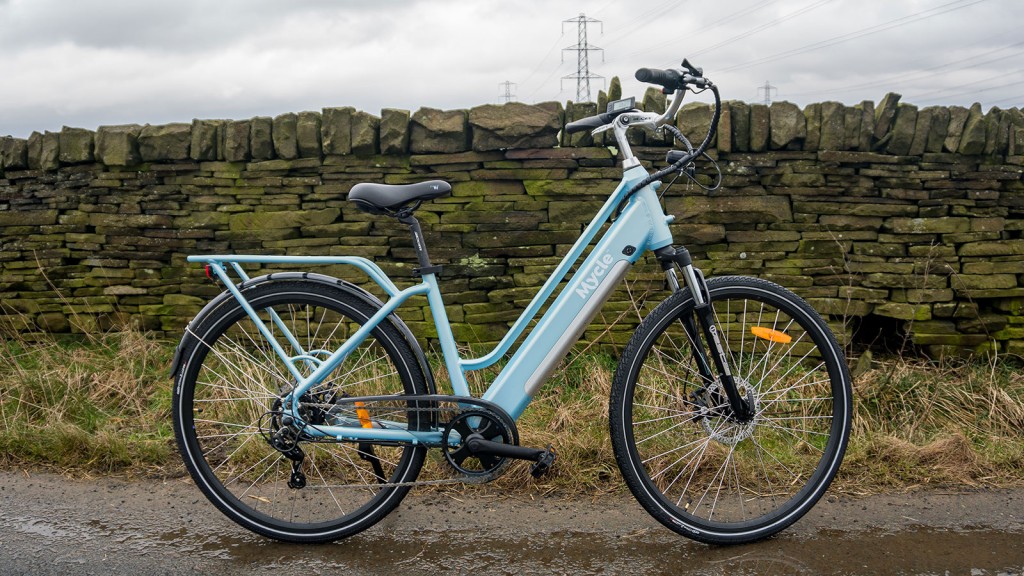 What is it like?  
Firstly, my test riding slot unfortunately coincided with an epic snowfall here in West Yorkshire, and the lasting effects of which meant my chances to ride safely were limited. Thus, I'd suggest you take this review as more of a first ride example than a long term in depth analysis.
So what is the new Mycle bike like? First, remember that it's £1099, not £3099 or £5099 and so it shouldn't really be compared with e-bikes at those price points. It's a budget bike, and it's built to a certain price point. But does it function as it should, and help you get from A to B a little bit easier? I'd say so.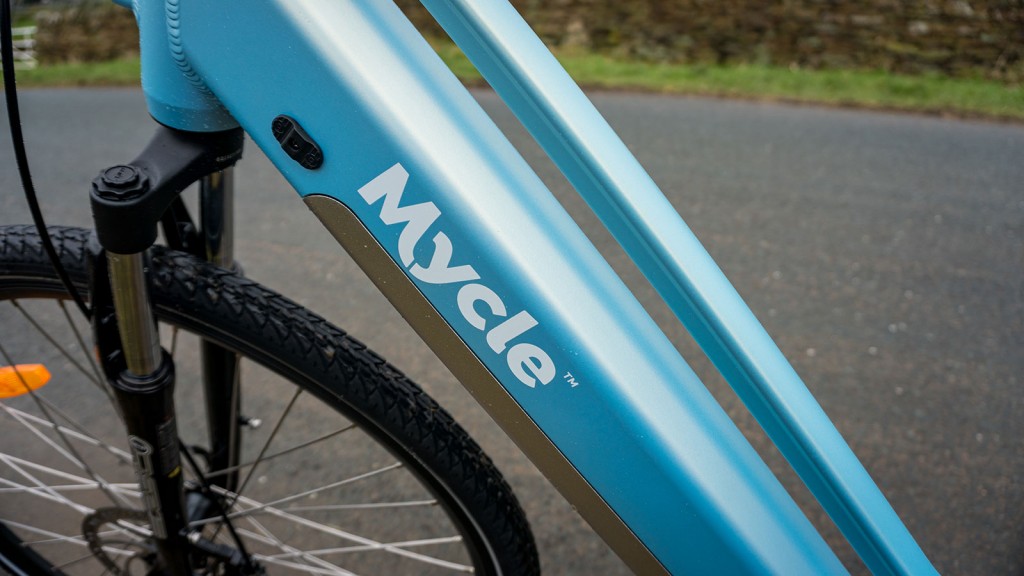 You can't expect excellence at just over a grand. From a utility perspective, it's very capable. There's a rear rack already included, integrated lights (although the front one is a little bit fiddly to fit), a rear mudguard and a kickstand. The maximum load including rider is 120kg, so for most people that allows for quite a bit of cargo.
What I really like about the Mycle eco-system is the amount of accessories you can buy to fit their bikes. Whether you want a child seat to take your kid on an adventure or to nursery, or a basket, there are ways to get even more out of this bike.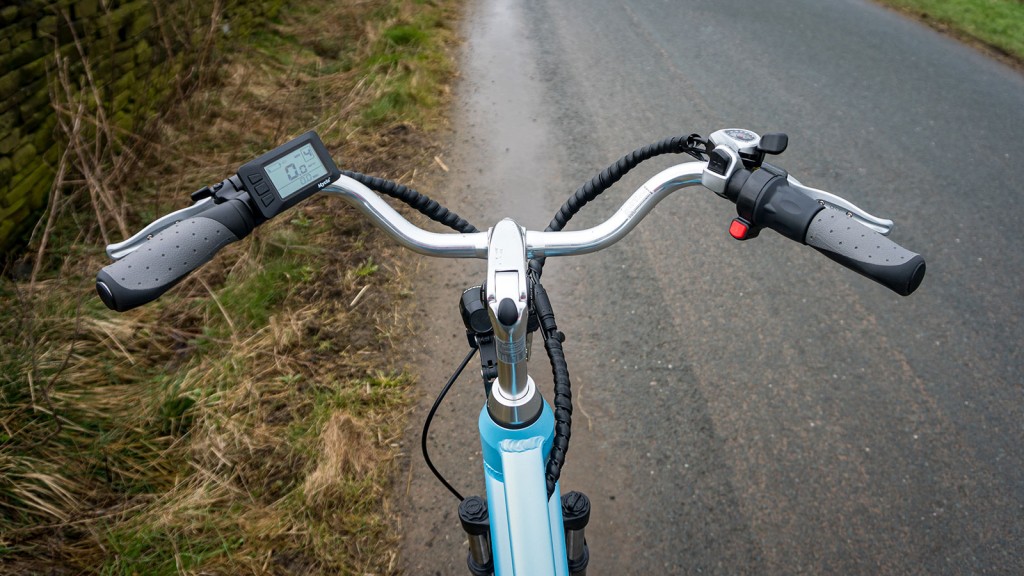 Other upgrades include the LCD digital display which my test bike came with (worth an extra £100). This shows you your battery level, mileage, speed and assist level. The Comfort also comes in four different colours: jet black, stanley sage, henley blue and the shade my test bike came in, bailey blue. 
The performance of the bike is where it could perhaps be improved. There's nothing inherently wrong with the electric system, in fact it powered me up a couple of 15 per cent inclines with relative ease thanks to the 45Nm of torque it can provide – the only problem I had with it was the length of time the motor takes to kick in. A lot of the junctions around where I ride involve setting off on an incline, and needing to turn the pedals a few rotations on a 25kg e-bike isn't the easiest task in the world.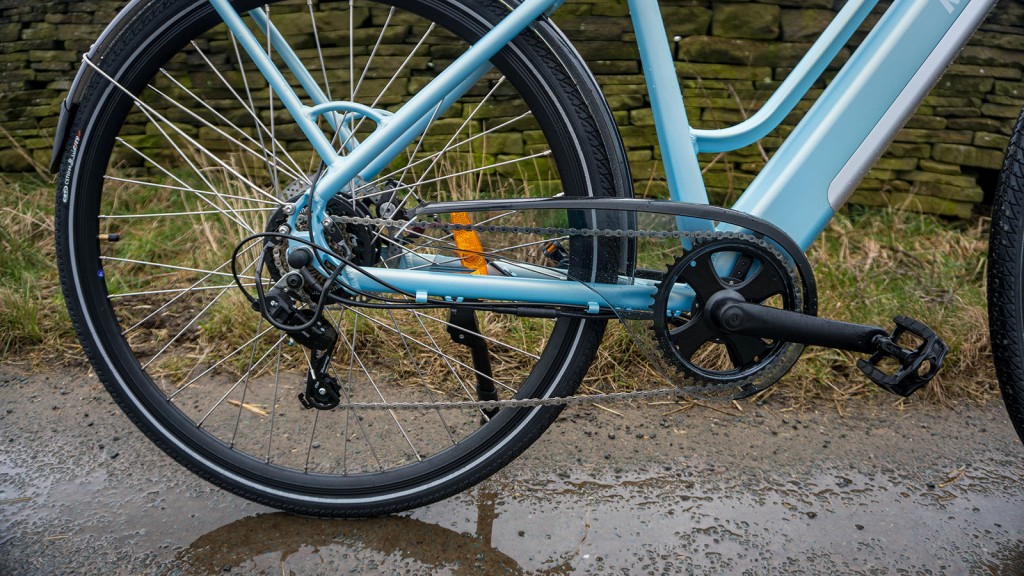 The frame itself is, as they hoped, rather comfortable. I do feel like the one size might restrict the breadth of riders that may want to buy it, particularly at the smaller end of the scale, but needs must and if this is how they keep the price point low, then there is some adjustability in the saddle height and the stem. 
I did find that it wasn't the most stable of rides at the front end. Not so much that I felt concerned about taking my hands off the bars to indicate, but a little bit of wobbling every now and again didn't inspire confidence about taking it down any big hills. 
Nine ways to keep your e-bike safe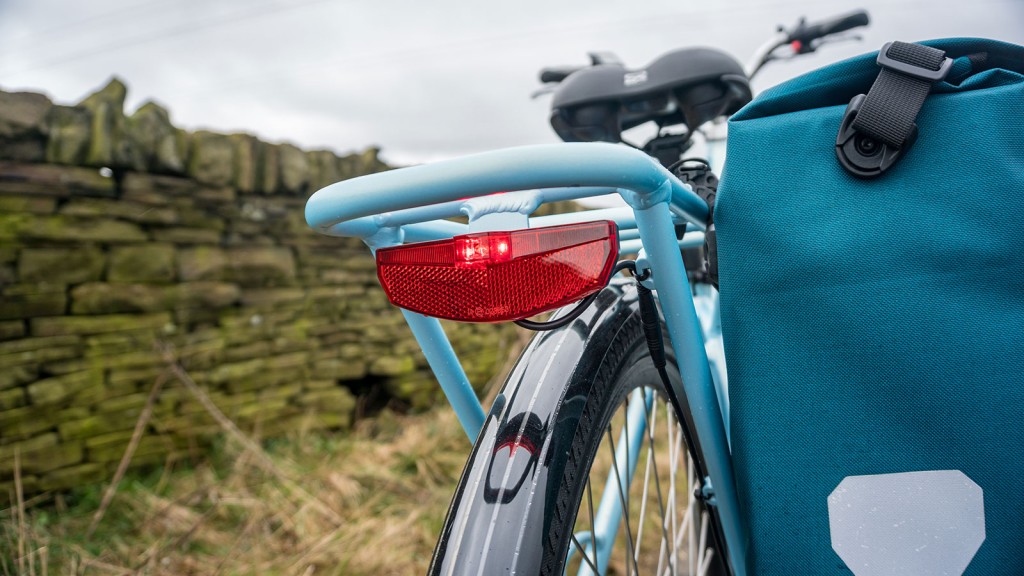 The hub-motor system is paired with a removable 36V battery in the downtube. It's also lockable, however, so if for whatever reason you don't want to take the battery out when leaving the bike parked somewhere, it's less attractive to thieves. In terms of range, Mycle estimates up to 45km in favourable conditions.
I can't comment on that, as my display suggested I'd almost run out of battery after five miles of using it on the highest assist level (level five). Which, in my defence, was deemed necessary during 30mph winds and a fair few hills. 
Where can I buy it?
From the Mycle Bikes website. 
How does it arrive?
Well packaged – the front wheel, handlebars and front light require attaching, but Mycle includes a handy little tool kit for all the bolts.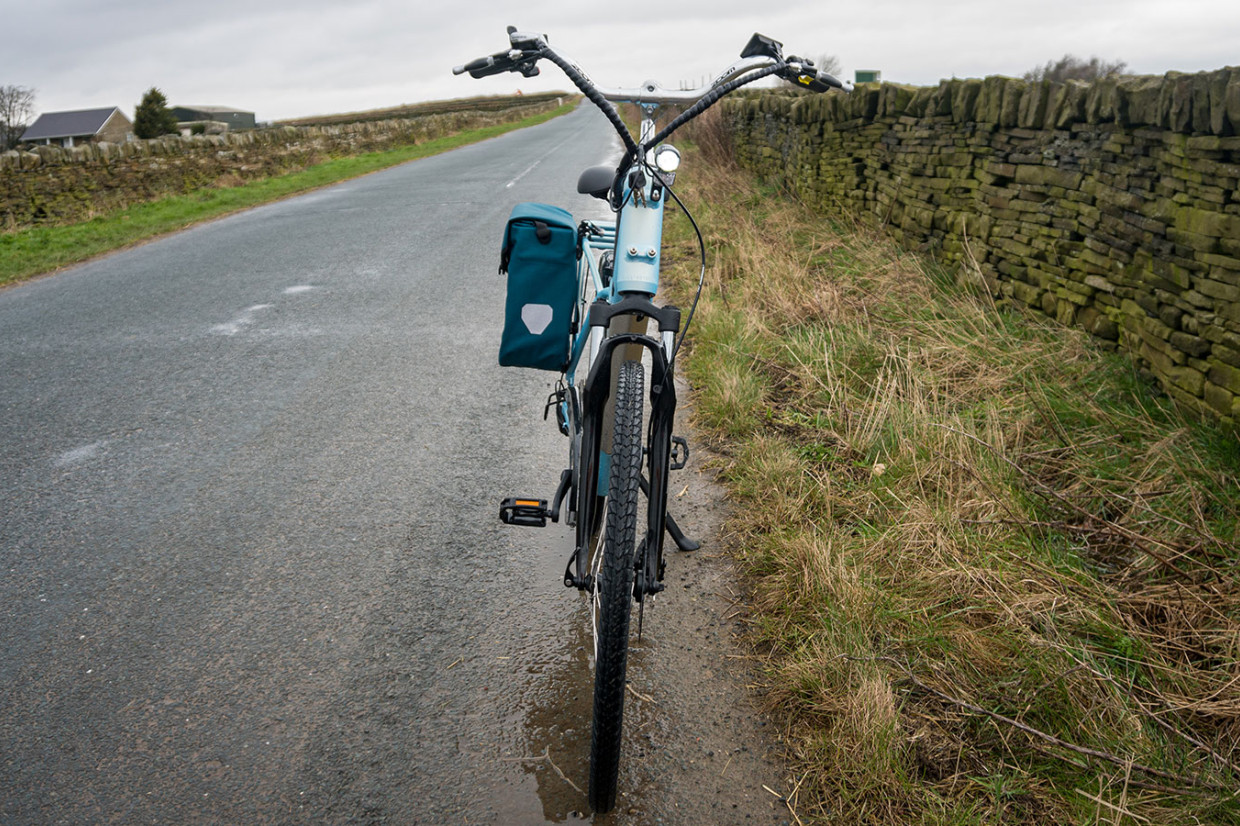 Verdict
Overall, I think Mycle has done well to hit the price point it has. There are some budget components on the Comfort, but the overall utility and usefulness of the bike somewhat negates its slightly sluggish motor performance.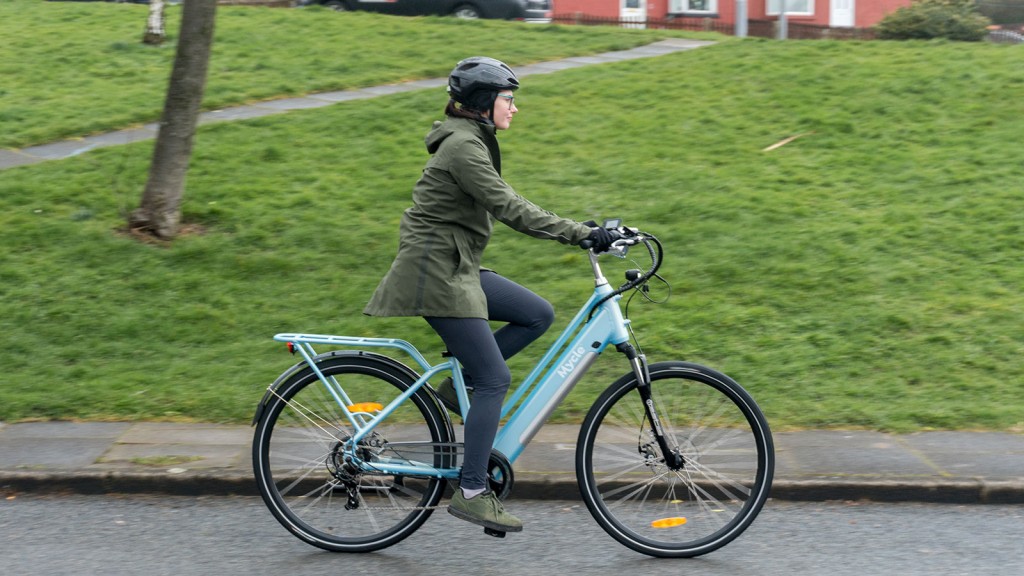 Mycle Comfort
Cost £1099
Frame size tested One size
Weight of bike 25kg
Groupset 7-speed Shimano, Tektro disc brakes
Wheels/tyres 28in wheels, Kenda 40mm tyres
Motor 250W 36V brushless hub motor
Battery 36V, 10.4AH
Mileage range Up to 28 miles
Assistance levels Three
Charge time 4-6 hours
Included extras Kickstand, Lights, Display, Rear rack, Rear mudguard
READ MORE
Subscribe to the Move Electric newsletter
e-CARS
What is a heat pump and how do they benefit electric cars?
Bold new Volkswagen ID 2all previews sub-£22,000 electric car
e-BIKES
Ten electric bikes we're excited for in 2023
Nine ways to keep your e-bike safe
E-bike theft: how common is it and what can you do to protect your e-bike?
Haibike AllMtn CF 6 e-bike review
e-MOTORBIKES
10 electric motorbike start-ups you should watch out for
Energica e-motorbike to take on all-comers in US racing series
Ducati: How the Italian motorbike brand is gearing up for the electric era
e-SCOOTERS
Planned laws to legalise private e-scooters face delay
Leading e-scooter firms team up on best-practice guide for cities
Ambiguity over e-scooter legality causing 'confusion', says police chief
e-WORLD
Solar panels: 8 ways the sun can power your electric life
First ride: Lunaz Upcycled Electric Vehicle bin lorry
AutoFlight secures huge order for Prosperity 1 eVTOL craft