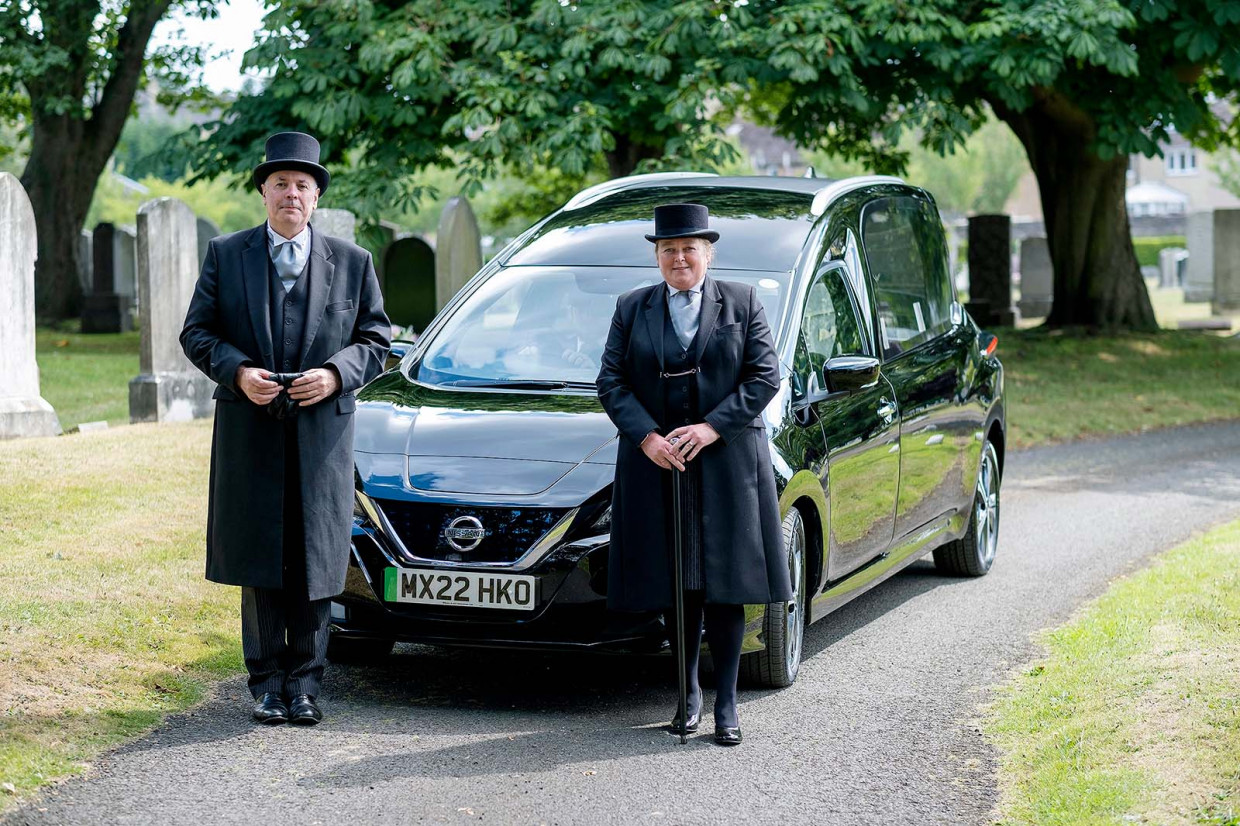 Co-op funeral services is set to offer a climate-conscious send-off for loved ones after taking delivery of a new electric hearse.
The Nissan Athena hearse - which Move Electric drove last month - is based on the Nissan Leaf family hatchback and is the work of Wilcox Limousines, a British-based coachbuilder. 
Earlier this year, Co-op Funeralcare put a new Tesla electric hearse into service in Bristol and South Gloucestershire. 
Co-op says its electric hearse will be based at its Funeralcare centre in Edinburgh, with the all-electric Athena available to serve families across the region including Dalkeith, North Berwick and Sighthill. 
The Athena hearse will be joined by a brand new Maxus Ambulance which the Co-op says will be the first ever electric model to serve Scottish communities. 
The Nissan electric hearse's exterior is made from recycled composite materials, further enhancing its sustainability credentials. 
EV charging points are set to become a standard feature across all new Co-op Funeralcare centres that open in 2022 and beyond. All electric hearses will be charged using renewable sources.
Last year, Co-op Funeralcare invested £4m in a new fleet of hybrid ceremonials, which it says has reduced its carbon footprint by 136g/km Co2. 
 
"We are excited to be bringing our fully electric Nissan hearse and private ambulance to Scotland to offer dignified, elegant and environmentally friendly services for families and communities in the area," said Nic MacLennan, head of operations for Co-op Funeralcare in Scotland. 
 
"We're committed to leading the way in helping the bereaved and their loved ones have a final farewell that does not adversely impact the environment." 
 
The Co-op says its funeral service plays a key role in delivering the brand's pledge to achieve net zero status by 2040, ten years ahead of the plans set out by the UK government. 
 
READ MORE
Subscribe to the Move Electric newsletter
e-CARS
UK charging networks: complete guide to every provider
New Cupra UrbanRebel is a bold EV supermini with 273-mile range
e-BIKES
10 fun things to try on an electric bike
Living with a Gocycle G4: how easy is it to adjust to?
e-MOTORBIKES
Seat Mó eScooter 125 UK review
How to do a CBT on an electric motorbike
Energica unveils new Experia electric tourer motorbike
e-SCOOTERS
Are e-scooters legal in the UK?
Private e-scooter rules 'cannot simply copy' rental regulations
Superpedestrian's European boss on why e-scooters are for everyone
e-WORLD
New Candela P-12 Shuttle to arrive as first electric 'flying' ferry
Pipistrel Velis Electro: meet the first certified electric plane