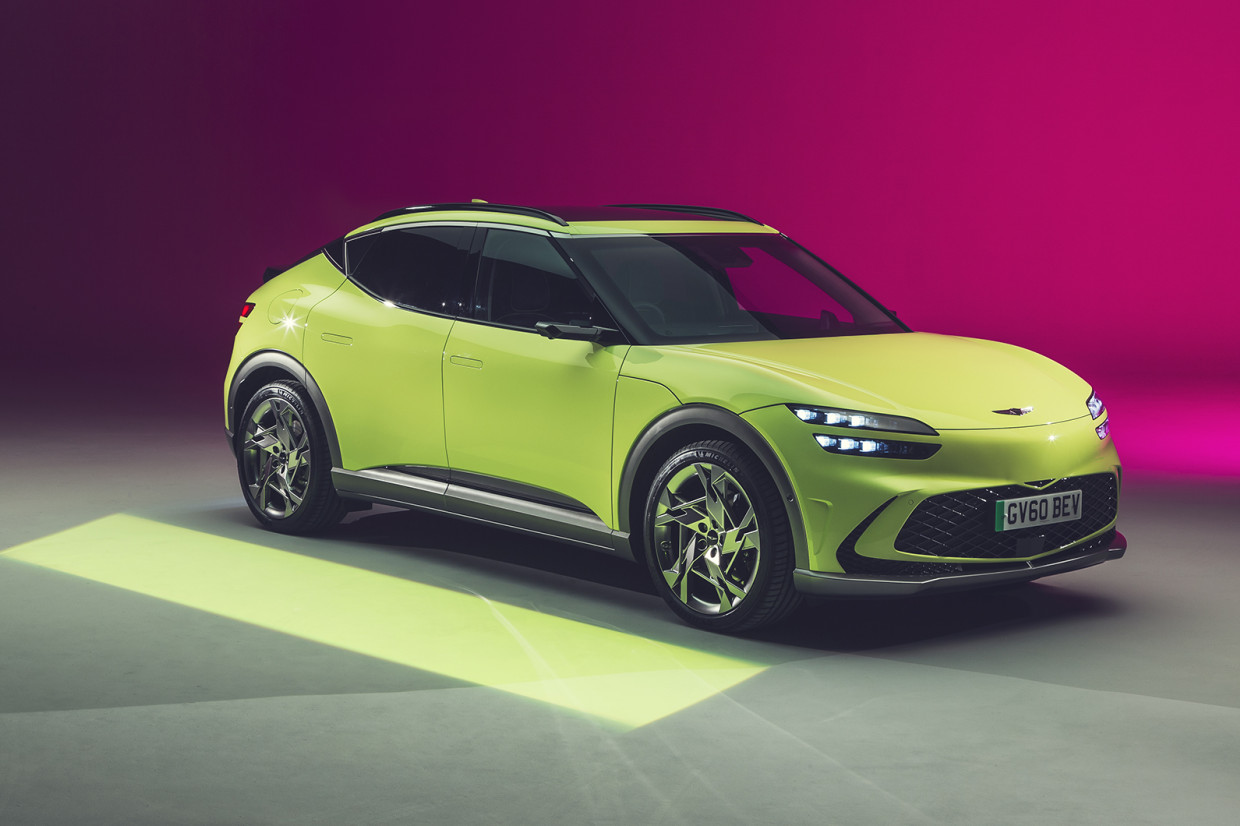 The new Genesis GV60, the Korean firm's first dedicated electric-only model, showcases "the next evolution" of the premium brand as it pivots to an EV-only line-up.
That's the view of Luc Donckerwolke, the brilliantly titled chief creative officer of Genesis. The veteran car designer – he's previously worked at the Volkswagen Group and has been at the Hyundai Motor Group since 2015 – is tasked with growing Genesis from a posh line of Hyundai models into a standalone brand that offers a Korean premium rival to the likes of Audi, BMW and Mercedes-Benz.
Ten electric cars we're excited for in 2022
The GV60 is due to go on sale in the UK later this year, but Move Electric was given the chance to take an early up-close look at a highly glamorous super-secret location (okay, it was a photo studio on an industrial estate near Leighton Buzzard). We were also given the chance to speak to Donckerwolke to learn more about the GV60 and the wider plans for the Genesis brand.
Here, then, is Move Electric's up-close, in-depth look at everything you need to know (and a few things you probably don't, but which are hopefully interesting) about the GV60.
I've never heard of Genesis. Can you tell me its, er, Genesis story?
Thanks for getting that pun out of the way early. Genesis is a relatively new car brand from the Hyundai Motor Group. With both Hyundai and Kia successful mass market brands, the firm has long looked to break into the premium market. In 2008 Hyundai launched a posh executive saloon called the Genesis, which was a limited success. Then, in 2015, the group turned Genesis into a full standalone brand, with a range of premium models in the US and South Korea.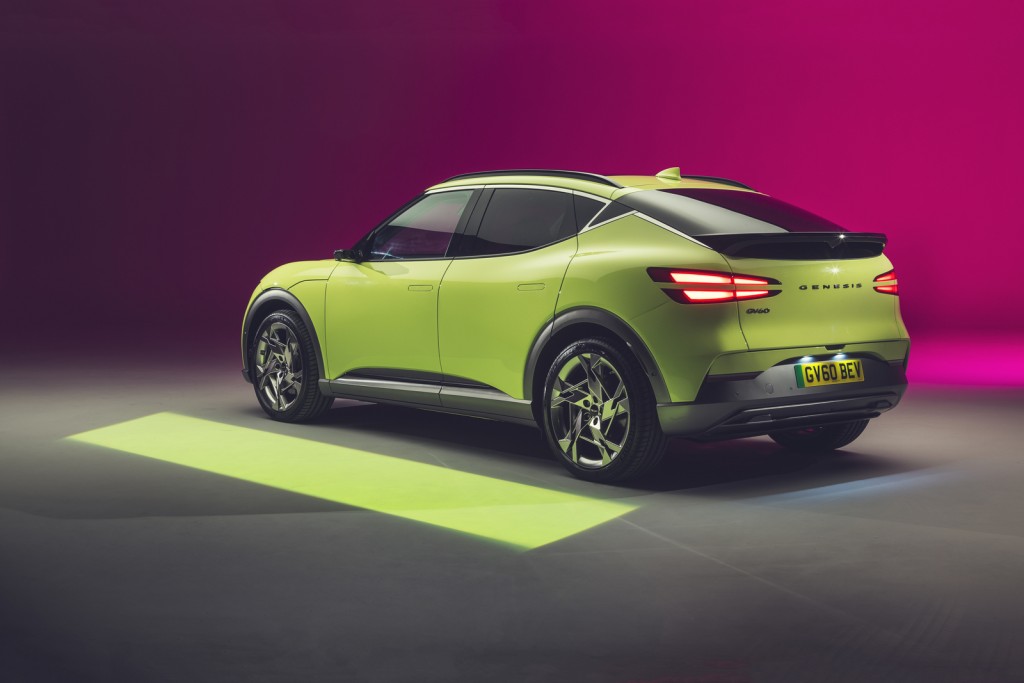 Genesis launched in select European markets including the UK last year, with a range of combustion-engined saloons (the G70, G70 Shooting Brake and G80) and SUVs (the GV70 and GV80).
The firm's first electric car will be the Electrified G80, which as the name pretty much gives away is an EV version of the saloon. But the GV60 is the first Genesis that will only be offered as an EV. Get used to it: from now on, Genesis will only launch full electric models - the GV60 will be the first of eight confirmed EVs.
Why is it just the GV60 and not the Electrified GV60? 
While many cars firms are introducing electric-only model lines (such as Volkswagen's ID range), Genesis is taking a decidedly different track.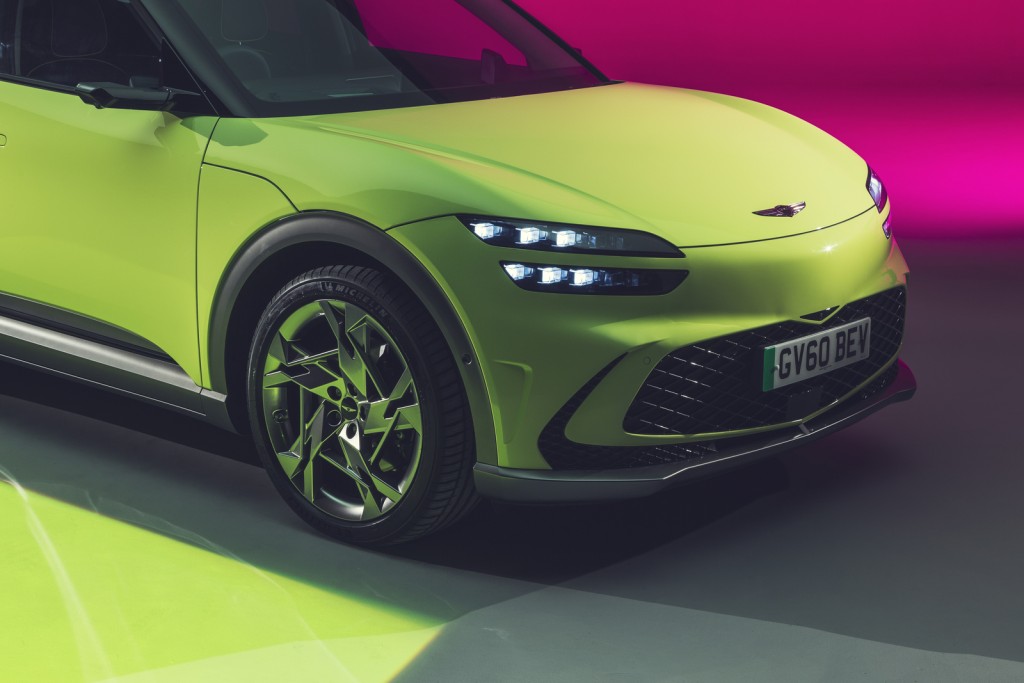 "For us it was natural in the sense that we didn't want to have any electric denomination, because after one point you'd have to you have to basically shut down the light on one of them," says Donckerwolke. "If you let the nomenclature die because because it's redundant, it would be like Coca-Cola deciding that they will only sell Light products and not the original one, and then every product would be called Light. For Genesis the powertrain, whether it's diesel, electric, gasoline, fuel cell or electric, is not the differentiator."
Okay, tell me about the GV60 then…
It's a mid-sized electric SUV that's set to rival the likes of the similarly sized Tesla Model Y, Audi Q4 e-tron and Volkswagen ID 4. 
For those who like their precise measurements on such things, the GV60 is 4515mm long, 1890mm wide and 1580mm high, with a wheelbase of 2900mm. That makes it around 100mm shorter than both the Hyundai Ioniq 5 and Kia EV6, which it shares a platform with.
That platform is the Hyundai Motor Group's advanced E-GMP architecture, and that's a very good thing since we rate both the Ioniq 5 and EV6 highly. E-GMP features an 800V operating voltage, which means that the GV60 is capable of ultra-rapid 350kW charging – which means the 77.4kWh battery can be charged from 10 to 80% in 18 minutes.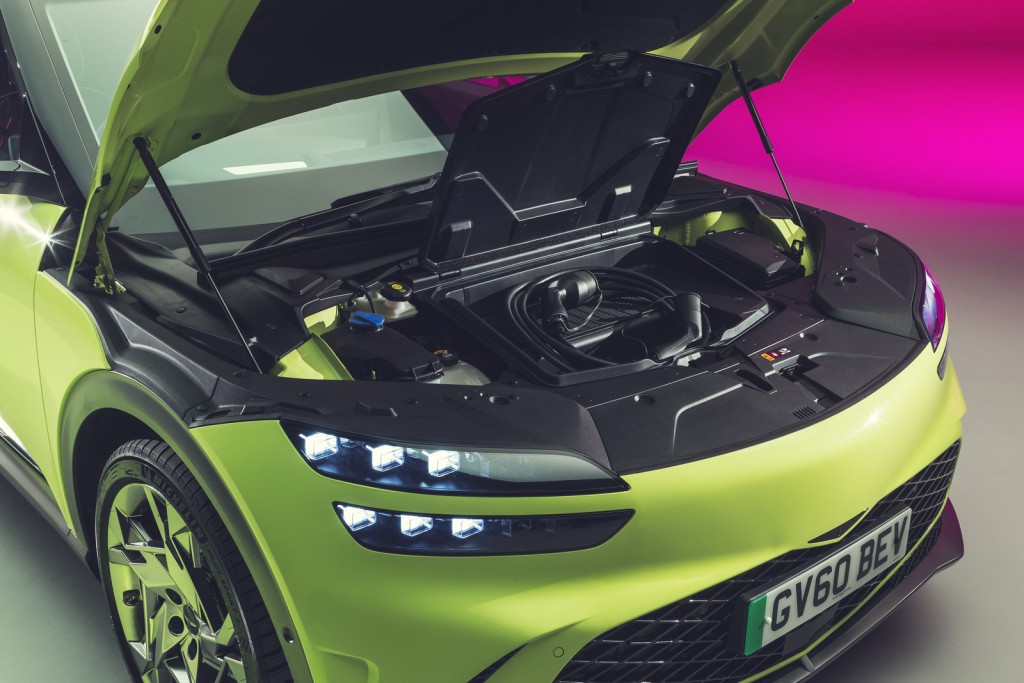 The E-GMP platform can cope with a variety of different powertrain set-ups, using one electric motor (mounted on the rear wheels) or two (one on each axle, giving all-wheel-drive). The GV60 will launch with three variants: Premium, Sport and Sport Plus. 
The Premium model has a 168kW (225bhp) RWD single motor, and offers a claimed 280 miles on a change. The Sport version gets two motors, with a 160kW united on the rear axle and a 74kW version on the front. That gives a total output of 234kW (314bhp), with a range of around 249 miles. Finally, the Sport Plus model is basically the Sport with a bit, well, plus. That one features two 160kW motors, although if you hit the big boost button on the steering wheel that's increased to 180kW for 10 seconds. That model is likely to have a range of 248 miles, although that will doubtless drop quite a bit if you hit that boost button too often. There's also a Drift button, should you like that sort of thing.
Why did Genesis choose a mid-sized coupe-SUV for its first bespoke EV?
Two reasons. The first is that mid-sized coupe-styled electric SUVs are really very popular, and a fast-growing market. And Donckerwolke adds: "Any other size of model would have been in direct competition to the cars we were offering with combustion engines, so the GV60 has the advantage of complementing the range of vehicles we have without coming into direct competition."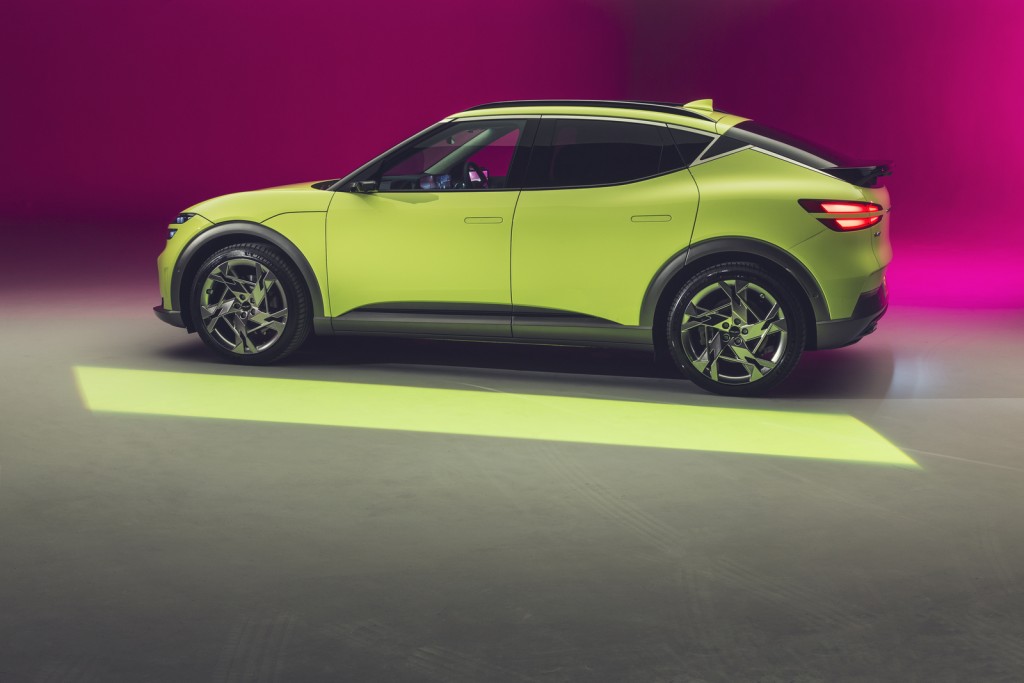 Right, let's get to the good stuff: give me some performance stats
With pleasure. Genesis claims the GV60 Performance will be able to crack 0-62mph in 4.0 seconds, with a top speed of 146mph. So pretty rapid then - and just like Hyundai is developing a hot Ioniq 5 N and Kia is working on an EV6 GT, Donckerwolke hinted to us that there could be an event hotter version to come.
"Yes, of course," he said, when asked if that was possible. "Performance versions do not disappear with combustion engines. It's clear that a certain part of the emotion of driving the vehicle is gone without an engine sound, so you need to compensate this with all the factors. So I believe wanting more performance and wanting attributes that show that performance are definitely going to be more important than ever."
What do I need to know about the exterior design?
Unusually, given Genesis only launched in the UK last year, the GV60 basically introduces a revamped 'design language' – styling, basically – and logo. Donckerwolke says: "The GV60 is in line with what we've done with our previous cars but it's already a departure: it's more dynamic, more muscular, more sexy."
The distinctive front-end design of the GV60 developed from the revamped Genesis 'winged' logo that the model introduces. "We took the logo and morphed it into the face of our cars with the twin lines on the quad lights, and the pressed grille," says Donckerwolke. "It gave us a reason to be what we were, and it wasn't just done because we thought it was cool or we liked it."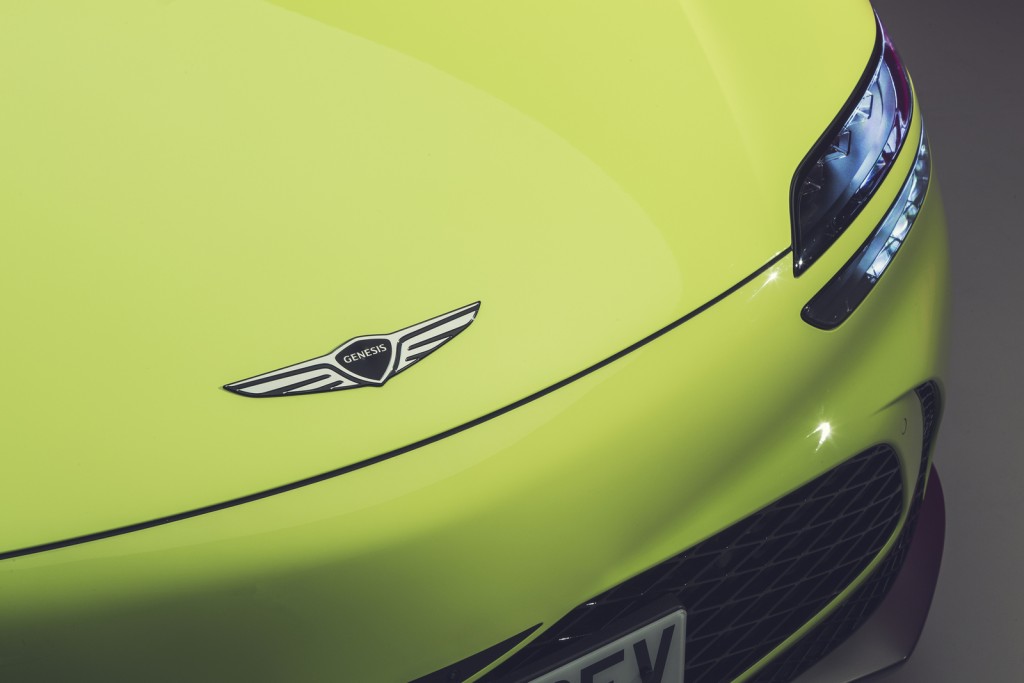 The machine features a clean side profile, with pop-out door handles - which are good for optimising aerodynamics and, in turn, maximising the car's range. Another example of that: the car we got to admire featured optional digital wing mirrors (which you'll also find on cars like the Honda e and Audi e-tron). At the rear of the car, the GV60 features a sloping coupe-esque roofline and distinctive C-pillars with a lightning bolt element, which will be used for all future electric Genesis models. 
The GV60 we saw sat on big 23in wheels.
It's very… yellow
That's not yellow. That's Sao Paolo Lime and we really quite like it. It will certainly be easy to spot in Lidl car park on a rainy Tuesday night after work. Other, slightly less dazzling, colours will also be available.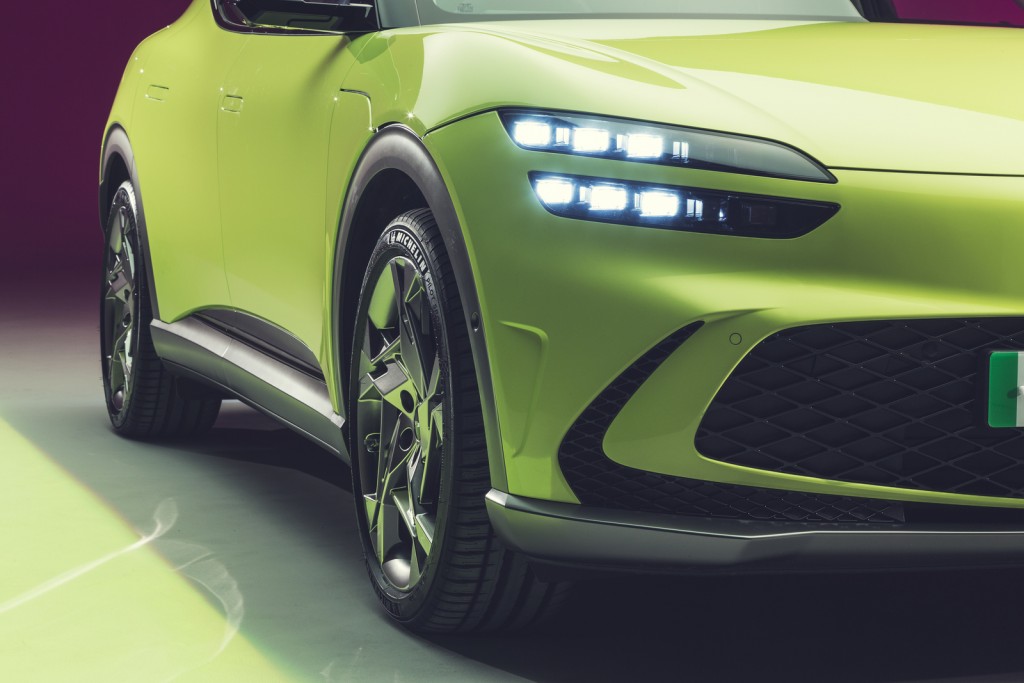 What's it like inside?
As with most electric cars, having smaller motors and the batteries located under the chassis floor means the GV60 features plenty of space. 
The dashboard is dominated by a 'sweeping' twin-screen that basically merges the central infortainment screen and digital instrument cluster. If you so fancy, you can apparently have a full screen map view that runs across both displays.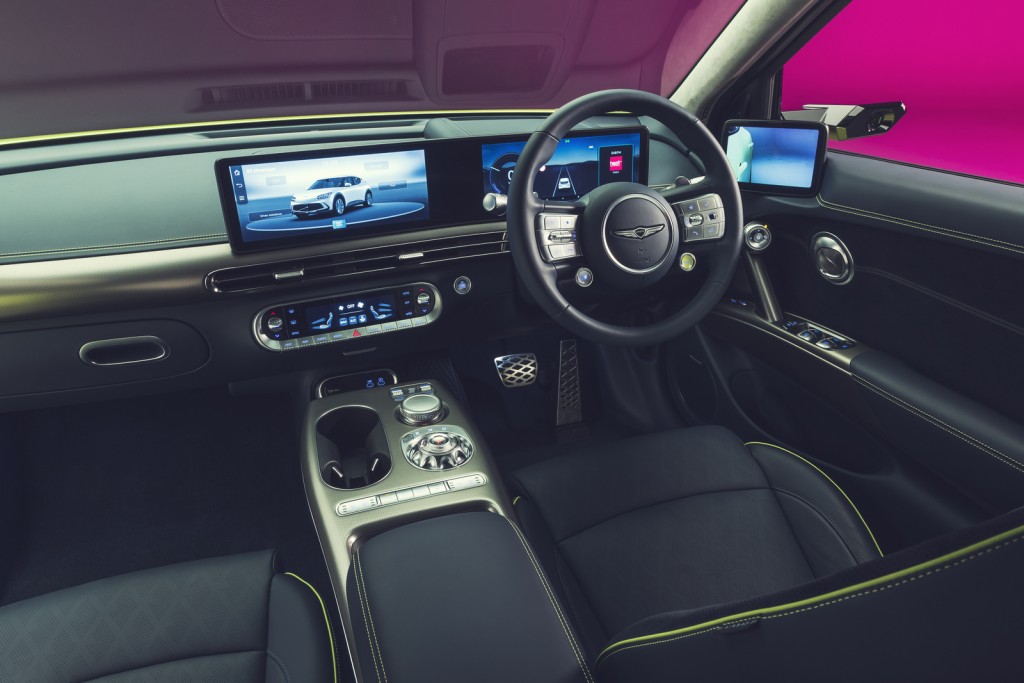 The cabin is designed to maximise the space the architecture allows, with a big, open central console between the front seats that has plenty of storage pockets and compartments. Even the glovebox has been reinvented: on the GV60 it's a flat-bottomed sliding draw, which Genesis reckons offers tidier storage for your gloves. As an aside, does anyone actually put gloves in a glovebox? 
"As w Korean brand we're really customer centric," says Donckerwolke. "In terms of the interior, the design elements were created by looking at the customer journey: we wanted to be to be offering a lot of space."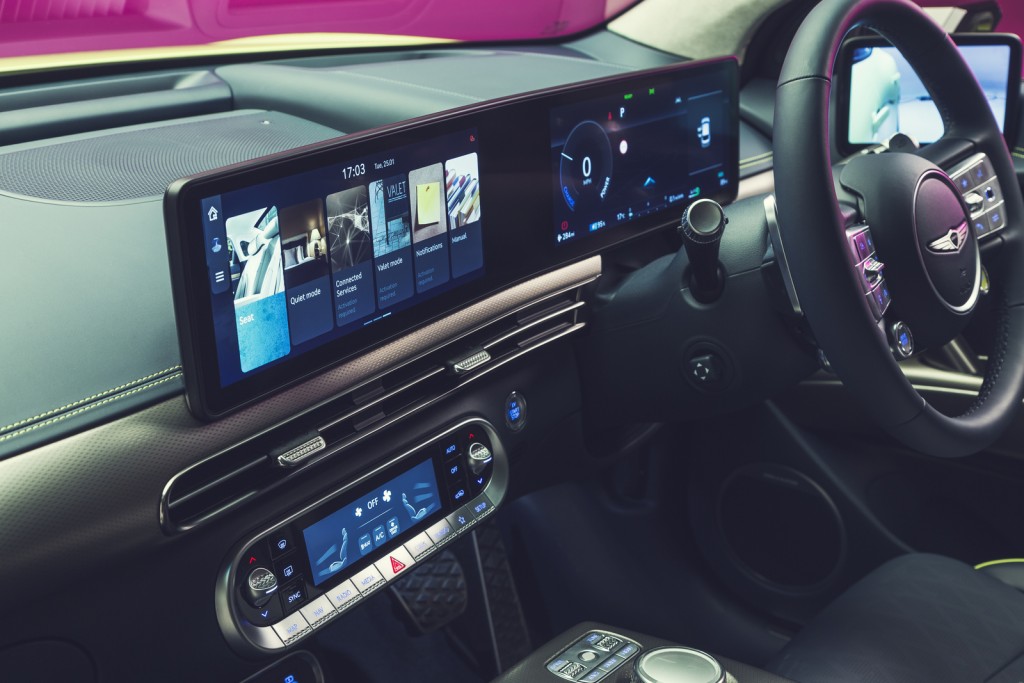 So the beauty of whitespace in terms of keenness and space offering, not having design elements that are playing against each other but all harmonising to create a solid and homogeneous universe. Having a more playful attitude than what we have for the for the ICE vehicles.
As if the trend of most cars firms these days, the GV60 features plenty of sustainable materials, including seats and other interior elements made from plant-based imitation leather, with seat covers and door trims using yarn made from recycled plastic bottles.
The central console houses perhaps the most distinctive interior design feature of the GV60: the 'crystal sphere'. Looking like an overgrown version of a prize from The Crystal Maze, when the car is parked up it sits there and glows merrily. When the driver turns the car on, it rotates over to reveal the drive select controller.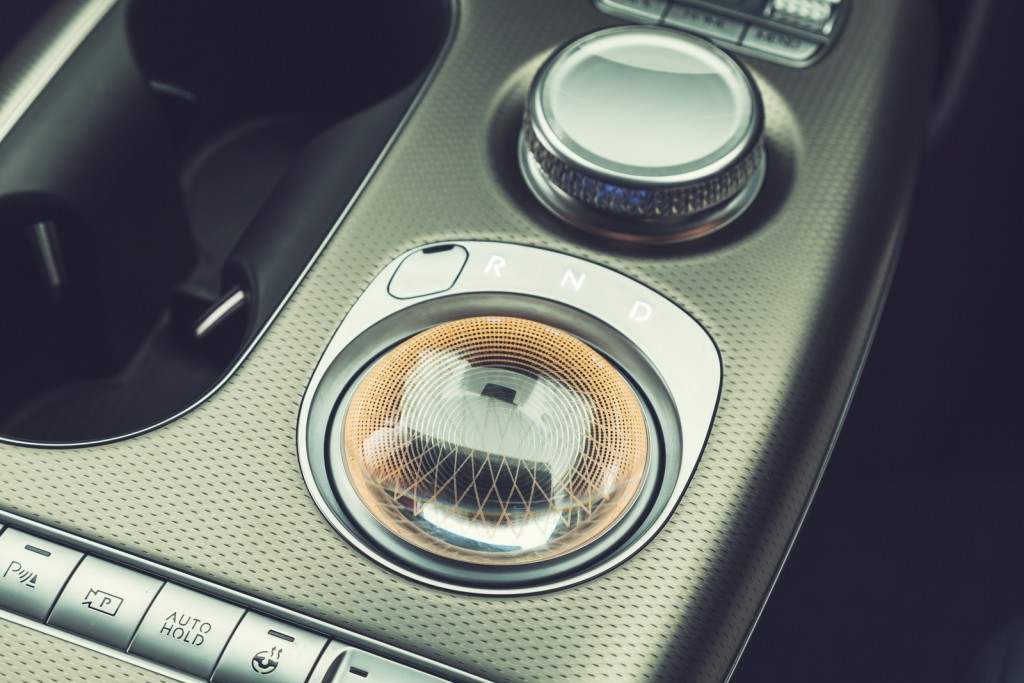 Okay… but why?
Despite what it might sounds like, the crystal sphere isn't a gimmick. Honest. "It came from the point I was dead scared about, seriously," says Donckerwolke. "We have a big design studio in Korea, and we always had some benchmarking cars in the middle of the design studio, where the designers jump in, play around and so on.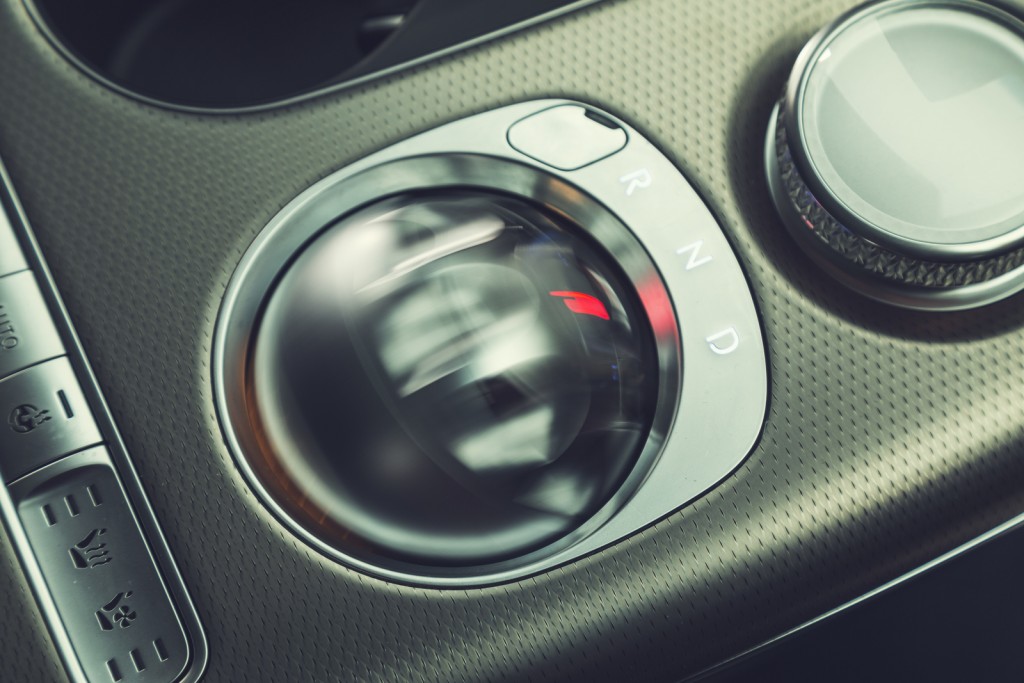 "If you have an ICE car you never leave the engine on, but with an EV you have no possibility to make sure that the motor is on – and if it is and you might press on the wrong pedal. So I decided I needed to create something to reference the electric motor is on and ready, that says careful.
"The crystal sphere is the perfect optical reference: as soon as you see it you know if the motor is on or not."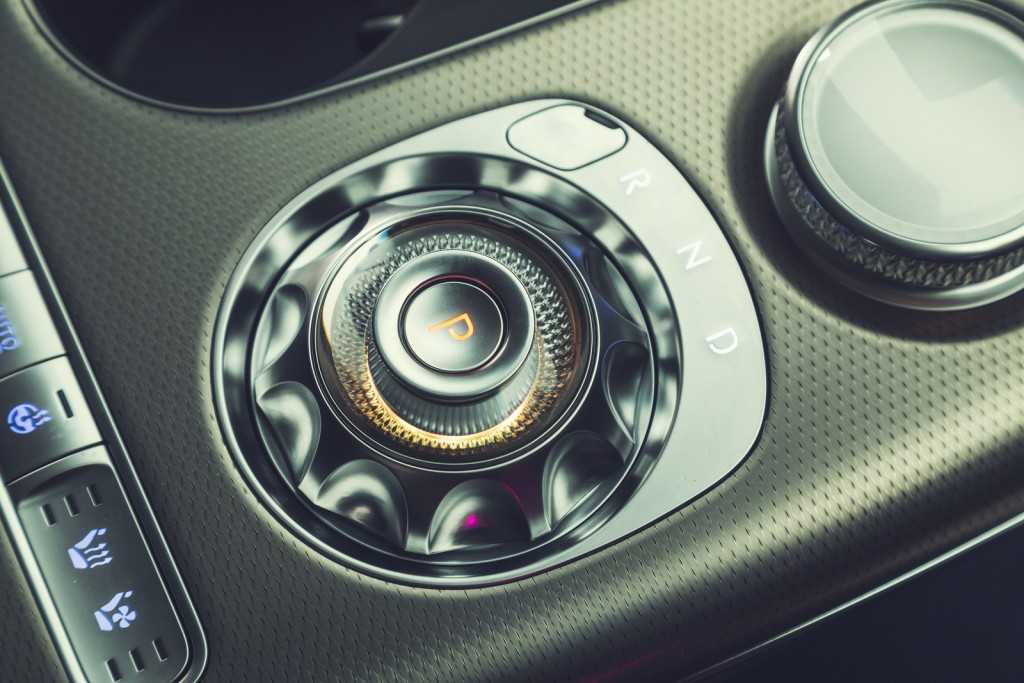 What other notable features does the GV60 have?
There are several. One interesting element of the E-GMP platform is that the GV60 allows for 'vehicle-to-load' energy output: which is a posh way of saying that it has a three-pin socket that you can plug things into. Because the car we saw was a prototype we weren't allowed to try this, but we're already dreaming of the possibilities.
Another nice touch: in a nice move to help improve safety, the GV60 actually projects reversing lights onto the ground behind the car, a handy way of helping warn pedestrians which way it is heading.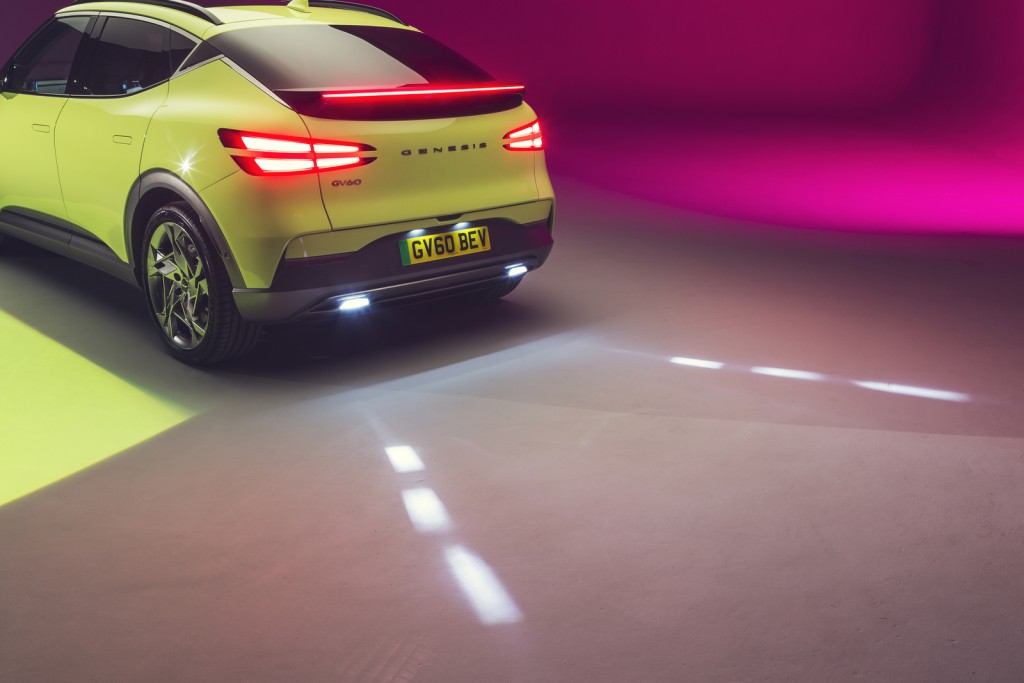 On that note, the GV60 apparently features an electric 'active sound design', which allows drivers to pick from three virtual driving sounds that will be played through the speakers and an active noise control function is used to minimise road noise.
In select markets the GV60 can be opened using a 'face connect' digital camera in the B-pillar and then started using fingerprint authorisation – although we should quickly add that the UK is not one of those markets. 
What will all this cost me?
Genesis hasn't released UK pricing for the GV60 just yet. For guidance, the Ioniq 5 is priced at £37,000-£42,000, with the EV6 costing from £41,000 to £52,000 depending on spec. 
Finally then, will this new Genesis take a Hold of my Heart?
You just couldn't resist, could you?