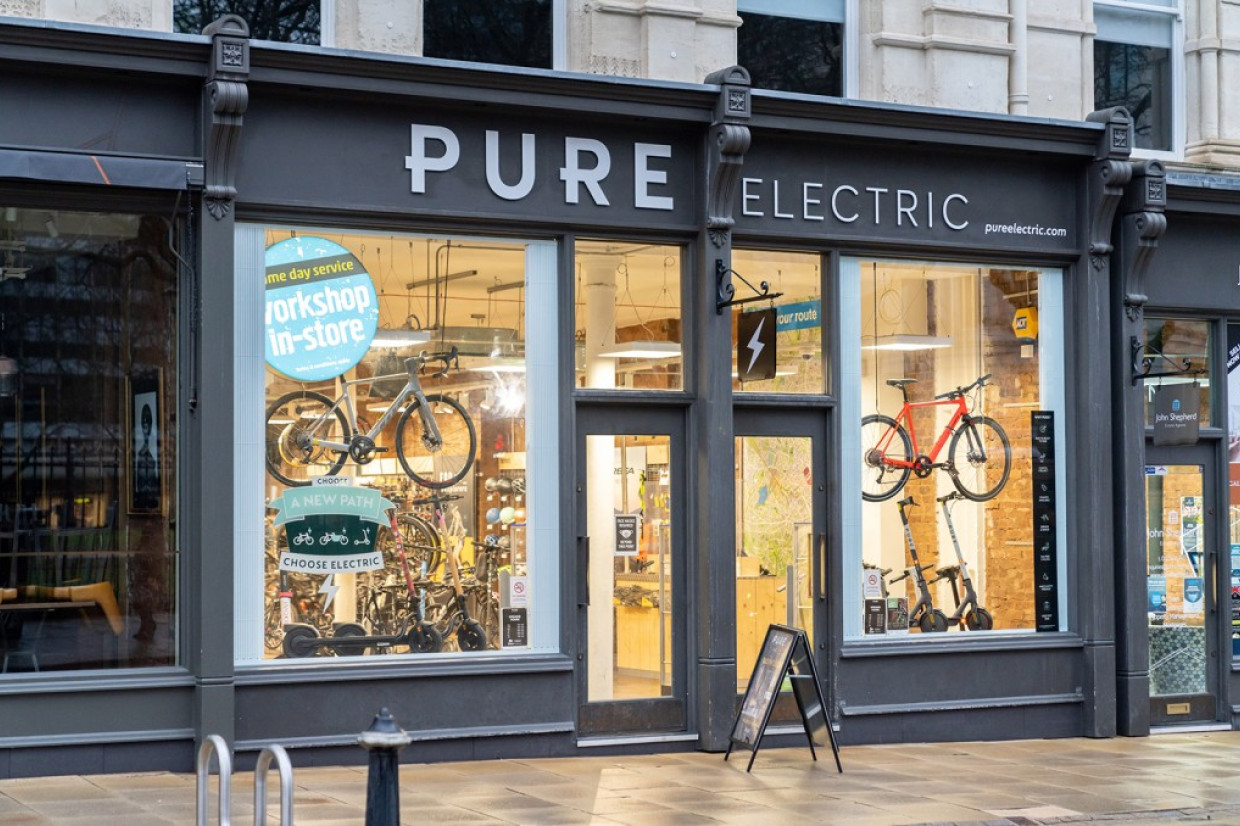 Leading electric scooter manufacturer and retailer Pure Electric will close the majority of its stores and stop selling electric bikes to increase its focus on its own-brand e-scooters.
Pure Electric was founded by businessman Adam Norris, and has quickly become one of the leading players in the e-scooter industry, both through its popular range of machines that it designs and manufacturers, and its retail operation that spans three countries.
The firm has 17 stores across the UK that sell both e-scooters – including its own Pure ones and other manufacturers – and e-bikes. But, as first reported by Cycling Industry News, it will now close the bulk of those stores to focus on selling its range of scooters on its website and through partner stores. 
Pure Air Pro LR electric scooter review 
In a statement provided to Move Electric, the firm said: "Pure Electric was founded on the ambition to address the environmental and social issues of traditional transport systems in urban environments.
"Our focus has always been to create the best in market e-scooters, and in 2019 the business accepted the opportunity to take on 11 Cycle Republic stores across the UK – growing the retail estate further and expanding into e-bikes."
Are e-scooters legal in the UK? Move Electric's definitive guide
With e-scooters legal in other markets, Pure Electric has also grown an international presence in recent years, including a distribution deal in France with FNAC and Darty.
The statement continued: "To maintain our trajectory towards delivering our mission, it's vital that our business remains focussed on creating better and differentiated products that connect with consumers in the categories we believe will generate the most significant impact, and that we're able to effectively scale our offering to more consumers across the globe.
"To enable this we've decided to make some changes. Over the coming months, we'll be putting our full focus on our Pure branded e-scooter category, continuing to build our eCommerce business and developing our partnerships with strategic retailers.
"We have also decided to move away from offering e-bikes to remove complexity from our business and have made the very tough decision to go into consultation based on the proposal to close the majority of our retail stores."
The firm has yet to disclose which stores will remain open. Some branches are understood to have already closed, including the Plymouth store.
A spokesperson added that Pure Electric is in talks with other retailers about them taking on some of the staff who currently work in the firm's stores. It is understood around 280 people are employed in the firm's stores.
READ MORE
Subscribe to the Move Electric newsletter
e-CARS
UK charging networks: complete guide to every provider
New Cupra UrbanRebel is a bold EV supermini with 273-mile range
e-BIKES
10 fun things to try on an electric bike
Living with a Gocycle G4: how easy is it to adjust to?
e-MOTORBIKES
Seat Mó eScooter 125 UK review
How to do a CBT on an electric motorbike
Energica unveils new Experia electric tourer motorbike
e-SCOOTERS
Are e-scooters legal in the UK?
Private e-scooter rules 'cannot simply copy' rental regulations
Superpedestrian's European boss on why e-scooters are for everyone
e-WORLD
New Candela P-12 Shuttle to arrive as first electric 'flying' ferry
Pipistrel Velis Electro: meet the first certified electric plane