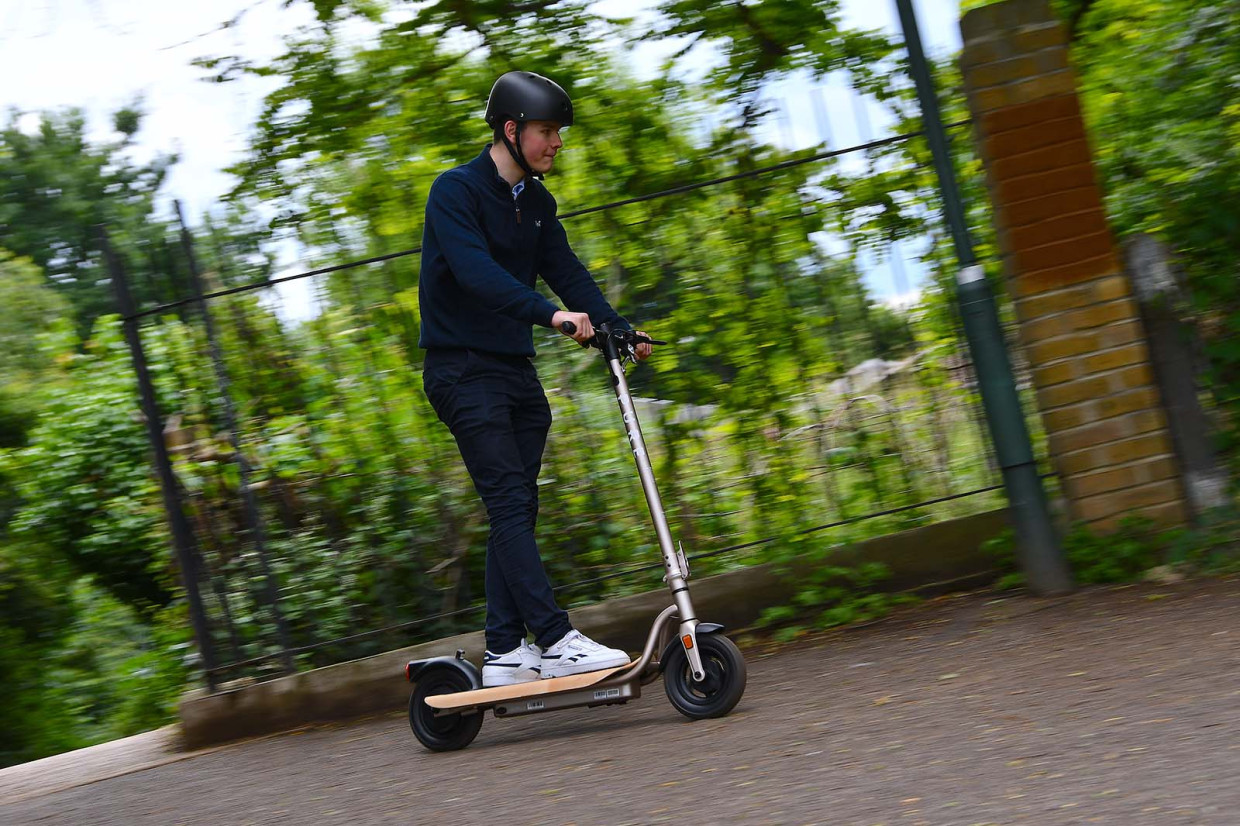 Move Electric rating: four-and-a-half stars out of five
Sell it to me in a sentence…
This is the Pure Air Pro LR electric scooter, the range-topping model from leading British e-scooter firm Pure Electric.
It looks pretty neat, tell me more…
Pure Electric sells a range of e-bikes and e-scooters in its shops – but it also makes its own range of e-scooters, which start with the entry-level Air Go and are now in their second generation.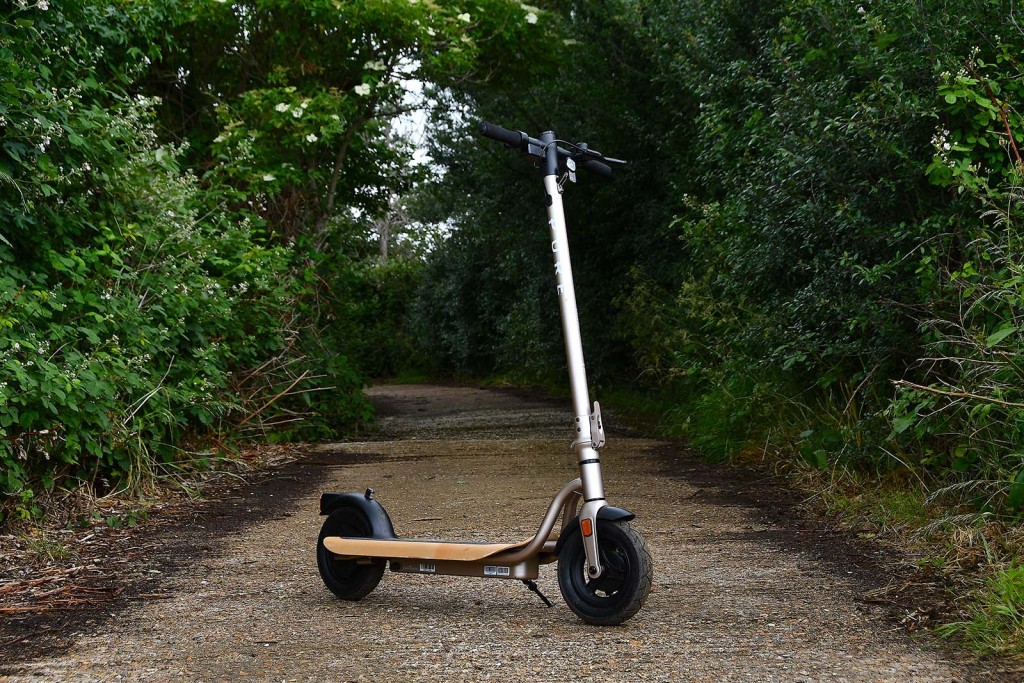 The Air Pro LR is the firm's flagship model, taking the technology of its Air Pro models and adding a larger battery that offers an impressive 37.2-mile range.
Sitting under the Pure's footboard is a 518Wh battery, which can be charged in around nine-and-a-half hours via a three-pin domestic socket.  
The machine is powered by a 500W motor, which is the same output as other Pro Air models – albeit with the ability to offer 700W peak output for brief periods.
The top speed is limited to 15.5mph.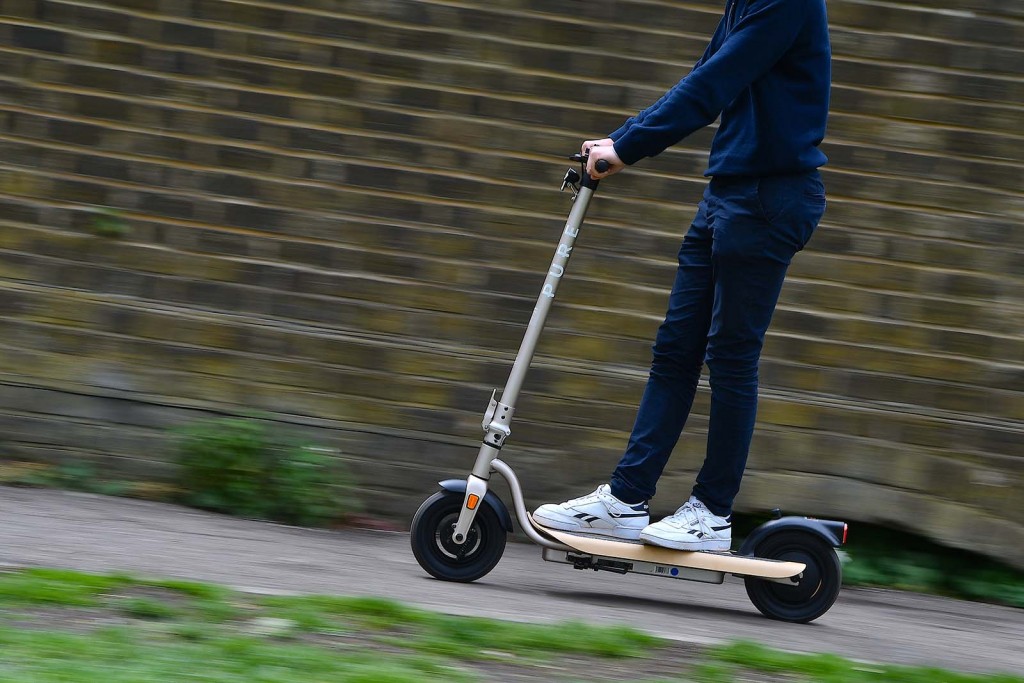 A quick reminder about legality…
While the government has announced plans to introduce regulations for private e-scooters in a forthcoming Transport Bill, at the time of writing it remains illegal to use a private e-scooter on public roads. You can buy a private e-scooter legally, but you are only allowed to use it on private land with the landowner's permission.
Are e-scooter's legal in the UK? Move Electric's essential guide
What's the Apr Pro LR like to ride?
Step on to the Air Pro LR and you immediately feel at home thanks to the footboard which has been dimensioned to accommodate a number of riding positions and body types. 
Because of its width and length you can place your feet together or with one foot behind the other, allowing for a comfortable and stable ride. The wooden finish of the footboard adds a unique sense of style too.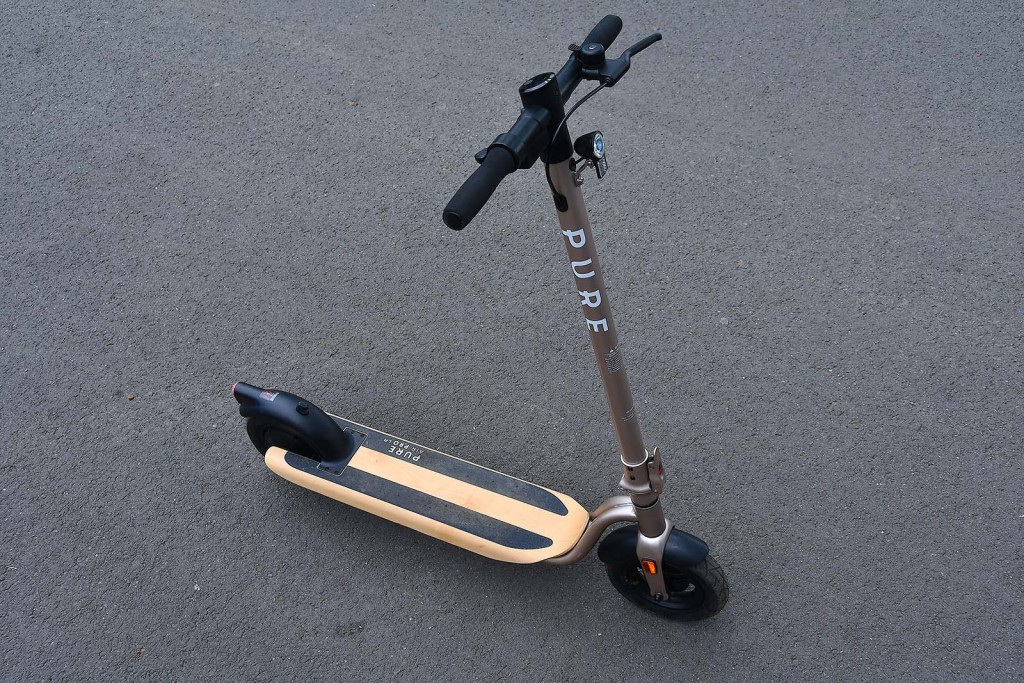 With three riding modes to choose from - Pedestrian, Medium and Fast - each of which offers a different experience. Pedestrian mode limits the Air Pro LR's speed to just 4mph and in our experience was far too slow to be used regularly; it's more of an assistance mode when moving the device.
Medium mode - which limits the top speed to 12mph - offers a confidence-inspiring ride, with this setting is likely to be the one you'd fall back on for day-to-day riding. The thumb accelerator does lack some feel at lower speeds, and when cornering in tight spaces you can feel the e-scooters weight. But when cruising along the Air Pro LR is very easy to ride and both the front and rear foot brake offer a greater sense of control. 
On the topic of cruising, the Air Pro LR is not fitted with a cruise control setting –  a surprising omission given it's on many cheaper devices – so you have to keep your thumb in place to keep the power flowing.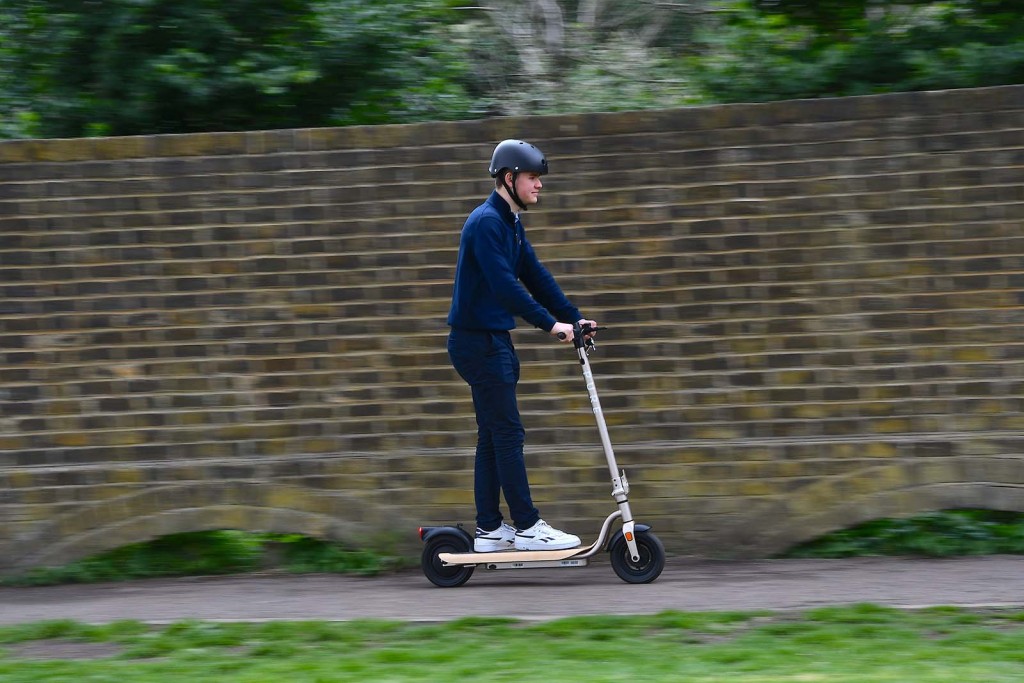 Switch to Fast mode and the Pro LR gets an added layer of entertainment with the top speed now up to the maximum 15.5mph. The acceleration is impressive and you do feel a clear difference between Medium and Fast. 
So it's great to ride, but are there any other useful features?
Don't worry about riding the Air Pro LR in the rain as the brand's range-topping model has what Pure claims is "class-leading" IP65 water resistance.
The LED display which sits in the top of the handlebars is clear and each mode is highlighted by a small 'S' which glows red when you switch to the Fast setting. 
In addition, the LR gets a super handy USB-A port on the right-hand side of the handlebars meaning you can charge your phone while you ride. Speaking of phones, riders can download the Pure app to get more information on their e-scooter or use it as an extended display.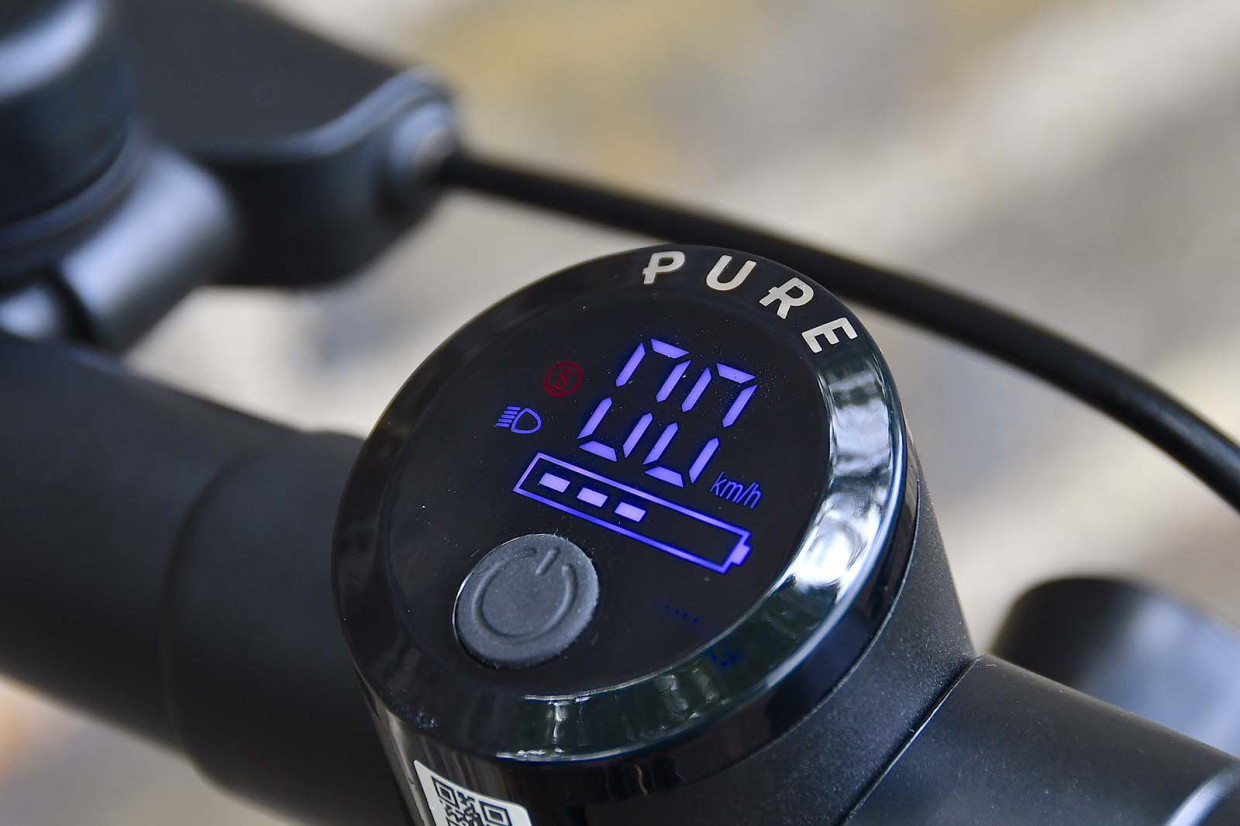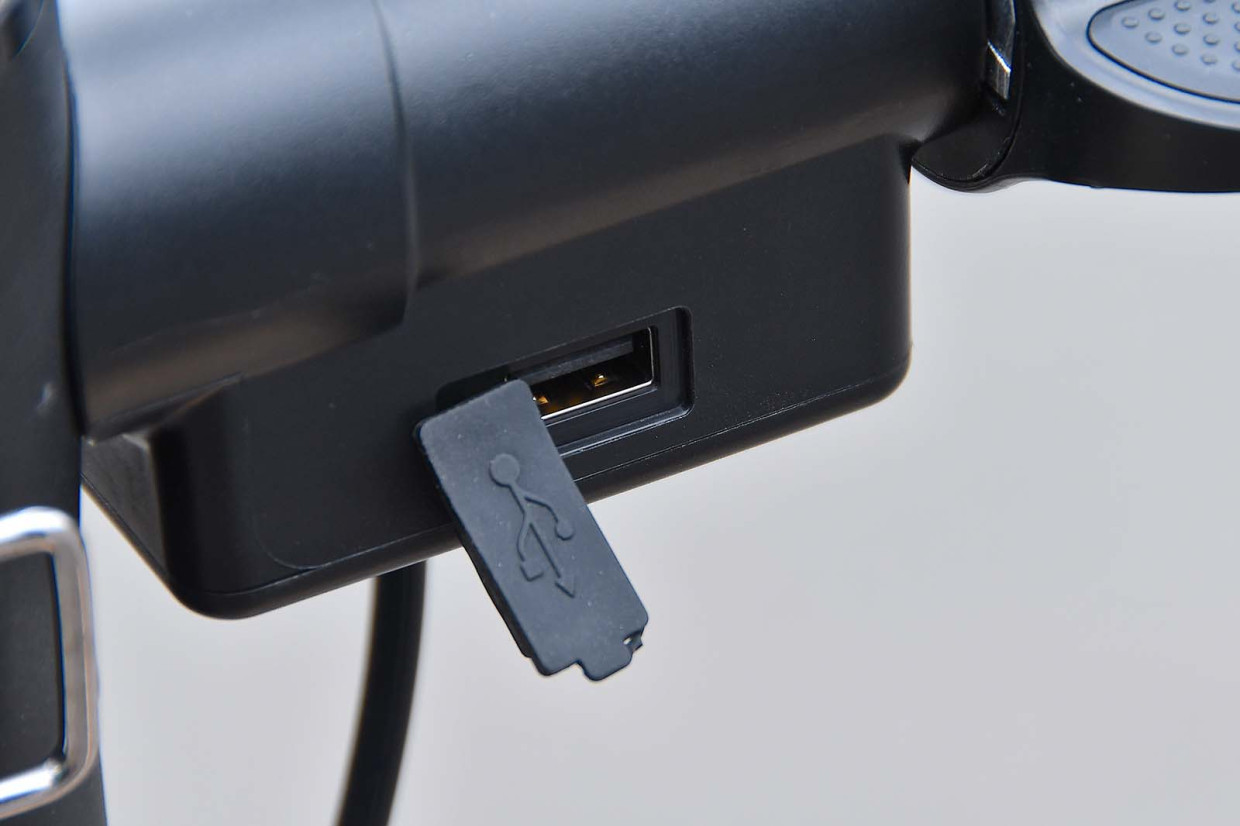 It's quite expensive for an e-scooter…
There is no doubt that the Pure Air Pro LR is one of the best e-scooters available, but it does come at a premium price of £749. That's £200 more than the top Air Pro scooter with the smaller battery, which still offers a decent 31-miles range. 
Naturally, an e-scooter offering almost 40 miles of range is going to arrive with a high price tag and when you factor in the fine build quality of the Air Pro LR then its position makes sense. It's certainly worth considering your needs and usage when considering the Air Pro LR.
If you're looking for an extended range but the Pro LR's price puts you off, Air Pro models with 31 miles of range start from £499. You could also look at the Eskuta KS-450, which has a range of up to 30 miles and retails at £469.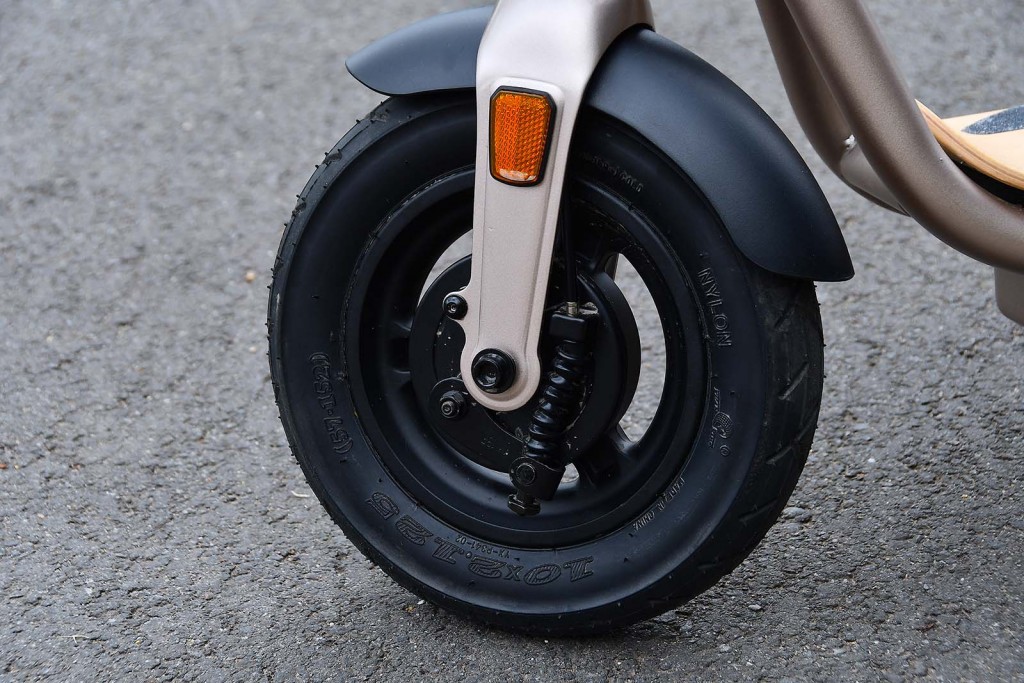 Any other downsides I should know about?
E-scooters are currently in an 'e-mobility no man's land' after the UK government set out plans to legalise private electric scooters for use on public roads. However, privately owned devices are still illegal, with only rental e-scooters from firm's such as Dott, Tier and Superpedestrian allowed to be used on public roads in government-approved trials.
If you are caught driving a private e-scooter on public roads, you could be fined, given points on your driving licence and have your machine confiscated by police.
It is likely that you'll have to wait another year before private e-scooters are eligible for use on public roads, and the government has yet to finalise the technical regulations. So if that's a concern, hold off adding a machine to your basket just yet.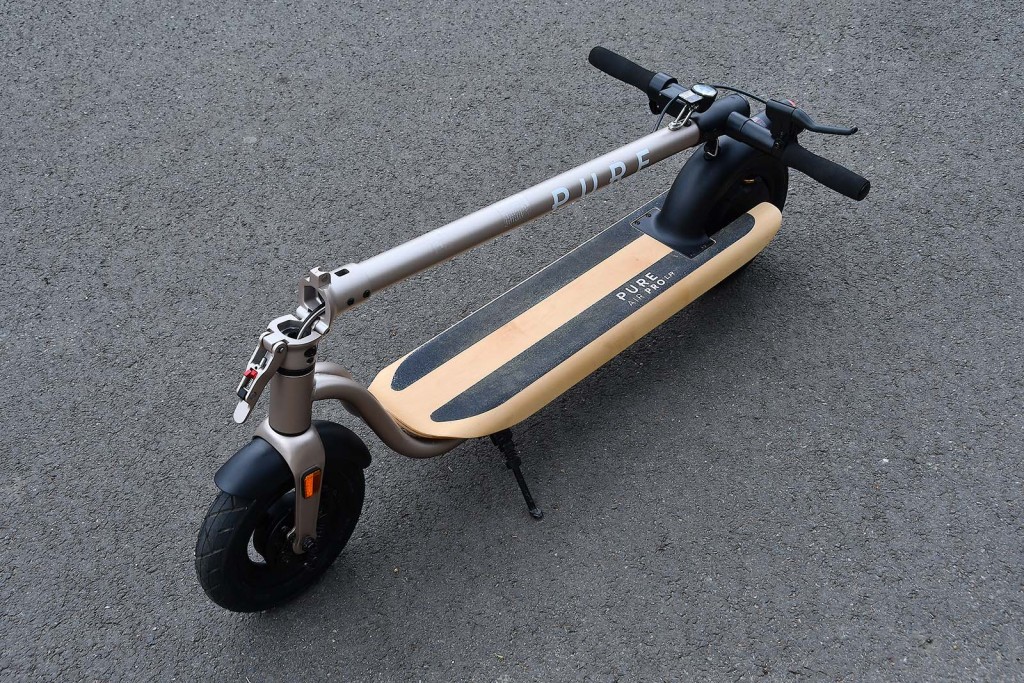 Aside from that, the Air Pro LR's bigger battery means that it's heavy at 17.5kg, so it isn't the easiest of objects to lift from a boot or carry up the stairs of an office. Thankfully the Pure is foldable which helps and the mechanism to do so is very robust, giving you complete confidence when riding. 
Should I consider any other e-scooters?
If you're looking for an e-scooter for a similar price to the Air Pro LR then the Segway Ninebot Max G30E II would be a good alternative for a slightly lower £729. 
It has a 350W electric motor which delivers a range of up to 40 miles and can be charged in around six hours. But the Segway does weigh 19.1kg, making it almost 2kg heavier than the Air Pro LR.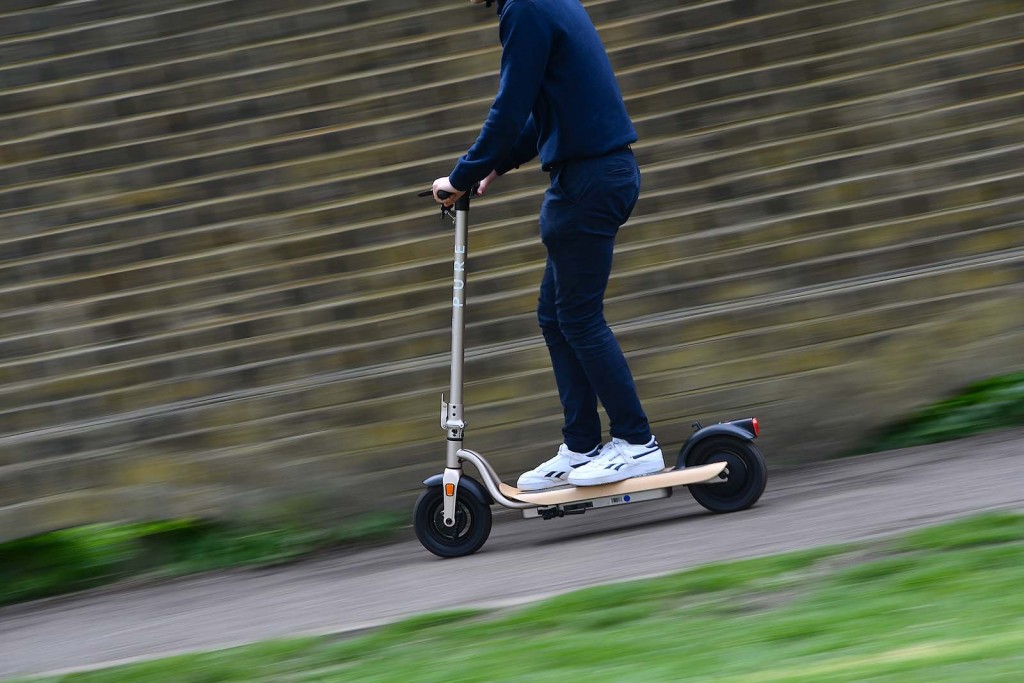 Pure's standard Air Pro - which costs £499 - is another solid alternative which is equipped with a 500W motor (although, unlike the Air Pro LR, it doesn't have the 700W boost function). It offers a commendable 31 miles of range and features the same riding modes as its range-topping relative. Charging takes around eight-and-a-half hours with the standard device also weighing less at 16.5kg. 
Where can I buy it?
In Pure Electric shops, or online through the Pure Electric website.
Verdict
Thanks to its various ride modes, sizeable footboard and comfortable ride, the Pure Air Pro LR is an accomplished e-scooter that offers a near-unbeatable range. It has a premium look and feel that is among the best you'll find on the market today. It really does feel like a premium option.
That said, it's a little heavy when folded, and we might question if the extra range is worth the additional cost. Unless you really need that mileage, we suspect the standard Pure Air Pro would be a better option.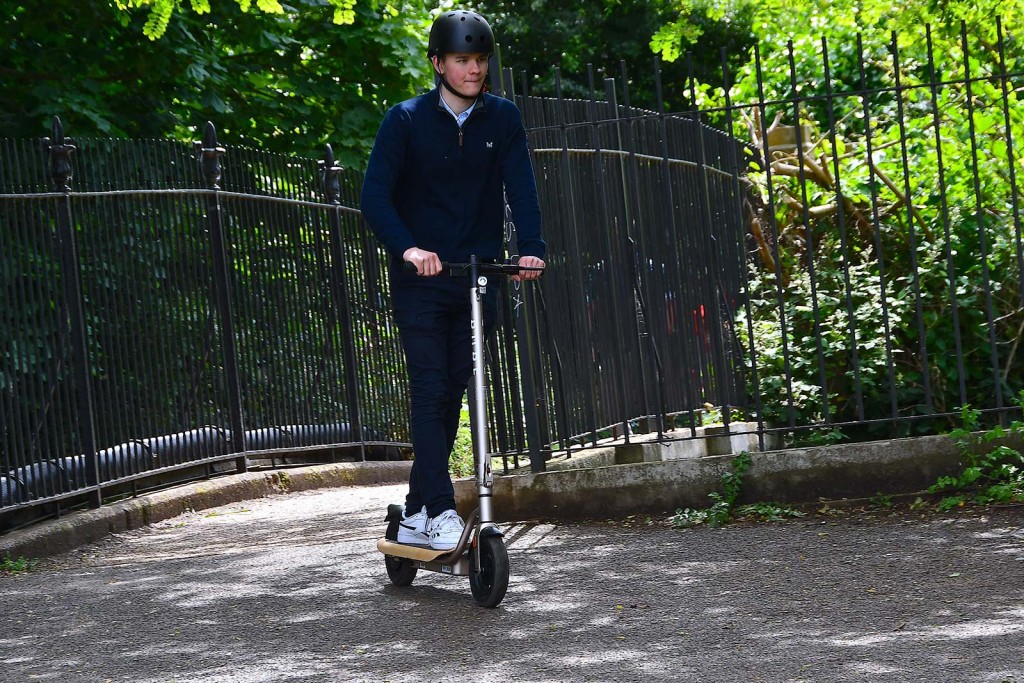 Pure Air Pro LR specifications
Price: £749    
Motor power: 500W (700W peak output)
Battery: 518Wh
Range: 37.2 miles
Top speed: 15.5mph
Charge time: 9.5 hours
Weight: 17.5kg
Max rider weight: 120kg
READ MORE
Subscribe to the Move Electric newsletter
e-CARS
UK charging networks: complete guide to every provider
New Cupra UrbanRebel is a bold EV supermini with 273-mile range
e-BIKES
10 fun things to try on an electric bike
Living with a Gocycle G4: how easy is it to adjust to?
e-MOTORBIKES
Seat Mó eScooter 125 UK review
How to do a CBT on an electric motorbike
Energica unveils new Experia electric tourer motorbike
e-SCOOTERS
Are e-scooters legal in the UK?
Private e-scooter rules 'cannot simply copy' rental regulations
Superpedestrian's European boss on why e-scooters are for everyone
e-WORLD
New Candela P-12 Shuttle to arrive as first electric 'flying' ferry
Pipistrel Velis Electro: meet the first certified electric plane