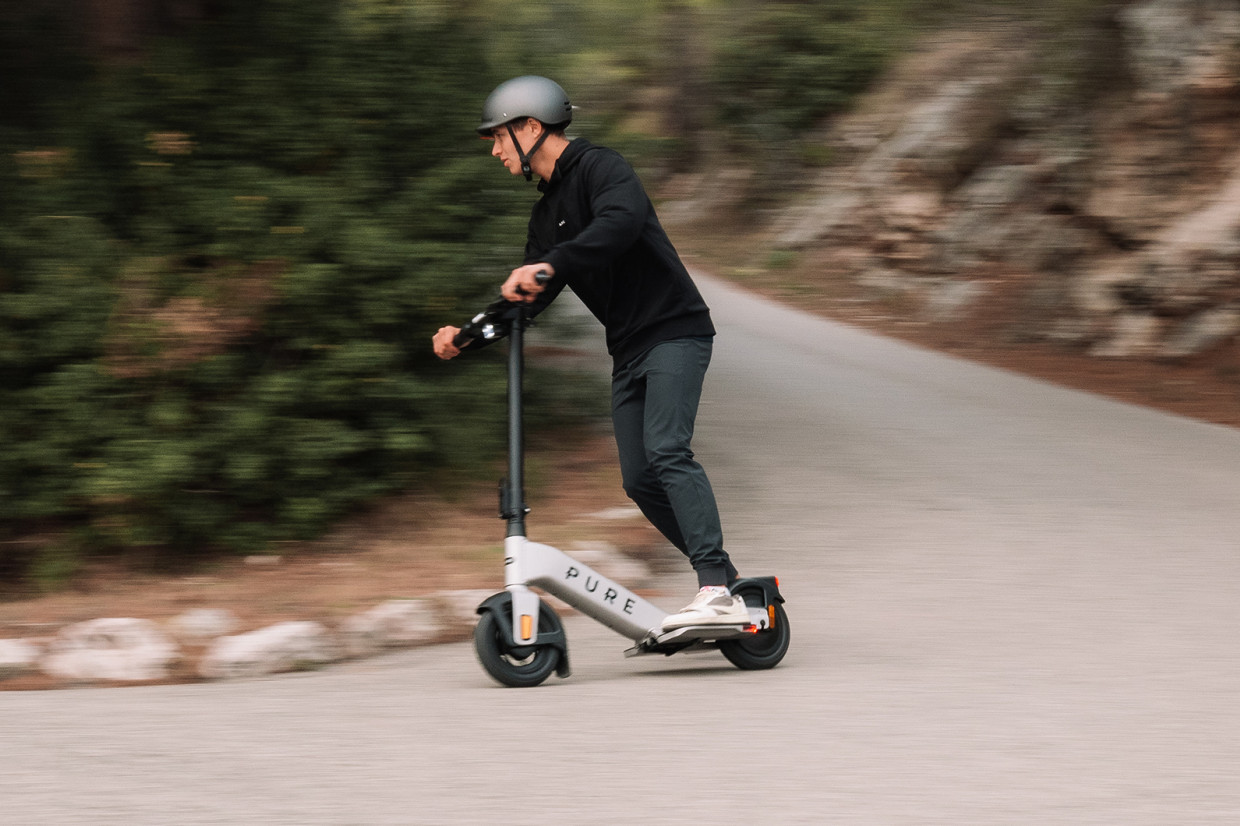 As bold statements go, claiming to have reinvented the e-scooter is right up there.
But just to double down on that declaration of intent, the technical lead of the Pure Electric Pure Advance e-scooter team, Sam Bernard, doesn't mince his words: "The e-scooters that have been on the market before have essentially been a version of a kids' toy with a battery and electric motor strapped on to it."
News: Pure Electric launches two new machines that 'reinvent' the e-scooter
Ouch. But then Bernard was a former technical chief at Dyson, and leads a team of Pure Electric engineers with experience everywhere from Brompton to Jaguar Land Rover, Intel and more. If that brains trust can't reinvent the e-scooter, then who can?
What's the Pure Electric Pure Advance e-scooter like?
Priced from £799, the Pure Advance e-scooter has several party tricks to justify the hype, none more so than the foot boards that sit either side of the frame and battery.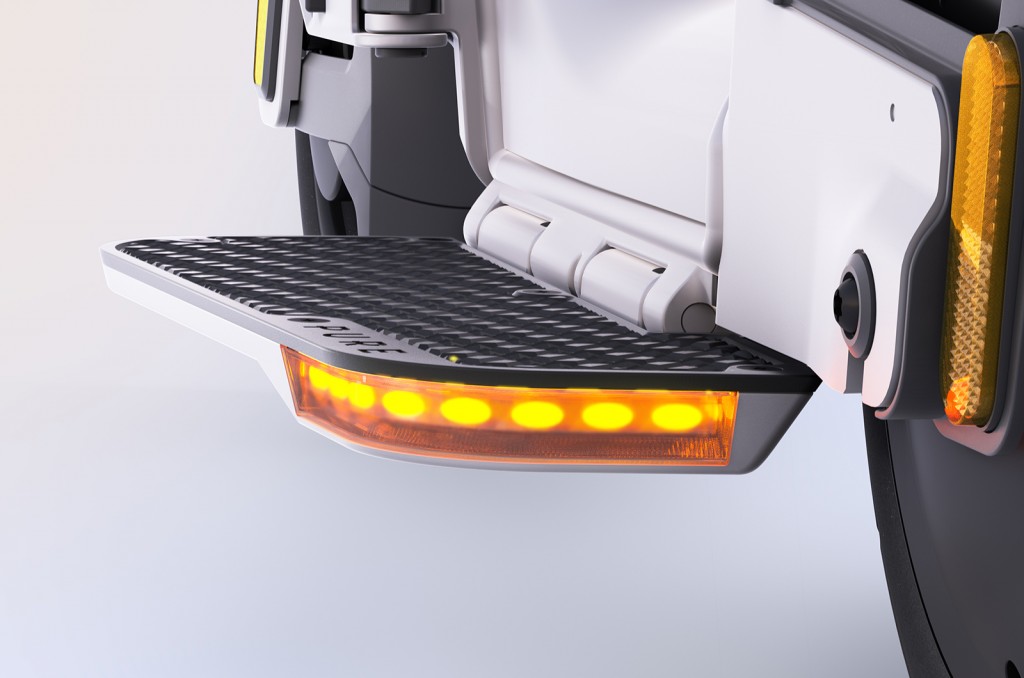 They serve to lower the rider to the ground and broaden their stance - and therefore dramatically improve stability. Likewise, the handlebars - collapsible down for easy space-saving storage - unfurl to promote a wide shouldered riding style - one that is so stable that its makers say it can be ridden one-handed if necessary.
Beyond that, there's numerous intricacies that set the Pure Advance apart, from its unique, trademarked steering stabilisation system, which automatically recentres the handlebars over bumps, to indicator lights that use pulsing LEDs that run from the back of the foot boards to the side to give a clear marker of where the rider is going.
These details really make the Pure Advance stand out as one of the most thoughtfully engineered e-scooters on the market, both from a customer perspective and a legislative one, with it meeting all of the various standards of European countries where it can be legally used. And while private e-scooters currently can't be used on public roads in the UK, the planned government regulations to legalise them are set to be based on those in place in European countries.
Are e-scooters legal in the UK? Move Electric's definitive guide
Stopping power is provided by a rear regenerative brake and a robust front drum brake, while the 10-inch tubeless, air-filled tyres are larger and wider than average, as well as more absorbent over bumps. Its motor is rated at 500W, with a peak power of 710W and charges in around five hours. Range is between 25 and 31 miles depending which model you buy.
And then there is the Flex model, a super-foldable variant of the core model that employs every trick associated with a Brompton bicycle into an e-scooter. It's a remarkable piece of engineering, and staggering for just how little space it can contort into, as well as how easily it can be rolled along while still part-furled. It weighs 16kg so it isn't feather-lite, but it is moveable over short distances.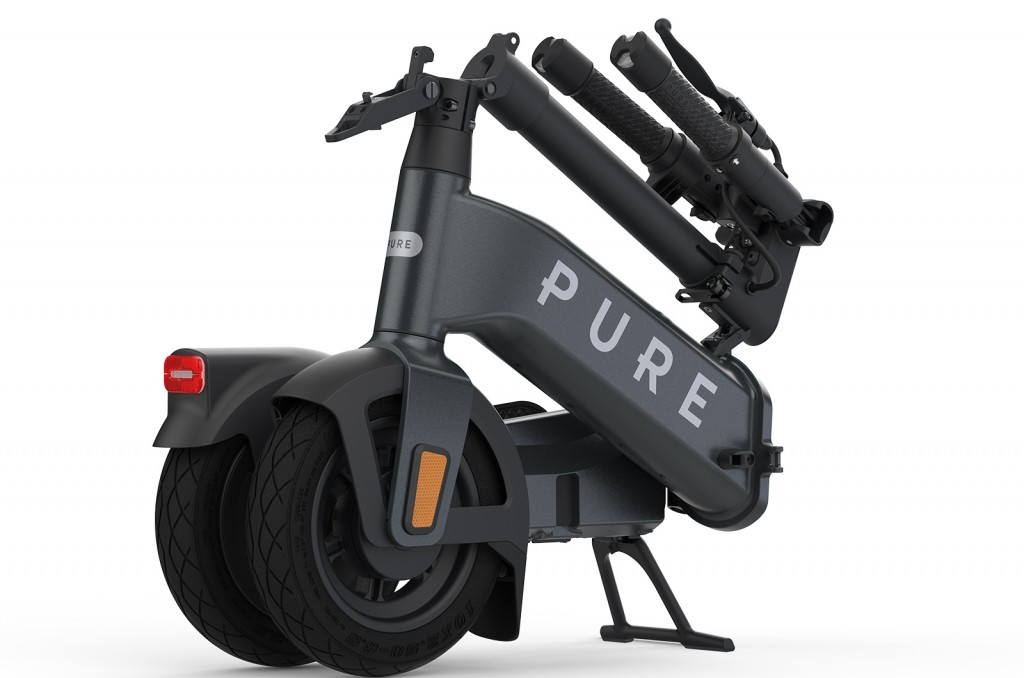 With data suggesting 50% of people don't have space for a bike at either their home or work, it's the sort of innovation that could really get people thinking about switching on to e-mobility.
What's the Pure Electric Pure Advance e-scooter like to ride?
Confession time: our test ride consisted of just a few laps of a slippery indoor course over a few minutes. This was not a ride from which to draw definitive conclusions.
However, what's clear is that the Pure Advance is a lot more than your average high street e-scooter - a whole lot more, in much the way that a high-end bike is so much more than a chain one.
Using customer feedback from Pure Electric's 200,000 customers to date, it's evident that it's been brilliantly engineered over a two-year development cycle in a bid to answer every shortcoming of what's gone before.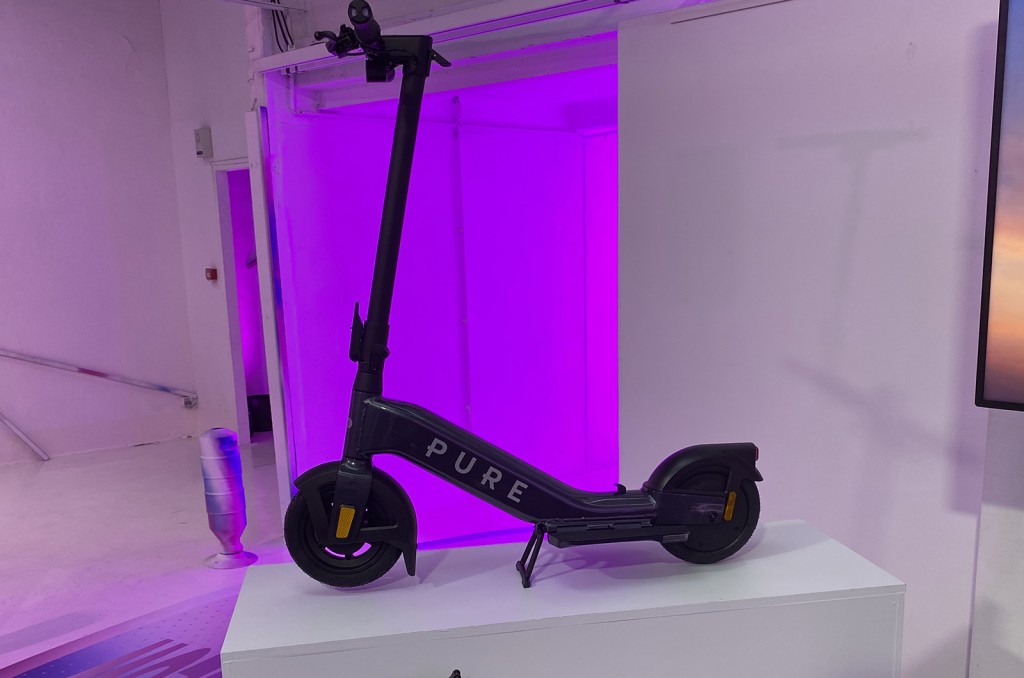 First up, those two footboards are surprisingly intuitive to stand on, and the benefits to balance are immediately apparent. The big tyres also give confidence,  the motor is powerful enough to do everything from pulling along nicely to providing a frisson of exhilaration without ever threatening a wheelie and the brakes are easily modulated to give excellent confidence when slowing or stopping, even in an emergency. 
The throttle lever is the only point worthy of a quibble, its early travel not sensitive enough to really get going and its later regions so sensitive it's can be hard to modulate smoothly, but the suspicion has to be it's engineered that way to provide a safety envelope early on.
The suspicion is that after a week of riding it these are characteristics that you wouldn't give a second thought to.
 
Should I buy a Pure Electric Pure Advance e-scooter?
First, a quick reminder that using a private e-scooter on public roads in the UK is currently illegal – while you can buy one, currently you can only use them on private land with permission of the land owner.
Pure Electric boss: riders will follow rules once e-scooters legalised
We'd want a full test on a surface more representative of real roads to offer a final verdict, but on the evidence of this run alone we'd say the Pure Advance should be on any shortlist if it falls into your budget. 
But for the fact that the team behind it admit they are already working on future improvements, it would be easy to label it as among the most complete e-scooters we've encountered.
Some will say it should be at this price - but from what we've experienced so far it matches the hype and deserves to be sold at a premium as a result.
Specifications
Pure Advance
Colours: Matt black, matt grey
Price: £799
Range: 25 miles (40km)
Weight: 16kg
Av Motor: 500 Watts
Peak Motor: 710 Watts
Pure Advance Plus
Colours: Platinum silver, mercury grey
Price: £899
Range: 31 miles (50km)
Weight: 16kg
Av Motor: 500 Watts
Peak Motor: 710 Watts
Pure Advance Flex
Colours: Platinum silver, mercury grey
Price: £1099
Range: 25 miles (40km)
Weight: 16kg
Av Motor: 500 Watts
Peak Motor: 710 Watts
READ MORE
Subscribe to the Move Electric newsletter
e-CARS
Video: Can the National Grid cope with a surge in electric vehicles?
e-BIKES
What to look for when buying an e-bike: Move Electric's top tipsx
The rise of Volt Bikes: 'when we launched, people thought we were mad'
e-MOTORBIKES
Maeving RM1 electric motorbike review
Q&A: Zapp founder on why electric mopeds are the future
Government plans 2035 ban on new non-zero emission motorbike sales
e-SCOOTERS
Tier to upgrade e-scooter fleet with a smart 'Parrot'
Q&A: Neuron Mobility's UK boss on e-scooters, safety and helmet selfies
e-WORLD
Polestar to supply battery tech to electric boat firm Candela
Engineering giant ABB working on electric Dover-Calais ferry