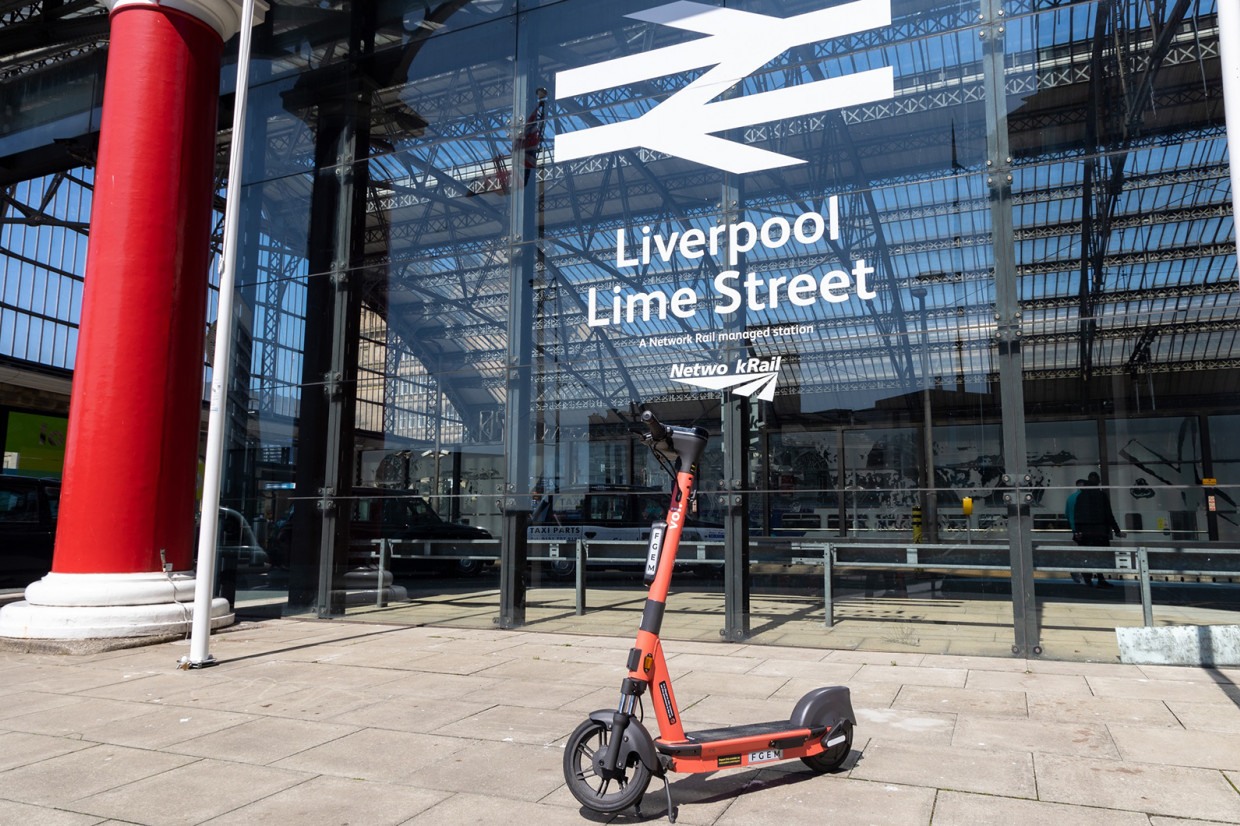 Commuters who use Northern train services from Liverpool Lime Street will be given a 25 per cent discount on their tickers if they travel to the station using a Voi rental e-bike or e-scooter.
The partnership between the train operator and the Swedish micro mobility firm is intended to encourage the use of more environmentally friendly forms of transport around Liverpool's city centre.
The latest e-scooter news in your inbox: sign up to our FREE newsletter
Anyone who travels to the station using one of Voi's shared machines will be eligible for a 25 per cent discount on an Advance Purchase ticket to anywhere on the Northern rail network.
Passengers who arrive at Liverpool Lime Street on a Northern service will be eligible for 25 per cent off the cost of a Void Day Pass. Northern customers who are new to Voi will also receive15 minutes of free hire when they sign up using the firm's app.
Which train firms have banned e-scooters from their services?
The partnership is designed to benefit both commuters and tourists visiting the city – including those arriving for the Eurovision Song Content on May 9-13.
Notably, Northern is one of the train companies that has banned customers from carrying privately owned e-scoters on its services due to safety concerns. Electric bikes and mobility scooters are still allowed.
Mark Powles, Northern's customer director, said: "Whilst we cannot allow e-scooters on-board our trains for health and safety reasons, using them to explore the city centre or to travel to the station to connect onto one of our trains is a great way to take traffic off the roads, which we fully support."
Voi's UK partnerships chief, Emma Huges, added: "Using one of our e-scooters or e-bikes is a perfect way to travel to and from rail stations in Liverpool. It certainly beats sitting in traffic jams and, with zero emissions, it helps cut pollution and improve air quality in Liverpool."
Northern is the second largest train operator in the UK, covering 500 stations across the North of England. Northern services from Liverpool Lime Street run to destinations including Blackpool, Manchester, St Helens Warrington and Wigan.
Voi's e-scooter scheme in Liverpool launched in October 2020, with the firm's rental e-bikes following last year. The Swedish firm also offers rental e-scooter schemes in Bristol, Bath, Northamptonshire, Southampton, Portsmouth, Oxford and Cambridge.
READ MORE
Subscribe to the Move Electric newsletter
e-CARS
What is a heat pump and how do they benefit electric cars?
Bold new Volkswagen ID 2all previews sub-£22,000 electric car
e-BIKES
Ten electric bikes we're excited for in 2023
Nine ways to keep your e-bike safe
E-bike theft: how common is it and what can you do to protect your e-bike?
Haibike AllMtn CF 6 e-bike review
e-MOTORBIKES
10 electric motorbike start-ups you should watch out for
Energica e-motorbike to take on all-comers in US racing series
Ducati: How the Italian motorbike brand is gearing up for the electric era
e-SCOOTERS
Planned laws to legalise private e-scooters face delay
Leading e-scooter firms team up on best-practice guide for cities
Ambiguity over e-scooter legality causing 'confusion', says police chief
e-WORLD
Solar panels: 8 ways the sun can power your electric life
First ride: Lunaz Upcycled Electric Vehicle bin lorry
AutoFlight secures huge order for Prosperity 1 eVTOL craft