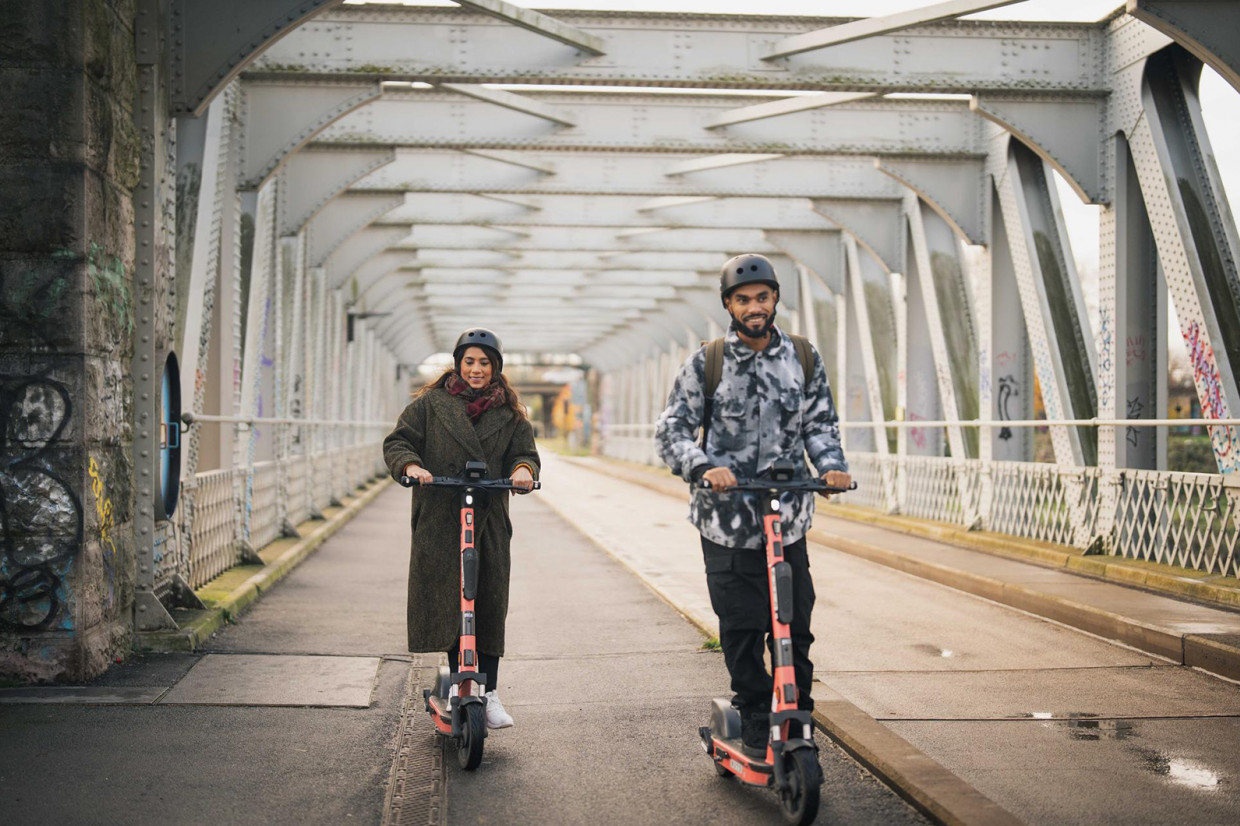 More than 10 million journeys have now been taken on Voi's rental e-scooters in the West of England, the first trial scheme in the UK to pass that milestone.
The Swedish firm started operating the government-backed scheme in Bristol and Bath in October 2020, and it now has more close to 350,000 registered users. More than 4000 e-scooters are in operation in the region, while the boundaries of the scheme have now expanded to cover around 60 square miles.
The latest e-scooter news in your inbox: get our FREE newsletter
The e-scooter trial schemes were approved by the government to gather data on the machines while considering potential regulations to legalise them, although it was left to local governments to regulate those schemes. The West of England Combined Authority selected Voi – although the service is currently up for a new tender.
According to data gathered in a survey, around a third of Voi users in the region use e-scooters to commute to work, while they are also popular with students travelling from their accommodation to classes or jobs.
The 4000 or so e-scooters in the region are regularly redistributed using electric vans – and even an electric tuk-tuk – according to data of past usage patterns, while Voi says it works with local officials to ensure machines car service special events such as concerts and festivals in the area.
The scheme is also Voi's only European operation to feature 'mandatory parking', with riders only able to start and end journeys in certain designated areas.
Voi says it has participated in the Key4Life scheme to provide ex-offenders with work and skills to help them improve their lives. It has also worked with a number of local organisations such as universities and businesses, on projects in the region.
Voi previously commissioned an independent report that found the West of England e-scooter trial will boost the local economy by just under £20 million.
Bristol mayor Marvin Rees said: "Being the first e-scooter trial to reach the significant milestone of 10 million rides shows just how popular and important e-scooters are as a sustainable form of transport for residents and visitors in Bristol."
READ MORE
Subscribe to the Move Electric newsletter
e-CARS
What is a heat pump and how do they benefit electric cars?
Bold new Volkswagen ID 2all previews sub-£22,000 electric car
e-BIKES
Ten electric bikes we're excited for in 2023
Nine ways to keep your e-bike safe
E-bike theft: how common is it and what can you do to protect your e-bike?
Haibike AllMtn CF 6 e-bike review
e-MOTORBIKES
10 electric motorbike start-ups you should watch out for
Energica e-motorbike to take on all-comers in US racing series
Ducati: How the Italian motorbike brand is gearing up for the electric era
e-SCOOTERS
Planned laws to legalise private e-scooters face delay
Leading e-scooter firms team up on best-practice guide for cities
Ambiguity over e-scooter legality causing 'confusion', says police chief
e-WORLD
Solar panels: 8 ways the sun can power your electric life
First ride: Lunaz Upcycled Electric Vehicle bin lorry
AutoFlight secures huge order for Prosperity 1 eVTOL craft