The Peak District National Park is hugely popular with tourists, whether it's admiring the splendour of Chatsworth House, walking some of its 1867 miles of rights of way trails or chomping down on a proper Bakewell Pudding. 
The problem is that it's quite hard to get to without a private vehicle: it's estimated 85 per cent of visitors to the park arrive by car. But a new trial is trying to change that – while also giving Toyota an opportunity showcase two different forms of electric-powered bus.
Electric news delivered right on schedule: sign up for our FREE newsletter
The Japanese manufacturer has joined a new transport trial to help offer zero-emission vehicle access to the Peak District National Park – with a range of both battery electric and hydrogen fuel cell electric buses.
The two-week trial, which has already begun and will run until September 16, is being led by Gateway at Peak, a planned tourist resort being developed on the edge of the park. The aim is to showcase how different forms of zero-emission vehicle can be best used for different purposes, by using the e.City Gold electric and H2.City Gold hydrogen fuel cell buses that are manufactured by CaetanoBus, Toyota's European partner.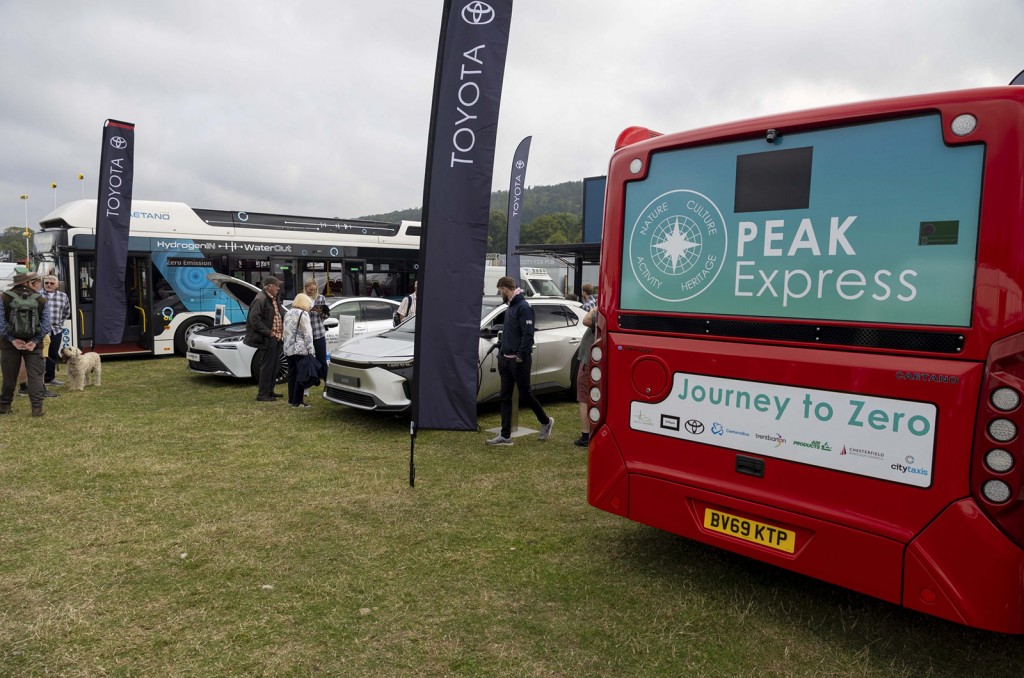 The trial route will connect eight locations in and around the park, which include Chesterfield railway station, Chatsworth and the Gateway development. The concept is that the battery electric buses will be used for shorter, commuter-style journeys, with the hydrogen fuel cell buses being used for the longer routes. It's essentially designed to reinforce Toyota's view that multiple options will be required to reduce emissions in the future.
The Gateway development is using the scheme to help in its plans for a new Peak Express bus service, which is due to open in 2025 with the goal of removing half a million tourist car journeys from the National Park. It claims that doing that could could reduce CO2 emissions by 3.6 million kilogrammes per year.
John Hunt, Toyota GB's alternative fuels boss, said: "There is not one simple solution for zero carbon mobility. That's why this trial provides us with an exciting opportunity to trial both EV and hydrogen vehicles, assessing which is more suitable to different types of journeys across the park. We will also be looking at optimal ways to provide refuelling and great levels of customer service on board the vehicles." 
READ MORE
Subscribe to the Move Electric newsletter
e-CARS
Video: Can the National Grid cope with a surge in electric vehicles?
e-BIKES
What to look for when buying an e-bike: Move Electric's top tips
The rise of Volt Bikes: 'when we launched, people thought we were mad'
e-MOTORBIKES
Maeving RM1 electric motorbike review
Q&A: Zapp founder on why electric mopeds are the future
Government plans 2035 ban on new non-zero emission motorbike sales
e-SCOOTERS
Tier to upgrade e-scooter fleet with a smart 'Parrot'
Q&A: Neuron Mobility's UK boss on e-scooters, safety and helmet selfies
e-WORLD
Polestar to supply battery tech to electric boat firm Candela
Engineering giant ABB working on electric Dover-Calais ferry