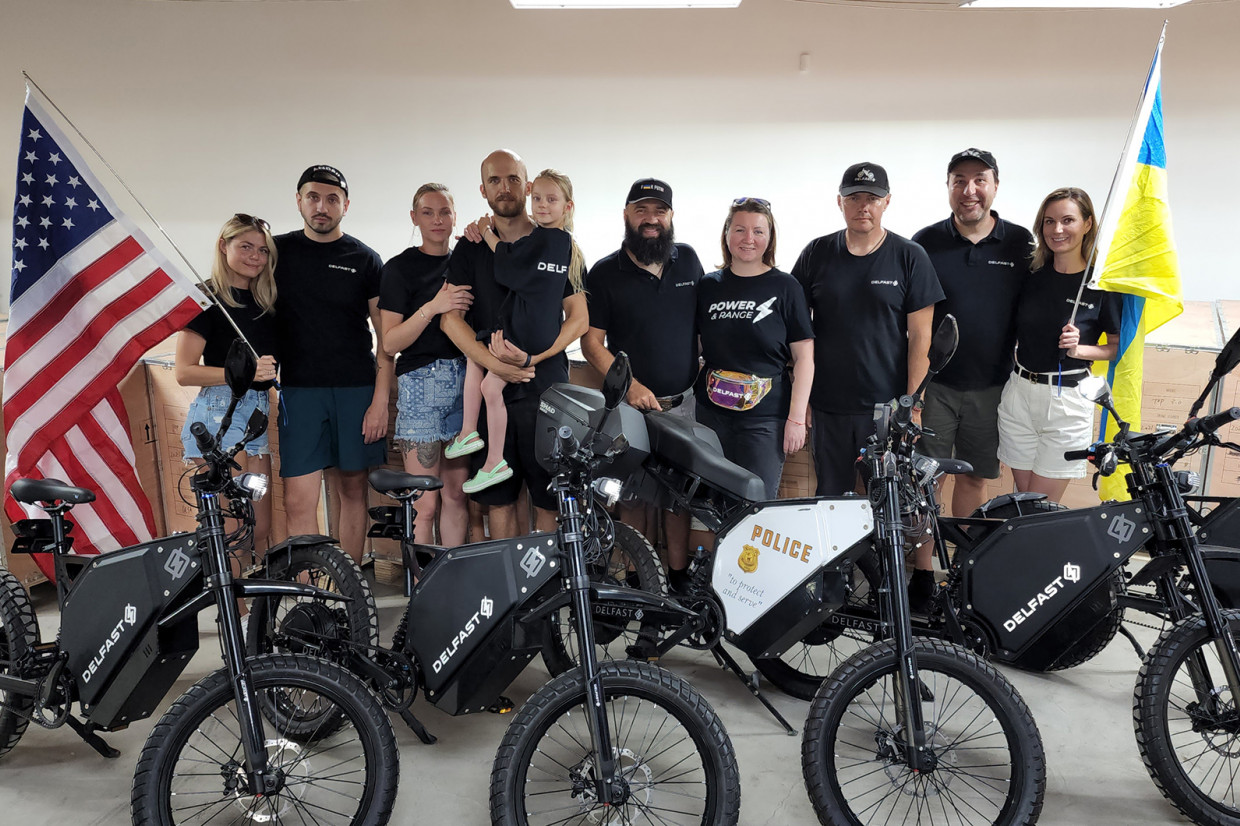 As its name suggests, the Delfast California e-bike is designed to evoke the carefree, sun-dappled spirit of Los Angeles.
"We put the California vibe into it," says company founder Daniel Tonkopi. "The weather, the ocean, the palm trees, a feeling of freedom and diversity. We wanted to promote these Californian values to the world."
The latest e-mobility news in your inbox: get the FREE Move Electric newsletter
But the California doesn't just reflect the freedom and sunshine of the USA's West Coast. Because the Delfast story can't be told entirely in California: it's also rooted in Ukraine. That's where the firm was founded, and where much of its team is still based – and Delfast is a wonderful demonstration of the remarkable spirit and resilience of its citizens.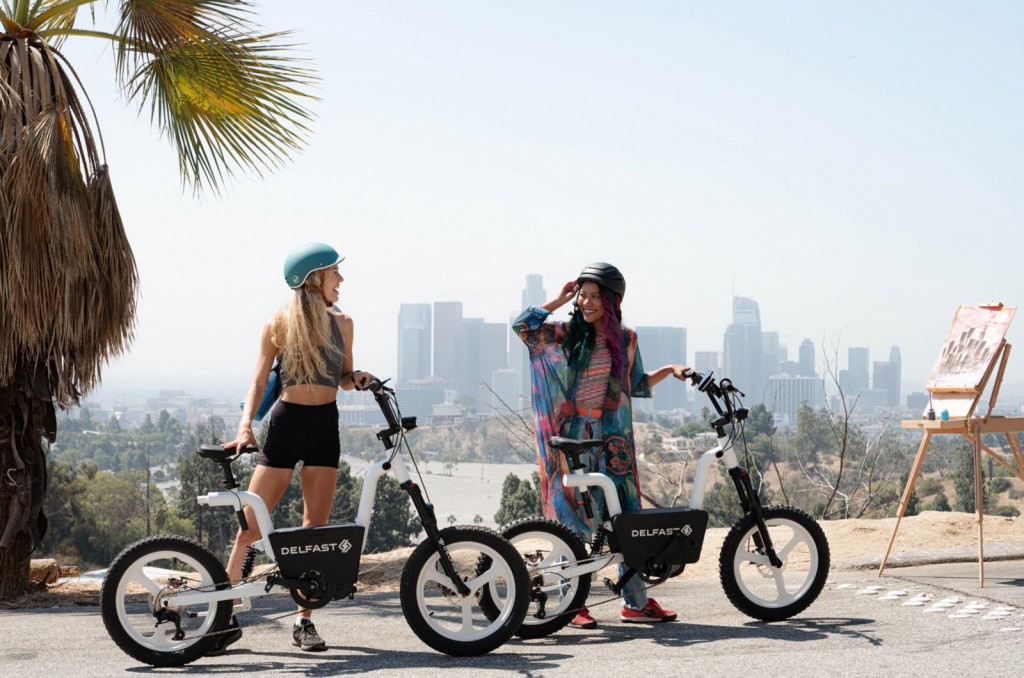 The new e-bike was developed in just seven months, despite much of Delfast's team living and working in the toughest of circumstances, dealing with the unimaginable horrors of war following Russia's invasion.
The California, then, also showcases the immense pride, passion and determination of those staff and, by extension, Ukraine. 
While Tonkopi (second from right in lead image) and a number of Delfast staff are now based in Los Angeles, most of the development team is spread across Ukraine, yet have kept working on continually improving their range of high-powered e-bikes.
"Our team decided they wanted to create something beautiful," says Tonkopi. "To bring something to the world."
Delfast California is a bold Ukrainian-engineered U-frame e-bike
But just as it's important not to view Ukraine purely through the prism of war, but to celebrate a vibrant, bustling country, so there is a lot more to Delfast's remarkable story than how the firm has dealt with the impact of an invasion.
The origins of Delfast
That story begins on the bustling streets of Kyiv back in 2014, when Tonkopi spotted a gap in the market for a new delivery service.
"I'm impatient, I hate to wait," he says. "I'd ordered a smartphone from an online store and was told it would be delivered within two days. I said 'I need it now, can you deliver it now? I'll pay extra' – but they said no.
"I thought that you can have a pizza delivered in under 40 minutes, but not a smartphone. But a smartphone is ready, you don't have to cook it: you just take it from the warehouse and send it. So I decided to fix this problem."
Tonkopi and partner Serhii Denysenko decided to set up a one-hour delivery service for online goods – Delfast stands for Delivery Fast. But the first big problem was working out what to deliver those goods in.
 "Cars get stuck in traffic, and motorbikes pollute the air – and you still have to pay for gas," says Tonkopi. Given his father was a professor of ecology in Kazakhstan, Tonkopi grew up "a second-generation environmentalist", so he wanted a service that caused minimal pollution. 
They looked at bikes, but there was a problem. "Bike couriers get tired, so they cannot work all day. So we looked for electric vehicles that offered clean energy – and decided to try e-bikes. So me and Serhii bought an e-bike, although at the time we didn't know anything about them."
Tonkopi found an e-bike retailer promising a machine with a 50-mile range on a single charge. That was short of the 120-mile daily target for couriers, but it was a start. "We bought it and did a test," says Tonkopi. "But after 20 miles it stopped. So I called the seller and said something's wrong, you promised me 50 miles! He said 'yeah, 50 if you help with pedalling."
That was the point Tonkopi learned the nuance of pedal-assist e-bikes. Which was a problem, because Delfast simply couldn't find a range of more than 30 miles, let alone a machine able to withstand the rigours of a full day's use on the streets of Kyiv. There was just one solution.
"We started to produce e-bikes for ourselves," he says. "We did a lot of experiments, working on the batteries, motors, frames, electronics, brakes, kickstands, everything. And we made the perfect e-bike for couriers, one that could do 100 miles without frequent stops. Step-by-step we created an e-bike that exceeded everything else in the world."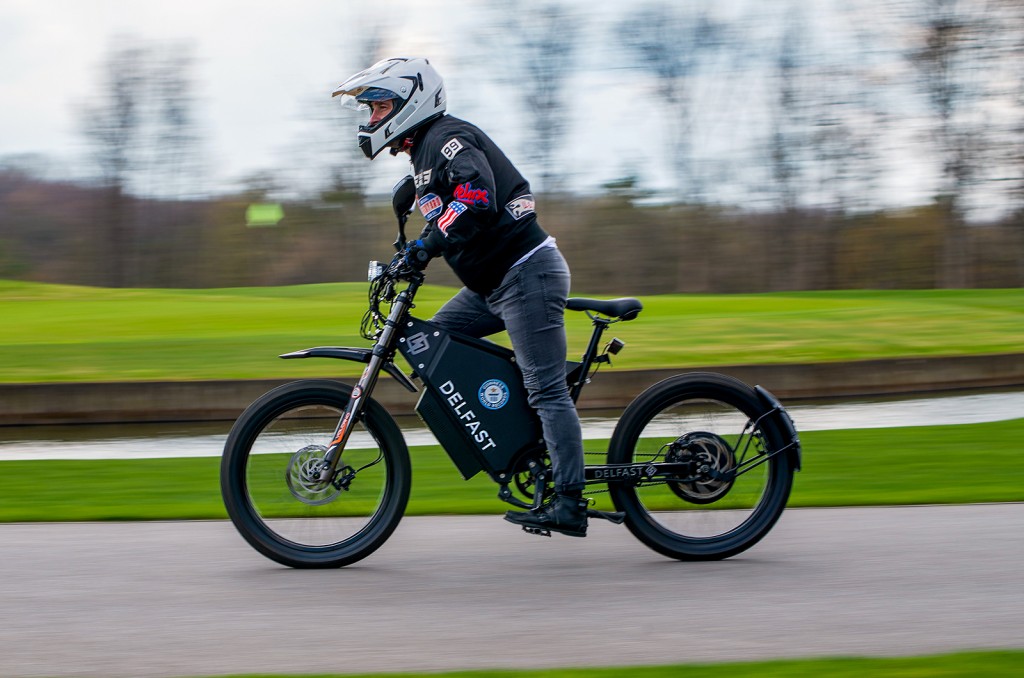 In fact, the bike Delfast created – now known as the Top – proved so popular, people kept asking to buy it. So in 2017 Tonkopi and Denysenko decided on a change of business. And it's been a huge success: enough for the firm to rapidly grow through plenty of rounds of investor funding, and for the pair to relocate the HQ to California, although most of the research and development department remains in Ukraine.
Delfast's aims for the Top
The e-bike developed for their courier fleet became the Top, a high-spec, high-power model that blurs the line between an e-bike and an e-motorbike. The current Top 3.0 offers a range of 200 miles and has a top speed of 50mph. In 2017 it set a Guinness World Record for the furthest distance travelled by an e-bike on a single charge, completing 228.066 miles at the Kyiv Velodrome – a mark that still stands today.
Best e-bikes for every category 2022: Move Electric's guide
The Top's high speed is due to a massive 3000-watt motor, which exceeds the 250W maximum for road-legal UK e-bikes (which, unlike the Top, have to be pedal-assist), and even the 750W limit in the more liberal US. That's why the Top is largely sold as an off-road model in most markets, and it's proven popular with police forces and the military – but we'll get to that later.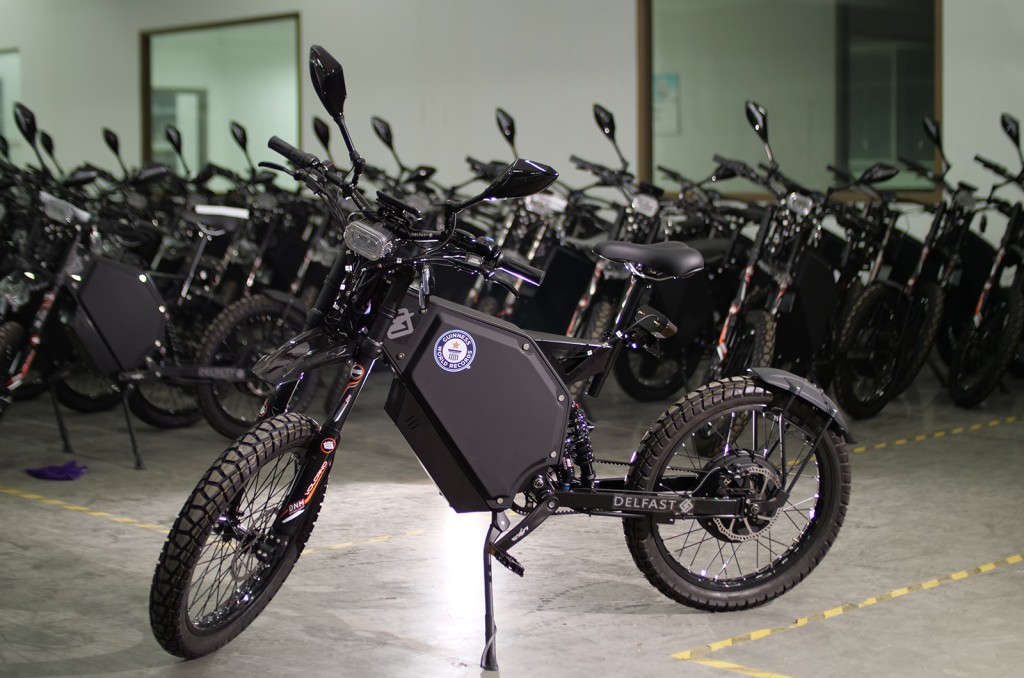 But the Top hasn't been Delfast's only model. "In 2019 we offered seven models," says Tonkopi. "Long-range models, high-speed models, three-wheel cargo models, cheap courier models, four-wheel-drive models.
"An investor asked us 'guys, what's your main model? You have seven bikes, what's your main product?' We had no idea. We sell bikes, and we have seven models. He said 'you're a start-up, you don't have the resources to support seven models.' He was right.
"We realised 80 per cent of our sales come from the Top. And we couldn't afford to support seven models, seven sets of spare parts, seven different audiences, seven different advertising campaigns. So we stopped production of everything but the Top."
That's why Delfast adding the California as a second model line is a huge step for the firm, and the result of three years of planning. But the Top's design left plenty of room for expansion, and the firm sourced more than 50,000 ideas for it from e-bike users.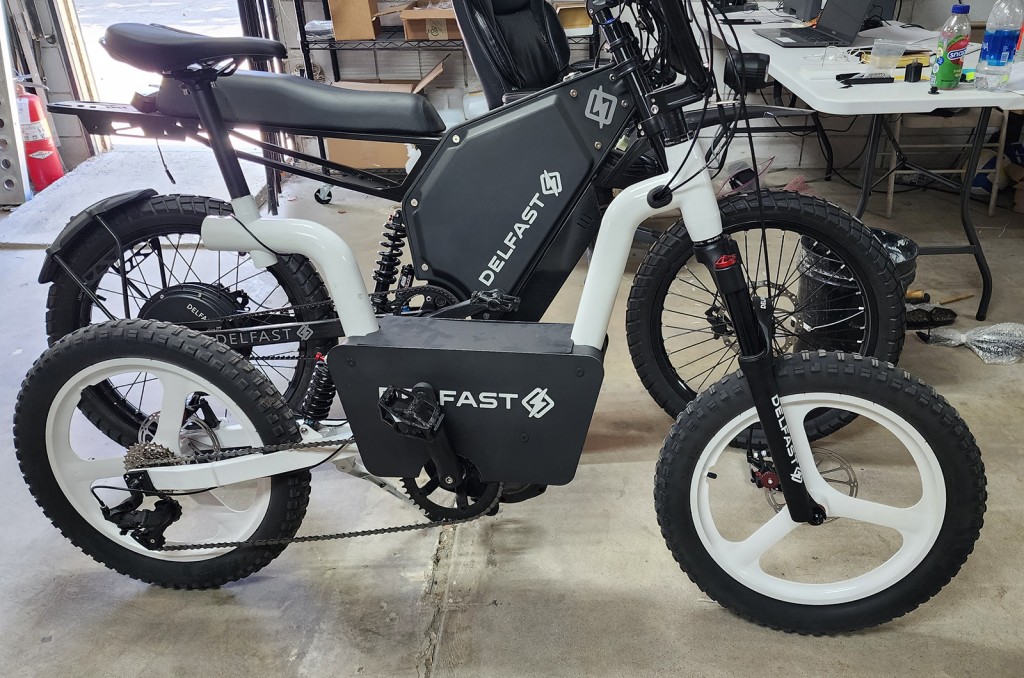 "The Top is a heavy, hardcore bike for professional riders," says Tonkopi. "Not all people need that. Casual riders, who use e-bikes for commuting or pleasure, told us they they didn't need a 200-mile range: 70 would be enough. And they didn't need a 50mph bike: 28mph would be perfect."
California dreaming
The new California is designed squarely to meet that leisure market. It will be sold in two forms – with a 250W motor for markets like the UK, and a more powerful 750W where rules allow, such as in the US – and is designed to appeal to everyone.
"One of the major comments about the Top was that it wasn't so good for women: it's heavy, it's bulky, the frame is not good to sit on," says Tonkopi. The California uses a unique U-frame design, which makes it stand out in a crowded e-bike market and offers plenty of practicality.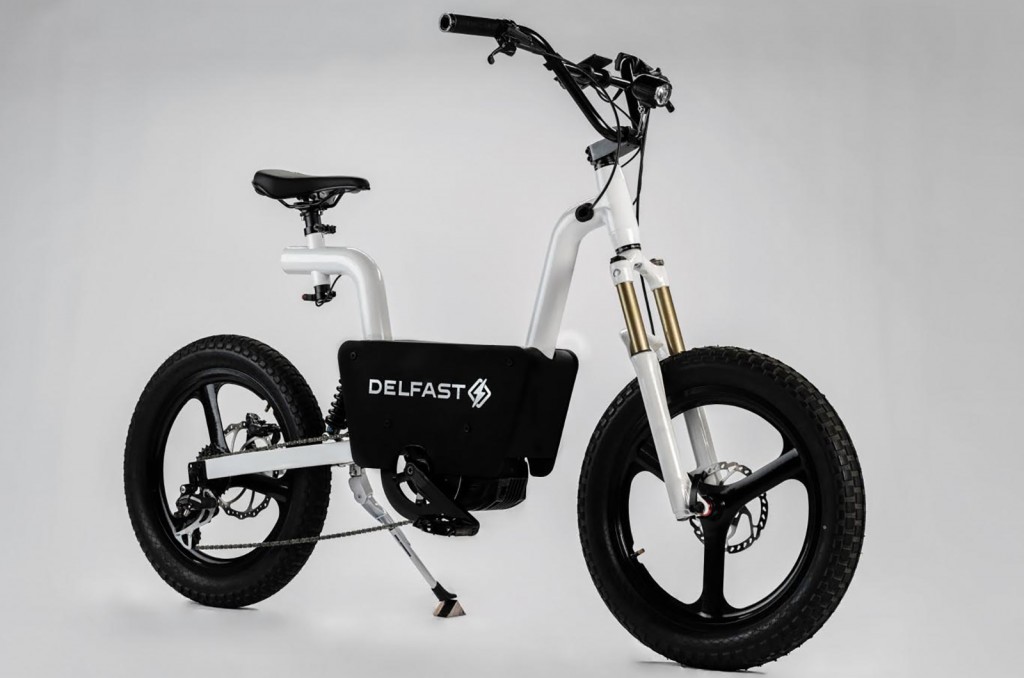 "It's a bike for commuters, or for people who just want something fun," says Tonkopi. "We wanted a bike that worked for most people. So we got lots of requests for bags or baskets so people could use it for shopping, so we added an optional rear trunk and two side boxes on the back."
E-bike FAQ: everything you need to know
The California design really does reflect the laid back vibe of its namesake state – and that reflects the remarkable development story. "Our chief engineer had come from Ukraine to Los Angeles for a week, and then the war started on February 24," says Tonkopi. "He became stuck here – he's still here. So he led the development of the new bike from here, with our team distributed all over."
The defiant development of the California
Tonkopi is an upbeat, energetic character, who is full of verve and laughter when Move Electric chats to him over Zoom. But you can feel the emotion when he talks about the challenges faced by his Ukraine-based staff since Russia's invasion.
"It's the most important thing we can ever imagine in business, in life," he says. "It's crazy. It's really tough."
"From a business point of view, we were not affected too much," he says. "We were prepared. The war really started eight years ago when Russia invaded Crimea. We knew something was going on, so we worked to ensure our logistics weren't affected: we had spare parts sent straight from China to Los Angeles, for example.
"But the most important thing in any business is the people, and that's what it was most important to take care of."
That challenge was heightened by the Delfast team being spread over the country. And even as the Ukrainian forces have pushed back the Russians in recent weeks, the challenges remain.
"All of our team members in Ukraine are in danger," he says. "We speak with them every day, and see them on Zoom at least once a week. The first thing we did in the early days of the war was just make sure they are as safe as they can be."
But that has been, and remains, a huge challenge. "In Kyiv, they don't have electricity right now," adds Tonkopi. "Our marketing specialist lives in Kharkiv, and it's almost demolished. Literally demolished. Destroyed.
"My wife is from Kharkiv, and her parents lived there. They had an apartment in a multi-storey building, and four Russian rockets hit it, so everything was destroyed. One building. Four rockets. And it was not infrastructure, but an apartment block.
"Every single factory, every object of infrastructure in Kharkiv was destroyed.
"One of our sales analysts was in Kherson when it was occupied by Russian troops. Their army came to her house and said 'show us your phone'. She couldn't refuse because they had guns, and on her phone they found some anti-Russian memes. So they deleted everything. They reset the phone and said 'now your phone will have a new life. And you come to our police station tomorrow, so you will have a new life as well'. She didn't want a new life, so she had to flee."
She was able to escape, reaching the relative safety of Odessa.
In the face of an invasion, you might think Delfast would put its plans on hold. Instead, led by the chief engineer stuck in California, the team rallied around development of the new e-bike. 
"He led development from California, working with our distributed team," says Tonkopi. "Our electronic development is in Dnipro in south west Ukraine, our R&D is in Kyiv and production is in Chernivtsi. We have engineered in California and Ukraine. We build the frames in Chernivtsi, do pre-production in China and final assembly is in Los Angeles.
"We made several prototypes, literally during the war. It usually takes two to three years to develop a new model – and we did it within seven months.
"What helped us do this is our Ukrainian bravery, Ukrainian soul. We cannot just sit and be afraid. Many of our team members are without electricity and sleeping in bomb shelters, but they cannot just do nothing. They had a lot of energy and adrenaline, and put it all into this new model. That's how we did it so quickly. It was extremely powerful."
Fighting back
Delfast hasn't just been concerned with the welfare of its staff. Since the war began it has donated five per cent of profits to Ukrainian aid charities, and the Los Angeles-based team have used their connections to meet and update US politicians and groups on developments in the country, advising on the situation on the ground and the aid needed.
But there's a more direct involvement, too, with some Delfast staff serving in the Ukrainian army. And there's more.
"We supply the Ukrainian army with our Top e-bikes," says Tonkopi. "They put rocket launchers on the back and work against Russian tanks.
"They use our bikes for recon operations, medical supplies, in many different ways. E-bikes are perfect for the battlefield: they're silent, fast, don't need oil and don't overheat. It's perfect."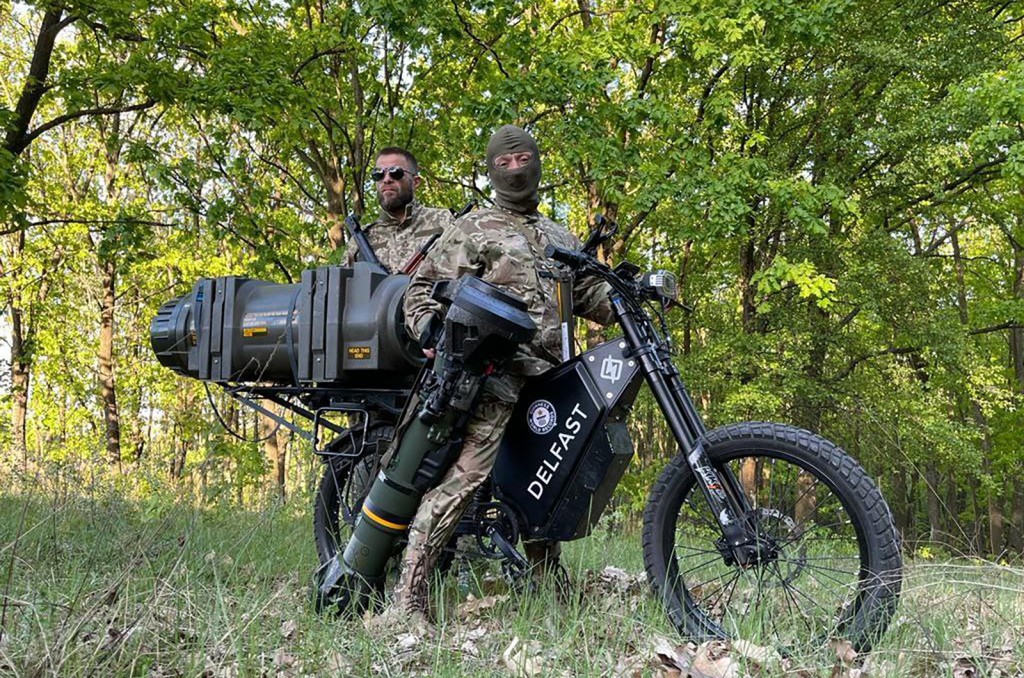 Picture: Daniel Tonkopi on Facebook
Tonkopi adds that, having seen social media videos of Delfast bikes in action in Ukraine, a number of US law enforcement agencies have been in touch about securing their own fleet of the firm's popular TopCop variant.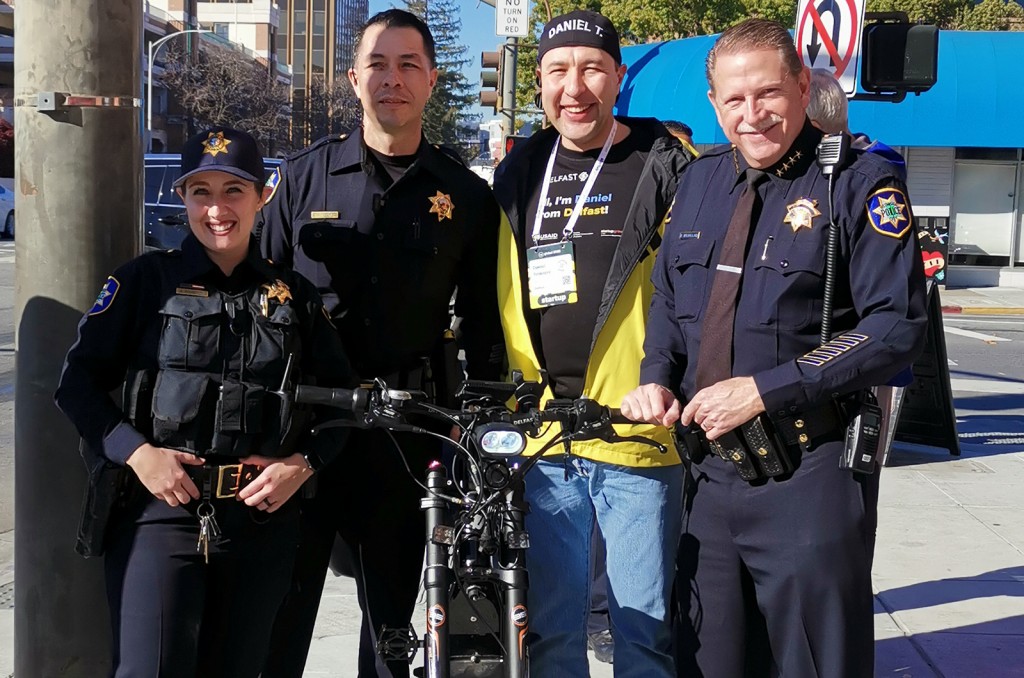 Looking to a brighter future
The California recently launched on Indiegogo, with the firm clearing its initial sales target of $30,000 (£25,250) in 24 hours. But the big goal, says Tonkopi, "is not just $30,000, but millions of dollars. And we are on the way to achieving this goal."
In fact, Tonkopi hints Delfast's ambitions don't just stop at e-bikes. "We are building a leading electric vehicle company," he says. "We've already set world records, thanks to our proprietary electronics and technology. It's all about the power consumption, the battery usage, the combination of parts. We have several patents already, and we're working on hundreds more.
"We are not just an e-bike company: we are a high-tech electric vehicle company with a lot of technologies. We can use those not just for e-bikes, but for cars, drones, boats – anything that uses batteries. Our next goal is to become a billion dollar corporation, and to produce e-bikes that will be as good among e-bikes as Tesla is among cars."
It's a lofty goal, but one that doesn't feel as outrageous as it might given Delfast's resilience this year. In the wake of senseless destruction, Delfast has chosen to create something new, with a drive that reflects the still-proud country it calls home.
READ MORE
Subscribe to the Move Electric newsletter
e-CARS
Chinese car brand Nio to expand into UK by end of 2023
Driving a Citroën Ami around London: five things we learned 
New Polestar 3: 380kW performance EV aims to 'redefine' the electric SUV
e-BIKES
Seven essential accessories to improve your e-bike life
The Lake District village that's pioneering community e-bike schemes
e-MOTORBIKES
Honda to launch more than 10 electric motorbikes by 2030
New Zero DSR/X launched as electric adventure motorbike
Stilride: the brand reinventing electric motorbike production
e-SCOOTERS
8Tev B12 Roam e-scooter review
Pure Electric launches two new machines that 'reinvent' the e-scooter
Rise in e-scooter accidents prompts call for 'urgent' government action
e-WORLD
Artemis electric ferry revealed for Bangor to Belfast service
New Mobilize Solo Concept is a safety-conscious e-scooter rival
Volta Zero: the electric truck tearing up the rule book for the electric age