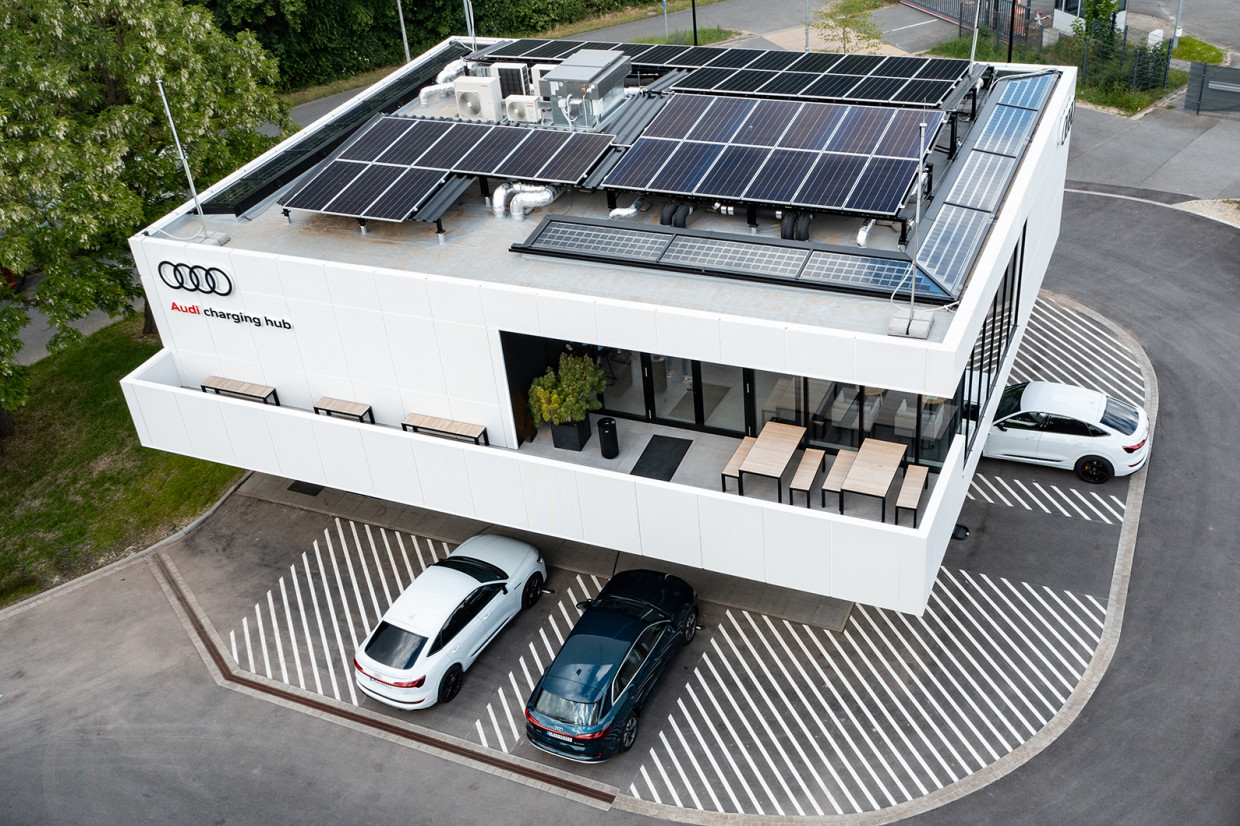 Premium car firms such as Audi are all about the experience: they devote thousands of hours and vast sums of money developing cars that will make their customers feel a bit special. 
But there's a problem: charging an electric car away from home often isn't a premium experience: think big queues at a handful of slow chargers that are often tucked away in murky, remote corners of windswept car parks. That could ruin the magic the firm hopes buyers of the Audi e-tron feel.
So Audi has decided to do something about it, by making its own 'premium' fast-charging solution. Located on the edge of a park on the outskirts of Nuremberg in Germany, the Audi charging hub is designed to take the unpleasantness out of charging – and showcase a use for 'second-life' car batteries.
It features six high-speed charge points that can be pre-booked, a lounge, refreshments and other features – and the firm has big plans to expand it in the future.
Move Electric took a tour of the site to take a look – and find out about the big plans for the future.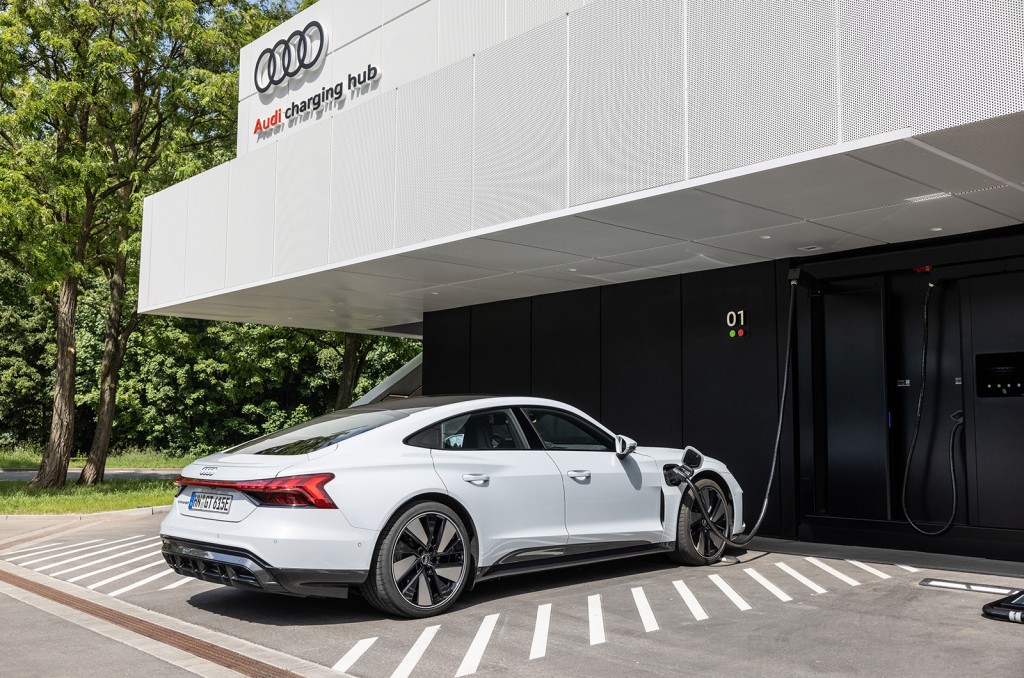 Why Audi is making its own charging hub
Car firms traditionally haven't invested in their own fuelling infrastructure – you won't find a chain of Audi-branded petrol stations, after all. So why has the firm developed a charging hub?
"Charging is still a key reason why customers aren't buying electric cars," says Ewald Kreml, the strategy project lead for the Audi charging hub. "Charging points get ICE'd, and there can be queues at peak times because there aren't enough chargers.
"Our research shows that charging concerns are the number one reason why premium drivers are choosing not to buy an EV and to stay with a combustion-engined car. So we decided to take matters into our own hands and create a premium EV charging experience."
Of course, car firms have invested in charging infrastructure before. The best example is the excellent high-speed Tesla Supercharger network, which has been a true unique selling point for the brand (even if it is being opened up to owners of other EVs). 
Meanwhile, other cars firms have invested in charging networks, such as Ionity that is backed by the Volkswagen Group, Audi's parent firm.
But there's a distinction between those networks and the Audi charging hub. Instead of focusing on offering high-speed charging to enable long journeys between cities, the hub is intended to offer fast-charging for potential EV buyers in urban areas without the ability to install a home charger.
"There are a lot of EV owners in suburban areas who have no possibility to charge at home, and in future more EV buyers won't have the possibility to add a wallbox," says Kreml. "Our research shows that by 2025 60% of EV buyers won't have a home charger. And there aren't currently many high-power chargers in suburban areas."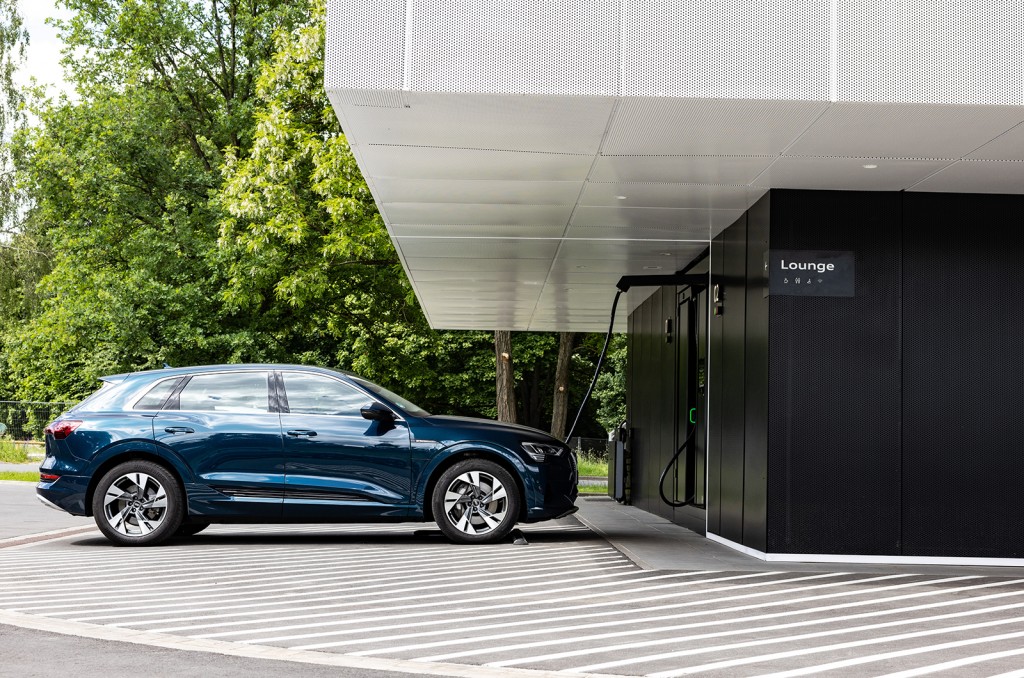 How the Audi charging hub works
 
Kreml says that the Nuremberg location was chosen because it is between the city centre and the main residential areas. That means it is easily accessible for people driving to and form work, but avoids the high-cost and lack of space of a city centre location.
The hub is just off the main road into the town centre, but in a location that ensures there was plenty of space to make access easy. The site is fully paved, with a large one-way road looping around the square hub, giving plenty of space for drivers to get easy access to the charge points.
In basic design, the combination of fast chargers and a lounge area means is similar to the Gridserve electric forecourts and Shell's charging hub in London, although the use of second-life batteires means the technology underpinning it is quite different.
There are six chargers, each capable of up to 320kW, located in three pairs on three sides of the building. The technical bits of the charging hub – we'll get into the details later – and located on the ground, below a large pre-fabricated first floor unit that features the 200 square-metre lounge, toilets, vending machines, private space and a roof terrace.
Crucially, the charging hubs is designed to offer a clean, easy experience. The first floor lounge doubles as a cover for the charging bays, ensuring drivers can stay dry when plugging in if it's raining, while the heavy-duty charging cabled are raised off the ground by a swivel arm, ensuring they stay out of any muck on the floor.
There's a digital display to operate each charger – and most notably they can be pre-booked through the Audi app. Users can book a 45-minute slot for charging, with special barriers rising up to reserve the charger, which are then unlocked by entering a code on the app.
"There are queues at chargers that have a utilisation rate as low as 15 per cent, so allowing people to reserve helps spread that demand," says Kreml. "There's still a use-case to tackle peak demand for charging in urban areas, and to add a premium experience."
Passing the time while charging…
The Audi charging hub is open to all EVs - but only Audi drivers get access to the large lounge to relax in while they wait. That said, other EV owners can still use the toilets and vending machines, and there are plenty of other things to do while charging.
Kreml says Audi has installed a new workspace that can be booked ahead of time, and has partnered with a grocery delivery firm so drivers can collect their weekly shop while they wait. It's also working on a deal with a mobile car wash firm.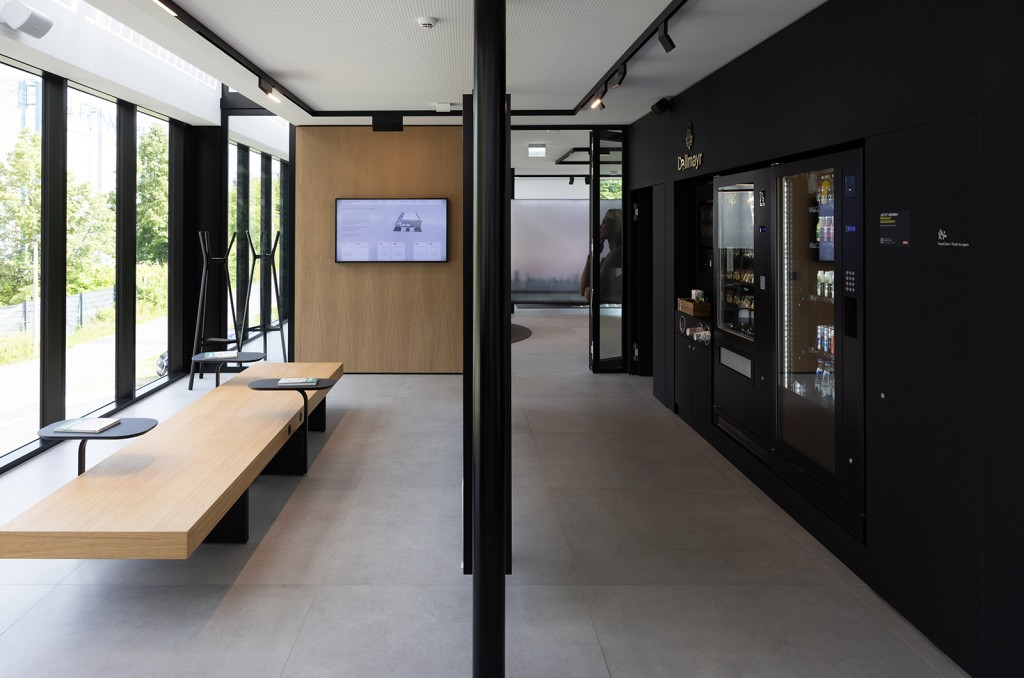 If you fancy something a bit more active, Audi has even struck a deal with micromobility firm Tier to locate a rental e-scooter station next to the hub, so drivers can have a quick spin around the park.
"We talked to Tier and it was a partnership that suited us both," says Kreml. "Their Nuremberg rental fleet didn't extend out to where the hub is located, but we worked with them to extend it. It's good for both firms."
The Audi charging hub even as a mobile swappable battery charging station located next to it, which currently runs on a business-to-business basis. That means Tier can actually charge some of its e-scooter batteries at the site.
"It's all about offering a positive and premium customer experience," says Kreml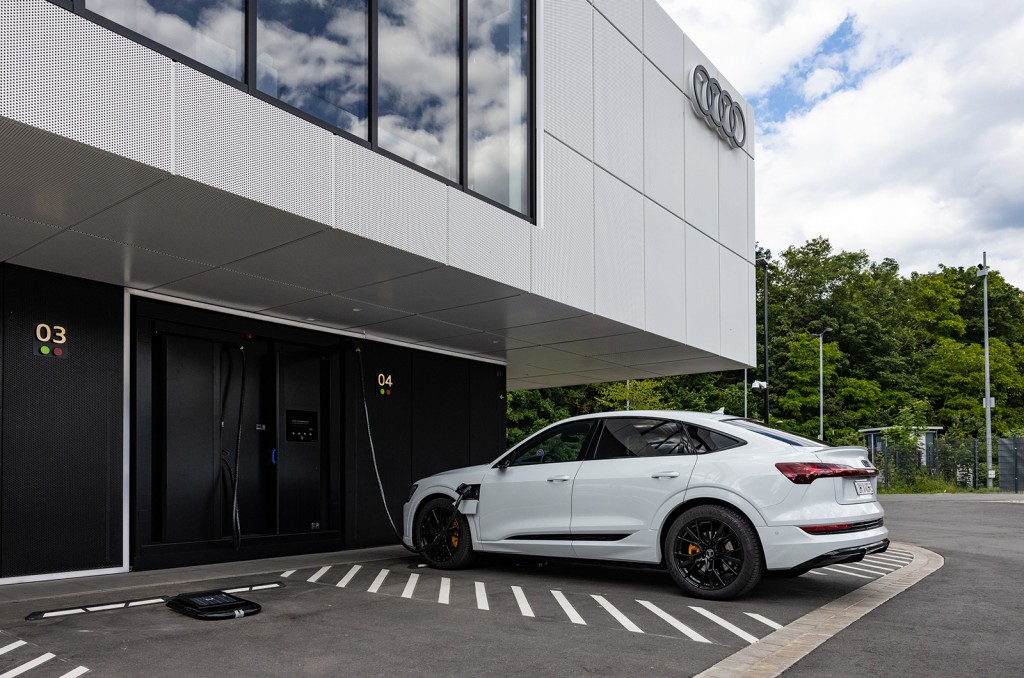 The tech behind the Audi charging hub
While the large, imposing charging hub looks like a permanent site, it's actually a portable design that was developed at a rapid pace. The basic technology for the hub was actually created during development of the Audi e-tron SUV, when the firm's engineers were tasked with designing a solution to allow the machines to be charged at remote sites such as in Sweden.
The hub is built around a series of portable and scalable 'cubes', each in a 10ft shipping container-style box. One cube contains all the technical gubbins required to connect to the grid and run the site, while others contain 26 'second-life' car batteries that have been taken from Audi models – in this case, they were all from the Audi e-tron development fleet.
The hub draws power from a local grid connection, topped up by roof-mounted solar panels, which is stored in those batteries. Notably, that means it doesn't require a bespoke high-speed connection that would require upgrading the local infrastructure.
"Part of the reason there aren't many high-performance chargers in suburban areas is because of the space they require, and because if you want high-power chargers you need to dig into the ground and upgrade the infrastructure," says Kreml.
"By using second-life batteries we can manage the charge for customers and use an existing grid connection, which means we don't need much groundwork – and that means that securing permits and construction is easier, faster and cheaper."
There is a 200kW grid connection at the Nuremberg site complemented by 20kW of solar panels, with those 26 Audi e-tron 55 batteries offering a storage capacity of 2.45mWh. "Using the batteries means we never strain the grid, so we can charge when it's cheaper and when there's more green energy in the grid," says Kreml.
Only second-life batteries with more than 70% usable storage are used – some have been used for around 185,000 miles of running. Audi calculated batteries could be used for up to 15 years. Oh, and it's designed to accept batteries from the e-tron, Audi e-tron GT and the MEB-platformed Audi Q4 e-tron.
That large battery capacity also explains how a site with a 200kW input can output 960kW at the same time through its six chargers. In total, the site has the power to accept up to 80 vehicles per days – and since it opened in December 2021 it's been averaging 24.
The site took around a month to set up, most of which was spent preparing the ground and getting the necessary systems in place to keep the local fire department happy.
Notably, the batteries are stored in the container cubes on racks, and can be removed and replaced individually. So if a single battery does stop being usable, it's an easy task to remove and replace.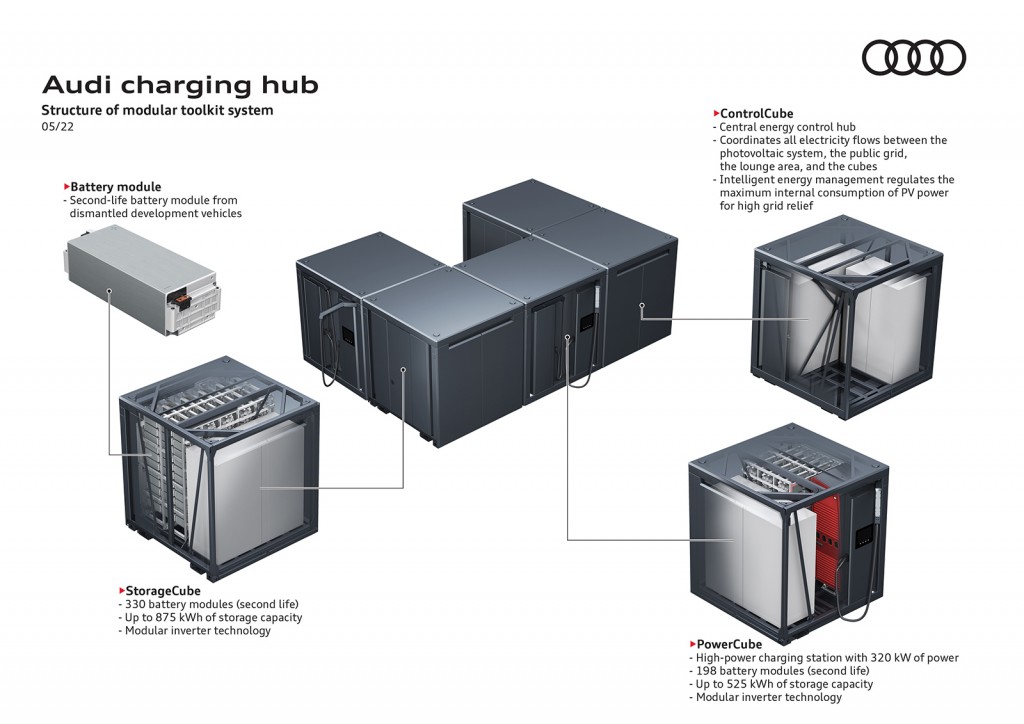 Who uses the Audi charging hub
According to Kreml, more than 3600 charges have been made since the site opened last December, while more than 5400 people have visited the lounge. He added that 54 vehicles were charged on the busiest day so far.
Around half of the users have been Audi owners, with Tesla drivers accounting for 18 per cent. Notably, more than 60 per cent of customers use the site more than once a week, which Kreml says validates the concept and location.
The hubs features variable pricing, depending on what charging contract a driver has. Audi drivers with the right package will pay around 26p/kWh, rising to 59p/kWh on a pay-as-you-go contract.
The next steps: first Germany... and then the world?
The Nuremberg site was a pilot project, and its success has prompted Audi to look to expand it in the future. A second site will open in Zurich, Switzerland in the coming months – and will be slightly different to the existing one.
Because it will sit on a smaller footprint, the site will feature four charging points, and will feature 1.05mWh of storage capacity. It will also feature a slightly different model, with Audi working with local groups to offer more business-as-a-service options for customers.
The Zurich site will also feature modifications to make it easier to use, including a height adjustment for the charger control system and a larger access point to improve access for disabled drivers. The swivel arm for the cables is also being enlarged and extended, so that it can reach a charging port on any corner of a car, no matter which was a customer parks.
Beyond that, Audi will open sites in Berlin and Salzburg, Austria later this year, and has committed to three further sites in Germany in 2023, with eight more planned for the country in 2024.
"The site locations aren't fixed yet, and we're looking at options," says Kreml. "Finding the right location for the sites is key: we need them near main traffic routes, and in urban locations that are near residential areas but not in the heart of the city centre."
If that feels like a relatively slow expansion, there are two good reasons for that. The first is that Audi is still investigating the long-term business case for the hubs. The other is far simpler: it can't get second-life batteries any faster.
All the batteries used so far have been taken from Audi development vehicles, and the firm is still years away from being able to use batteries that has been 'retired' from customer cars.
Still, that hasn't stopped Audi from thinking bolder long-term – potentially looking to more countries beyond Germany after 2024. And yes, that could include the UK. "We think it's a concept that's definitely applicable to other countries," says Kreml. "The idea of the trials is to generation know-how, and then we'll look at the business case before taking further decisions."
READ MORE
Subscribe to the Move Electric newsletter
e-CARS
New electric cars for 2022 and beyond: what's coming when
New BMW i7 unveiled as luxury electric saloon
e-BIKES
Best e-bikes for every category 2022
Moustache Samedi 28.7 e-bike review
e-MOTORBIKES
Yamaha Neo's electric scooter review
Cake launches new global electric motorbike race series 
e-SCOOTERS
Government set to announce plans to legalise private e-scooter use
New study finds e-scooters are five times safer than bikes
e-WORLD
World's first airport for flying taxis opens in UK