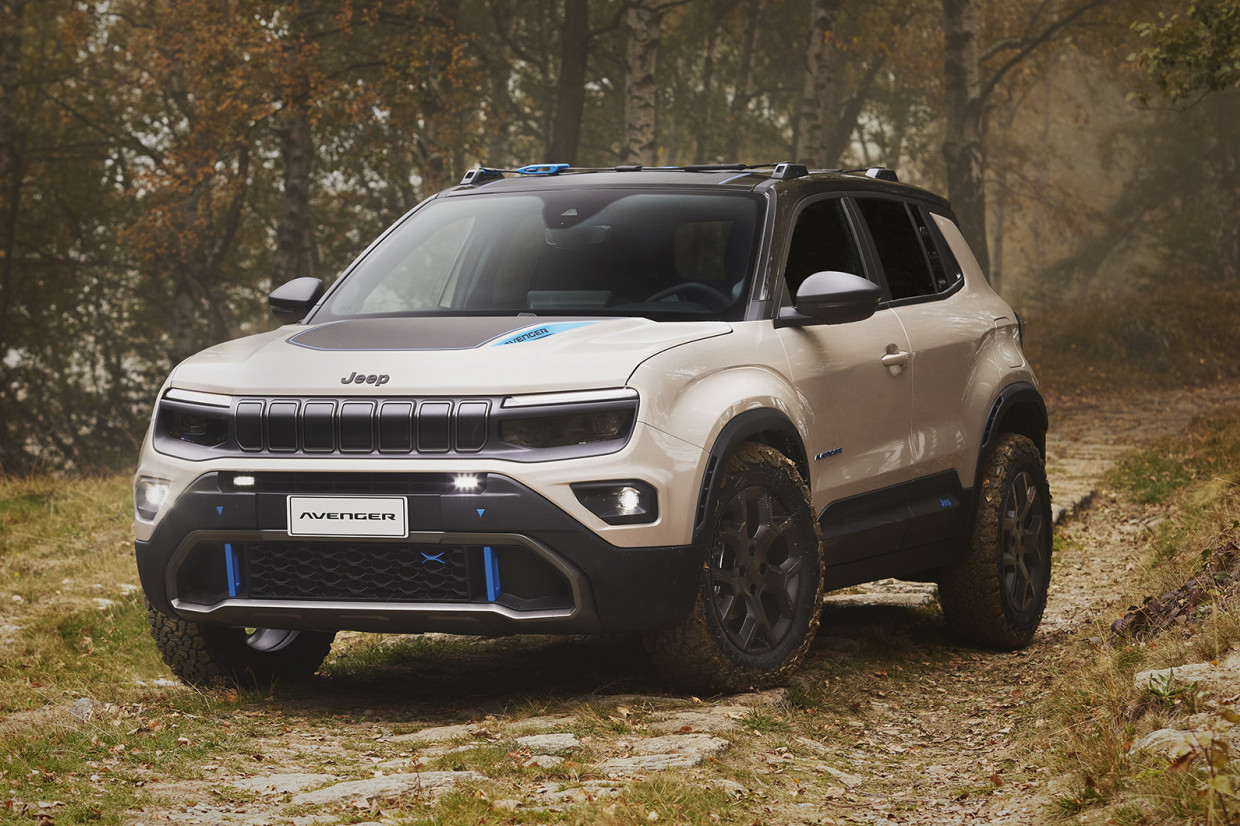 The new Jeep Avenger is the firm's first battery-electric vehicle and has been designed specifically for the European market – and has been revealed at the Paris Motor Show with a bold off-road concept.
The machine is the first of four electric vehicles that the American brand will launch in Europe by the end of 2025, and will take the form of a small B-segment crossover similar in size to the Peugeot e-2008. The machine is now available to pre-order and will go on sale next year.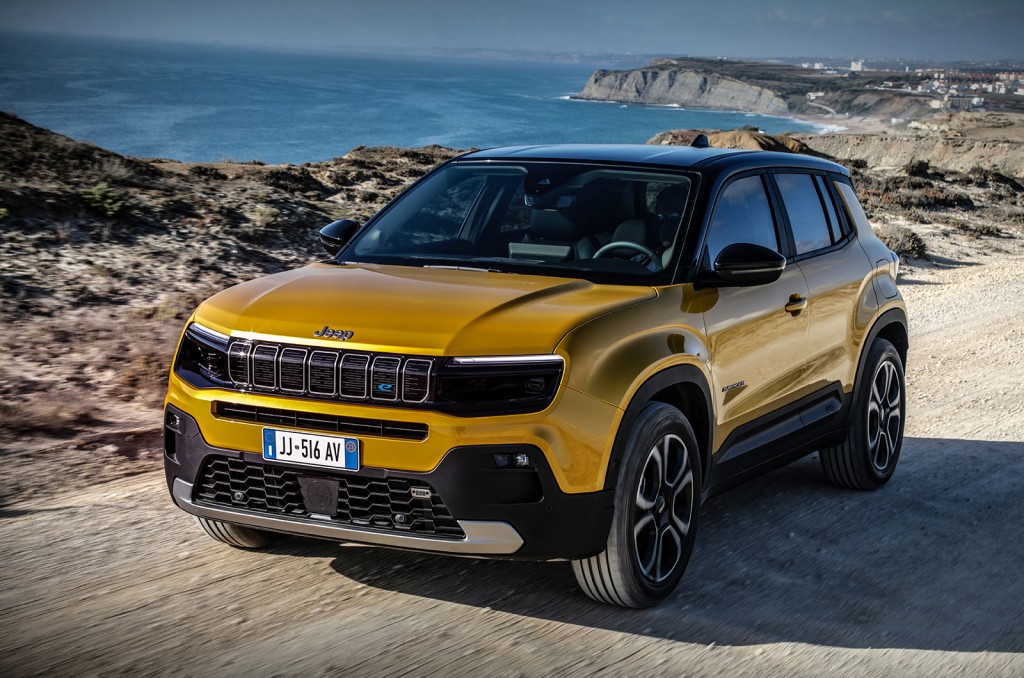 The model will launch with a front-wheel-drive powertrain, although the firm has shown a Jeep Avenger 4x4 Concept at the Paris show (pictured in the lead image) that showcases how a 'proper' off-roader could look.
Keep up to date with all the electric vehicle news: get our FREE newsletter
Jeep clearly expects the new machine to do well: the firm's European boss Antonella Bruno predicts the Avenger will be its best-selling model by 2024. He added that it would be "the new entry point to the Jeep brand".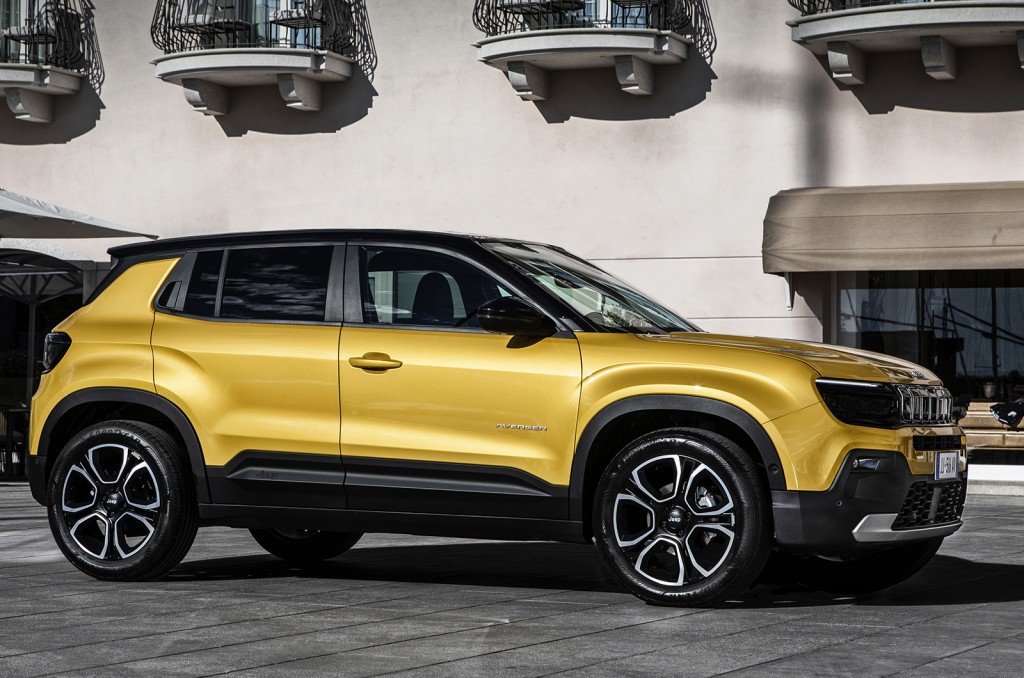 While Jeep previously showed off the styling of the new Avenger along with the forthcoming Jeep Recon EV and Jeep Wagoneer S EV, and it has now released far more details about the model. So here's what you need to know.
The Jeep Avenger is designed for Europe
Jeep has traditionally focused on off-roaders and larger SUVs, in part because of its strength in the US. But at just 4080mm long the Avenger will become the smallest model in its line-up, in part because it has been designed with a focus on Europe.
Despite that, and the face it uses powertrains and platforms shared with other Stellantis brands such as Vauxhall and Peugeot, the firm insists that the Avenger has been "designed and built as a Jeep from day one". 
The machine keeps all of the key Jeep design features, albeit repackaged for a small crossover. So there's a new version of the seven-slot grille, although it's been stretched horizontally to make it more functional. There are also big bumpers, trapezoidal wheel arches and rear lights with an X symbol in, all of which feature on other Jeep models.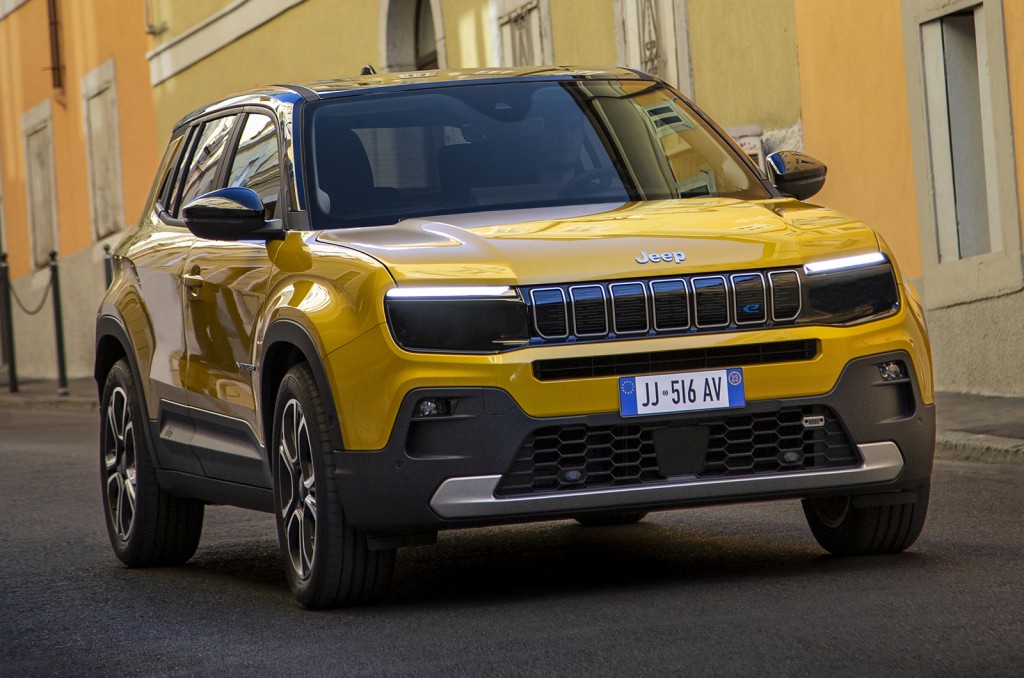 The interior features a dashboard built around a 10.25in infotainment touchscreen, with a single 'beam' running across the width of the dash and containing all the ambient lighting and air vents. There will be a choice of seven and 10.25in digital instrument displays, and a range of driver assistance features.
There's a big centre console designed to offer plenty of interior storage space, and options include a sunroof and electronically adjustable seats. The Avenger also features a 380-litre boot, which had a lowered rear sill to ease access.
It's front-wheel-drive… but Jeep claims it can go off-road
The Jeep Avenger will be built on Stellantis's STLA Small platform, which is a development of the CMP platform used for the Peugeot e-2008 and Vauxhall Mokka. But while there are similarities between those models, the Avenger will launch with a "new generation" electric powertrain.
Developed by Emotors, a joint venture between Stellantis and Nidec Leroy-Somer Holding, the new electric motor drives the front wheels and produces 112kW (154bhp) of power and 191lb ft of torque. The firm has yet to give details of the motor's power output.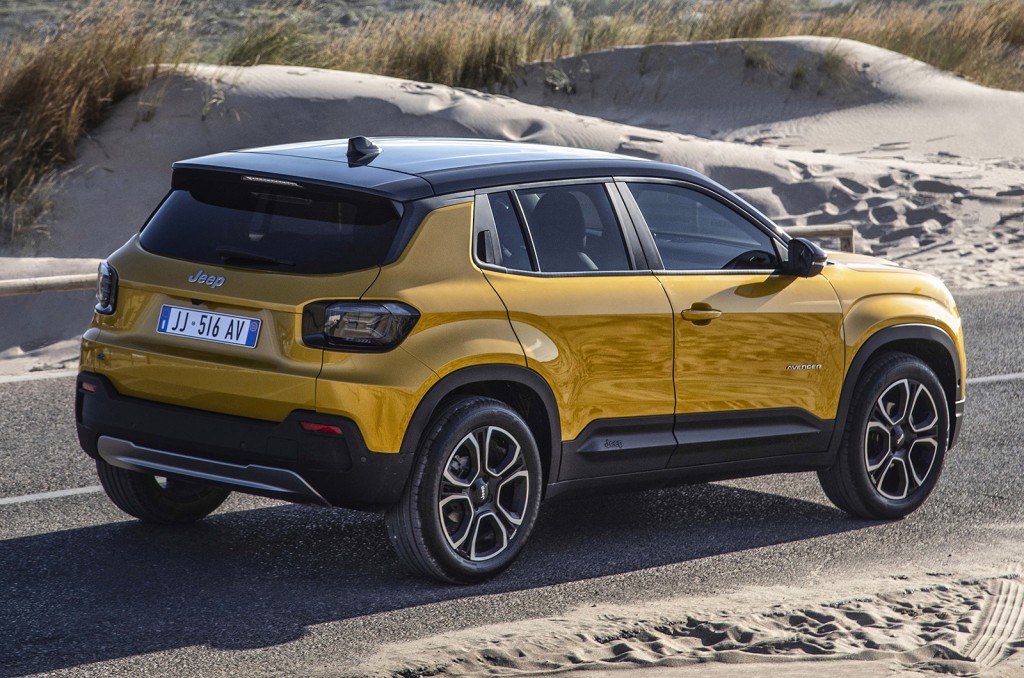 Power is drawn from a 54kWh battery, which if you like to know these things is make up of 17 modules and 102 cells. It has an official range of 248 miles, although this rises to 342 miles on the 'city' test cycle. It can be charged as speeds of up to 100kW, allowing for a 20 per cent to 80 per cent charge in 24 minutes.
Jeep, of course, is famous for building high-capability off-roaders, which isn't something you might equate with a Europe-focused, front-wheel-drive small SUV. But the firm insists that the Avenger will offer off-road capability.
It features a Selec-Terrain system that offers six drive modes (Normal, Eco, Sport, Snow, Mud and Sand), and also offers a Hill Descent Control function. The short overhangs allowed by the EV architecture and large wheels has allowed Jeep to offer decent ground clearance of 200mm, which enables 20 degree approach and breaker angles, and a 32 degree departure angle. So if you need to take you Avenger through a ford or down a rough trail, it should be able to cope.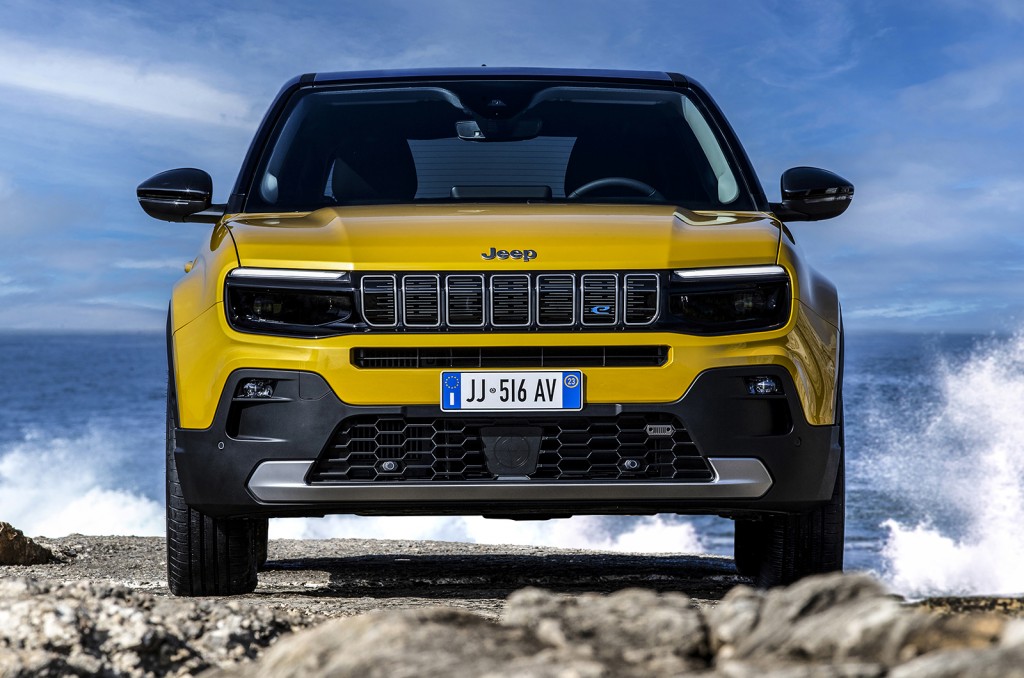 But since most small crossovers spend more time in the cities than on desert trails, Jeep has worked to maker the Avenger as safe as possible there, with encased front head lights and polymer skid plates that won't show up any scratches.
Jeep Avenger 4x4 Concept shows possible off-road version
The Jeep Avenger 4x4 Concept was revealed by the brand at the Paris Motor Show, and essentially previews what an all-wheel-drive version of the electric crossover would look like.
The design of the car has been suitably beefed up, wait the addition of extra cladding and wider bodywork around the front end, larger tyres and built-in floodlights and tow hooks.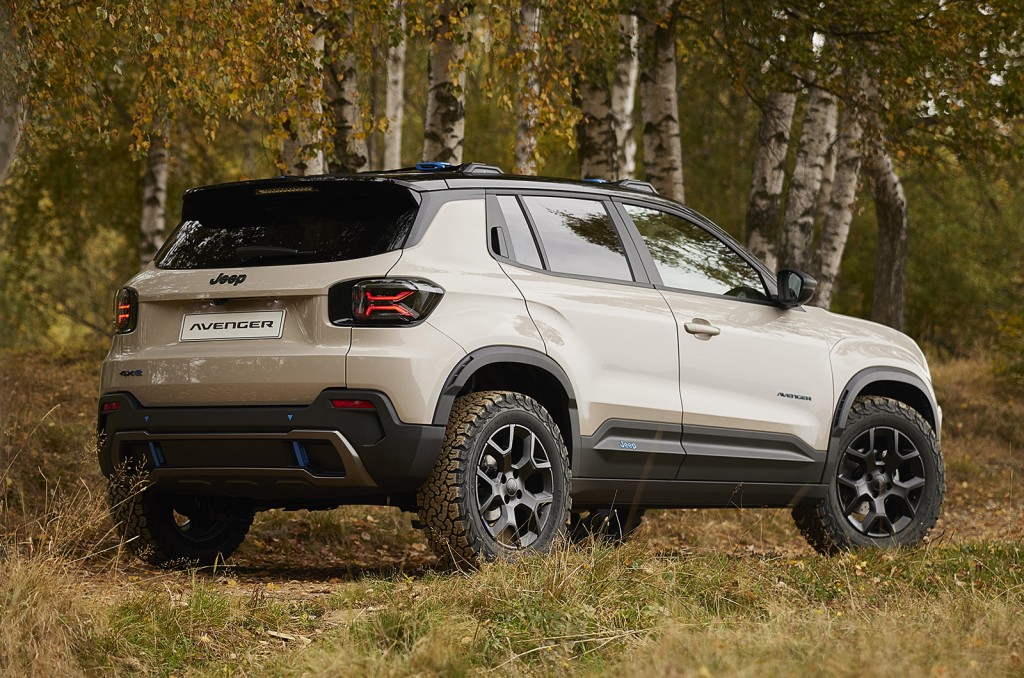 Those bigger tyres and other tweaks mean the 4x4 Concept has an extra 200mm of ground clearance, which means that the approach angle has been increased to 21 degrees, the departure angle to 34 degrees and the breakover angle to 20 degrees.
Jeep also says the machine has a lightweight roof cargo system that features a special belt that compresses the load on the roof. There are also anti-scratch features to help protect the car when driving off-road.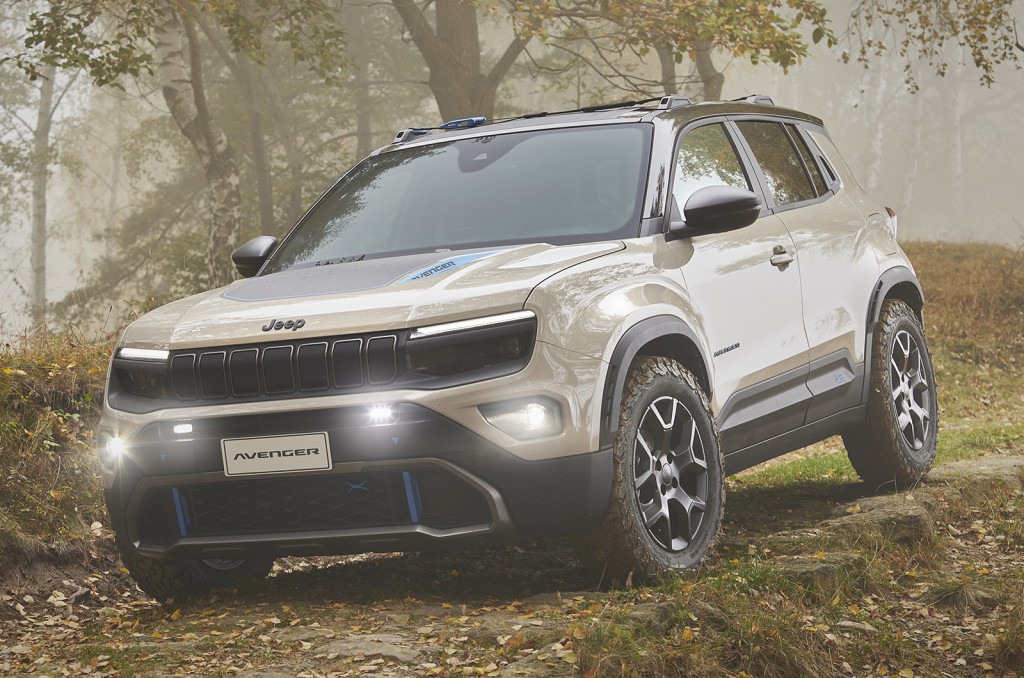 The firm hasn't given any powertrain details about the 4x4 Concept – aside, fairly obviously, from the fact it offers four-wheel-drive. With the focus of the model to reaffirm the Jeep heritage of the front-drive Avenger, the firm also hasn't signalled any production intent for the 4x4, but as we noted the machine's platform would support a twin-motor electric powertrain. 
Prepare to go customisation crazy
The Jeep Avenger is available to pre-order now, and will be offered until the end of November in a special First Edition, which includes a two-tone livery featuring a Volcano roof (that's a paint colour, not an actual volcano on the roof, just to be absolutely clear), privacy glass, 18in wheels, full LED lights and special interior trim. It also gets the bigger 10.25in infotainment screen and digital cluster, along with automatic air conditioning, a rear camera and sensors and heated mirrors.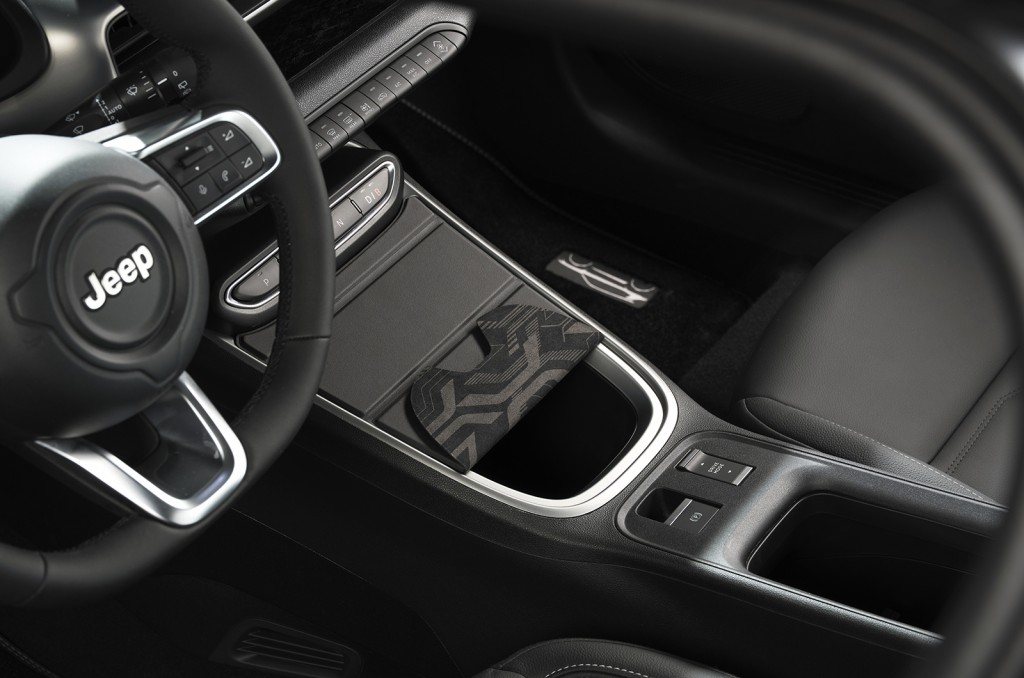 Jeep also has a long history of offering customisation and accessories for its vehicles, and it claims that there will be more than 100 accessories available for the Avenger. 
Pricing has yet to be revealed.
The Jeep Avenger will be assembled in Stellantis's factory in Tychy, Poland.
READ MORE
Subscribe to the Move Electric newsletter
e-CARS
Video: Can the National Grid cope with a surge in electric vehicles?
e-BIKES
What to look for when buying an e-bike: Move Electric's top tipsx
The rise of Volt Bikes: 'when we launched, people thought we were mad'
e-MOTORBIKES
Maeving RM1 electric motorbike review
Q&A: Zapp founder on why electric mopeds are the future
Government plans 2035 ban on new non-zero emission motorbike sales
e-SCOOTERS
Tier to upgrade e-scooter fleet with a smart 'Parrot'
Q&A: Neuron Mobility's UK boss on e-scooters, safety and helmet selfies
e-WORLD
Polestar to supply battery tech to electric boat firm Candela
Engineering giant ABB working on electric Dover-Calais ferry