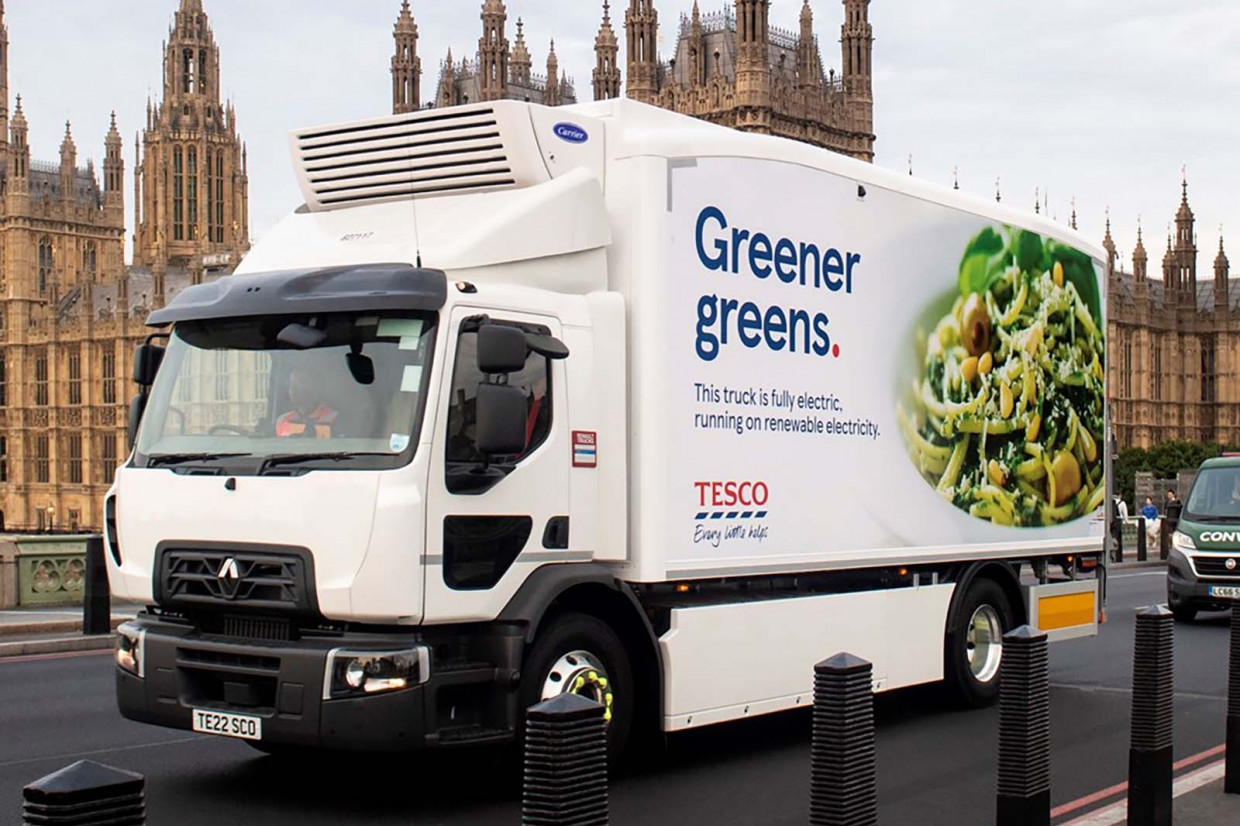 Supermarket chain Tesco has electrified part of its deliveries to more than 400 city centre stores after adding an electric Renault Trucks D Wide E-Tech to its fleet.
The electric truck is now delivering to city stores in Greater London, with Tesco planning to put more electric lorries into service in the coming months. 
The Renault has a range of up to 130 miles and is able to carry the same payload as the diesel trucks which Tesco previously used. 
Tesco says due to more towns and cities looking to implement zero-emission zones, electric vehicles will play an "increasingly important role in delivering goods". 
The new Renault electric truck is expected to replace around 30,000 miles per year of diesel-fueled road miles with clean green energy. An estimated 23 tonnes of C02e will be saved per year, according to Tesco. 
Tesco has installed electric charging points at its Dagenahm distribution centre in order to power the new truck. 
The Renault Trucks D Wide E-Tech has multi temperature zones, enabling the lorry to deliver stock that has different temperature needs. 
Tesco is also working with Swedish electric truck start-up Volta Trucks on a prototype full-electric lorry. 
The Volta Zero electric truck has been specifically designed to help tackle the problem of emissions in urban areas as well as improving road safety as a result of its purpose-built, ground-up design. 
Tesco says that by adding electric delivery lorries to its fleet will help with the supermarkets efforts to achieve net zero emissions by 2035. 
Earlier this year Tesco became the first UK retailer to add electric heavy freight articulated trucks to its fleet.
"We all want to see improved air quality and less pollution in our towns and cities, and electric vehicles will play a crucial role in achieving this," said Jason Tarry, Tesco UK CEO. 
"Together with our switch to electric home delivery vans and rolling out electric vehicle charging points for our customers, we're really excited about the improvements we're making across our business, and our transition to electric vehicles."
READ MORE
Subscribe to the Move Electric newsletter
e-CARS
UK charging networks: complete guide to every provider
New Cupra UrbanRebel is a bold EV supermini with 273-mile range
e-BIKES
10 fun things to try on an electric bike
Living with a Gocycle G4: how easy is it to adjust to?
e-MOTORBIKES
Seat Mó eScooter 125 UK review
How to do a CBT on an electric motorbike
Energica unveils new Experia electric tourer motorbike
e-SCOOTERS
Are e-scooters legal in the UK?
Private e-scooter rules 'cannot simply copy' rental regulations
Superpedestrian's European boss on why e-scooters are for everyone
e-WORLD
New Candela P-12 Shuttle to arrive as first electric 'flying' ferry
Pipistrel Velis Electro: meet the first certified electric plane