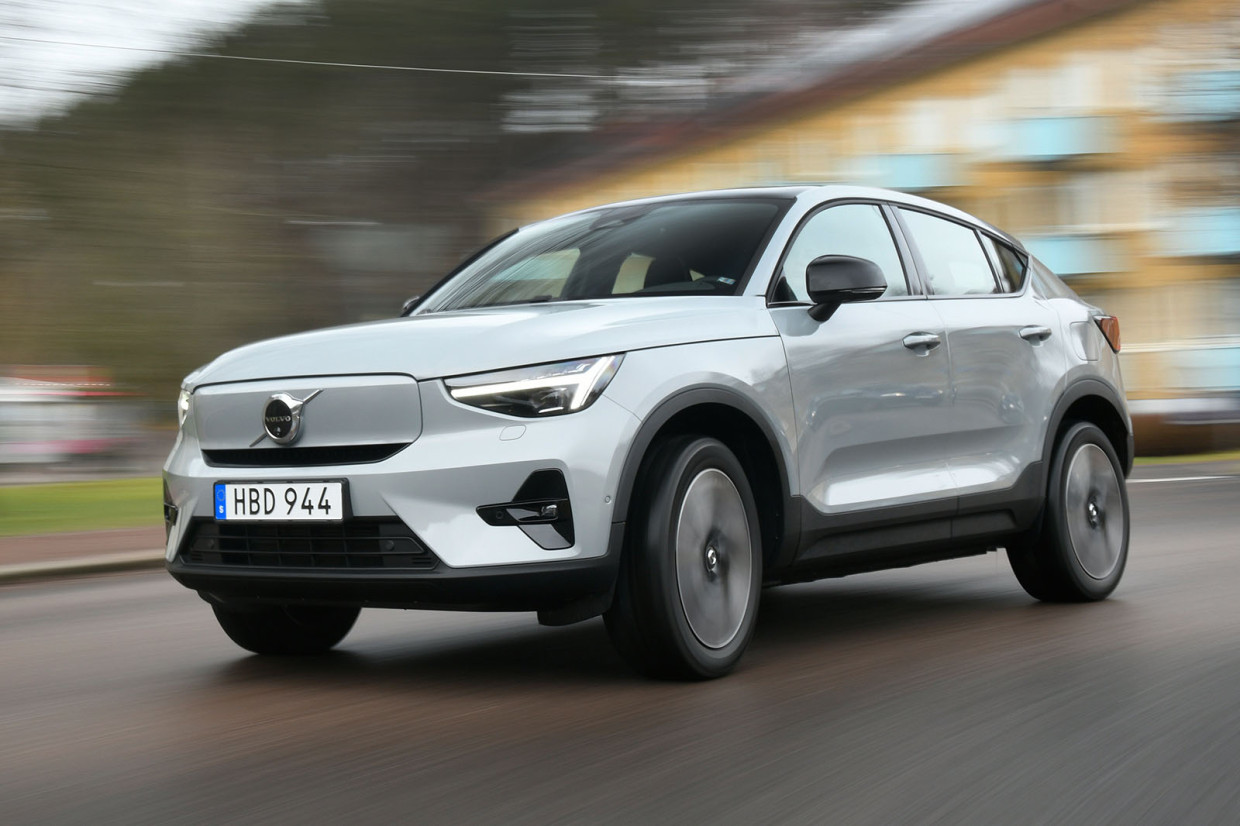 Move Electric rating: four stars out of five
Review updated May 2023 following new powertrain updates 
Sell it to me in a sentence…
The C40 Recharge is a bit of an enigma: it's a coupe-SUV reworking of the hugely successful Volvo XC40 Recharge, while also being the first Volvo "designed as pure electric only". 
Okay...
That's not the only odd thing. The machine has just received a major 'lifecycle update', with reworked versions of both the Single Motor and Twin Motor models. Most notably, the Single Motor version has switched from front- to rear-wheel-drive, making it the first rear-driven Volvo in 25 years.
I'm confused. How do this all work?
Let's deal with this in steps. The Volvo XC40 is a multi-powertrain model, which means it's offered with petrol, hybrid and electric powertrains. The smallest SUV in the Swedish firm's line-up (until a new model is revealed in the coming months), it's been a big hit, and it's easy to see why: we really rather like the battery-powered Volvo XC40 Recharge.
So how do you build on a popular SUV? Well, with a bang-on trend coupe-SUV variant, of course. After all, just about every premium SUV manufacturer is at it, so why not Volvo? The twist is that, unlike the XC40 it's based on, the C40 Recharge is only being offered with a battery electric powertrain. So it is a 'pure electric car', even if it's not actually a 'bespoke electric car' that uses an EV-only platform.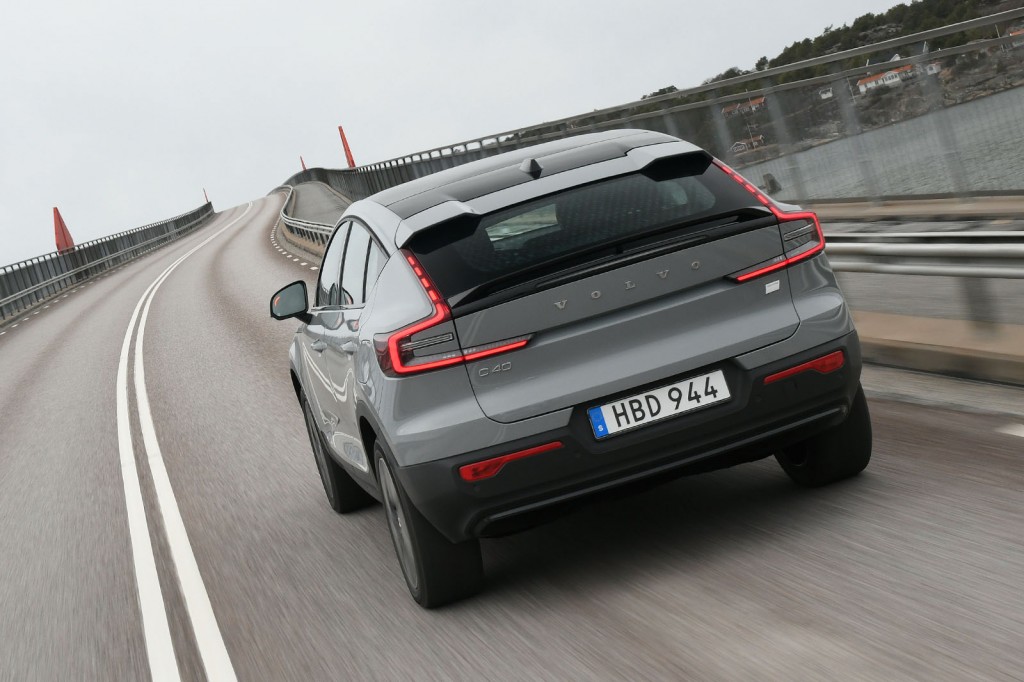 So what about this whole powertrain switch then…
As with the XC40 Recharge, the Audi Q4 Sportback e-tron-rivalling C40 launched with an all-wheel-drive Twin Motor version, followed by a Single Motor option, which used a front-mounted motor. 
We tested that Single Motor model, which featured a 170kW electric motor driving the front wheels, earlier this year. But before we'd even had chance to drive it, Volvo announced a major reworking of the XC40 and C40 powertrains, with the Single Motor model switching to a more powerful motor that's mounted on the rear axle. Similar changes are being made to the closely related Polestar 2.
We've now had a taste of the revamped model with a drive in a late-prototype C40 Recharge with the new rear-mounted motor in Gothenberg, Sweden.
But since things are never really simple in life, there's a further catch: Volvo will offer two versions of the Single Motor powertrain: one that produces 177kW and uses either a 69kWh or 82kWh battery, and a more potent 188kW version that features the 82kWh battery.
The UK will only receive the 177kW version with the 69kWh battery. But the version we drove in Sweden used the 188kW motor and 82kWh battery. Volvo claims that it is "representative" of what the less powerful version will be like to drive, but clearly we'll have to wait until we can test a UK-spec car on UK roads to really offer a definitive version.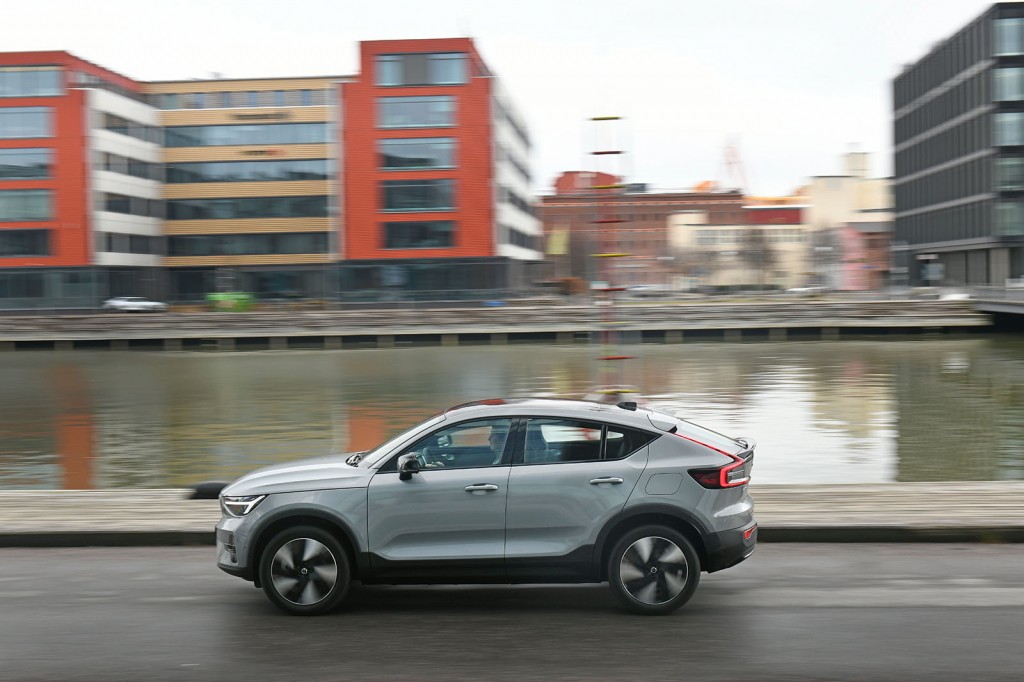 Why has Volvo done all this anyway?
It's a reflection of the relentless pace of EV development. The C40 Recharge and XC40 Recharge were starting to fall behind key class rivals in areas such as range, charging speed and - most importantly - efficiency. So Volvo has given them technology from the new bespoke EVs it is working on in a bid to catch up.
So the motor in the back of the C40 and XC40 siblings is actually the one that will feature on the front axle of the forthcoming Volvo EX90. It's an entirely new motor, and the first with all the key components built in-house by Volvo. When combined with developments elsewhere, including reworked battery cooling, that means the motor is more efficient, substantially improving range.
For the C40 Recharge Single we'll get in the UK, that means the official efficiency is raised from 3.1 to 3.5mpkWh, in turn lifting the range from 272 to 297 miles. 
The switch to rear-wheel-drive does help with efficiency a bit – think all your science lessons on the benefits of pushing rather than pulling and so on – but that's actually not the key reason. It's actually because of the reworked Twin Motor powertrain. Previously, that used a pair of identical 150kW permanent magnet motors, which meant they both delivered power all the time.
The new system features a 190kW permanent motor on the rear axle, with a smaller 110kW asynchronous motor on the front axle. They still combine for the same peak of 300kW - but because the front motor only operates when needed, the cars spends more time in rear-drive. Using only one motor instead of two makes it more efficient - 3.5mpkWh compared to 3.1mpkWh.
The Twin Motor also gains a slightly bigger 82kWh (79kWh usable) battery, which means the overall range is raised from 278 to 342 miles. It can charge faster too: up to 200kW, although the Single Motor version still only charges at a peak of 130kW.
Enough of this confusion. Why don't you just tell me about the C40 Recharge?
Well, it's exactly what you'd imagine a coupe version of the XC40 Recharge to look like. The front is virtually identical, with the sloping roofline adding a dash of extra dynamism and leading to a string rear end with prominent lights and even a small spoiler.
Predictably, the trade-off for that sloping roof is found with a reduction in rear space. Taller occupants will definitely notice, although they do get the same amount of leg room as in the XC40. The boot is also a little smaller – it's 413 litres, if you like to know such things – and a slightly less practical shape. There is a small front trunk (aka frunk or froot), although by the time you've stuffed your charging cables are in there you won't find much room to load up on shopping.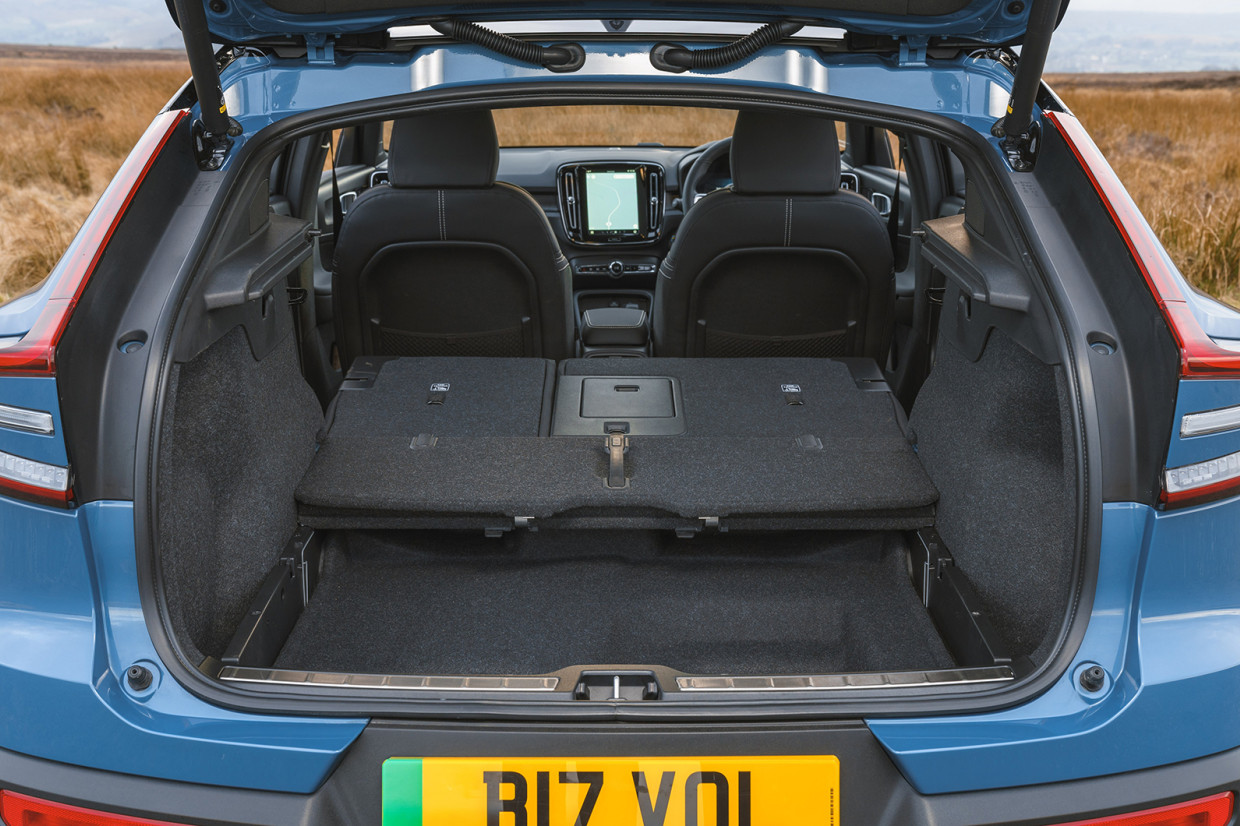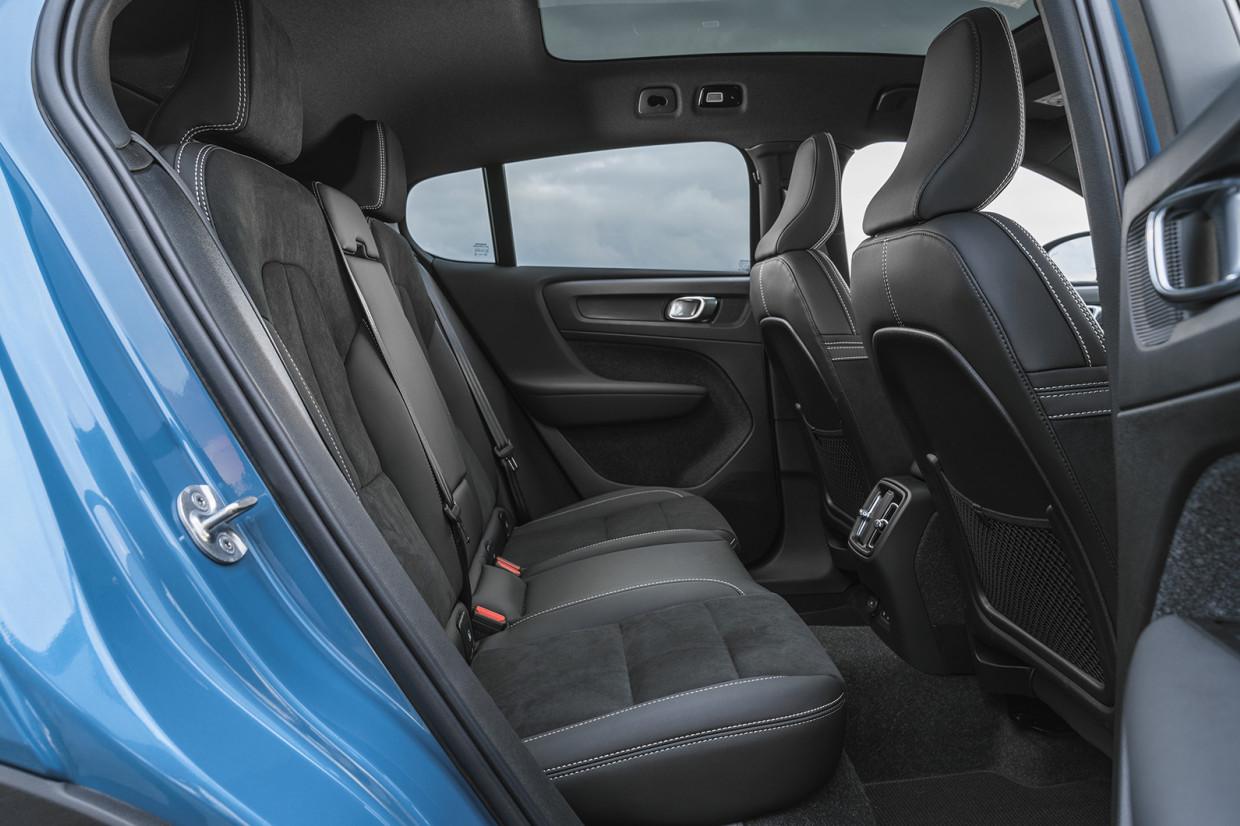 How much of a downside those aspects are will depend on how often you fill the boot or drive around with tall adults in the back of your car. And in every other aspect, the C40 Recharge interior is virtually identical to the XC40 – which is to say it's lovely. It's full of premium touches and quality-feeling materials (all trendily vegan, as well), and fits just about every 'Scandi-cool' cliché you care to think up.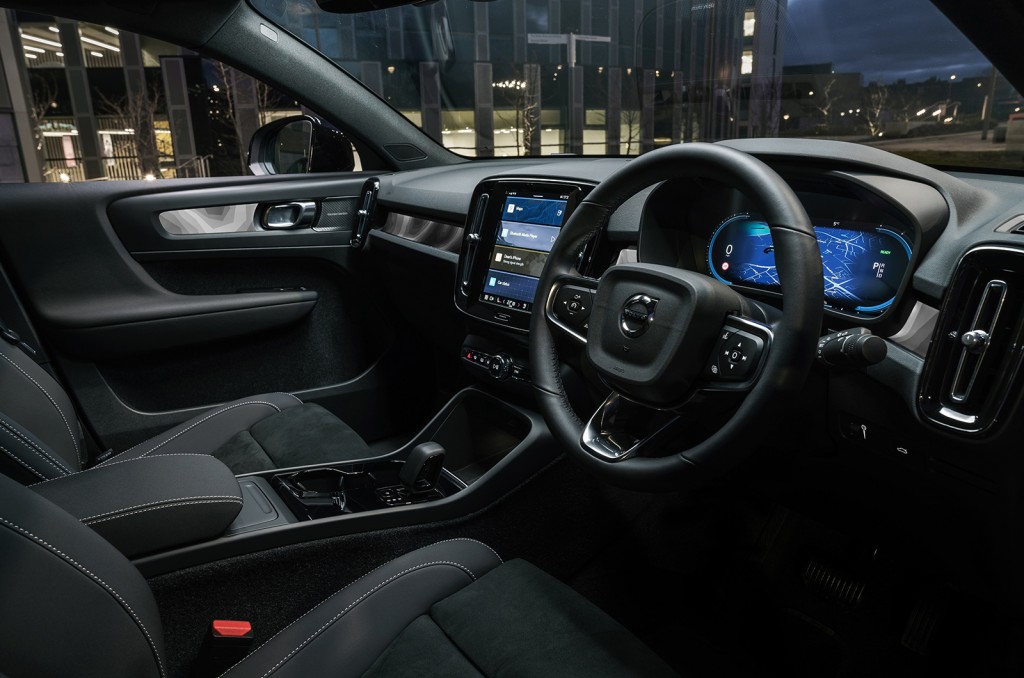 The dashboard is dominated by a vertically mounted touchscreen with features Volvo's latest Google-based infotainment system – which means that apps such as Google Maps and Spotify are baked into it. Predictable, it works well and is very slick. If you're not a fan of trying to touch a big screen while you're driving there are still a reasonable number of buttons, while if you're happy talking to your car Google's voice recognition software is some of the best around.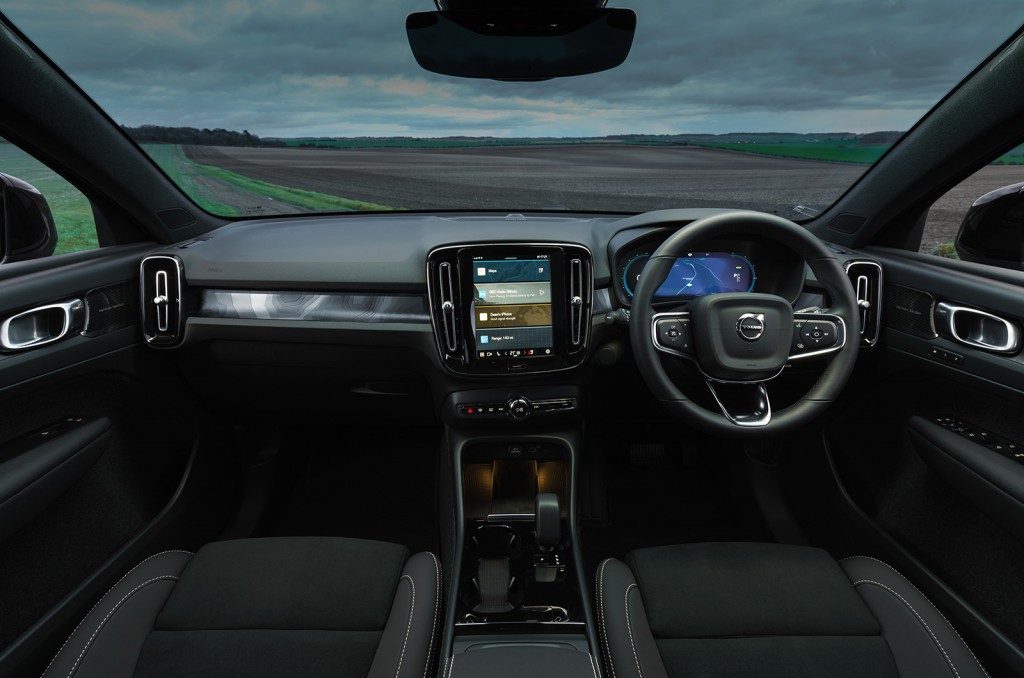 The chunky front pillars of the car do mean that visibility isn't the best, so you'll definitely want to ensure you have the rear parking sensors as an option. Higher trim levels feature a rear-view camera, which is even more help.
So what's it like to drive?
Volvo doesn't really focus on sportiness or dynamism; that's been left to sister brand Polestar. Even so, if you select the Twin Motor powertrain, the C40 Recharge is a seriously quick car. The two electric motors give it gives a supercar-troubling 0-62mph time of 4.7 seconds, and if you were so minded you could hit the limited 112mph top speed very quickly. Frankly, it's a little bit much.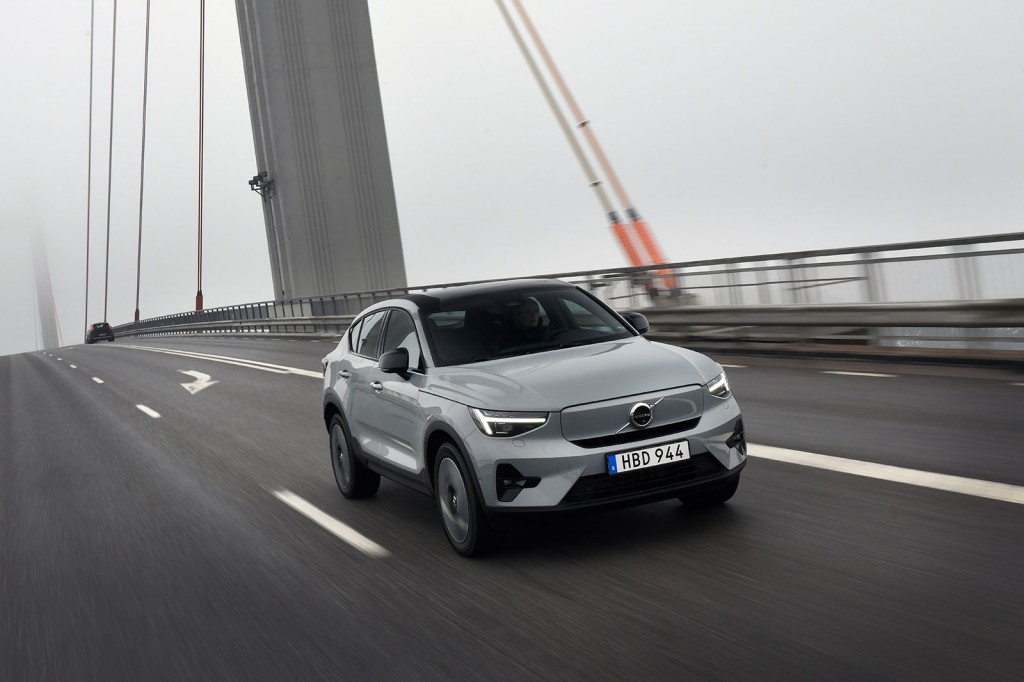 The Single Motor version isn't exactly sedate, with the new 175kW motor capable of propelling it from 0-62mph in 7.3 seconds. It certainly means you'll usually have power on hand to call whenever you might need it, and we doubt many people would miss the extra power the Twin Motor offers.
On the road, the C40 predictably feels much like the XC40: it's far from the most dynamic thing going, but it's really easy and calm to drive and it maintains a decent ride even on rough surfaces. It's all pleasingly benign, and makes for a pleasant place to spend time whether on a motorway journey or the school run.
Switching the driven wheels from the front to the back certainly doesn't transform the handling. If you really feel for it, it does turn in slightly better, and the front is a bit lighter and more nimble. But there's no transformation into a thrilling rear-drive weapon here. Which is probably for the best. This is a lovely, pleasant Volvo coupe-SUV, and it's at its best when being driven in slightly relaxed fashion.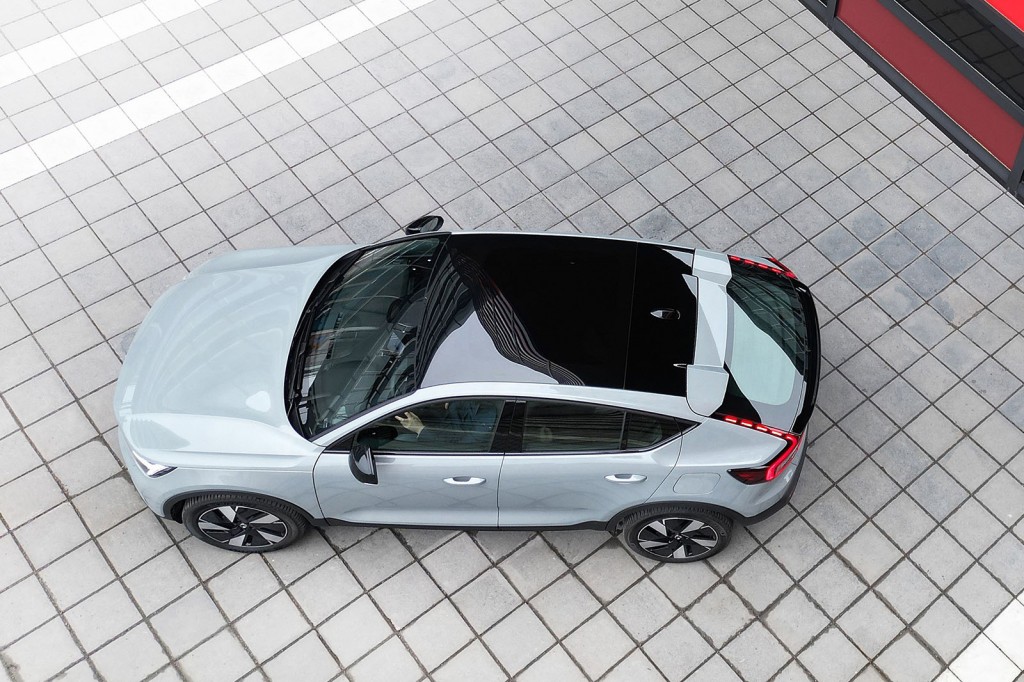 Given it's a Volvo, you'll also be fairly safe behind the wheel: the firm invented the seatbelt and still prides itself on safety kit. So the C40 is packed with useful driver assistance technology and systems. These days, Volvo is about preventing accidents in the first place as much as protecting you when they do occur.
Right, what about the C40 Recharge's range then?
The Twin Motor version now a 82kWh (79kWh usable) battery, which gives it a range of 342 miles. For the record, Volvo claims the C40's coupe design makes it four per cent more efficient on motorways than the boxier XC40. That's hardly a massive difference, but any extra range is useful in the real world.
The Single Motor we'll get in the UK uses a 69kWh (66kWh usable) battery, and has a range of 297 miles. That's an improvement on the previous front-driven version, and our test in Sweden suggests it really could average more than 3.5mpkWh without much effort, so in the real world you could be looking at 250 miles or so. That certainly puts the machine in line with rivals it previously lagged behind, even if it's still not quite among the class best.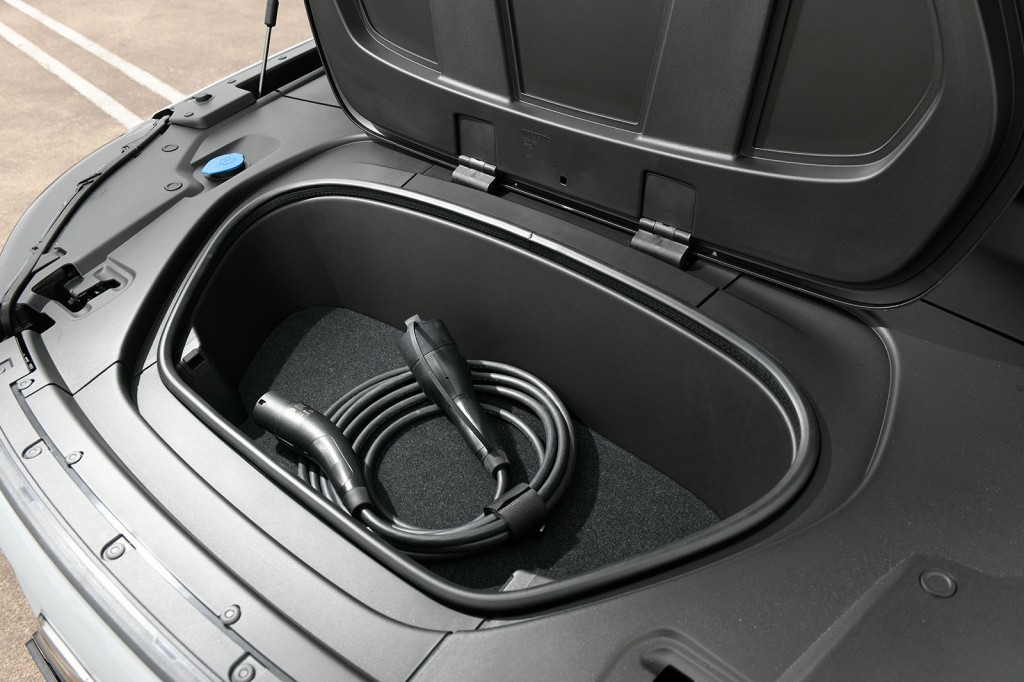 The C40 Recharge Single Motor can be charged at speeds of up to 150kW, which means with either powertrain a 34-minute charge will get you from 10 to 80 per cent capacity. The Twin Motor version now charges at 200kW, so it only takes 28 minutes to charge from 10 to 80 per cent, despite the larger battery.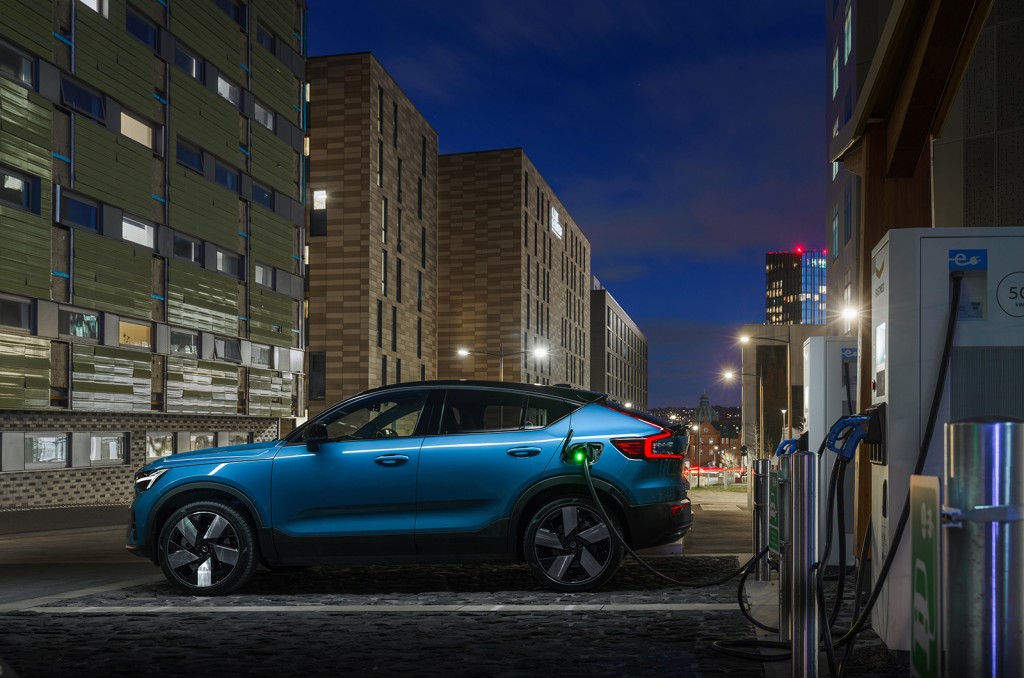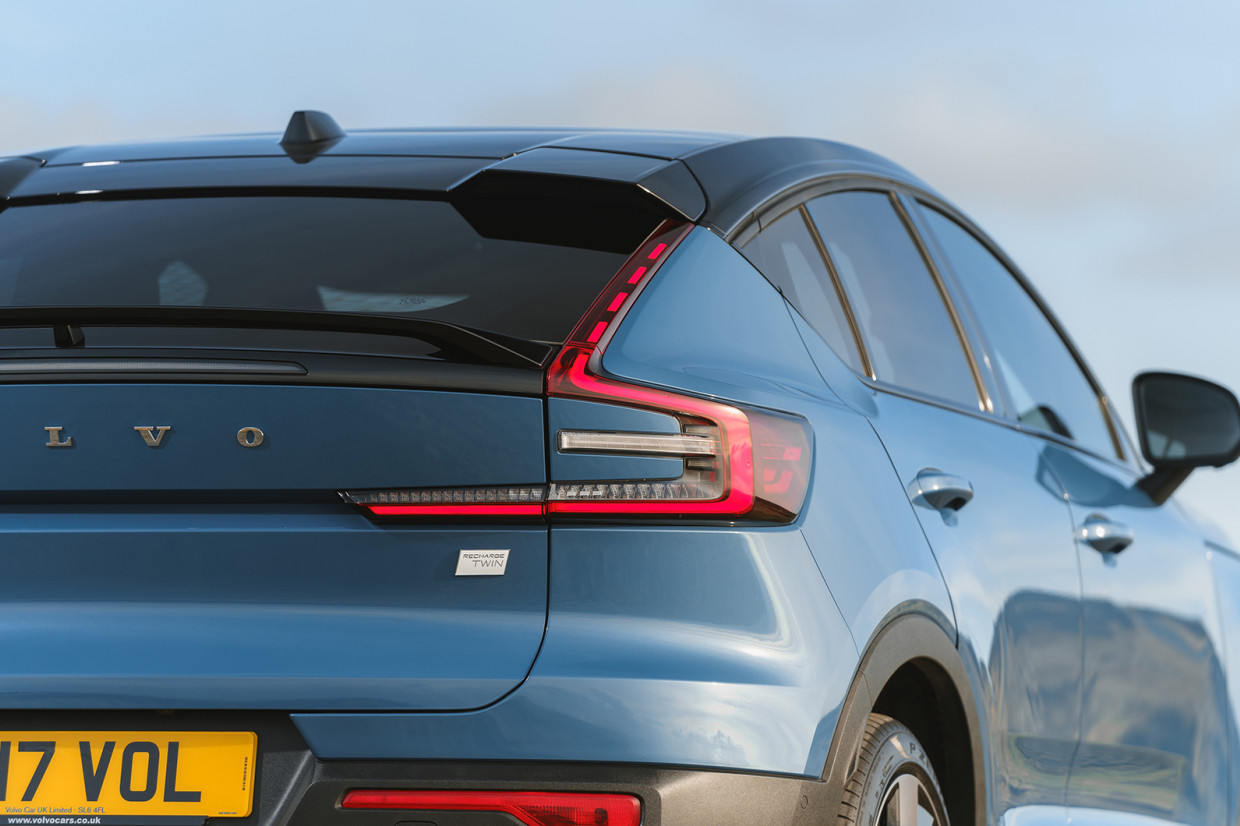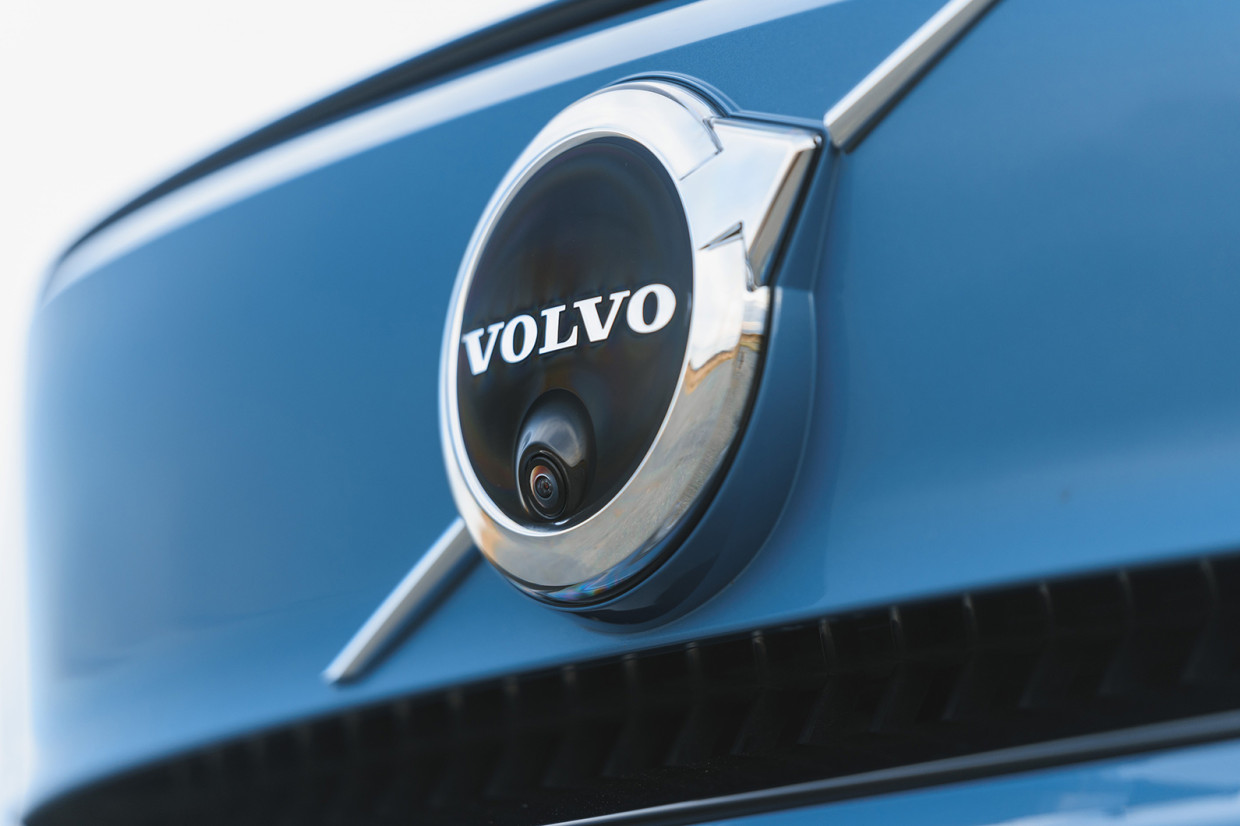 What rivals should I consider?
Well, if you're considering a C40 Recharge, the obvious place to start is with the XC40 Recharge. It's basically the same car, after all, but with slightly more room in the back and boot. And it's cheaper, too: prices for the electric XC40 start from £46,505, while you'll have to shell out at least £48,355 for a C40 Recharge.
The only caveat would be if you're looking at taking out a Care by Volvo subscription package: a monthly payment that includes the car, charging, maintenance and other expenses. The cost of cars on that scheme varies depending on availability and demand: at the time of writing, the monthly payment on a C40 Recharge was actually less than for an XC40 Recharge.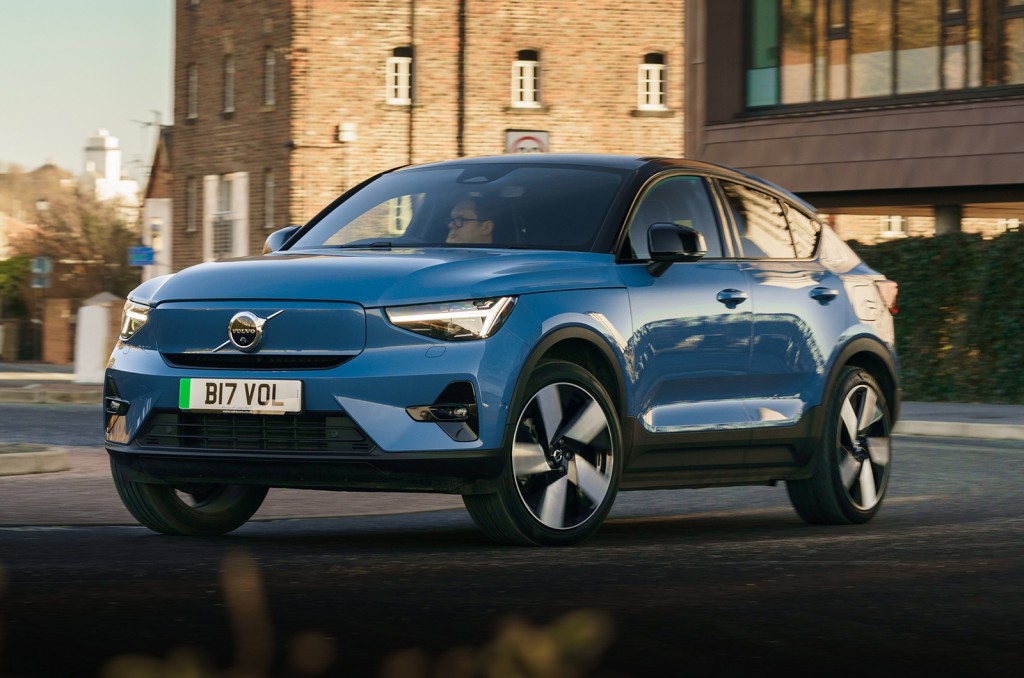 Speaking of closely related models, the Polestar 2 offers more range and is a little sharper to drive, although it does cost a bit more.
If you're set on an electric coupe-SUV with a premium feel, the Audi Q4 e-tron Sportback is definitely worthy of consideration – and offers more range. And you'll probably want to look at the Skoda Enyaq Coupe and Volkswagen ID 5 as well.
Looking more broadly at electric SUVs similar in size to the C40 Recharge, the Tesla Model Y is a benchmark in the segment, while the Nissan Ariya has distinctive styling and impressive performance. 
Verdict
It would be easy to dismiss the C40 Recharge as a less practical and more expensive reworking of the XC40 Recharge. But the success of electric coupe-SUVs shows that's a trade-off many buyers are willing to make, and the reworked rear end certainly give the C40 its own sense of style.
It might not offer the range of some rivals, but this is a classy, premium machine that offers distinct style and a luxurious interior. In our view, the Single Motor version makes the most sense, given the excess power of the Twin Motor.
Ultimately, the XC40 Recharge will make most sense for many buyers given the lower price, but if you're looking for a slice of electric Scandinavian cool and you're prepared to pay extra for extra swoopy style, you'll find a lot to like here.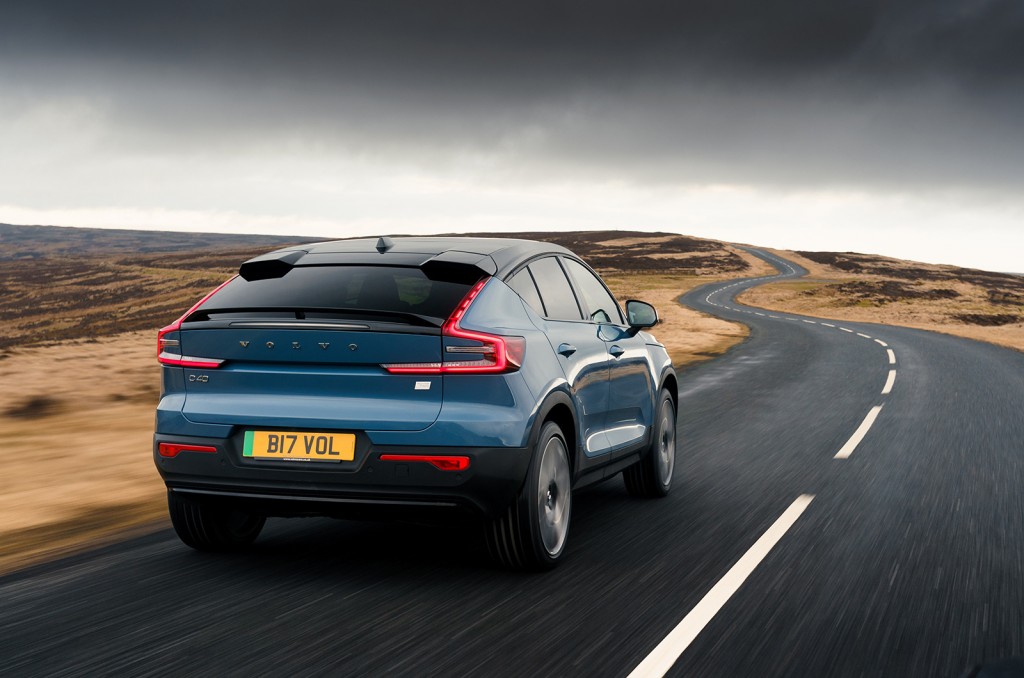 Volvo C40 Recharge specification
Price from: £48,355 (Single Motor), £53,605 (Twin Motor)

Motors: Permanent magnet electric motor (Single), Permanent magnet and asynchoronous electric motors (Twin)
Gearbox: Automatic

Driven wheels: two or four

Maximum power: Single Motor 175kW, Twin Motor 300kW

Maximum speed: 112mph

0-62mph from: 4.7-7.4secs
Battery capacity: Single Motor 69kWh (66kWh usable), Twin Motor 82kWh (79kWh usable)

Electric range (official): 297-342 miles
Energy consumption: Single Motor 3.7mpkWh, Twin Motor 3.5 mpkWh

CO2 emissions: 0g/km

Kerb weight excluding driver: 2030-2188kg

Gross vehicle weight: 2480-2650kg

Height: 1591mm Length: 4440mm Wheelbase: 2702mm
Width with mirrors folded: 1873mm

Maximum boot capacity: 413-1205 litres
RIVALS
READ MORE
Subscribe to the Move Electric newsletter
e-CARS
Ten electric cars we're excited for in 2023
Getting an EV sideways: how easy is it to drift a Kia EV6 GT?
Q&A: Jaguar Racing's Sam Bird and Mitch Evans on Formula E's new era
e-BIKES
Ten electric bikes we're excited for in 2023
Can you get fit using an electric bike?
e-MOTORBIKES
Ten electric motorbikes we're excited for in 2023
Super Soco TC Max electric motorbike review
Cake and Polestar team up for new special edition Makka e-motorbike
e-SCOOTERS
Planned laws to legalise private e-scooters face delay
Five key takeaways from the rental e-scooter trials report
Which train firms have banned e-scooters from their services?
e-WORLD
Move Electric's best features of 2022: lap records, tuk-tuks… and sausage rolls
Volvo Trucks keeps on electric trucking with three new models