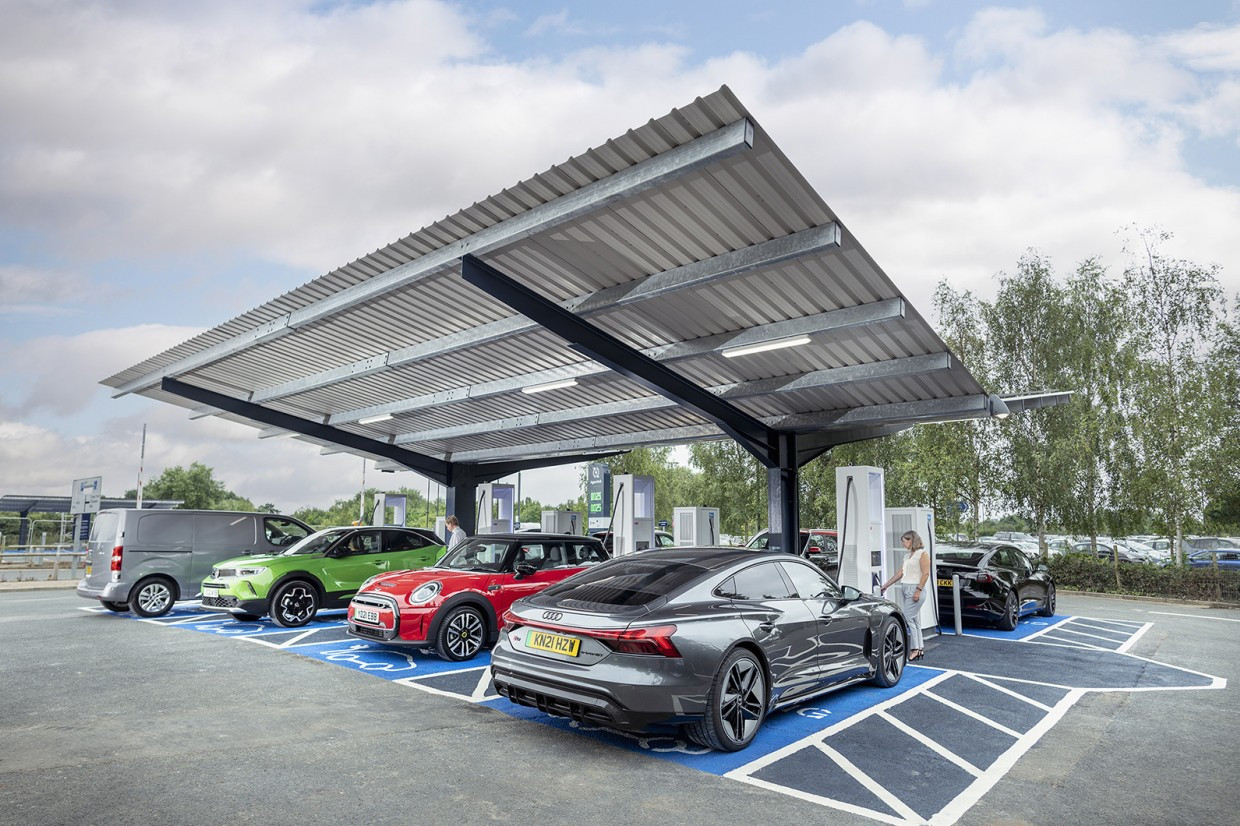 To the city of York's top attractions, which include the cathedral and medieval Shambles area, you can now add another: its smart, new, award-winning HyperHubs. The first of these four 50kW rapid and four 175kW ultra-rapid EV charging stations has just opened at Monks Cross with a second, at Poppleton Bar, following in the summer, a third later in the year and a fourth currently in planning. 
What makes them different from other charging locations is that they're owned by the council, in this case City of York Council whose idea they were and who led the project. They're located close to the city and to park and ride areas and they're cheap to use with a rapid and ultra-rapid tariff of 25p/kWh. Contactless payment can also be taken without incurring a charge and there's no minimum spend.
Each charger has its own car bay and, at least at the launch facility, when all eight chargers are in use there's no drop in power thanks to a large grid connection. At the second location, Tesla Powerpack batteries will support a smaller grid connection to ensure there's enough of the renewable energy flowing.
Current and future HyperHubs have a solar canopy to capture electricity to reduce reliance on grid power and which at Poppleton Bar and future HyperHubs will be stored in Tesla Powerpacks. All HyperHubs have disabled access so that everyone can take advantage of them.
It sounds like the whole project's been properly thought-through and, indeed, it has. The HyperHubs are the fruit of the council's innovative Electric Vehicle Charging Strategy launched in 2020.
Intended to ensure the HyperHubs meet the needs of residents, fleets, commuters and through traffic, the convenient location of the charging hubs is a central part of this strategy, as also is their competitive tariff. 
"The strategy commits us to providing high-quality EV charging facilities with an attractive tariff," explains Andrew Leadbetter, Transport Project Manager – EV strategy at City of York Council. "From the start we worked backwards from the customer, so we first identified user groups we wished to provide all our chargers for, including residents without driveway parking as well as commuters, visitors to the city and tourists."
As a result, the new HyperHubs are a part of a city-wide, joined-up plan to cater for as many different users as possible. In addition to the HyperHubs, which are located close to the ring road frequently used by locals, other charging locations in and around York are the fast-charge points in long-stay car parks close to terraced housing and the 50kW rapid chargers in other car parks catering, for example, to shoppers. 
Elsewhere in the City is a network of 50 fast chargers dispensing power at 20p/kWh, while alongside the Monks Cross HyperHub is an area populated with 30, 7kW charging points dispensing it at the same tariff.
"The Charging Strategy is about providing the most appropriate structure for the location," says Leadbetter. "To that end, in addition to the HyperHubs we'll build more smaller chargers closer to urban areas."
Because it could see how such an ambitious strategy would struggle to be commercially viable, the city's charging network is owned by the council. This, it says, allows it to oversee its growth and enables it to deliver next-generation chargers as quickly as possible. It also allows it to set tariffs, which are reviewed annually.
"Part of the strategy is that the network must cover its own operating costs," says Leadbetter.
"We will not be making a profit from it but we won't be a drain on tax payers' money. To achieve this, the HyperHubs, for example, generate solar electricity that we can store in the Powerpacks for charging or sell to the grid, giving us additional revenue. Ultimately, by exporting energy and generating our own, we could run a user tariff below the market cost of electricity."
To fund the HyperHubs, the council secured £1 million of European Regional Development Funding and £800,000 from the Office for Zero Emission Vehicles, along with £400,000 of its own capital funding for the first two HyperHubs. This has resulted in 80% of the £2.2 million project being externally funded.
The project is supported by partners including Evo Energy, which helped manage the construction of the HyperHubs, ABB which provided the infrastructure and BP Pulse which provides ongoing customer support.  
"Our HyperHub project has generated a lot of interest among other councils and has been well received by residents," says Leadbetter. "Already, the first one is being used, often to capacity. Being a 24-hour facility, it's used around the clock by locals as well as by visitors. We're very pleased."
John Evans
READ MORE
Subscribe to the Move Electric newsletter
e-CARS
UK charging networks: complete guide to every provider
New Cupra UrbanRebel is a bold EV supermini with 273-mile range
e-BIKES
10 fun things to try on an electric bike
Living with a Gocycle G4: how easy is it to adjust to?
e-MOTORBIKES
Seat Mó eScooter 125 UK review
How to do a CBT on an electric motorbike
Energica unveils new Experia electric tourer motorbike
e-SCOOTERS
Are e-scooters legal in the UK?
Private e-scooter rules 'cannot simply copy' rental regulations
Superpedestrian's European boss on why e-scooters are for everyone
e-WORLD
New Candela P-12 Shuttle to arrive as first electric 'flying' ferry
Pipistrel Velis Electro: meet the first certified electric plane