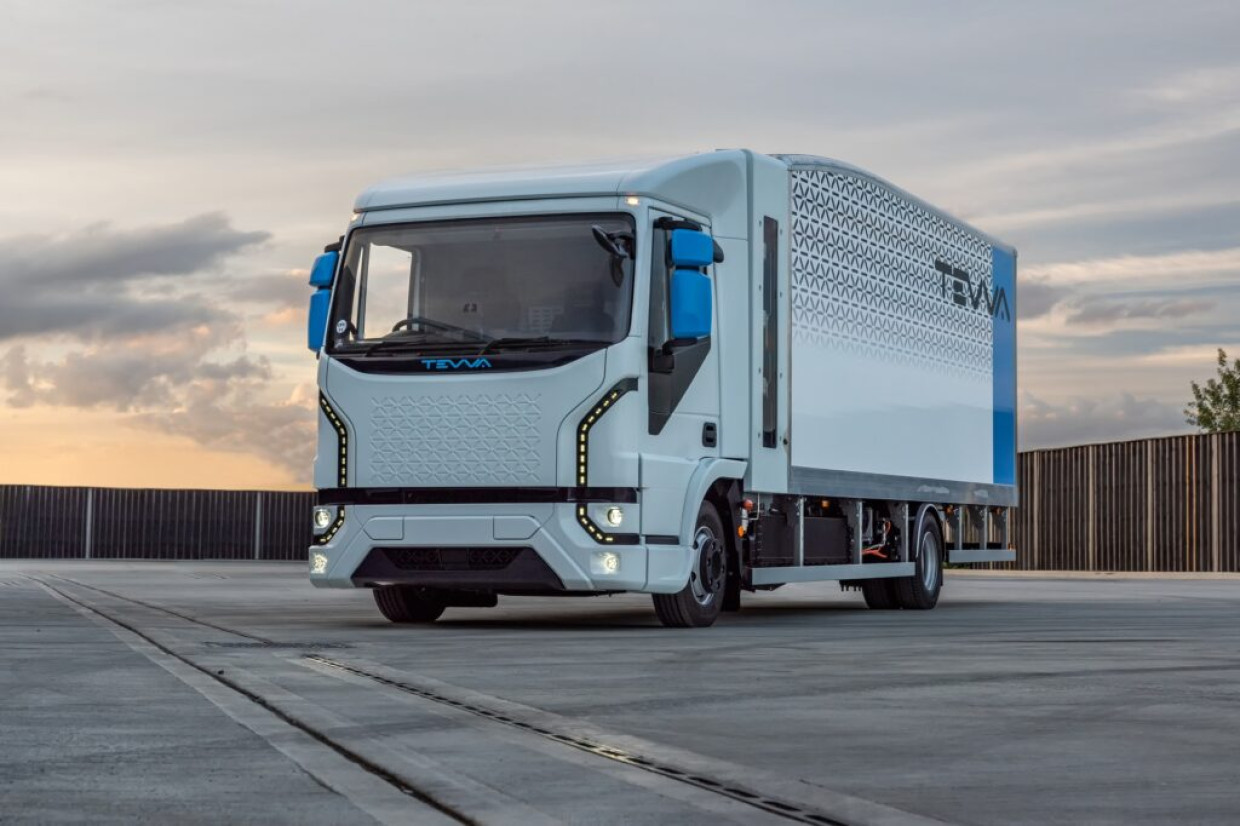 British electric truck manufacturer Tevva has unveiled a new long-range hydrogen fuel heavy goods vehicle, which will be manufactured in the UK alongside a battery electric version.
The Essex-based firm unveiled its first fully electric 7.5 tonne truck, which has a range of up to 160 miles, last year. It will produce the machines at a facility in the London Thames Freeport area, with deliveries of the electric truck due to start later this year.
The hydrogen variant will be built at the same facility, and will be the first hydrogen truck produced in the UK.
The hydrogen-electric version will effectively be offered as a range extender to allow the machine to be used for longer journeys. Tevva says this will allow it to offer zero-emissions solutions that will suit a number of fleet operators across several industries. 
The hydrogen fuel cell system is used to charge the electric motor's battery, which increases the vehicles overall range, enabling the truck to travel further without needing to stop and charge. 
Tevva added that using the fuel cell as a range extender rather than a primary source of power allows it to "provide smaller, cheaper and lighter fuel cells" and operate them "at the highest possible efficiency."
With the hydrogen fuel cell onboard, Tevva's 7.5 tonne truck can travel a greater distance of 310 miles which the firm says is enough to "comfortably meet demanding duty cycles". 
The truck manufacturer added that hydrogen refuelling typically takes a similar time to diesel truck refuelling and the dual use of both battery electric and hydrogen energy sources "futureproofs" Tevva and its customers. 
"We are excited to launch our hydrogen electric HGV, creating a landmark moment for Tevva and UK manufacturing," said Tevva boss Asher Bennett. 
"By embracing hydrogen, we are futureproofing ourselves, our clients and the industries and communities they operate in. With our commitment to customer service, we believe that Tevva's hydrogen electric truck will be a popular choice for fleet operators across the UK, Europe and eventually North America."
READ MORE
Subscribe to the Move Electric newsletter
e-CARS
UK charging networks: complete guide to every provider
New Cupra UrbanRebel is a bold EV supermini with 273-mile range
e-BIKES
10 fun things to try on an electric bike
Living with a Gocycle G4: how easy is it to adjust to?
e-MOTORBIKES
Seat Mó eScooter 125 UK review
How to do a CBT on an electric motorbike
Energica unveils new Experia electric tourer motorbike
e-SCOOTERS
Are e-scooters legal in the UK?
Private e-scooter rules 'cannot simply copy' rental regulations
Superpedestrian's European boss on why e-scooters are for everyone
e-WORLD
New Candela P-12 Shuttle to arrive as first electric 'flying' ferry
Pipistrel Velis Electro: meet the first certified electric plane