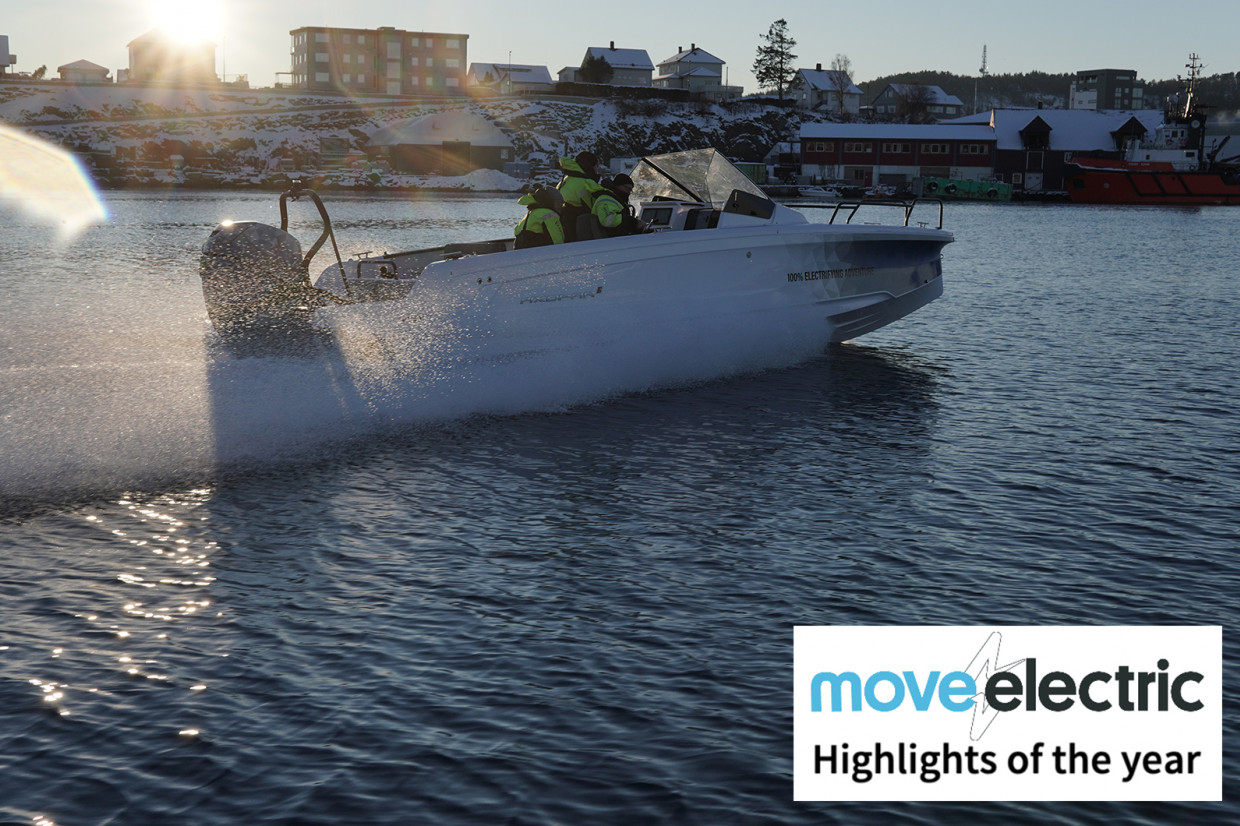 The Move Electric team have been flat-out all year covering the hugely broad world of e-mobility, trying out some the best and most innovative machines – and meeting the people who make them.
This week our team are picking out their personal highlights of the year, those moments that stood out for whatever reason. First up is Move Electric editor James Attwood.
Keep up with the latest e-mobility news: subscribe to our FREE newsletter
Winter boating with Evoy on the coast of Norway
Florø harbour has an electric charging infrastructure that would make many electric cars owners in the UK jealous. Along the town's pier you'll find several CCS chargers, including fast chargers capable of speeds of up to 150kW. And they're all for boats.
The installation was the first high-speed marine EV charging hub installed anywhere in the world. Which might seem odd, given Florø is a small town of around 9000 people on a small island on the west coast of Norway. But the hub is largely here because of a partnership between energy firm Plug and Evoy, arguably the current world-leader in electric powerboat motors.
Those fast chargers are put to good use by Evoy, and on my visit had been used to top up the batteries on two powerboats that use the firm's technology: an Axopar 25, which uses a 225kW (300hp) prototype outboard motor, and a Goldfish X9, with a 300kW+ (400 hp) outboard motor. 
While I've tried plenty of electric vehicles of all shapes and sizes, I'm a bit of a fish out of water when it comes to boats. So would I be out of my depth given a chance to drive two? Sorry, I'll stop with the watery puns now. 
Thankfully, Evoy founder Leif Stavøstrand was on hand to steer us out of the harbour and into open water, and then to provide exert tuition on how to pilot an electric boat. And you know what? It's actually really easy. There are only really two controls to worry about – a steering wheel and a throttle – and the digital driver display is similar to that you'd find in many modern cars. And everything you love about electric cars – the lack of engine noise, instant torque, simple controls – is relevant to electric boats. 
The key thing to learn is that for maximum efficiency with an electric boat you either want to be going very slowly or very fast. At low speeds the instant torque of the motor means it will burble along happily at low output, and far more readily than a combustion engined-boat. But as you go faster pushing through the water is a huge drain on efficiency, until you reach the point where you start planing – popping above the surface of the water.
At faster speeds an electric boat is as thrilling as you might expect, and the open water gives a sense of freedom you'll rarely find on traffic-strewn roads (just watch out for the cargo tankers). Then you slow down, until all you hear is water splashing gently on the boat's hull, and gaze up at the incredible snow-covered scenery, offset by a bright blue sky and crystal clear Norwegian waters, and it's intoxicatingly peaceful. 
The scenery alone would have made my trip to Florø a highlight of my year, and absolutely worth layering up to brave a Norwegian winter. But the real highlight was meeting Leif and the Evoy team. Electric boat development is still some years behind electric cars, but Evoy is one of the firms really pushing it forward. 
We'll have a full feature on the firm coming up early next year, but I'm not giving anything away by saying there's an exciting start-up feel to Evoy, and the firm is truly charting new waters for electric boats. Sorry.
READ MORE
Subscribe to the Move Electric newsletter
e-CARS
Chinese car brand Nio to expand into UK by end of 2023
Driving a Citroën Ami around London: five things we learned 
New Polestar 3: 380kW performance EV aims to 'redefine' the electric SUV
e-BIKES
Seven essential accessories to improve your e-bike life
The Lake District village that's pioneering community e-bike schemes
e-MOTORBIKES
Honda to launch more than 10 electric motorbikes by 2030
New Zero DSR/X launched as electric adventure motorbike
Stilride: the brand reinventing electric motorbike production
e-SCOOTERS
8Tev B12 Roam e-scooter review
Pure Electric launches two new machines that 'reinvent' the e-scooter
Rise in e-scooter accidents prompts call for 'urgent' government action
e-WORLD
Artemis electric ferry revealed for Bangor to Belfast service
New Mobilize Solo Concept is a safety-conscious e-scooter rival
Volta Zero: the electric truck tearing up the rule book for the electric age