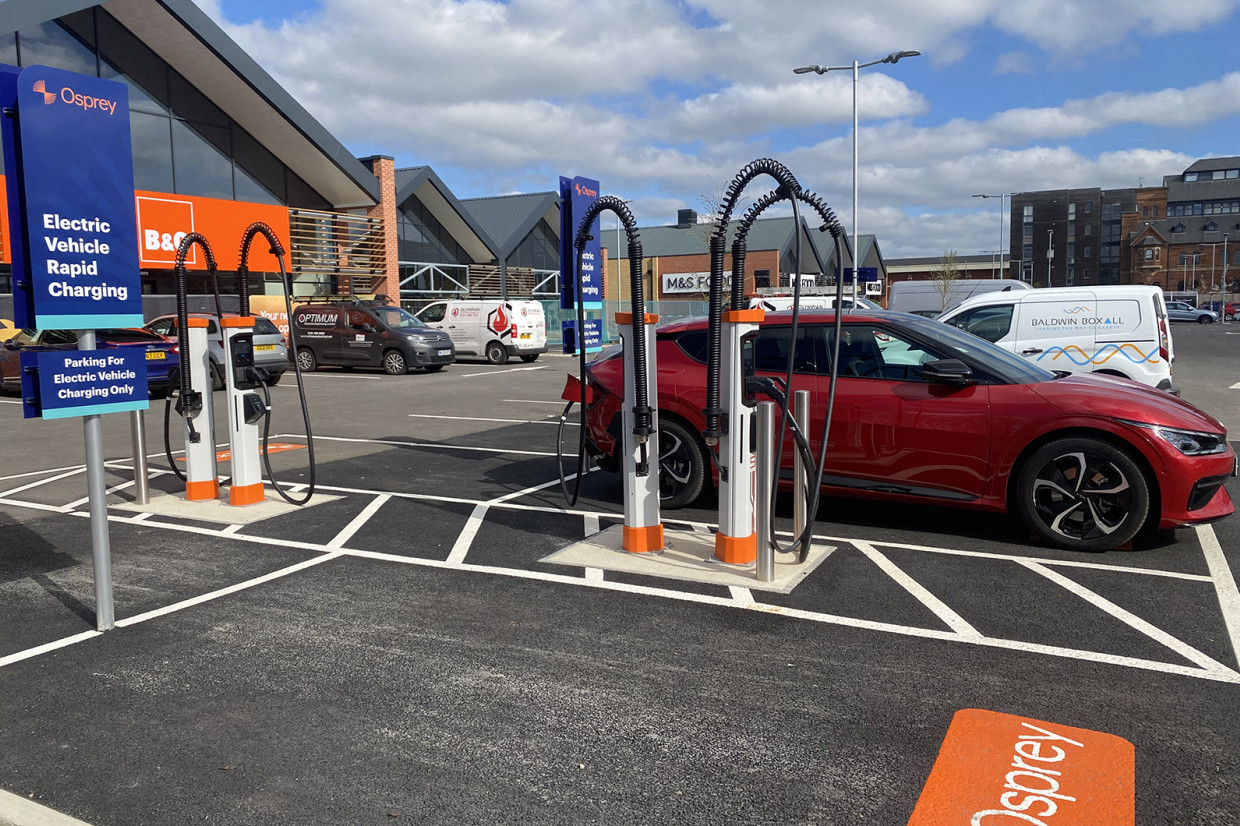 Eighteen of the UK's leading electric vehicle charging companies have joined together to form a new trade association – and pledged to double the size of the national charging network by the end of this year.
ChargeUK will serve as a new trade association to represent the UK's EV charging industry, working with government and other stakeholders to help shape policies and regulations that will enable the continued growth of the UK's chargepoint infrastructure.
The latest EV charging news in your inbox: it's the FREE Move Electric newsletter
The 18 firms who have formed ChageUK including industry giants BP pulse, ChargePoint, Fastned, Gridserve, Ionity, Osprey, Pod Point and Shell Recharge. The firms have pledged a combined investment of more than £6 billion by 2030, which will fund "tens of thousands" of new chargers.
Ian Johnston, the boss of charging firm Osprey, will serve as the chair of ChargeUK. He called the formation of the new body "an exciting day", adding that it was "a demonstration of the electric vehicle charging industry's growing size and importance to the UK economy.
"Together we are investing billions of pounds to get more charge points in the ground right across the country. These numbers reinforce our commitment to the UK's Net Zero future. We will continue to be a proactive partner to Government as we deliver a world-class charging infrastructure, giving the nation's drivers confidence to transition to electric vehicles."
The introduction of ChargeUK was welcomed by transport decarbonisation and technology minister Jesse Norman. He said the launch "shows how industry working together, alongside the Government, can release private investment, improve delivery, raise standards and promote the use of electric vehicle charging infrastructure for drivers across the country."
He added: "Our commitment to decarbonising transport, backed by hundreds of millions in funding, has helped to unlock private sector investment, and the ambitious plans of ChargeUK's members will support more people than ever make the transition to EVs."
The founding members of ChargeUK are Be.EV, Believ, BP pulse, char.gy, ChargePoint, Connected Kerb, ESB, Equans, Evyve, Fastned, Gridserve, Ionity, Mer, Osprey, Pod Point, PoGo Charge, Shell Recharge and Raw Charging.
READ MORE
Subscribe to the Move Electric newsletter
e-CARS
What is a heat pump and how do they benefit electric cars?
Bold new Volkswagen ID 2all previews sub-£22,000 electric car
e-BIKES
Ten electric bikes we're excited for in 2023
Nine ways to keep your e-bike safe
E-bike theft: how common is it and what can you do to protect your e-bike?
Haibike AllMtn CF 6 e-bike review
e-MOTORBIKES
10 electric motorbike start-ups you should watch out for
Energica e-motorbike to take on all-comers in US racing series
Ducati: How the Italian motorbike brand is gearing up for the electric era
e-SCOOTERS
Planned laws to legalise private e-scooters face delay
Leading e-scooter firms team up on best-practice guide for cities
Ambiguity over e-scooter legality causing 'confusion', says police chief
e-WORLD
Solar panels: 8 ways the sun can power your electric life
First ride: Lunaz Upcycled Electric Vehicle bin lorry
AutoFlight secures huge order for Prosperity 1 eVTOL craft