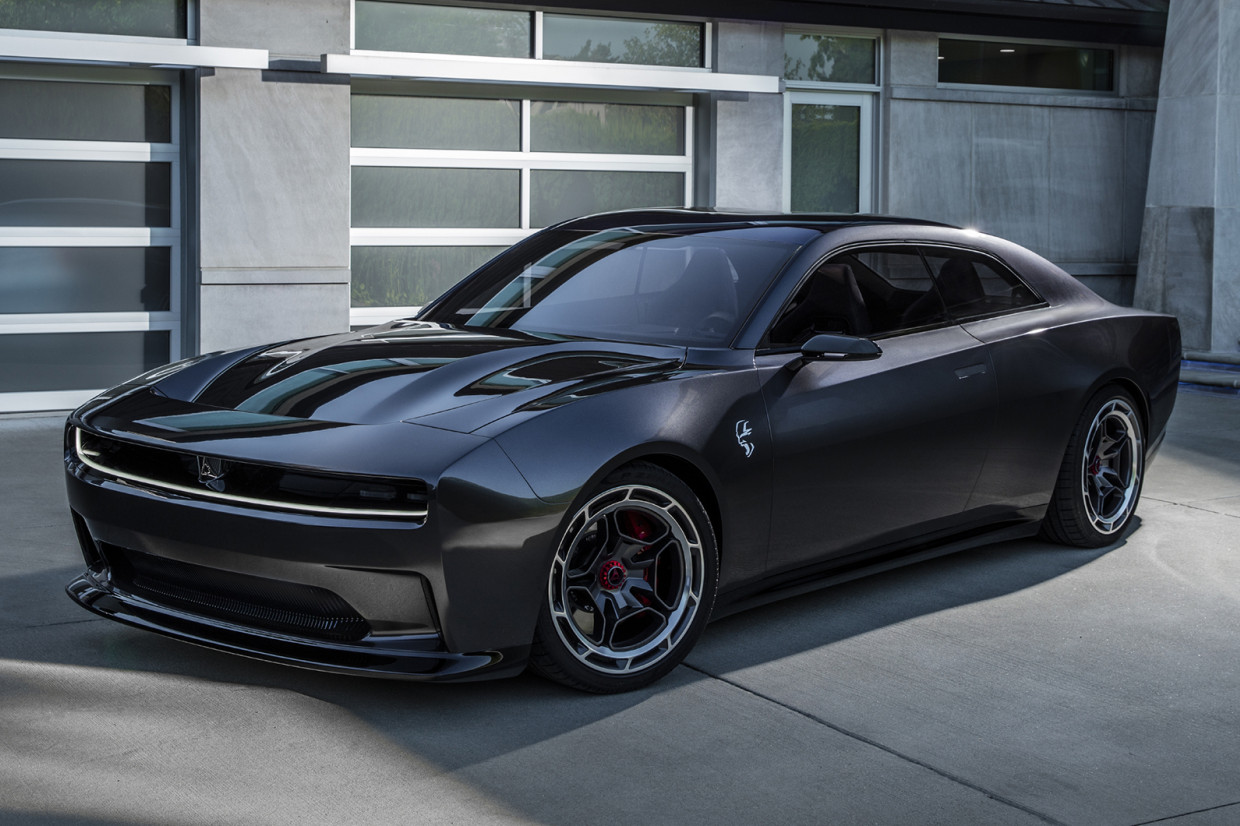 Say hello to the stunning Dodge Charger Daytona SRT Concept, which previews what a future electrified muscle car could look like – complete with a new powertrain called 'Banshee', a multi-speed transmission gearbox and an unusual 'exhaust system'. 
Electric news, reviews and features in your inbox: subscribe to the FREE Move Electric newsletter
The machine has been unveiled by the American performance brand as part of its Dodge Speed Week event, and showcases how its long-running Charger two-door coupe could look when the traditional combustion engine is switched for an electric powertrain.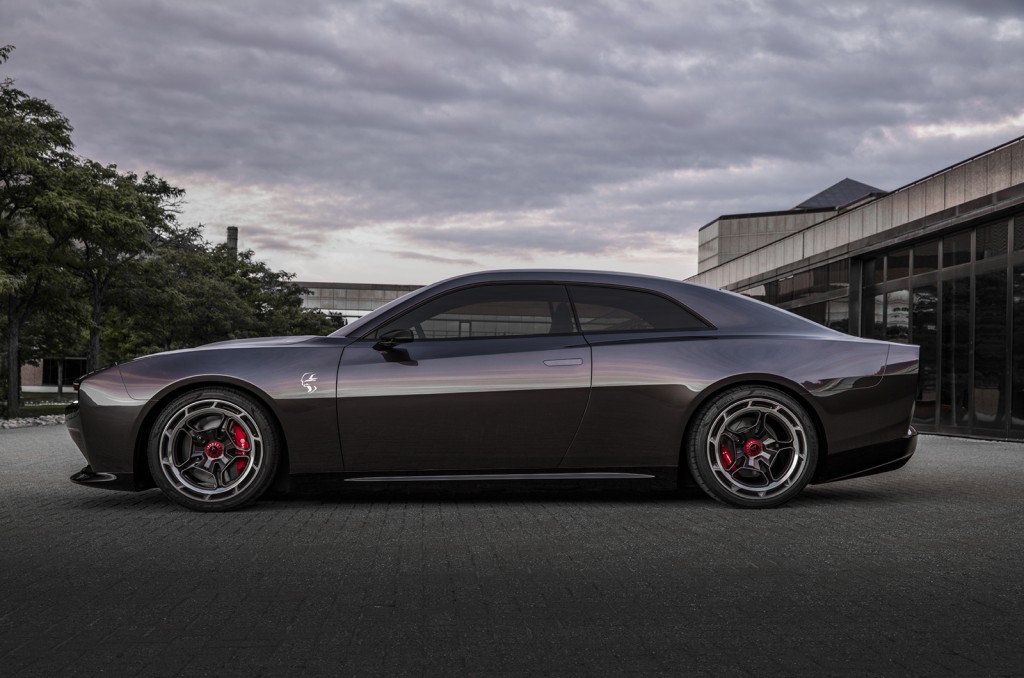 Dodge boss Tim Kuniskis said: "The Dodge Charger Daytona SRT Concept exists because performance made us do it." He added: "Charger Daytona does more than define where Dodge is headed, it will redefine American muscle in the process."
Dodge has yet to confirm production intent for the Charger Daytona SRT Concept, and if it does the machine is unlikely to reach the UK officially. But it's still worth looking at here, because it's both very cool and because Dodge is part of the Stellantis empire – so some of the tech developed for it could potentially be shared by brands such as Peugeot, Fiat, Alfa Romeo, Jeep and Maserati.
The EV's name is inspired by the Dodge Charger Daytona race car, which was the first Nascar stock car to break 200mph on the Daytona International Speedway.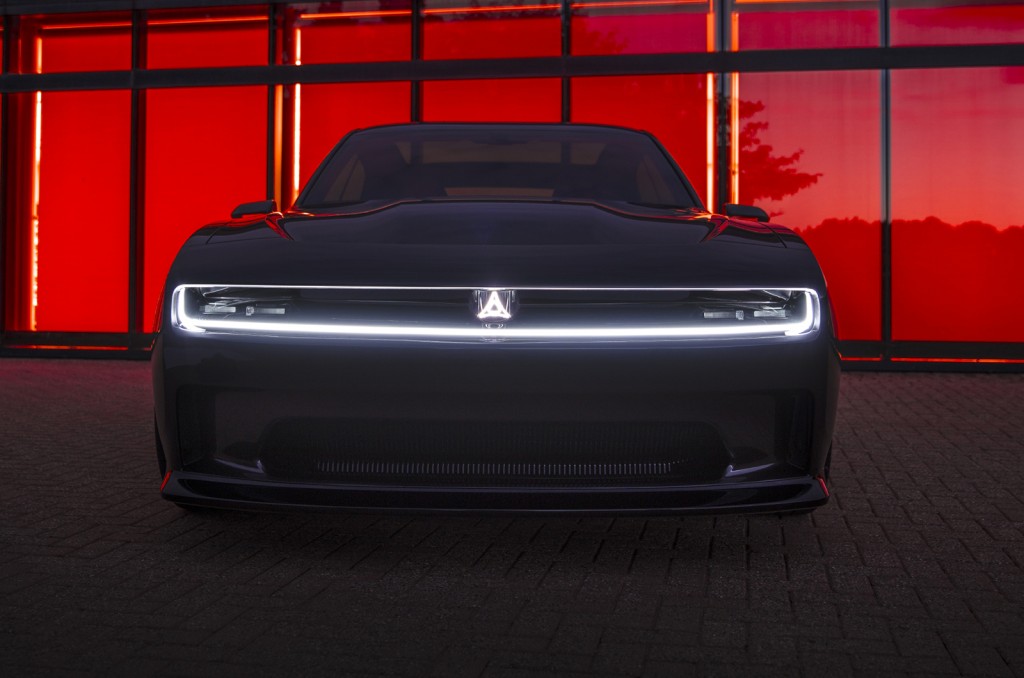 Dodge is quite fond of branding up its powertrains, with current ICE systems including Hemi, Hellcat and Redeye. The new electric powertrain used in the Charger Daytona SRT Concept has been labelled Banshee, and while few details have been confirmed Dodge has said it's based on an 800V architecture.
The system is all-wheel-drive as standard, so we'd suspect it uses at least two electric motors, and Dodge claims its is faster than a Hellcat "in all key performance measures". For info, the Hellcat uses a 6.2-litre supercharged V8 with a 0-60mph time of up to 3.8 seconds and a top speed of 203mph.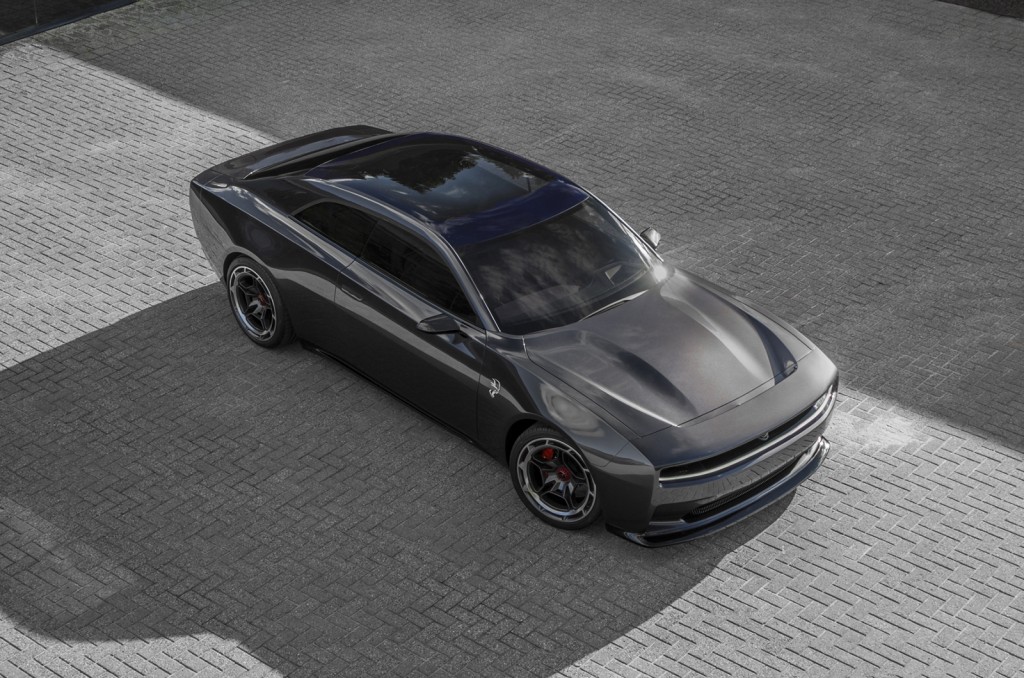 Unusually, the Banshee powertrain features what Dodge calls an eRupt multi-speed transmission, which features an electro-mechanical gear shifting system. There's also a 'push-to-pass' system, which effectively gives the machine an extra burst of acceleration for short doses.
A range of drive modes will be offered, including Auto, Sport, Trade and Drag mode.
Notably, the machine also has an exhaust system. Well, something pretending to be an exhaust system anyway, what with electric cars not actually needing exhaust systems. Dodge calls is a Fratzonic Chambered Exhaust, and it's effectively a sound generator that can produce a 126dB "road that equals the SRT Hellcat". It kind of goes against the spirit of EVs being quiet, but it might win over some muscle car aficionados.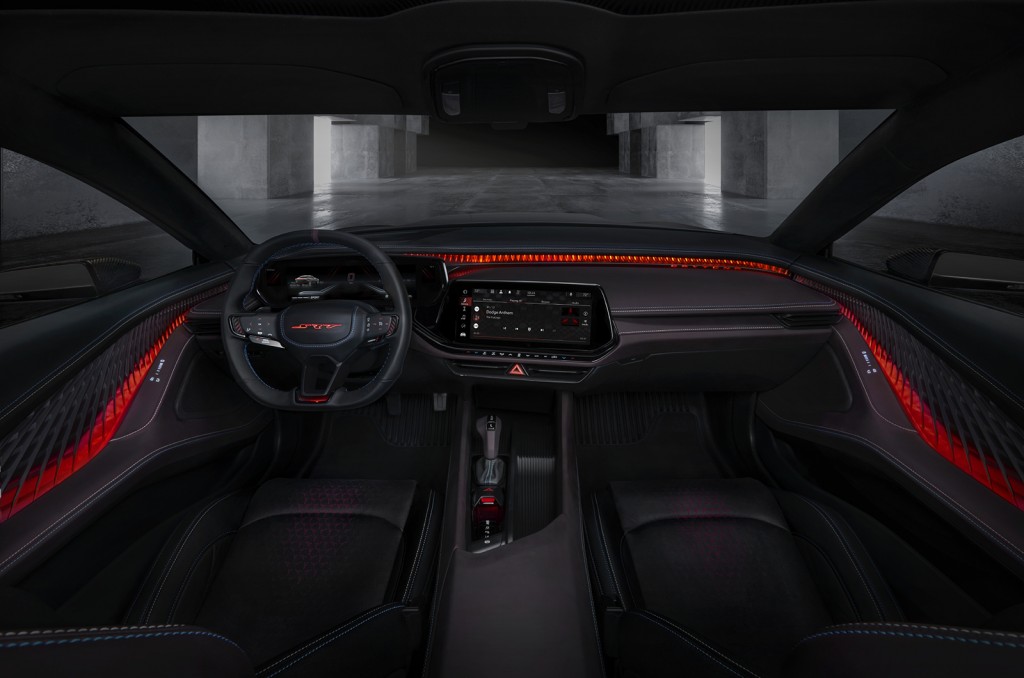 Dodge has yet to give any details of power outputs or battery sizes.
The exterior of the Charger Daytona SRT Concept is effectively a modernised and reworked version of the current ICE charger, albeit with a major focus on refining the aerodynamics to optimise the efficiency of the machine. 
That includes a new 'R-Wing' at the front of the car, which channels air through openings in the front of the car and out of the bonnet to increase downforce. Dodge claims that this allows the Charger to maintain its classic 'blunt' front-end while still optimising the air flow.
The front grille has been reworked to evoke the 1968 Charger but modernised with illuminated lighting and a new Fratzog badge – a symbol first used by Dodge in the 1970s that has been revived as a symbol of the brand's electrified cars. 
The headlights of the car are 'hidden' into the R-Wing, and Dodge has worked to reduce the number of details one the car to give it a simple design. There are also 21in wheels with six-piston brakes. 
The machine uses a hatchback design which Dodge says allows it to balance performance and to "meet every day needs", aided by fold flat rear seats to increase rear storage capacity.
 
The interior is relatively conventional, with a 12.3in infotainment system in the middle of the dashboard and a 16in digital instrument cluster. There's also a head-up display and a slim instrument panel. The centre console houses a number of controls, including a jet-fighter inspired cap that flips up to reveal the start button. There's also a 'pistol-grip' shifter.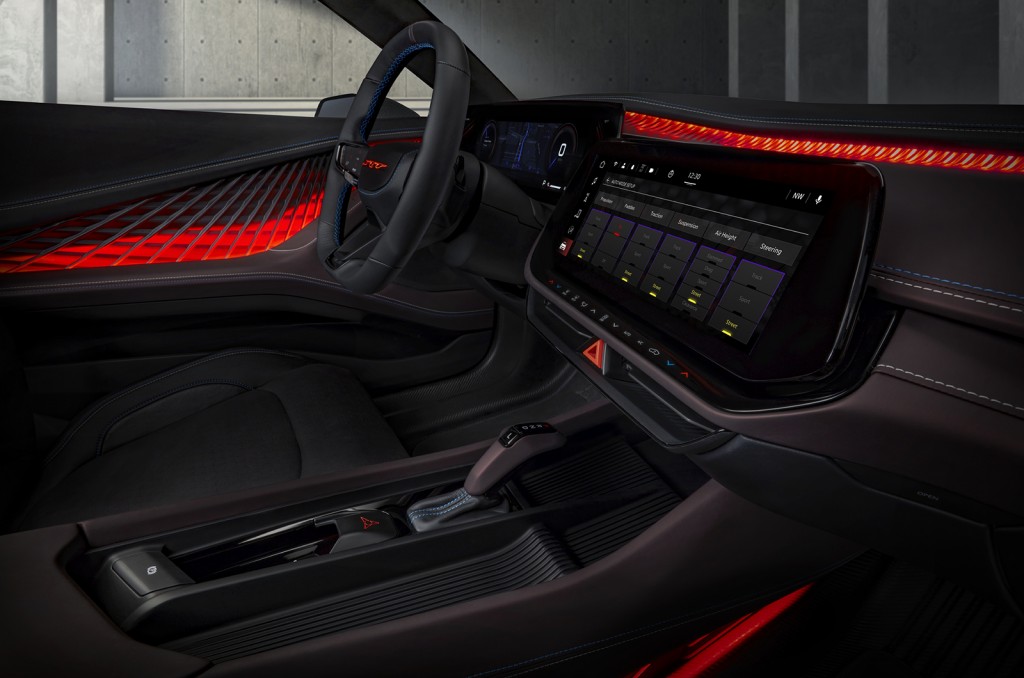 The dashboard and other surfaces in the machine features a pattern inspired by the grille design of the 1968 Charger, and there's also adjustable lighting. Other details include graphics designed to resemble a circuit board and a lightning bolt shape on the steering wheel. There are carbon fibre door sills, a sport steering wheel, lightweight race-inspired seats and a panoramic glass roof.
READ MORE
Subscribe to the Move Electric newsletter
e-CARS
UK charging networks: complete guide to every provider
New Cupra UrbanRebel is a bold EV supermini with 273-mile range
e-BIKES
10 fun things to try on an electric bike
Living with a Gocycle G4: how easy is it to adjust to?
e-MOTORBIKES
Seat Mó eScooter 125 UK review
How to do a CBT on an electric motorbike
Energica unveils new Experia electric tourer motorbike
e-SCOOTERS
Are e-scooters legal in the UK?
Private e-scooter rules 'cannot simply copy' rental regulations
Superpedestrian's European boss on why e-scooters are for everyone
e-WORLD
New Candela P-12 Shuttle to arrive as first electric 'flying' ferry
Pipistrel Velis Electro: meet the first certified electric plane