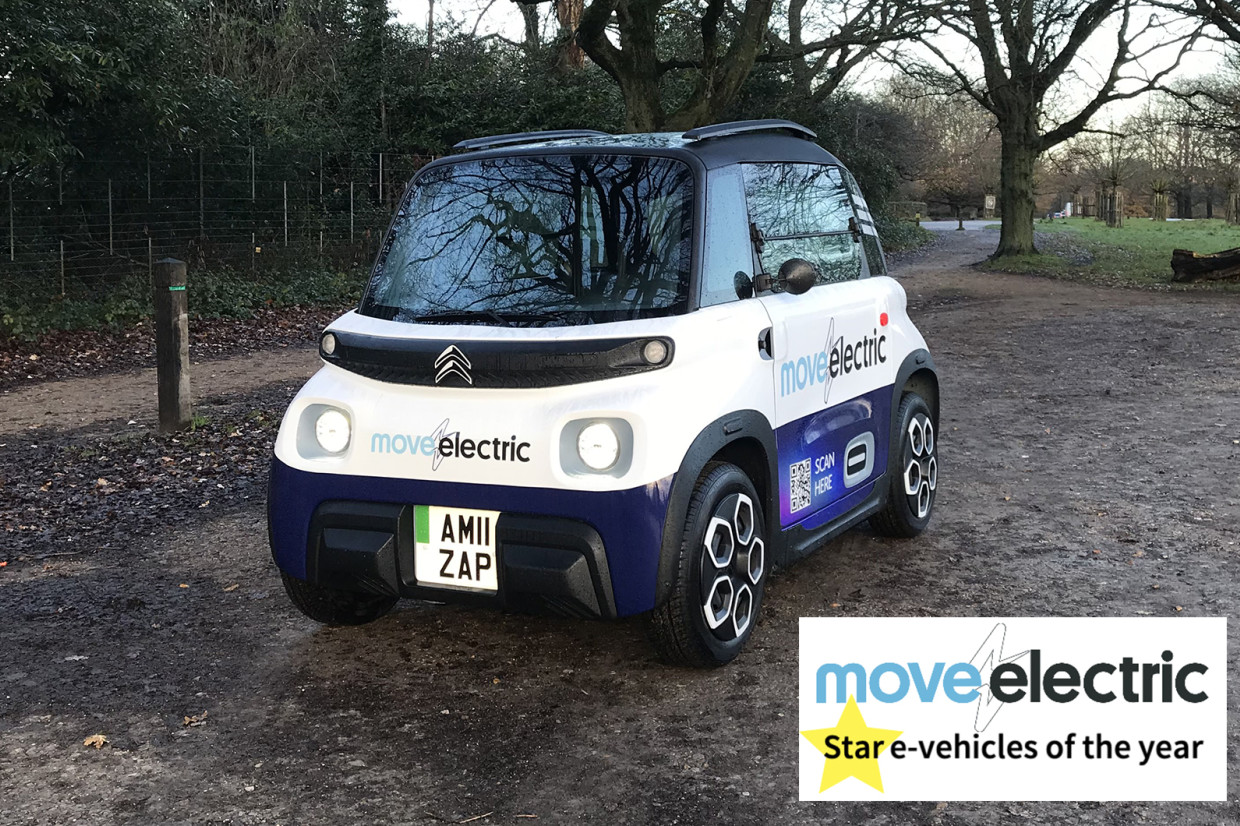 Over the last 12 months, the Move Electric team have driven and ridden a huge range of electric vehicles. This week we're reflecting on the star machines we've tried: these aren't necessarily the best, but memorable ones that left a big impression on us.
Keep up to date with all our vehicle reviews with our FREE newsletter
No celebration of Move Electric's star e-vehicles of 2022 could pass without recognising the brilliant Citroën Ami. After all, what haven't we done with an Ami this year?
Classed as a quadricyle in the UK, there's very little else like the Ami currently on the market – and certainly not from a mainstream car manufacturer. And while It's far from the biggest, fastest, most refined or most sophisticated electric vehicle, it makes up for those limitations with a dash of gallic charm and by providing a genuinely useful new form of urban mobility.
That's why we named the Ami the winner of the Innovation Awards in the 2022 Move Electric Awards. Filming our Awards video actually gave us an early insight into just how attention-grabbing the Ami was: we were attempting to get some shots of it outside Move Electric Towers right as a local school broke up – and we had to abandon filming for a bit as it was surrounded by curious school kids.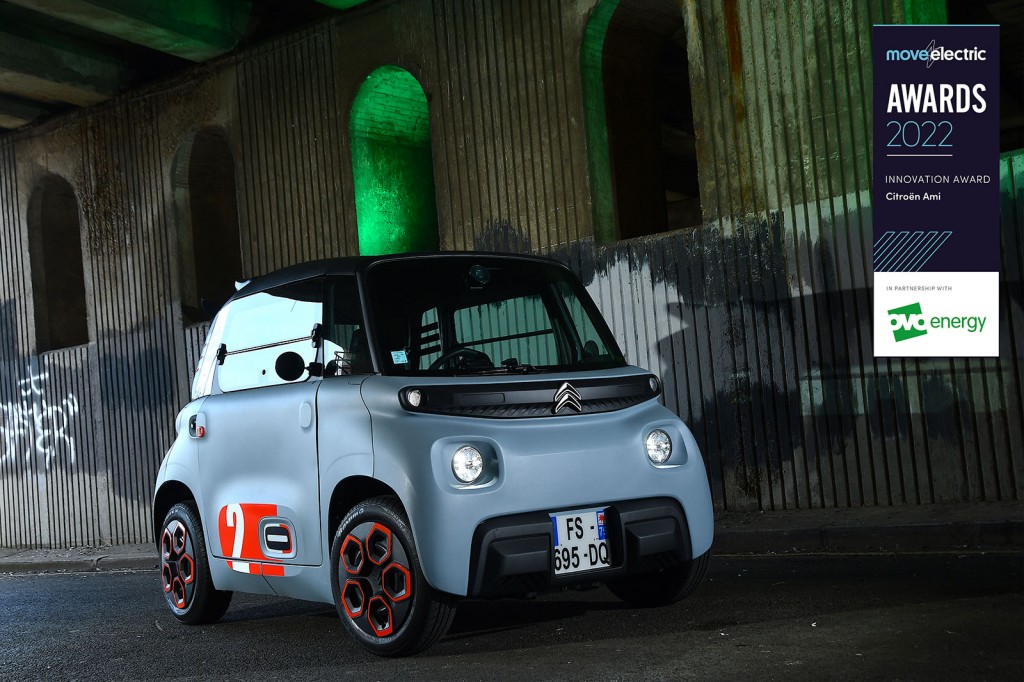 Another award winner on hand for our filming session was Graeme Cooper, the head of future markets at the National Grid. He was absolutely taken by the Ami, so jumped into one with staff writer Sam Phillips to take a quick spin – at the same time as explaining how the electricity grid will cope with the rapidly growing number of EVs.
When the Ami was officially launched in the UK we leapt at the chance to join Citroën's review event in central London, which gave us a chance to judge what the Ami was really like to drive through the heart of the English capital.
That was a bit of a practice, because soon after that Autocar's Piers Wards bravely volunteered to drive the Citroën Ami in Move Electric's first E-Race across London. The Ami didn't win, but that was largely down to London traffic – and it certainly didn't disgrace itself.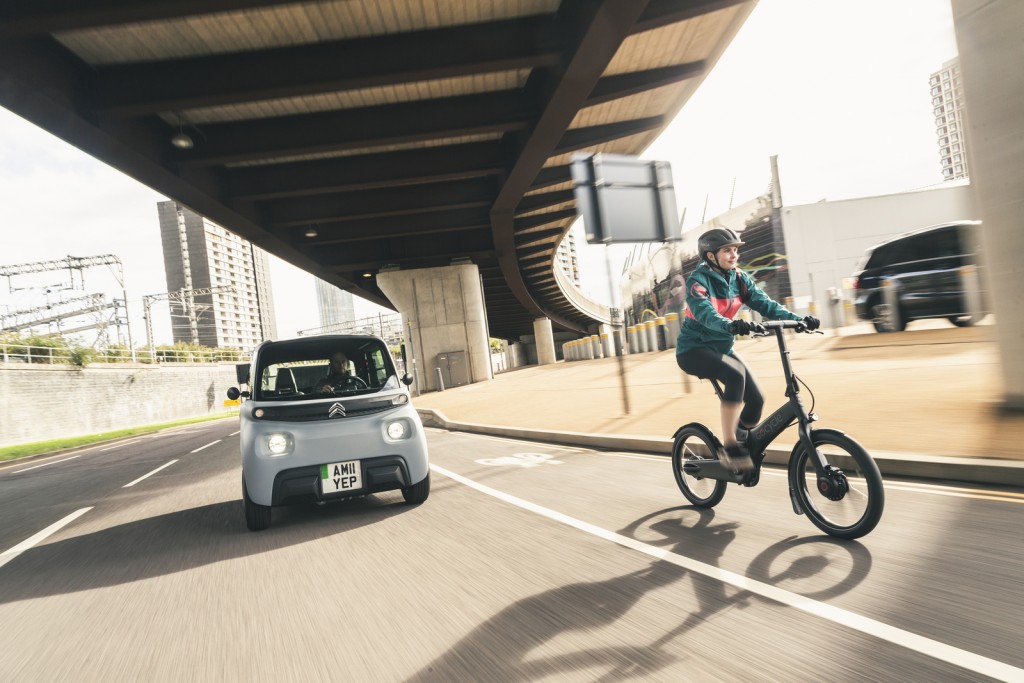 We even tried out the My Ami Buggy, a one-off beach buggy reworking designed for the French Riviera – but which we drove in a car park in Coventry.
But that still wasn't enough Ami for us. So we kept bugging Citroën to borrow one for a longer period of time – and we took delivery of our very own Ami recently. It was the best sort of early Christmas present, and Citroën even took the trouble to wrap it the #MEAmi for us in full Move Electric livery.
And while we've already packed in loads with the Ami in 2022, we're already thinking what more we can do with one next year...
READ MORE
Subscribe to the Move Electric newsletter
e-CARS
Chinese car brand Nio to expand into UK by end of 2023
Driving a Citroën Ami around London: five things we learned 
New Polestar 3: 380kW performance EV aims to 'redefine' the electric SUV
e-BIKES
Seven essential accessories to improve your e-bike life
The Lake District village that's pioneering community e-bike schemes
e-MOTORBIKES
Honda to launch more than 10 electric motorbikes by 2030
New Zero DSR/X launched as electric adventure motorbike
Stilride: the brand reinventing electric motorbike production
e-SCOOTERS
8Tev B12 Roam e-scooter review
Pure Electric launches two new machines that 'reinvent' the e-scooter
Rise in e-scooter accidents prompts call for 'urgent' government action
e-WORLD
Artemis electric ferry revealed for Bangor to Belfast service
New Mobilize Solo Concept is a safety-conscious e-scooter rival
Volta Zero: the electric truck tearing up the rule book for the electric age