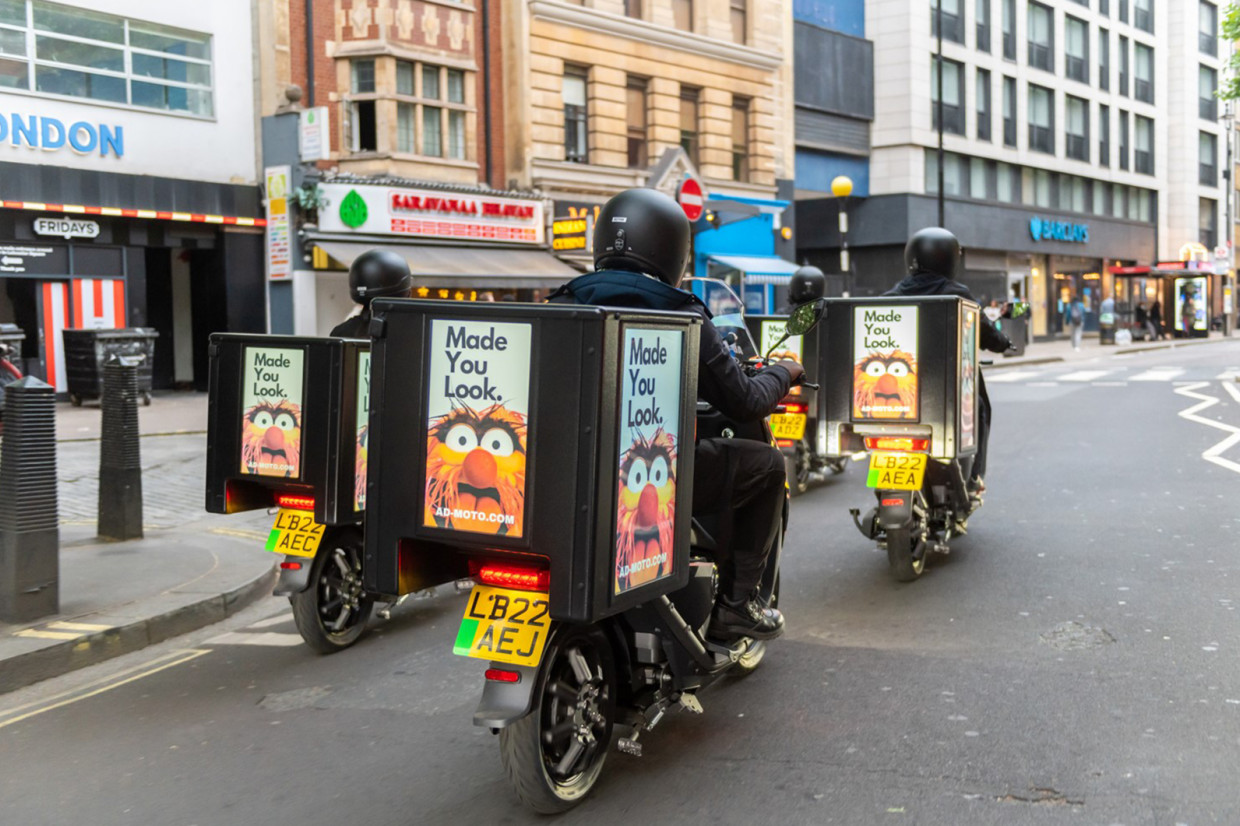 When it comes to the big storage box on the back of delivery bikes, the focus is usually on what's inside them, whether it's piping hot pizza, spicy curry or some emergency grocery deliveries. But a new initiative is hoping to get customers looking at what's on the outside of those boxes.
Electric news delivery you can trust: subscribe to the FREE Move Electric newsletter
GreenMo, the parent firm of Super Soco UK – the maker of Move Electric's best electric motorbike for 2022 – has teamed up with a new platform called Ad-Moto to put new adverts on the back of its electric last-mile delivery bikes. 
Now, while we wouldn't normally pay too much attention to a new advertising scheme, the Ad-Moto technology is quite interesting, because they're mobile digital billboards that can be operate with new location-based technology that allows the adverts to be targeted to areas within 10 metres.
Move Electric Awards 2022 best electric motorbike: Super Soco TC Max
That means that the adverts on the digital screens can changes along a delivery route to reach different groups of people along the way.
The system was launched last month, with the first 10 Super Soco bikes fitted with the devices run by Ad-Moto's internal promotions team. The aim is for 1000 Ad-Boxes to be operating on bikes in London by the end of this year, before expanding to other UK cities.
The aim is that the digital billboards provide an additional revenue stream that can help gig economy delivery riders justify switching from older petrol-powered motorbikes to new electric ones. 
Richard Jordan, the head of Super Soco and GreenMo, called the technology "the next logical step for the delivery industry". He added: "Combining advertising with bikes is a way to provide increased revenue to the industry, leading to safer riders and improved fleet maintenance."
READ MORE
Subscribe to the Move Electric newsletter
e-CARS
UK charging networks: complete guide to every provider
New Cupra UrbanRebel is a bold EV supermini with 273-mile range
e-BIKES
10 fun things to try on an electric bike
Living with a Gocycle G4: how easy is it to adjust to?
e-MOTORBIKES
Seat Mó eScooter 125 UK review
How to do a CBT on an electric motorbike
Energica unveils new Experia electric tourer motorbike
e-SCOOTERS
Are e-scooters legal in the UK?
Private e-scooter rules 'cannot simply copy' rental regulations
Superpedestrian's European boss on why e-scooters are for everyone
e-WORLD
New Candela P-12 Shuttle to arrive as first electric 'flying' ferry
Pipistrel Velis Electro: meet the first certified electric plane