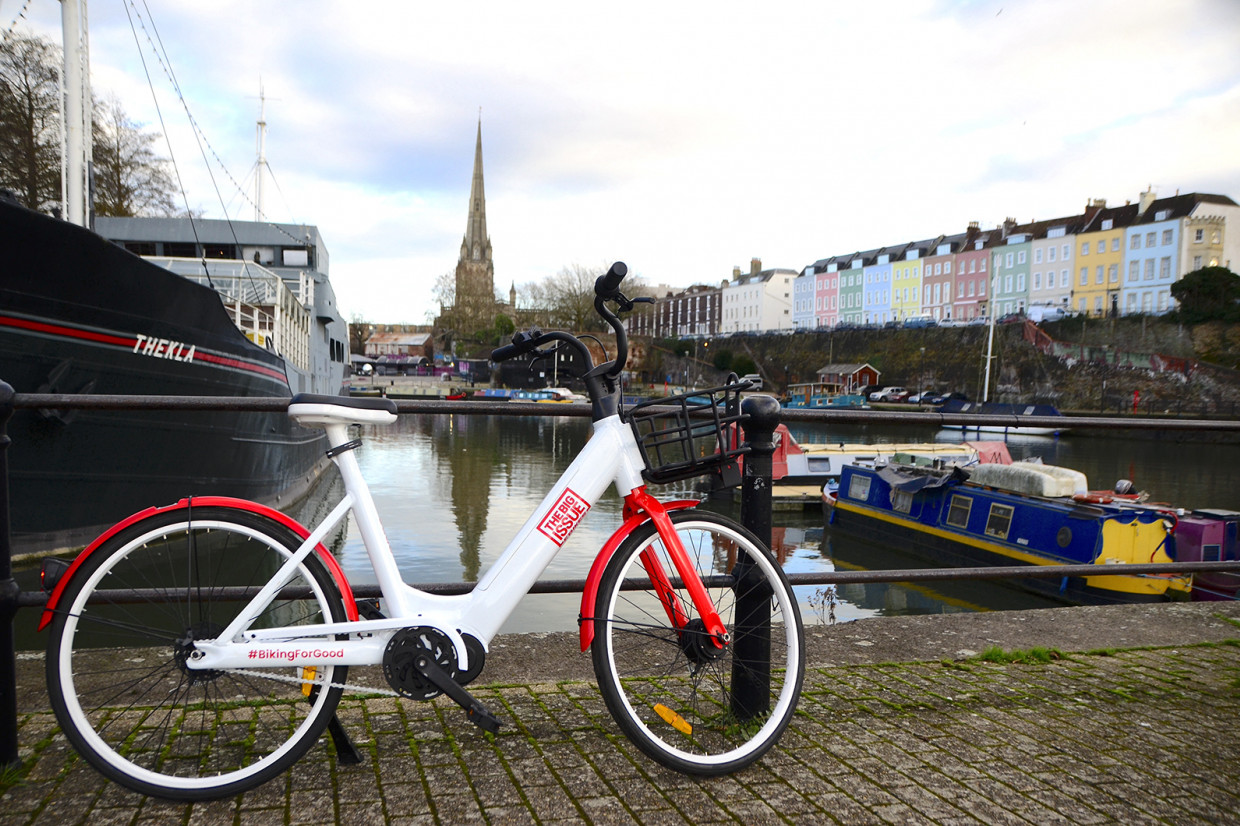 The Big Issue has paused its e-bike rental scheme in Bristol, citing "extensive and relentless" vandalism of its machines.
The service, which is run by Norwegian firm ShareBike as a not-for profit partnership with the long-running magazine, launched in the city in February, with a pledge to help provide jobs to unemployed and vulnerable people from the local community.
Subscribe to the FREE Move Electric newsletter for the latest electric news, reviews and features
But The Big Issue says that the high levels of vandalism the service has experienced over the past six months means that it is not viable. The company had already limited the areas of operation for the scheme to cut down on vandalism.
In a statement, Big Issue eBikes said: "We have taken many measures to try to overcome this issue, including making changes to the design of the e-bikes and trying to work with the local authorities, the police and our subscriber community.
"Unfortunately, despite our best efforts, the vandalism has not reduced. Having begun with a fleet of over 400, we currently have around 200 e-bikes on the street and approximately 10 per cent of these are damaged every day."
The Big Issue said that more e-bikes were destroyed in Bristol in a single week than in all of ShareBike's other global facilities combined, adding: "It is disappointing that the actions of a minority of people means we are left with no choice but to pause the current scheme."
Noting that Bristol was chosen as the first UK city for The Big Issue e-bike service because "of its green credentials and aspirations". More than 7000 people have registered to use the bikes in the city since then.
The deckles e-bike rental service will be paused from this weekend (August 20/21). In the short-term the companies will offer an alternative service, renting its e-bikes to businesses and individuals. Renters will have exclusive use of the bikes, which will be maintained by Big Issue eBikes.
Big Issue eBikes has called on local authorities to help find a solution to the vandalism problem so that it can resume the scheme.
It said: "We urge the local authorities – namely Bristol City Council and the West of England Combined Authority – and Avon & Somerset Police to work with us to see if there is a way to avoid a permanent removal of our current public rental service from the city's mix of safe and affordable green transport options.
"It is clear to us that if this issue is not fixed with our e-bikes, Bristol will be a no-go zone for all providers looking to introduce e-bike options."
Bristol also features a successful and hugely popular e-scooter rental scheme, which is run by Swedish firm Voi.
Bristol is not the only city where deckles e-bike operators have had problems with vandalism. The Ovo Energy e-bike scheme in Cardiff, run by NextBike, was suspended for several months last year due to vandalism, and Derby was forced to scrap a council-run scheme due to similar issues. That city, along with Nottingham, is now due to get a new shared electric bike service next year after securing government funding.
Big Issue eBikes is also set to launch a service in Aberdeen.
READ MORE
Subscribe to the Move Electric newsletter
e-CARS
UK charging networks: complete guide to every provider
New Cupra UrbanRebel is a bold EV supermini with 273-mile range
e-BIKES
10 fun things to try on an electric bike
Living with a Gocycle G4: how easy is it to adjust to?
e-MOTORBIKES
Seat Mó eScooter 125 UK review
How to do a CBT on an electric motorbike
Energica unveils new Experia electric tourer motorbike
e-SCOOTERS
Are e-scooters legal in the UK?
Private e-scooter rules 'cannot simply copy' rental regulations
Superpedestrian's European boss on why e-scooters are for everyone
e-WORLD
New Candela P-12 Shuttle to arrive as first electric 'flying' ferry
Pipistrel Velis Electro: meet the first certified electric plane