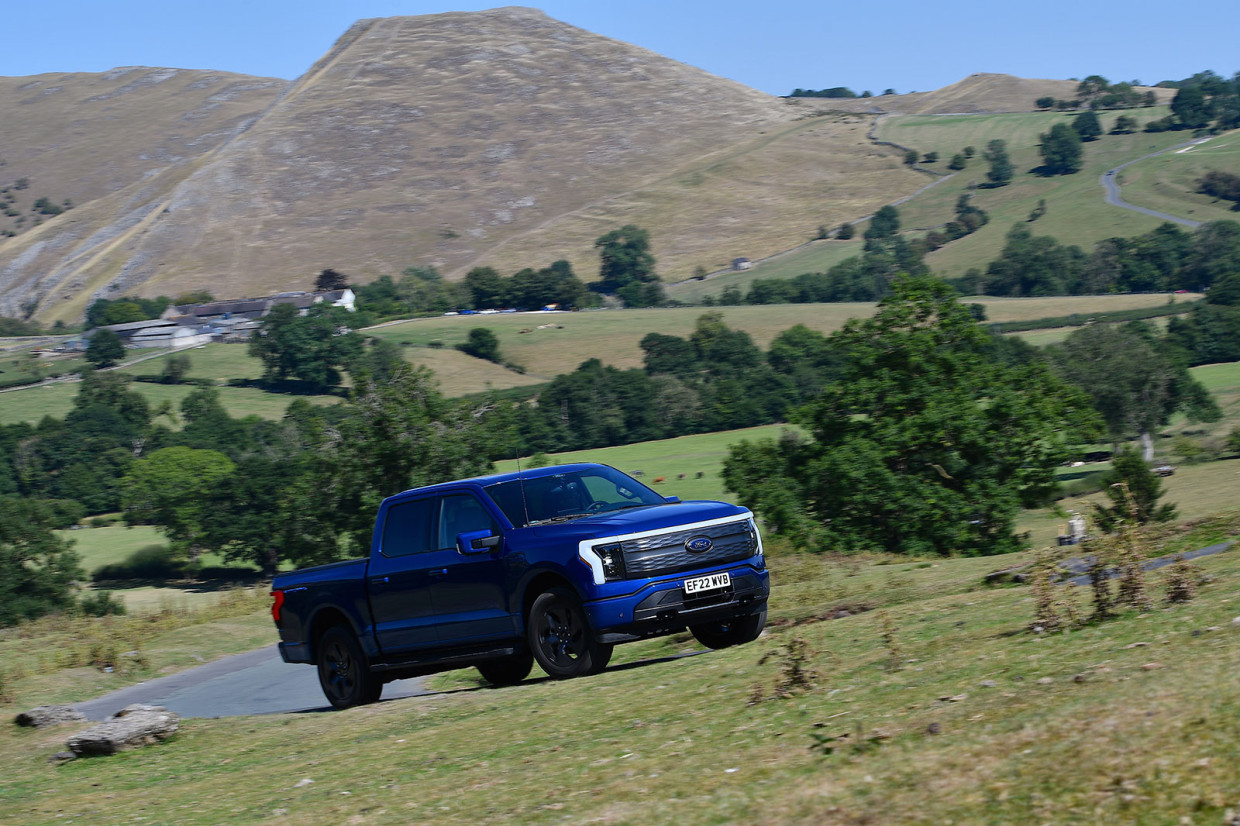 Move Electric rating: four stars out of five
Sell it to me in a sentence...
It's America's long-time bestselling vehicle, the Ford F-150 pick-up truck, embracing an electric future.
Blimey. Won't there be protests?
There may be consternation among some of the folk who've loyally bought F-150s for decades. But The US has been hit by fuel price hikes just like Europe, so there are probably plenty who're eyeing now up as a good time to make the leap to plug-in power. And Ford has made sure to not do things by halves, throwing copious power and tech at the Ford F-150 Lightning.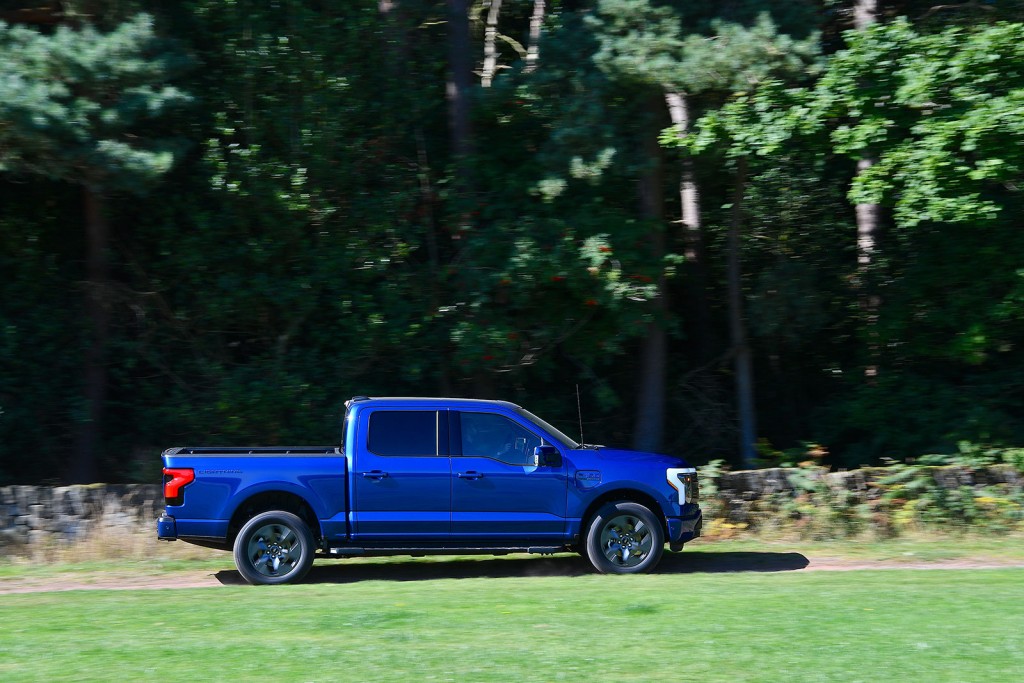 As you'd hope, really. The Lightning suffix is nicked from high-performance versions of the F-150 launched in the 1990s, road-biased V8s that were effectively muscle cars with big load bays. Ford's not squeamish about sticking iconic old badges on new-school models – the Mustang Mach-E being a prime example – so it's not too much of a surprise that they've saved a lot of admin and possible trademarking aggro by resurfacing an old badge, and one that suits a fully electric product with pleasing neatness. 
More news than you can fit in a Ford flat-bed: subscribe to the FREE Move Electric newsletter
While the blanked off grille and huge wrapround lights bring a bit of verve to the design, Ford has played things much more conservatively than a certain pick-up truck from Silicon Valley. Truck die-hards willing to go electric aren't going to be upset by the aesthetic here. The fact it starts at the equivalent of around £35k – meaning only a modest price hike over an old-guard F-150 – ought to help too.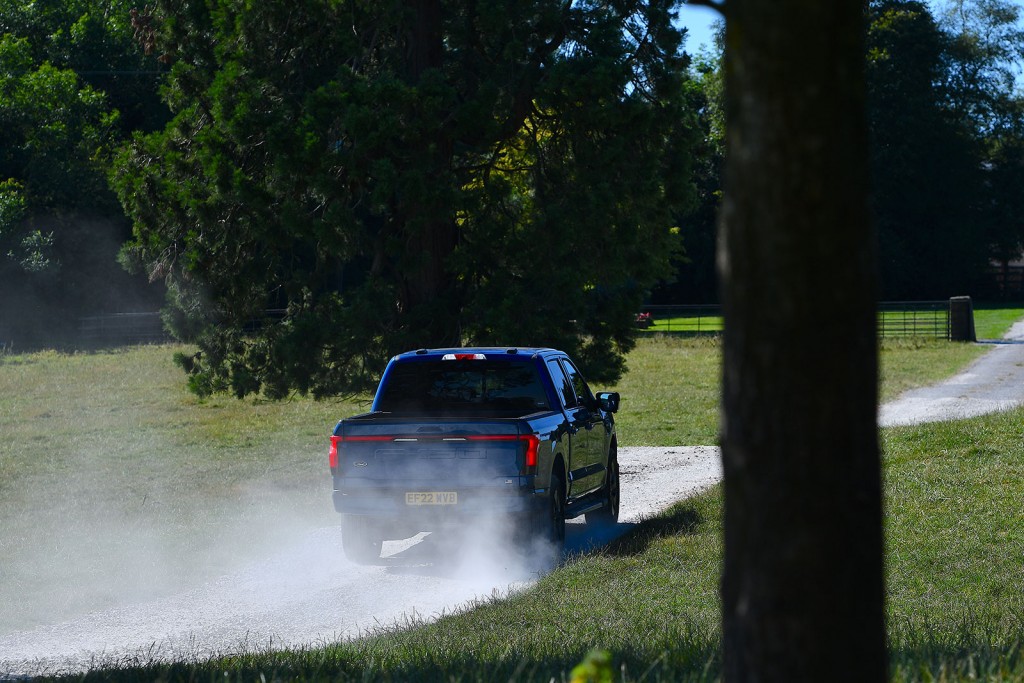 Talk to me about power, then.
The Lightning launches with two different battery packs, but they offer largely the same performance. Both put a motor at each axle for four-wheel drive; the 98kWh Standard Range peaks at 337kW of power, the 131kWh Extended Range boasting 433kW. Both possess the same 775lb ft torque figure, though. Tick all the right boxes and your Lightning will tow up to 4.5 tonnes and hit 60mph in a smidge over four seconds, though probably not at the same time. And it'd be unwise to try.
You might be pleasantly surprised by the range claims – the Standard battery peaks at 230 miles, the Extended version at 320. Both figures will no doubt drop away as you load up the bed and hook up trailers, but if you're truly using your F-150 for workhorse duties, you might be unlikely to be covering those sorts of distances in a working day. And Ford continues to sell petrol-powered F-150s if you're worried.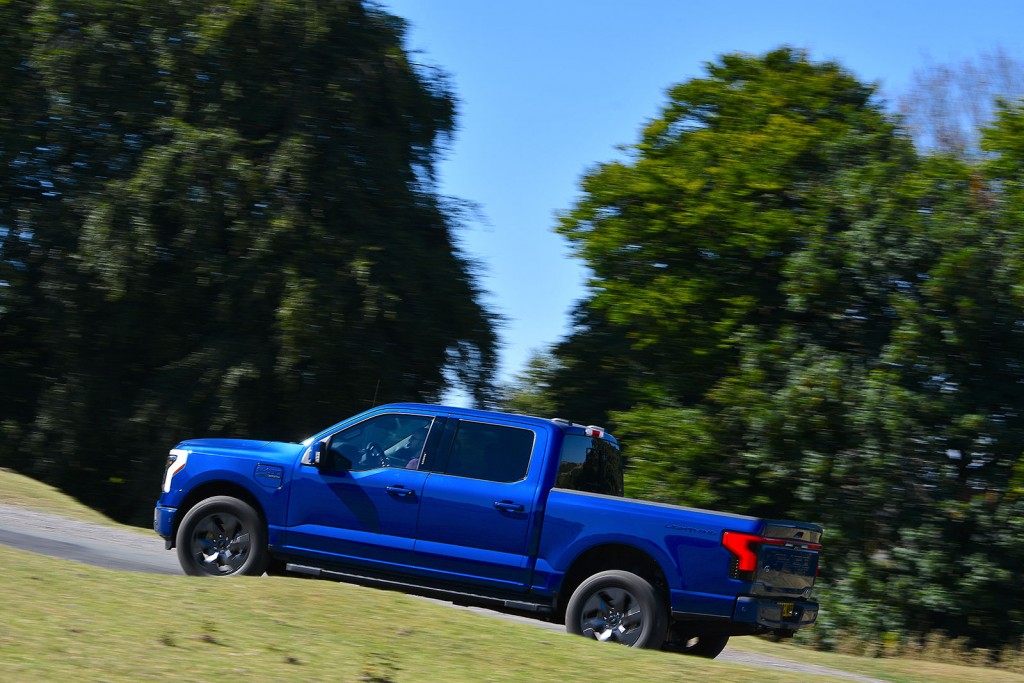 Does it have any tricks up its sleeve?
Of course. If Tesla has taught the old guard anything, it's that you need some surprise and delight built into an electric car to properly win people's attention. While the F-150 doesn't look anywhere near as whacky as a Cybertruck, the target audience will be significantly more interested in the dozens of power sockets distributed throughout the vehicle. Under the ginormous 400-litre frunk, inside the vast five-seat cabin, just behind the electrically opening tailgate… there are places to plug and recharge power tools everywhere. Should your house lose power in a big storm, the Lightning can step in as a generator.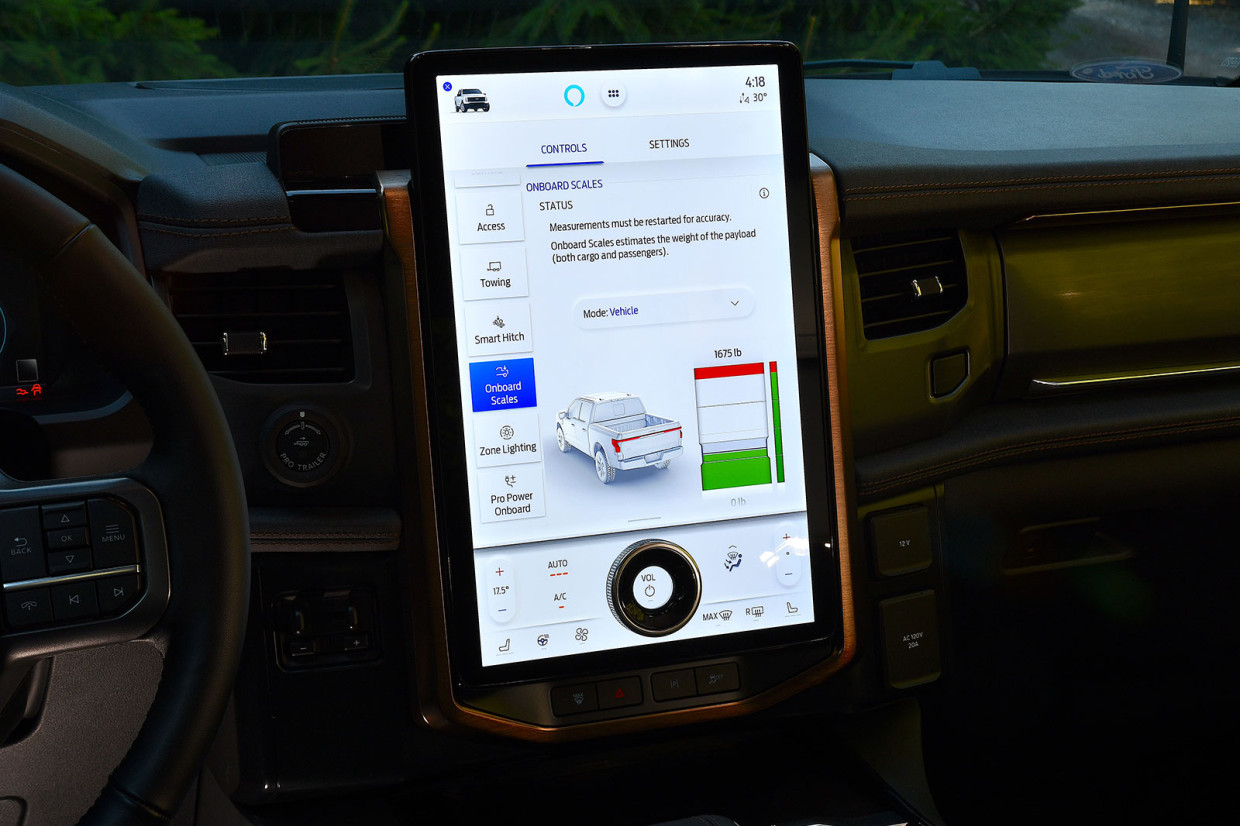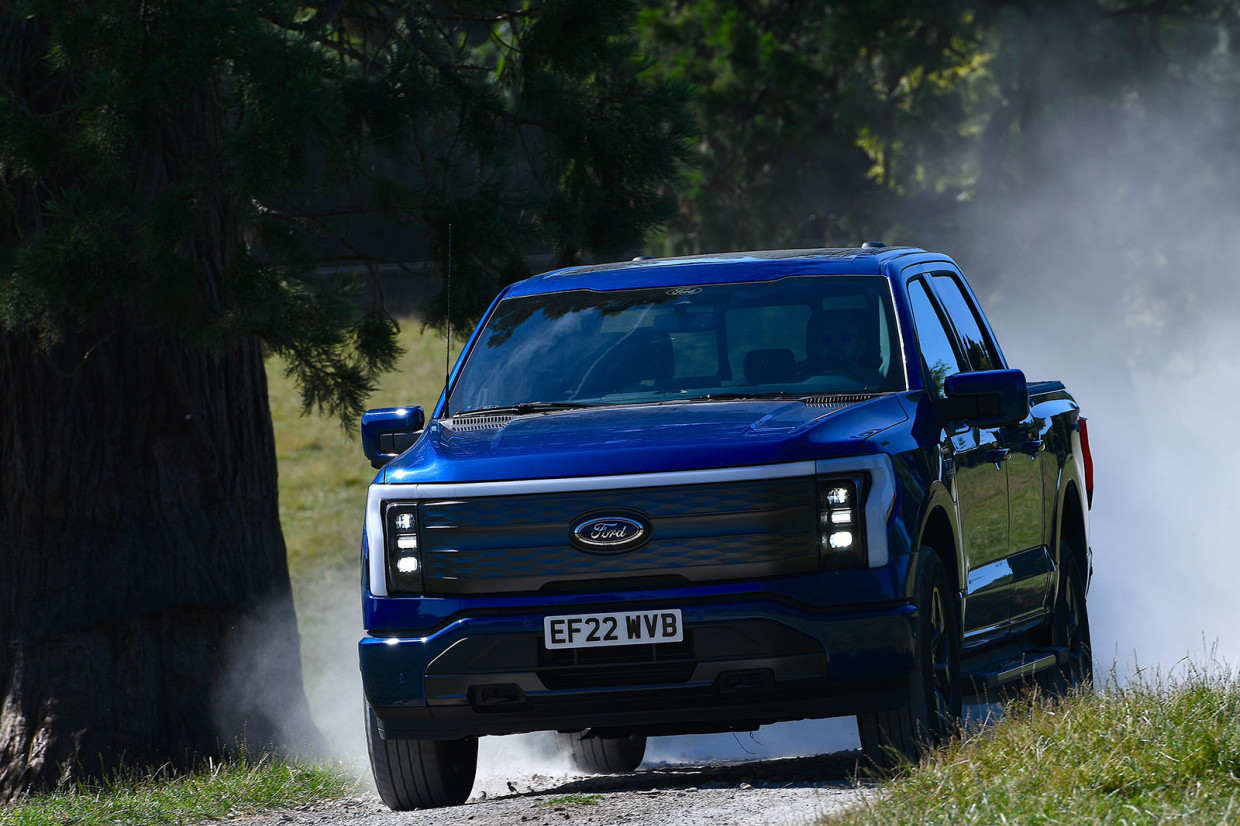 How does this plug socket on wheels actually drive?
Well, our taste of it on UK roads probably places it quite far out of its usual context. Here, the Lightning feels oversized in the extreme, but then so would any F-150. But once you've adjusted to its girth and your heartbeat has lowered a bit, it drives nice and neatly. With such epic performance on tap instantly, you'll mostly be driving it on only a light throttle. Yet this is a simple car to potter around in, and the novelty of a three-tonne truck being able to accelerate with such riotous ease provides childish joy.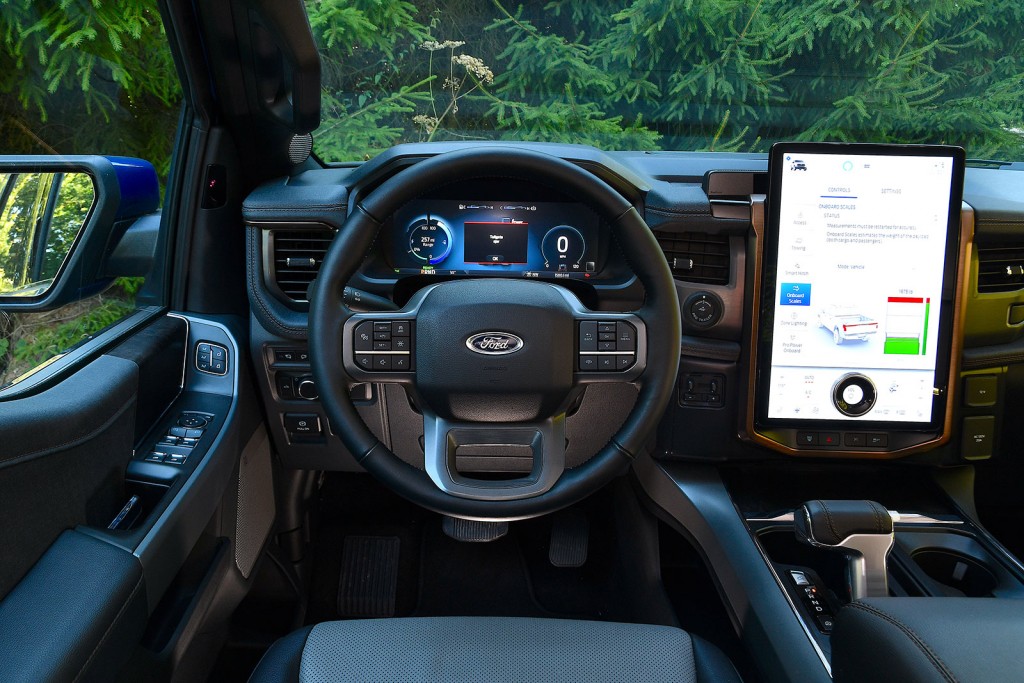 It steers neatly too, and with independent rear suspension – an F-150 first – it rides well enough too, though it still inevitably lacks the panache of a proper road-focused SUV. It'll tackle off-road stuff with ease, and you can bundle down muddy tracks or ford rivers without even needing to trouble its gnarlier drive modes, which are ready and waiting for tougher terrain.
Verdict
It's a bit of a moot point if you're reading this in Britain, because official imports look unlikely, though you can probably expect a few to make their way across here by other channels. It's too big to be truly recommendable for everyday use here, but over in the States – where it's stolen a march on the Cybertruck – it must feel like quite a moment in time. An American icon's gone electric and come out the other side looking even more fit for purpose.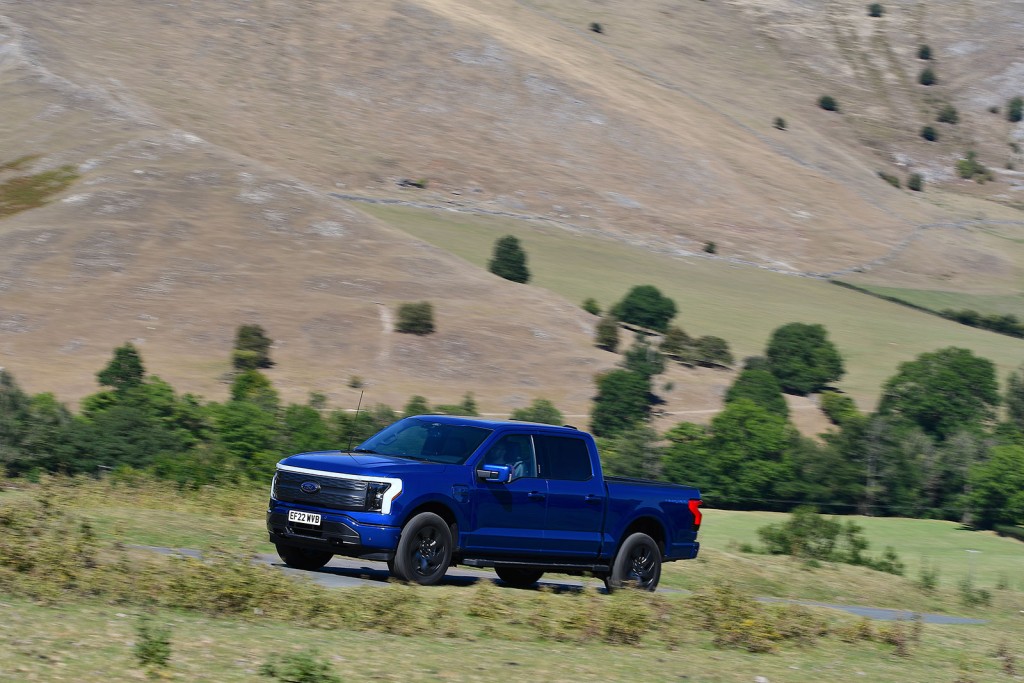 Stephen Dobie
Ford F-150 Lightning specification
Price from: $39,974 (circa £35,000)
Motors: Twin electric motors (fixed magnet AC)
Gearbox: Automatic 
Driven wheels: four
Power: 337-433kW
Torque: 775lb ft
Electric range: 230-320 miles
0-62mph: 4.3 seconds 
Top speed: 112mph
Kerb weight: 2989kg
CO2: 0g/km
RIVALS
Rivian R1T
READ MORE
Subscribe to the Move Electric newsletter
e-CARS
Video: Can the National Grid cope with a surge in electric vehicles?
e-BIKES
What to look for when buying an e-bike: Move Electric's top tips
The rise of Volt Bikes: 'when we launched, people thought we were mad'
e-MOTORBIKES
Maeving RM1 electric motorbike review
Q&A: Zapp founder on why electric mopeds are the future
Government plans 2035 ban on new non-zero emission motorbike sales
e-SCOOTERS
Tier to upgrade e-scooter fleet with a smart 'Parrot'
Q&A: Neuron Mobility's UK boss on e-scooters, safety and helmet selfies
e-WORLD
Polestar to supply battery tech to electric boat firm Candela
Engineering giant ABB working on electric Dover-Calais ferry