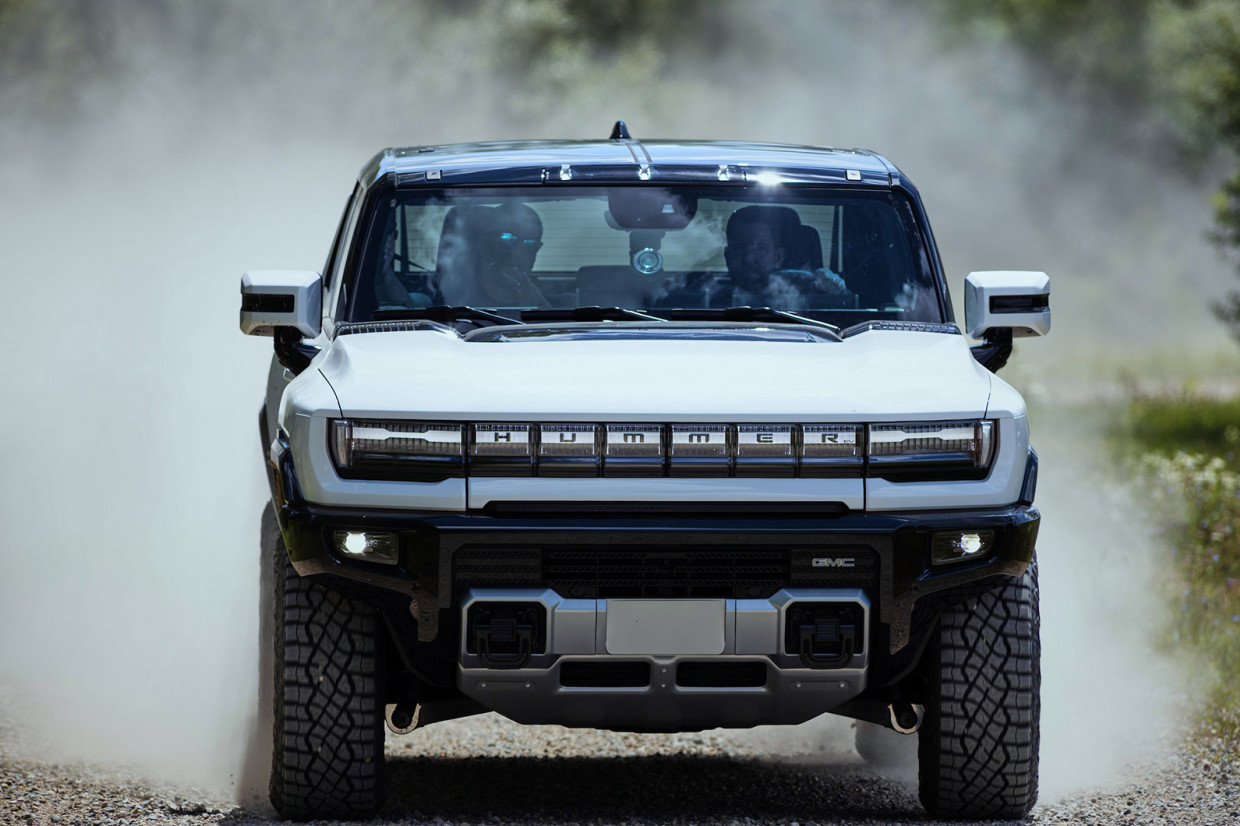 Sell it to me in a sentence…
The GMC Hummer EV is a huge electric pick-up truck with masses of power and incredible off-road ability which, depending on your viewpoint, is either stupid or stupidly brilliant.
I remember Hummer. They're military vehicles, right?
Sort of. The Hummer brand achieved cult popularity in the late 1990s and early 2000s with a line-up of big, brash civilian vehicles based on the military Humvee. The H3 was even officially offered in the UK as the smallest vehicle in the range, although small is a relative term: it dwarfed most other passenger cars on the road. 
The latest electric news in your inbox: subscribe to the Move Electric newsletter
Now, given Hummer vehicles weren't exactly known for their efficiency or environmental awareness it might not have been the first brand you'd think of to be revived for the electric age. And yet that's exactly what General Motors's GMC truck brand has done, with this new GMC Hummer EV effectively serving as the electric halo model for the car giant's entire portfolio of brands.
It looks… big.
Is it big. GMC designers have completely embraced the original Hummer's boxy, military-inspired styling, albeit giving the reinvented Hummer a dash of modern electric style. So there's a big, bold front grille featuring a full-width light bar that contains Hummer lettering, a heavily reinforced underside, huge wheels and subtly sculpted slab sides.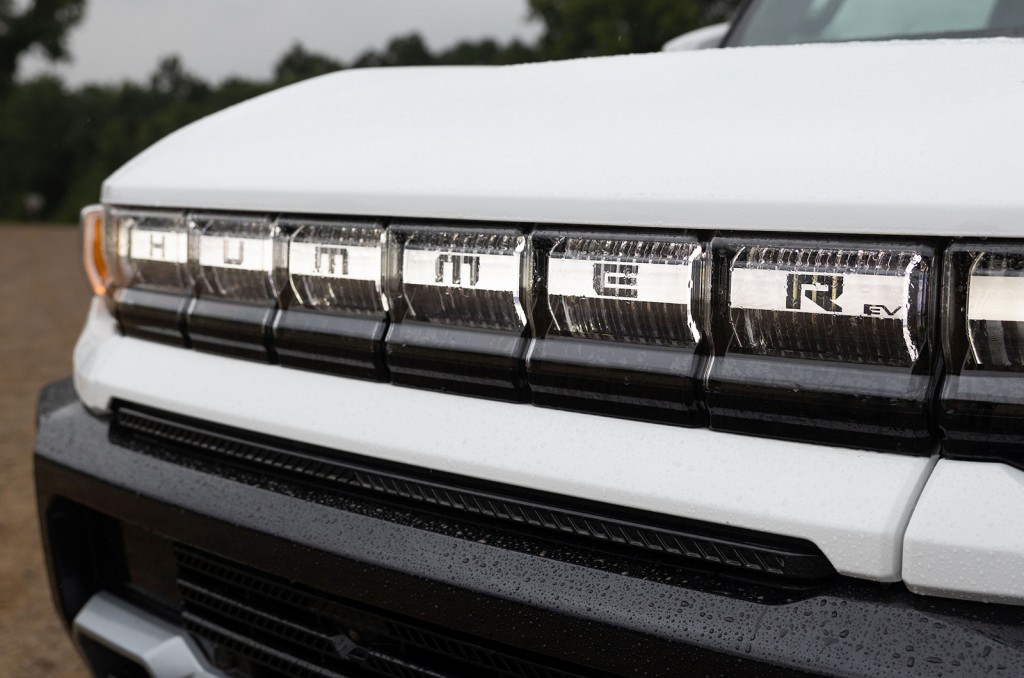 And, somehow, the Hummer EV Pickup – an SUV version will follow – is even bigger than it looks: it's 5507mm long, 2201mm wide and 2009mm high. It's not quite what Americans would call a 'full-size pick-up', but it's really not far off. And, amazingly, the Hummer's dimensions aren't the stats that really sound out.
The Hummer will eventually be offered with a range of powertrains, but the Edition 1 models available at launch feature a system that uses three motors: one on the front axle and one for each rear wheel.
They combine to give the Hummer EV an eye-popping 746kW – that's a pleasingly round 1000bhp in old money – along with 11,500lb ft of torque, enough that seismologists in a remote Hawaiian monitoring station will notice every time you dab the throttle.
The battery powering the machine is just as impressive: it's a mammoth 212kW pack, comprised of a double-stack unit containing two layers of 12 modules. That's enough to give the Hummer a claimed range (on the US test cycle) of about 349 miles. 
While the battery pack is natively 400 volts, a neat trick of the double-stacked unit is that the two levels can run in parallel, effectively allowing it to operate at 800V and enabling ultra-fast 350kW charging. Which is probably just as well, because it's a big old battery to fill.
Of course, that big battery pack adds considerable weight to the car. The Hummer weighs in at 4111kg, which is about eight-and-a-half Citroën Ami and so hefty you couldn't actually drive one on a normal licence in the UK. 
It all seems a touch excessive…
At a time when many car firms have started to focus on the sustainability of their cars beyond simply sticking in an electric powertrain, the Hummer certainly stands out – and not necessarily for the right reasons. 
It's hard to think anyone really needs such an a chunky and almost absurdly powerful pick-up – electric or not. Of course, GMC believes there is, highlighting that the Hummer's drivetrain has been designed to give it off-road ability that exceeds any petrol-powered pick-up on the market. And if someone buys an electric Hummer Pickup instead of a big pick-up with with a six-litre V8 petrol engine in it, that's a good thing, right?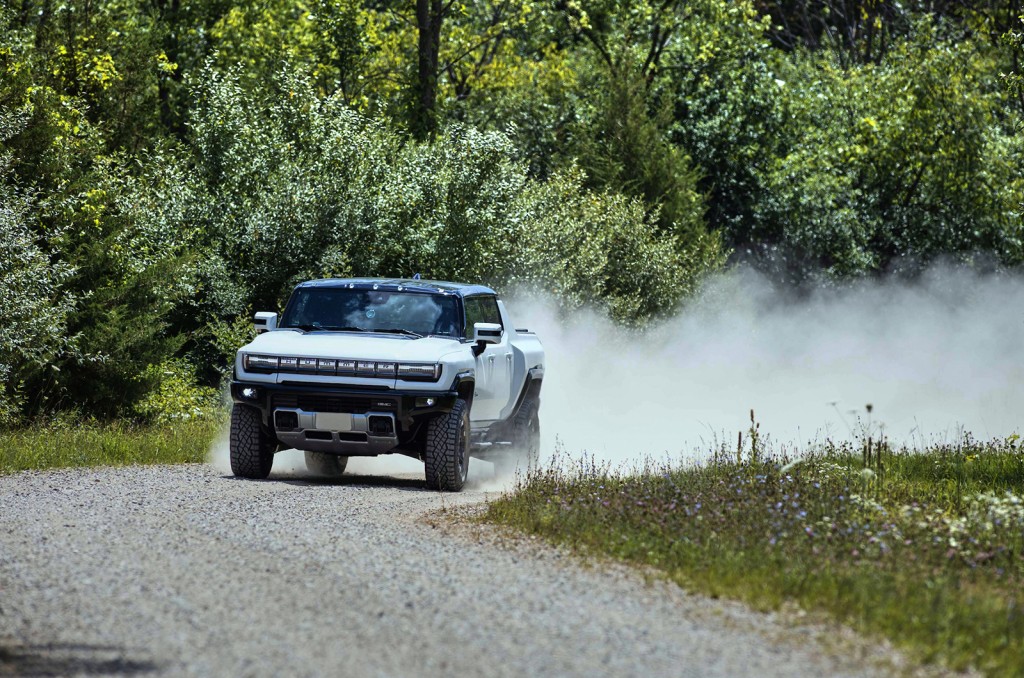 General Motors also highlights how the Hummer has served as a halo model to really drive development of the new Ultium bespoke electric platform. While the Hummer is the first model built on it to reach production, it will be followed by a huge range of models from GM brands across the market.
Those include the posh new Cadillac Lyriq SUV and the forthcoming Cadillac Celestiq saloon, the Chevrolet Silverado EV pick-up, the new Volkswagen ID 4-rivalling Chevrolet Blazer EUV and even the Brightdrop Zevo 600 last-mile delivery van. By pushing the platform to its extremes for the Hummer, GM claims it has accelerated development of those models.
Right, so what's the Hummer like to drive then?
First off, it's important too clarify that our running in the Hummer EV was limited, and took place entirely on an off-road course at GM's Milford Proving Ground in Michigan. So we're unable to judge the machine on its on-road manners or performance, hence the lack of star rating.
But our running did give us a chance to assess the capability of the machine – and my word is it capable. While you feel the machine's hefty weight when you first touch the throttle, the mountain of electric torque soon kicks in and propels the Hummer forward with ridiculous ease. The independent front and rear active air suspension and hefty 35in off-road tyres simply soak up any hint of loose surface on undulations.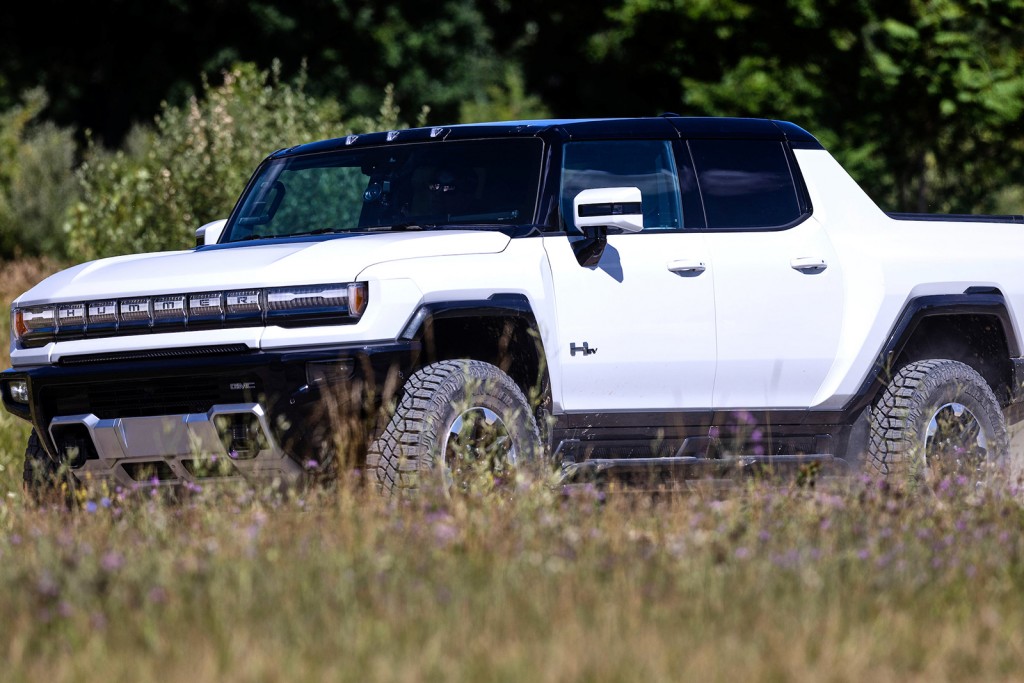 It's only when you brake and turn into a corner that you're reminded of the size and weight of the Hummer, although the ridiculous excess of power on offer will quickly sort out any understeering issues you might have.
In truth, though, the most impressive thing about the Hummer isn't its sheer power, but in how it can use that drivetrain to offer a ridiculous level of off-road driving. There's a torque vectoring system which balances power between the four wheels as needed to maximise grip, and the wide approach, departure and breaker angles means there are few obstacles that will really impede your progress.
There's all-wheel-steering too, which makes it ridiculously easy to place precisely despite its huge size. That system also enables the Hummer's finest party piece: crab walk mode. That system matches the angle of the front and rear wheels, which means the car can move diagonally at slow speeds. It's as surreal in practice as it sounds, and while it feels like a gimmick it's genuinely useful to help steer round big rocks and lumps on an off-road trail.
There are a few other tricks on offer, too, including one-pedal driving thanks to the regenerative braking system, GM's 'super cruise' advanced driver assistance system and a range of drive modes that adjust the powertrain settings. Those include modes for various terrains and performance, headlined by the 'Watts to Freedom' mode. Otherwise known as WTF.
WTF?
Exactly.
What's it like inside anyway?
The interior takes plenty of inspiration from the original Hummer, and mixes boxy militaristic design with a dash of premium charm. There's a big chunky dash and centre console that almost envelops the driver, and a pleasing range of physical controls that feel suitably sturdy and rugged.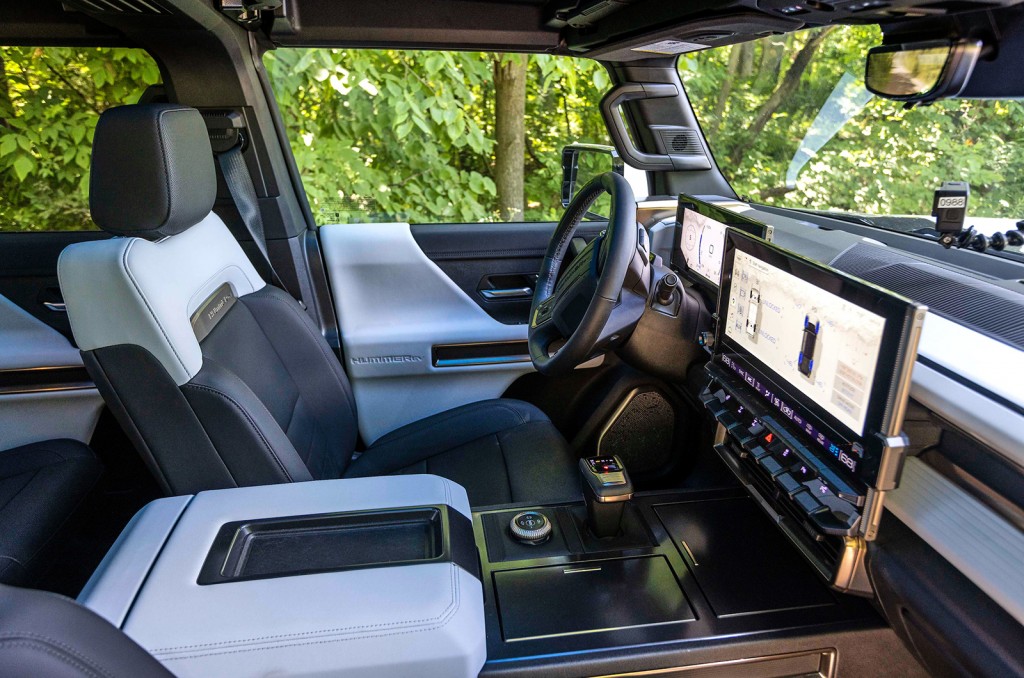 But that's all complemented with plenty of tech, including a big central touchscreen that controls many of the key features. It offers some incredible graphics, too, particularly when you use it to select the various drive modes. Is that a graphic of a Hummer on the surface of the moon? Yes, yes it is.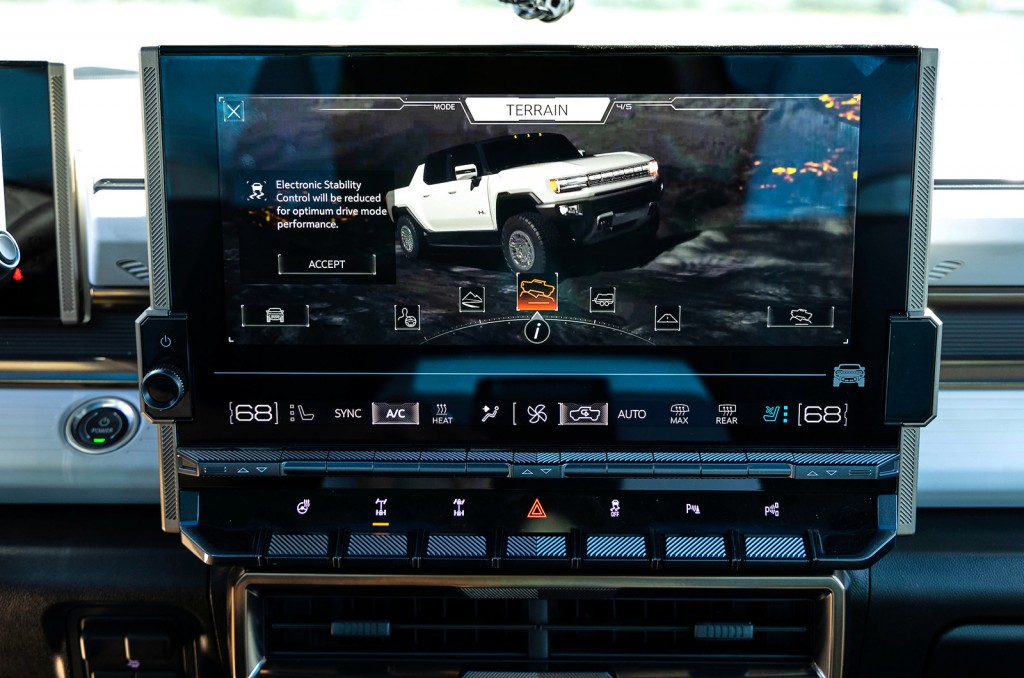 When can I buy one?
If you're in the UK, you can't. General Motors is returning to the UK and European market, and while we have heard whispers that the Hummer will be part of the line-up it's hard to imagine it being anything other than a very niche product. That's on account of its mammoth size: frankly, we wouldn't like to try and park one in the local Waitrose car park.
That said, that didn't stop the original Hummer brand finding some niche success in the UK, and you can imagine a small but interested market for it. But it might be limited, especially with the machine's weight meaning that you currently couldn't drive one on a standard licence.
That said, lower-powered – although that's a relative term – versions are on the way in the US, which might make it a little easier to be offered here.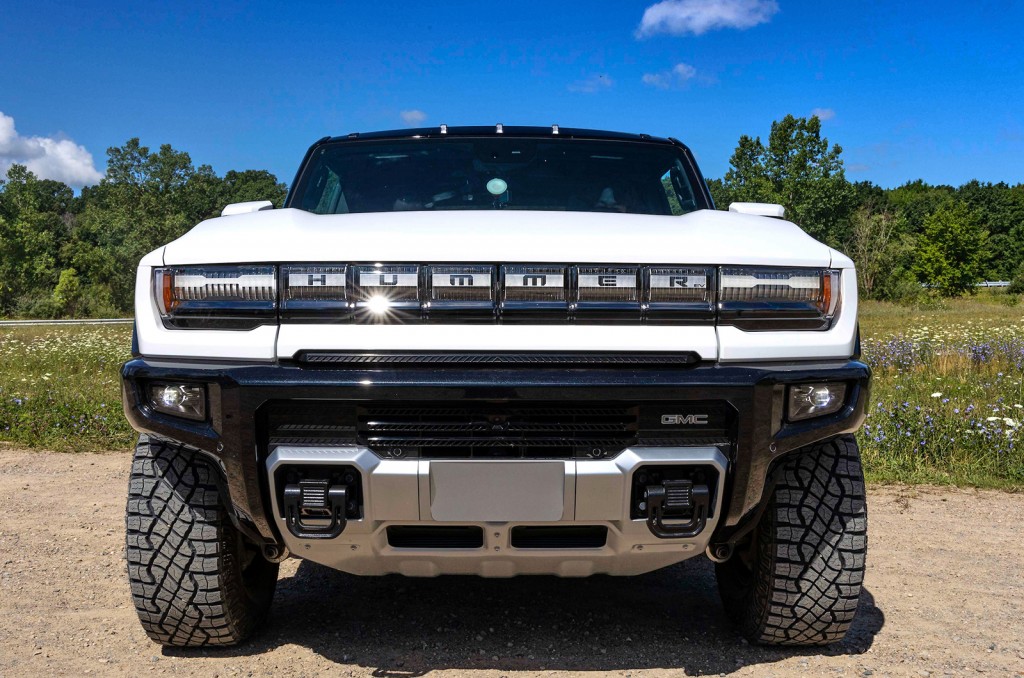 Verdict
It's hard to really work out if the Hummer is ridiculous, or ridiculously fun. Certainly, it represents an incredible piece of engineering, and really pushes the boundaries of what an electric off-roader can achieve. 
That said, it's also hard to shake the feeling that it's all a little overblown and unnecessary, especially because few buyers will ever really need to use it to anything approaching its full capability. But those who do will find an EV that doesn't just match the performance of a petrol-engined off-road pick-up: it really does exceed it.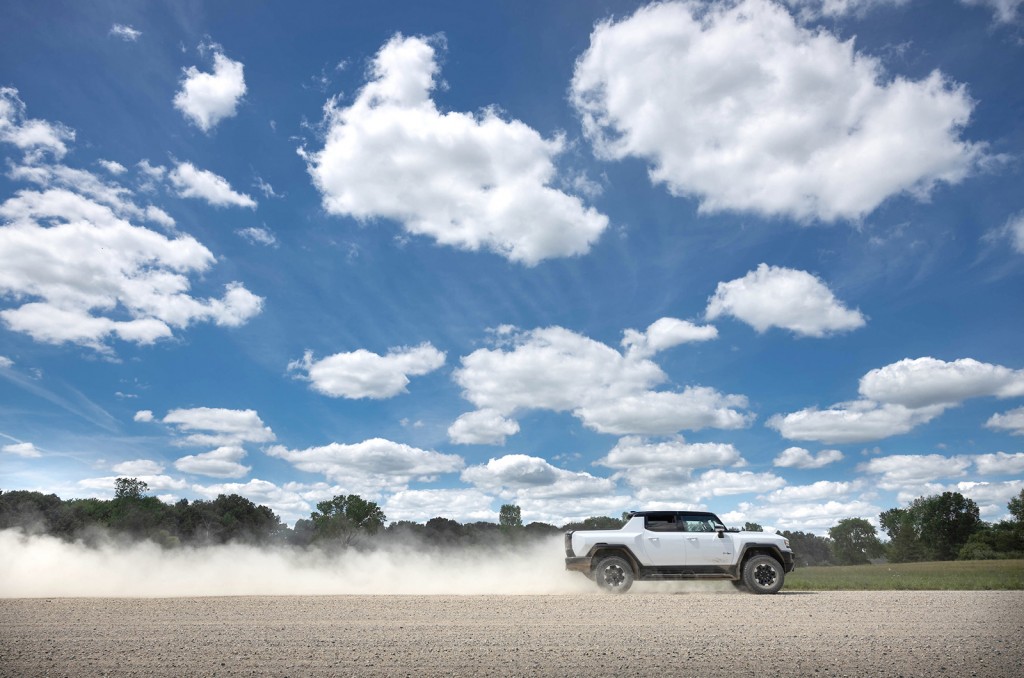 GMC Hummer EV Pickup Edition 1 specifications
Price: $110,295 (£90,850) in US
Electric motors: Three permanently excited synchronous motors
Driveline layout: all-wheel-drive
Power: 746kW
Torque: 11,500lb ft
Range: 329 miles (claimed)
0-60mph: 3.0secs (est)
Top speed: 106mph
Kerb weight: 4111kg
Battery size: 212.7kWh
READ MORE
Subscribe to the Move Electric newsletter
e-CARS
UK charging networks: complete guide to every provider
New Cupra UrbanRebel is a bold EV supermini with 273-mile range
e-BIKES
10 fun things to try on an electric bike
Living with a Gocycle G4: how easy is it to adjust to?
e-MOTORBIKES
Seat Mó eScooter 125 UK review
How to do a CBT on an electric motorbike
Energica unveils new Experia electric tourer motorbike
e-SCOOTERS
Are e-scooters legal in the UK?
Private e-scooter rules 'cannot simply copy' rental regulations
Superpedestrian's European boss on why e-scooters are for everyone
e-WORLD
New Candela P-12 Shuttle to arrive as first electric 'flying' ferry
Pipistrel Velis Electro: meet the first certified electric plane