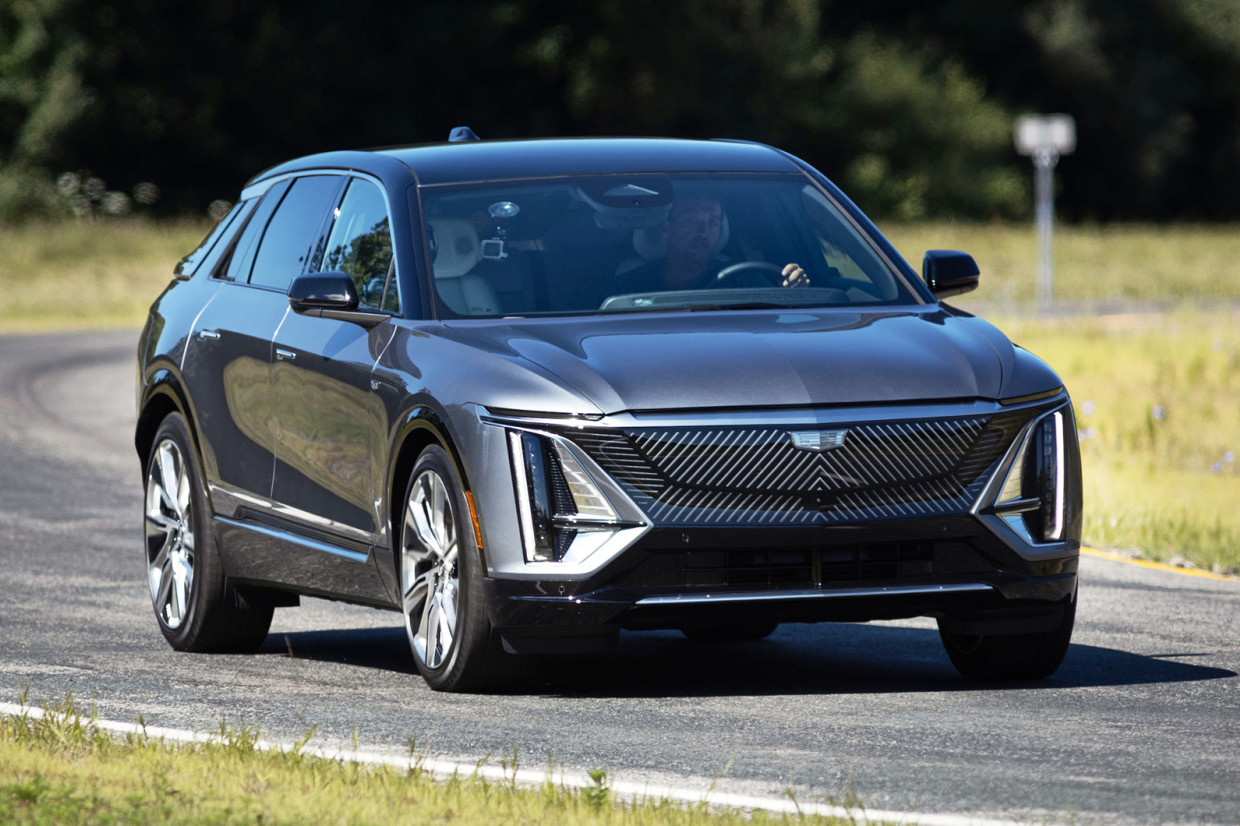 Sell it to me in a sentence…
The Cadillac Lyriq is a new electric large SUV that is designed to reinvent the storied American brand for a new generation.
Cadillac? All I can think of is big 1950s saloons that you could imagine Elvis Presley driving around in…
While the firm is best known in the UK for being the vehicle of choice of a bunch of 1950s American entertainers – both to drive and sing about – in the US it has continued as the upmarket premium brand of General Motors (GM).
Essential electric news in your inbox: subscribe to the Move Electric newsletter
These days, Cadillac is probably best known for the Escalade, a massive SUV that is often used to chauffeur US politicians around. It also offers a range of saloons that try to take on the likes of BMW and Audi by blending premium feel with a performance edge.
As with many firms, GM – whose other brands include Chevrolet and GMC Hummer – is aiming to reinvent itself for the electric age: it has pledged to make its line-up fully electric by 2035. Key to that is the firm's new Ultium electric platform, which will be used in underpin a hugely diverse range of EVs from GM's stable of brands.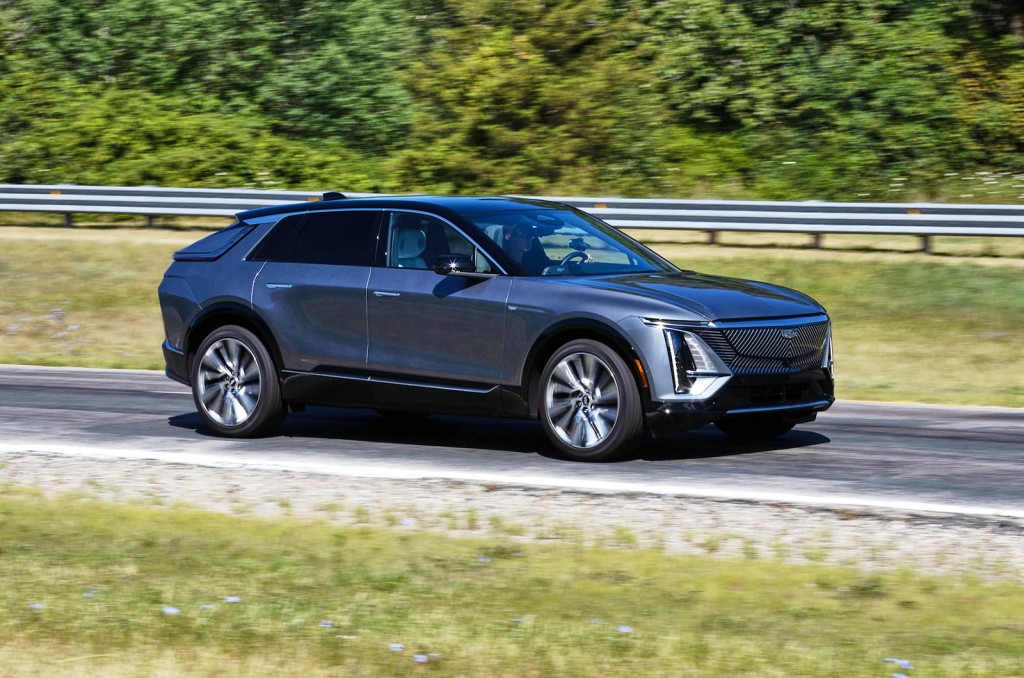 The Lyriq SUV is due on sale next year and will be the first Cadillac production model built on that Ultium architecture. It will be joined in 2024 by the Cadillac Celestiq, a shooting brake-style machine that will be a hand-built, limited-production, ultra-luxury range-topper with a price somewhere around £250,000.
The Lyriq and Celestiq are effectively intertwined: they've been designed and developed alongside each other, and will effectively serve as the template for Cadillac's electric line-up, with all-new technology and an all-new design language.
Okay, but this is a UK website. Why should I care?
If you're in the UK or Europe, you'd be forgiven for not knowing much about Cadillac: the firm's presence is limited to a handful of performance models, such as the CT5-V Blackwing, offered in limited number.
But that is likely to change in the future. GM is currently gearing up for a return to the UK and European market for the first time since it sold Vauxhall-Opel, and the Cadillac Lyriq is hotly tipped to be part of the initial line-up.
It's not hard to see why, either: it sits firmly in the lucrative and fast-growing European premium electric SUV market, where it will take on the likes of the Audi e-tron, Genesis GV60, Tesla Model X, Jaguar I-Pace and plenty of others.
GM isn't exactly hiding its European intentions for Cadillac, either: Move Electric was recently invited along with a handful of international media to try a handful of GM machines at its Milford Proving Ground in Michigan. The line-up of cars to try included the Lyriq, while Cadillac's test team also gave a detailed presentation on its design.
It certainly looks the part – this isn't a Caddy that Elvis would recognise…
Long-running brands always face a tough challenge to respect their heritage while also keeping things fresh, and Cadillac has been no exception. Its current petrol-powered line-up verges on the bland side, so the design team has welcomed the chance to really reinvent what Cadillac stands for.
The concept is to use the blank canvas of EV design and the space freed up by Ultium's classic flat-floor 'chocolate box' architecture to create a new vision of luxury, but with some design cues that nod to the brand's proud past.
As with the Celestiq, there are numerous subtle cues to Cadillac's 1950s glory days: the dashboard design, for example, beats more than a passing resemblance to that featured on the 1957 Eldorado Brougham. 
The Lyriq's grille retains the distinctive trapezoidal shape that is used on the firm's current line-up, although the engine cooling radiator has been replaced with a bold digital front end that offers extravagant LED lighting patterns on unlocking the car.
The lights in the rear pillar are L-shaped, harking back to 1960s Caddilacs, and the SUV retains a comparatively long bonnet, and sculpted but largely clean sides. It's a sleek step away from Cadillac's currently line-up of big, boxy SUVs, and definitely more in tune with the UK and European premium markets.
That said, while the US would consider this a standard SUV, it's definitely at the larger end of the market for the UK. At 4996mm long, it's 95mm longer than an Audi e-tron; the 3093mm wheelbase is 65mm longer than that model.
What about the interior?
That stretched size does give the Ultium plenty of space inside, and the interior is a particular highlight: it really does feel refined and luxurious, yet also modern and fresh. And while the Ultium platform will be used for every other GM brand, you won't find evidence of platform engineering: every interior fixture and fitting is bespoke to Cadillac. The design team kept reducing the amount of shared items until only the coat hook remained – and managed to get special permission to change that to complete the reinvention.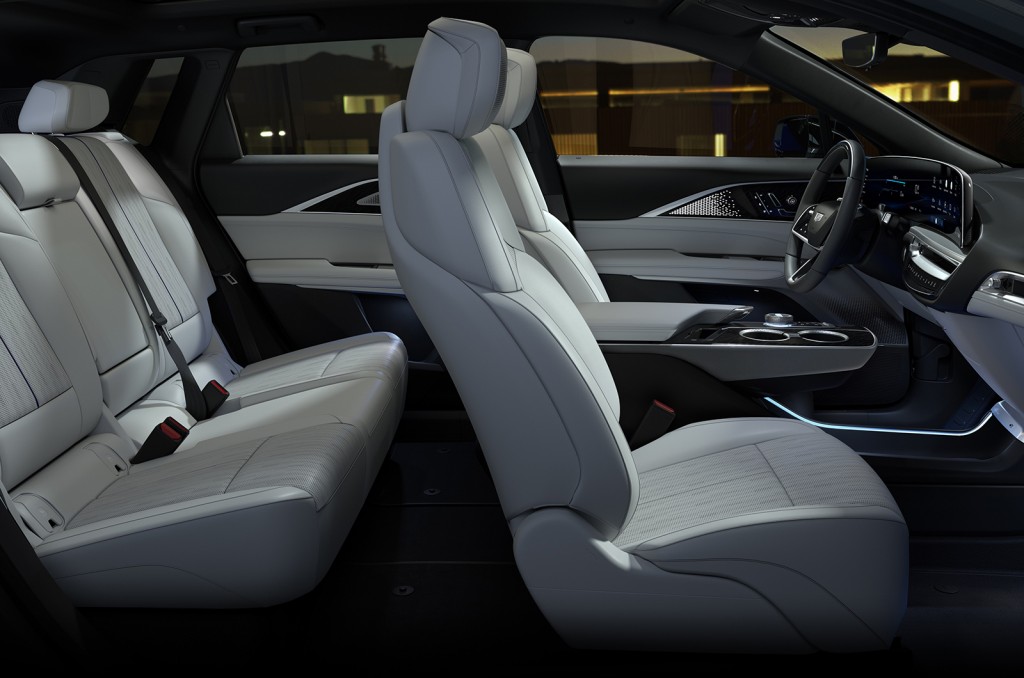 The adjustable seats are comfy, and there's a neat floating centre console between driver and passenger that contains the drive selector, cup holders and a big storage cubby. You can also opt for a 19-speaker AKG audio system, and the boot has a substantial capacity of 793 litres.
But the real highlight of the interior is the 33in curved digital screen that dominates the dashboard – and Cadillac notes it is an actual curved unit, rather than several standard screens arranged at angles. It serves as both digital instrument cluster and infotainment system, and the operating system is uses is slick and looks good.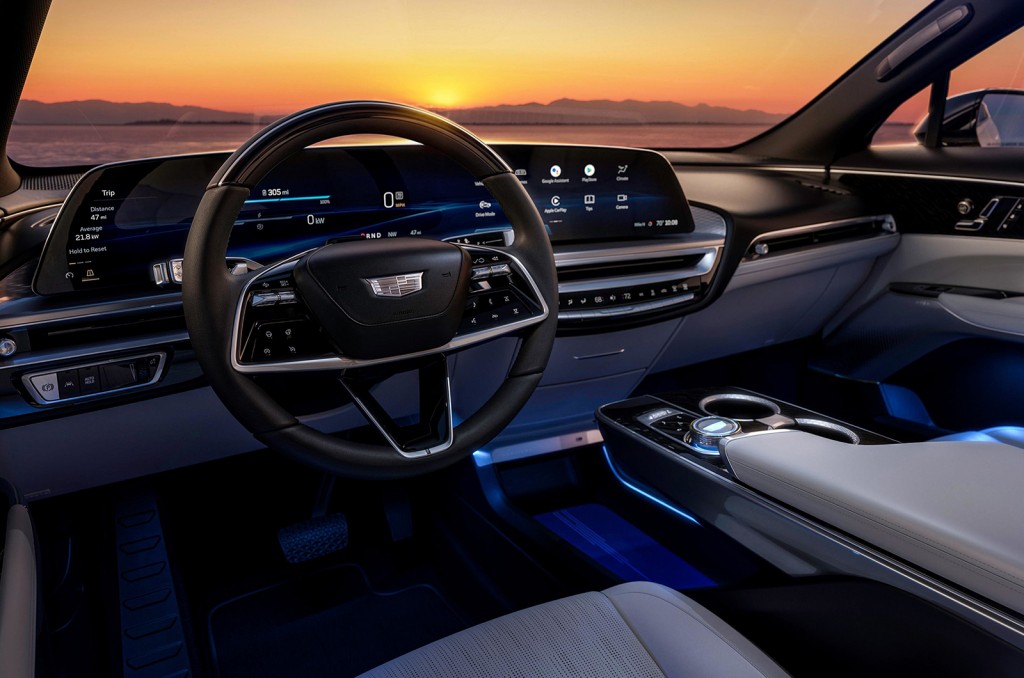 The screen sits in a dash that uses plenty of laser-cut wood trim and backlit LED lighting, that gives it a cool and sophisticated feel. And if you're sceptical about touchscreens, rest assured there are plenty of physical controls, all of which look and feel the part of a premium car.
Okay, tell me about the technical specs…
The Lyriq will be offered with a range of powertrains, starting with the single-motor, rear-wheel-drive powertrain we tested, which offered 242kW and 325lb ft. That will be followed by a twin-motor, all-wheel-drive version, which retains the same torque but has its power lifted to 367kW.
Power is drawn from a chunky 106kWh (102kWh usable) underfloor battery, which gives an official US range of 312 miles for the RWD version. Cadillac engineers expect that could be slightly improved under the European WLTP range test – although we weren't able to do enough running to really gauge how accurate those claims are.
On a fast-charger, the Lyriq can be charged at speeds of up to 190kW.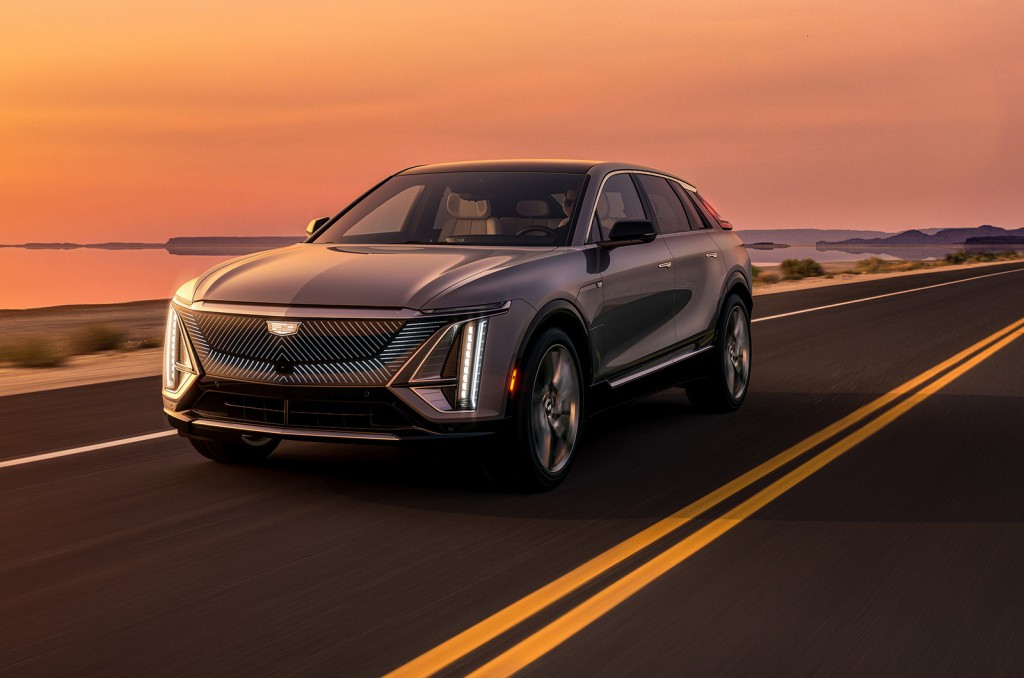 So what's it like to drive?
We only had limited running on GM's test track, but it was clear that the Lyriq is honed for classy cruising rather than outright performance. That said, the powertrain was smooth and responsive, especially given it was shifting a chunky 2585kg machine around. 
There are a number of drive modes and a paddle on the steering wheel that offers brake regeneration, although from our experience the default setting enabled near one-pedal driving anyway. 
Where the Lyriq really shone was in its ride, feel and general luxurious demeanour. The suspension soaked up the artificially rough bumps and seams of GM's test track – designed to emulate some of the most testing road conditions from around the world – without losing its sense of composure. It smoothed out imperfections and retained admirable stability, yet without robbing the car of much feel.
The steering lacked a bit of response for our tastes, although American market cars often do, and we'd expect Cadillac to do a bespoke European tune before the car reaches the UK. 
It was also impressively quiet, thanks to a combination of that EV powertrain and active noise cancelling technology. That made is a very pleasant place to spend time.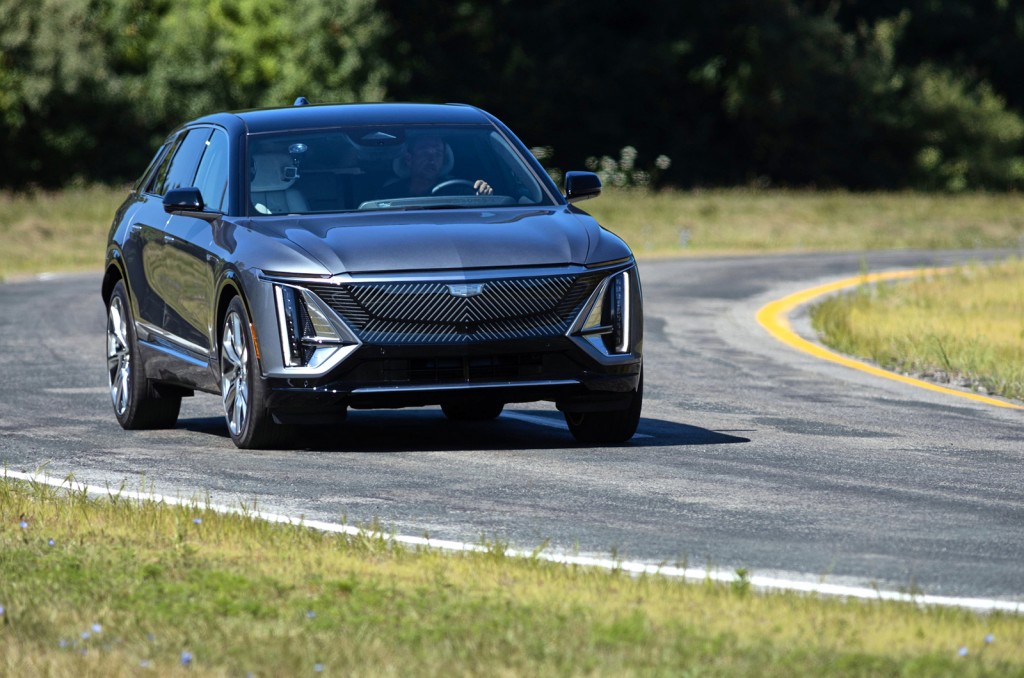 Anything else I should know?
In the US, the Lyriq will be offered with GM's Super Cruise driver assistance system, which allows for try 'hands-free' driving on certain highways. That features a light bar built into the top of the steering wheel – you can engage the system when adaptive cruise control is turned on on a compatible road, and if the light is green take your hands entirely off the wheel.
The light will then flash red if it needs you to take control – and GM does note this is a driver assistance system: a camera monitors if you're paying attention and will insist you take control if not.
We got to sample the system on a Chevrolet Bolt EUV electric crossover on some of Detroit's highways and it certainly showed potential – even if it could get confused by Michigan's pockmarked roads and some questionable driving standards.
What will this cost then?
In the US, the rear-wheel-drive Lyriq will be priced from $62,990, which is around £51,700. That's keenly priced for the class, undercutting some of the premium rivals Cadillac is taking aim at. 
Of course, until GM confirms its European plans with an announcement next Spring, we won't know for sure if the Lyriq is coming over here, or how much it will cost. We'd expect the price tag to rise somewhat from the US one, due to exchange rates, shipping costs and possibly reengineering for right-hand-drive. 
Verdict
We can't really record a definite verdict with a star rating here: we didn't get long enough in the Lyriq, and there's too much uncertainty over if, when and in what form it will reach the UK.
That said, it's clear that the Lyriq can be a serious contender in the premium electric SUV market. It really does look, feel and drive the part, and could well win over some buyers looking for a different form of premium machine. 
Cadillac Lyriq RWD specifications
Price $62,990 (£51,700) in USA
Electric motors Permanent magnet synchronous motor
Transmission 1-speed reduction gearing
Driveline layout rear-wheel-drive
Power 242kW
Torque 325lb ft
0-60mph 6.1secs
Top speed 118mph
Kerb weight 2585kg
Battery size 106kWh/102kWh (total/usable)
Range 312 miles (US cycle)
Rivals Audi e-tron, Tesla Model X, Jaguar I-Pace
READ MORE
Subscribe to the Move Electric newsletter
e-CARS
UK charging networks: complete guide to every provider
New Cupra UrbanRebel is a bold EV supermini with 273-mile range
e-BIKES
10 fun things to try on an electric bike
Living with a Gocycle G4: how easy is it to adjust to?
e-MOTORBIKES
Seat Mó eScooter 125 UK review
How to do a CBT on an electric motorbike
Energica unveils new Experia electric tourer motorbike
e-SCOOTERS
Are e-scooters legal in the UK?
Private e-scooter rules 'cannot simply copy' rental regulations
Superpedestrian's European boss on why e-scooters are for everyone
e-WORLD
New Candela P-12 Shuttle to arrive as first electric 'flying' ferry
Pipistrel Velis Electro: meet the first certified electric plane